Regular price
Sale price
$242.00
Unit price
per
Sale
Sold out
Share
Phongsaly province, early 19th century, Northern Laos or Lanna Kingdom, Siam (Thailand).
Gorgeous old bronze weight. The bronze opium weights were used not only as units of opium measurement, but used in everyday transactions where items were traded by weight, including food and precious commodities such as gold, silver, rubies, coral, pearls, spices, camphor,  musk, and costly medicines. Certainly the mountain tribes of the Golden Triangle (Burma, Laos and Thailand) used the smallest ones for weighting opium. Items were measured by a beam hung with two baskets or trays. The weights were produced in a range of different designs, primarily based on animals or creatures from local religion and mythology. Opium weights have two parts, an animal or bird and a base, which is about the same weight. The base may be hexagonal, rectangular, octagonal or circular. The bases are small platforms on which the animal or bird stands. Most of the weights have been covered by a black coating possibly a protection against corrosion which has largely disappeared by wear and tear in course of time. The opium weights were produced in series from very small weights to much larger sizes. A full set of weights normal consists of 10 pieces from very small sizes up the largest size (100, 50, 20, 10, 5, 2, 1, 1/2, 1/4, and 1/8 tical). The weights and measures system in Burma was carefully controlled and weights checked for accuracy. They were legalised by a stamp or seal, usually difficult to read through use, given by the king or his officials in each town.
Elephant opium weights from Siam and Laos are among the rarest forms of weights found today in Southeast Asia. Absolutely beautiful Chang style bronze weight of standing elephant with prominent tusks and a drooping trunk. Octaconal base. Lovely example of a real market weight. Two lines around the  base. Verification mark of 6 rayed star at the front of the base (clearly visible). Good condition. Intact. Age-related wear and signs of use. Intense deep dark patina, oxidiation and traces of black coating. Size approx. 3,3cm x 2,8cm x 2,1cm. (5 Baht).
Provenance: Danish private collection
References and further reading:
A Model Chronology of the Animal Weights of Burma (Myanmar), Hartmut Mollat, Anthropos 104/2009, pp. 533-542, Published By: Nomos Verlagsgesellschaft mbH, 2009.
Earth to Heaven: The Royal Animal‐Shaped Weights of the Burmese Empires, Donald Gear & Joan Gear, London: Twinstar, 1992.
Animal Weights from Burma and Beyond, R.J. Willis & G. Herman, River Books, 2019.
Analysis of historical Burmese opium weights and lead coins - metal origin, alloys and surface coating, Robert Lehmann, Hartmut Mollat, Ingo Horn, Ekkehard Döhring & Carla Vogt. Academia.edu.
Burmese Opium Weights, Sylvia Fraser-Lu, Arts of Asia 1, pp. 73–81, 1982.
Opium Weights, Rolfe Braun & Ilse Braun, London: Braun, 1983.
View full details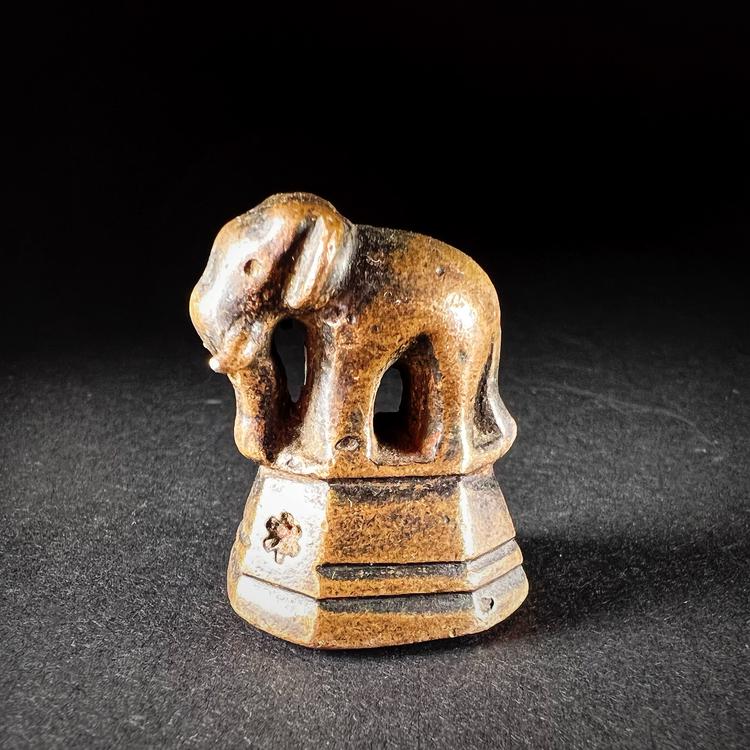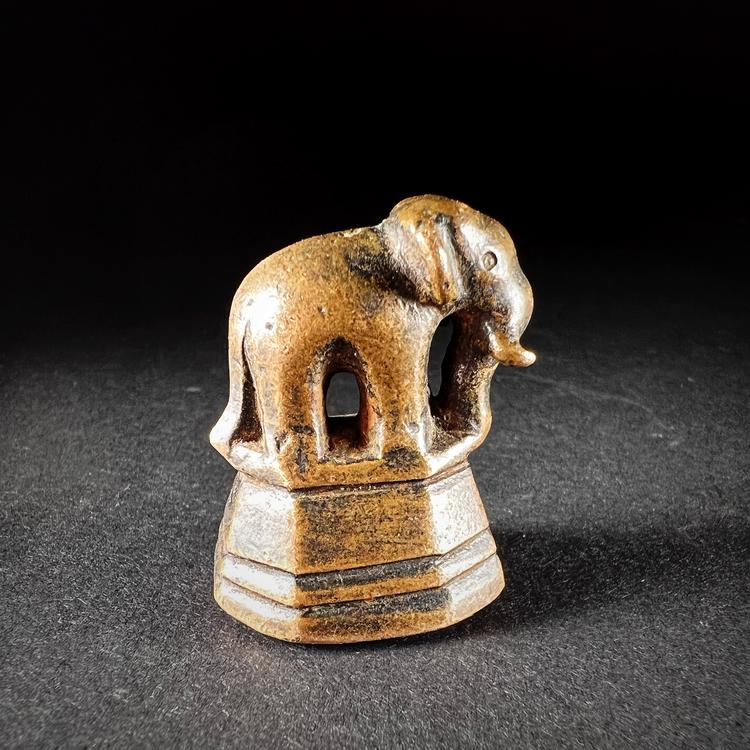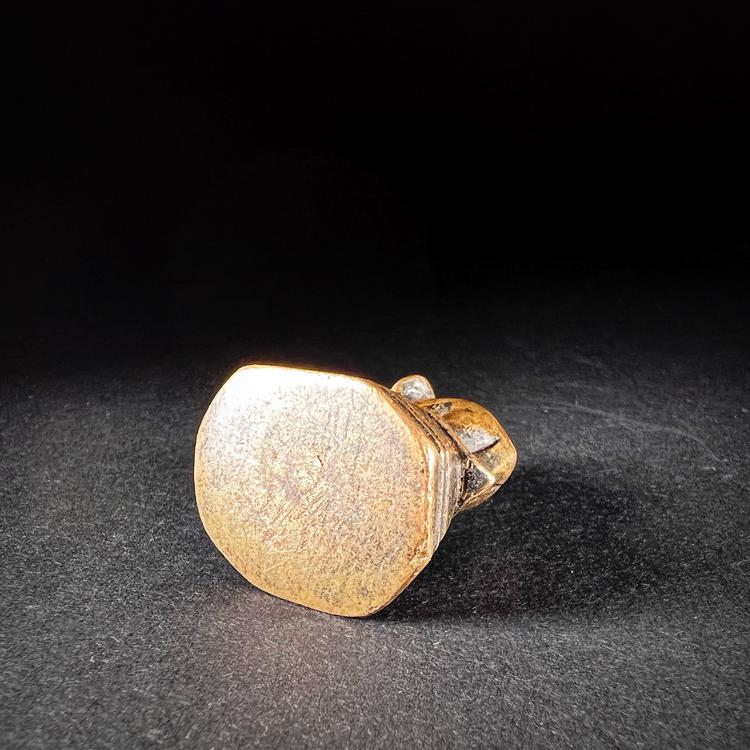 Shipping

The shipment will be prepared in the course of 3-5 days and dispatched via Posti Group Oyj or purchased item(s) can be picked up from our shop during the store's opening hours (Tarkk'ampujankatu 4, 00140, Helsinki, Finland). Within the Finland, all items are shipped via Posti Group Oyj unless otherwise requested. We pack the items carefully and mainly in recycled materials because we want to save nature. You will receive the tracking number for your items by e-mail.

Returns

Returns and exchange will be accepted within fourteen days (14) of receipt at the purchaser's cost to include freight and packaging. Items must be returned in the same condition as when they were shipped, and will not be accepted if damaged or altered in any way. Please inform us via email (info@gotanmaailma.fi) or by calling +358408408352 before sending. We do not accept returns more than 14 days after delivery.