Regular price
Sale price
$357.00
Unit price
per
Sale
Sold out
Share
Asante people, early 20th century, Ghana
Exceptional aged fertility figure, akua'ba, (Akua's child) depicts a highly abstracted and idealized woman in the prime of life. According the Akan myth, in distant past a woman named Akua was barren, but like all Akan women, she desired most of all to bear children. Akua sought first the spiritual reason for her infertility. She went to a diviner and he told her to commission a carver to create for her a wooden child and to carry the surrogate child on her back, tied by a cloth in the position in which a real child is carried. Akua did as she was told and cared for the figure as she would a living baby, even giving it gifts of beads and other regalia. Within a few months, she conceived a child and gave birth to a healthy baby girl.
Endowed with magical properties, these wooden figures are treated if they were real babies, carried around, dressed, washed and even fed. After a successful birth, the figure could be gifted to another female family member if she, too, had difficulty conceiving, or placed in the priest's shrine as an offering. Most akua'ba figures have long, tubular form body with small horizonal arms, a ringed neck, and a large, flat disklike head. The large head represents knowledge, the rings around the neck symbolize rolls of fat that are seen as an sign of good health, prosperity and the ability to bear children. Protruding breasts referencing a woman who has not yet borne and breastfed children. The small scars seen on the faces of many akua'ba refer to a local medical practice as protection against convulsions. All genuine akua'ba figures are female, both because Akua's first child was a girl, and because the Akan and Fante societies are matrilineal, meaning that it is women that extend the family line. Because of the high infant mortality rate, the Asante use the akua'ba to protect the continuation of the family lineage.

Asante (called also Ašanti, Ashanti) are a major ethnic group of the Akans and are native to the Ashanti Region of modern-day Ghana, West Africa. The Ashanti people first appear in the historical record around the 13th century. The empire was founded in 1670, and the Asante capital Kumasi was founded in 1680 by emperor (asantehene) Osei Kofi Tutu I. The traditional religion is based on belief in a distant supreme being (onyame), a pantheon of gods and goddesses (abosom), minor deities (asuman) and the ever-present spirits of the ancestors (nsamanfo).

Exquisite akua'ba figure is carved from a fine-grained wood, has a natural patina worn smooth with handling, and the pleasingly abstract iconography. She wears carved neck rings as well as beaded decoration. Age-related heavy wear, worm holes, chip and fractures. Size approx. 29,5cm x 12,0cm x 4,5cm (excluding modern stand).
Provenance: Dutch private collection.
References and further reading:
Akua'ba Asante. Wednesday Child, Ron van Doorn & Herbert M. Cole, Published by Dongen, 2021.
The Asante, M. D. McLeod, Published by British Museum Publications, London, 1981.
Isn't S/He a Doll: Play and Ritual in African Sculpture, Elisabeth Lynn Cameron & Doran H. Ross, UCLA Fowler Museum of Cultural History, 1996.
Religion and art in Ashanti, Robert S. Rattray, 1927, p. 281 fig. 194-195.
View full details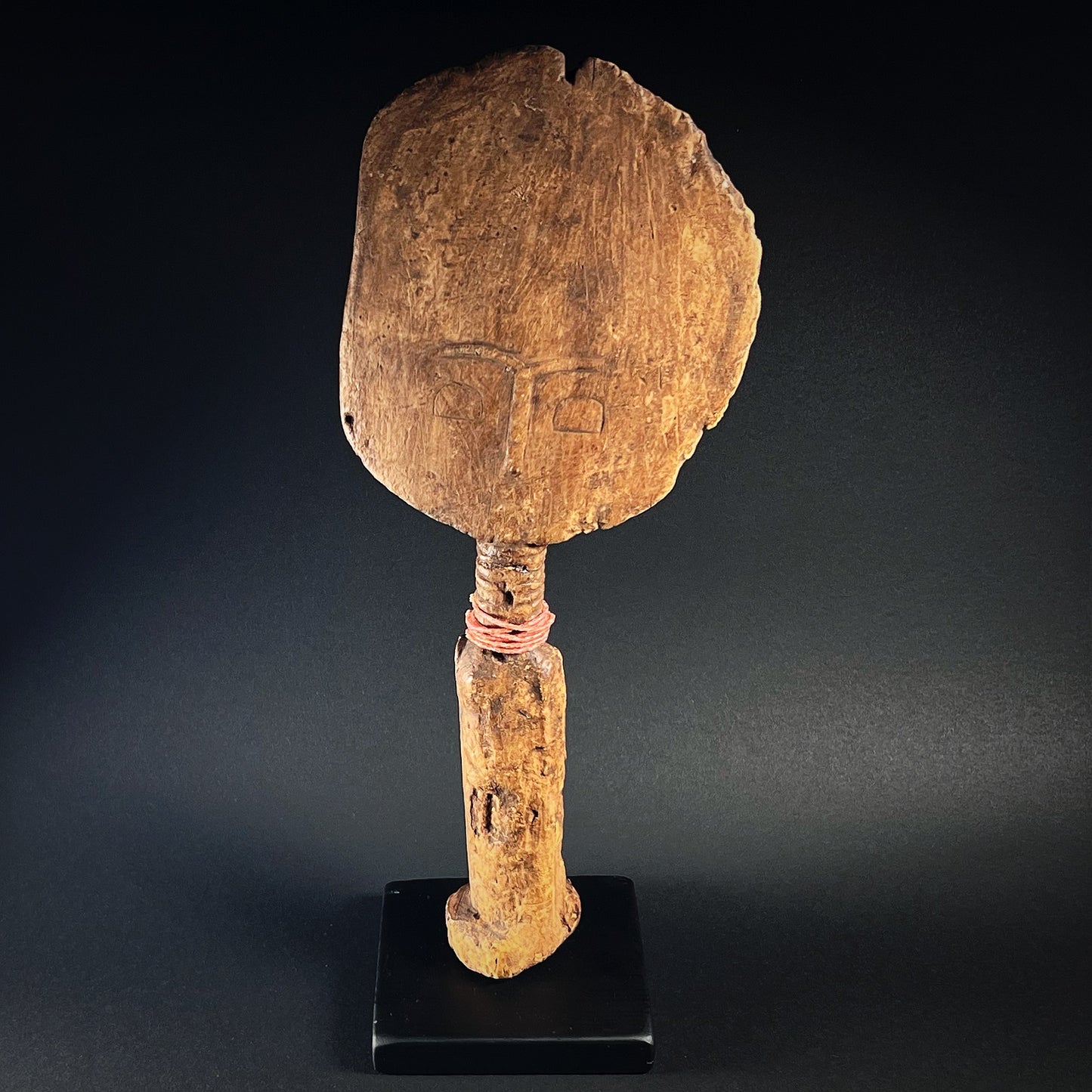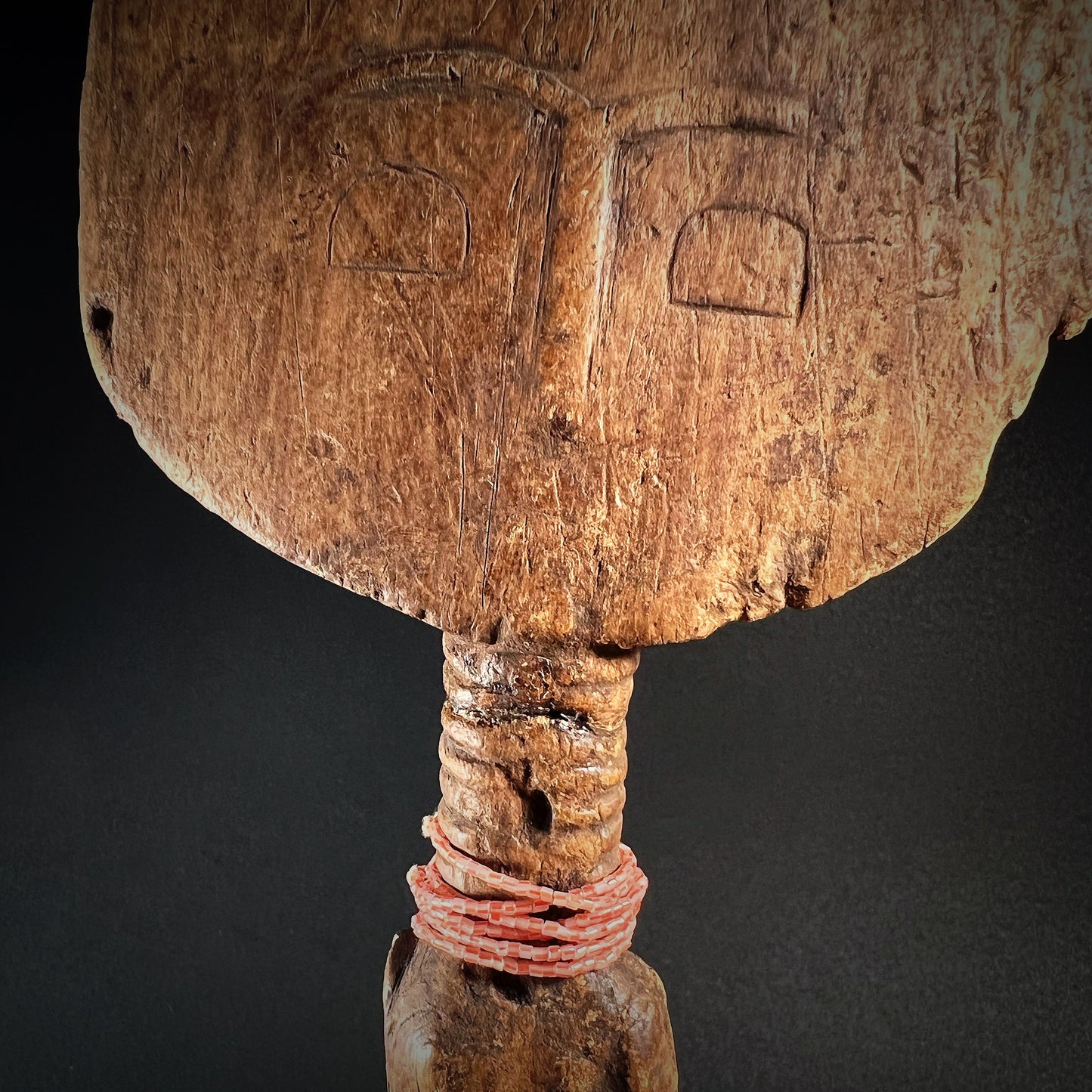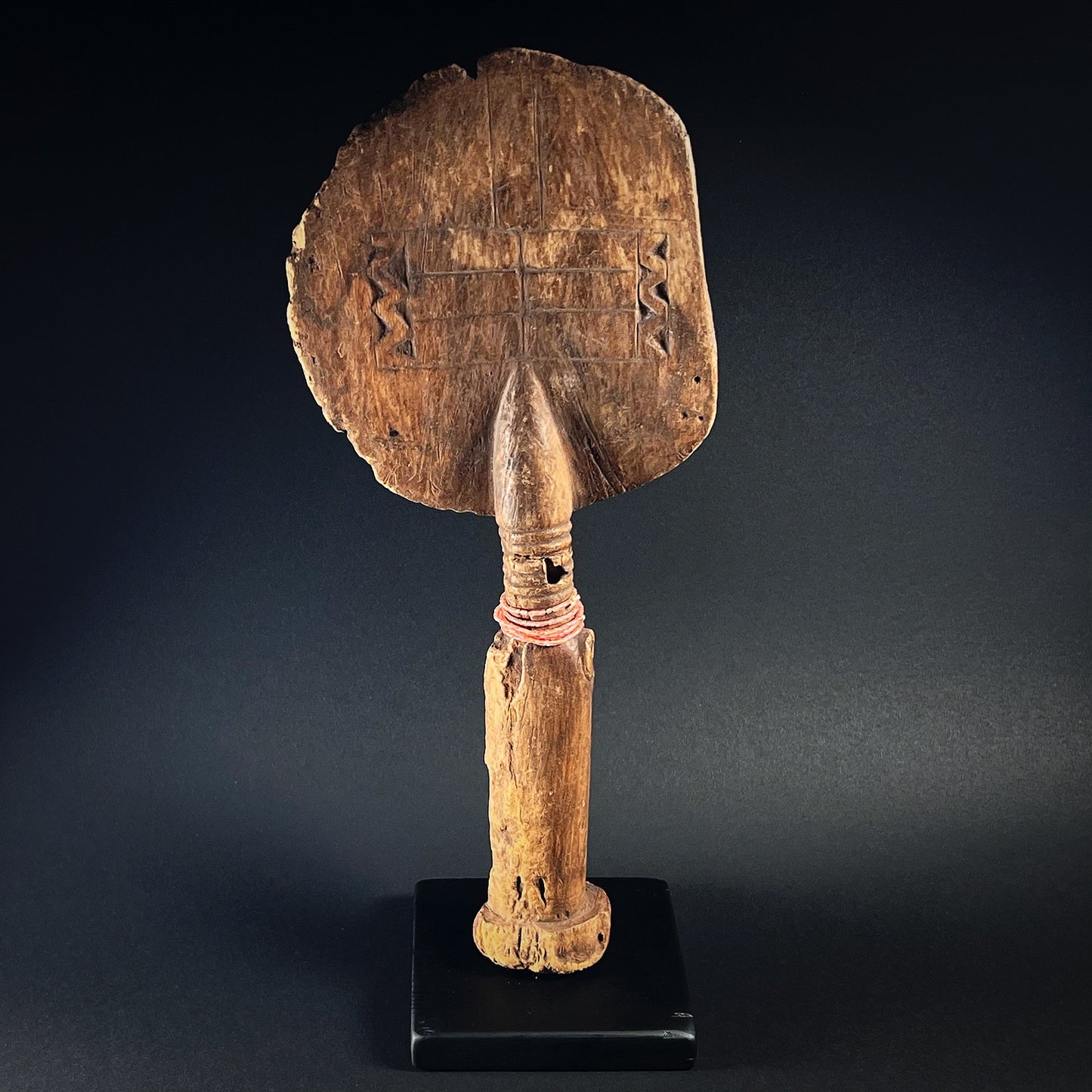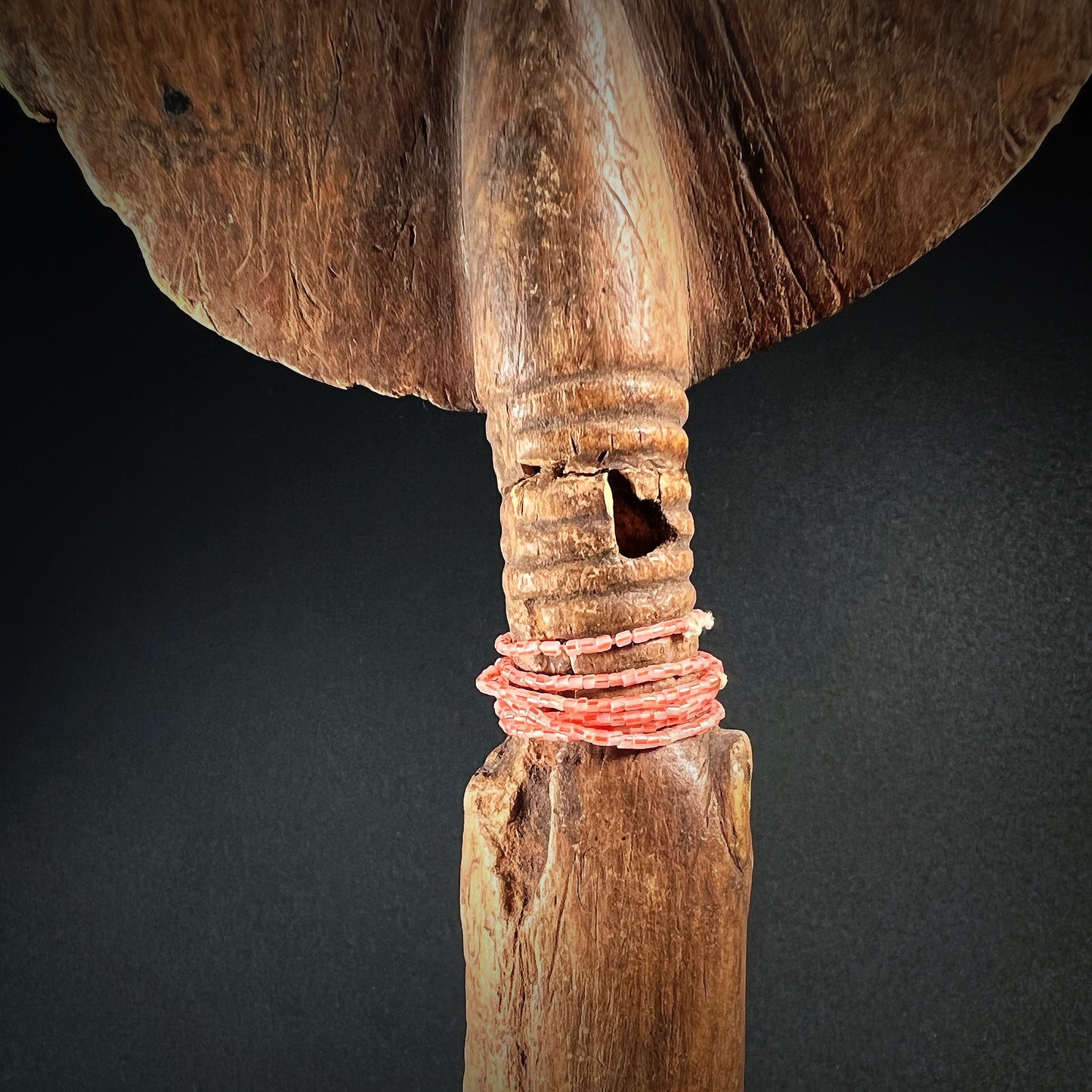 Shipping

The shipment will be prepared in the course of 3-5 days and dispatched via Posti Group Oyj or purchased item(s) can be picked up from our shop during the store's opening hours (Tarkk'ampujankatu 4, 00140, Helsinki, Finland). Within the Finland, all items are shipped via Posti Group Oyj unless otherwise requested. We pack the items carefully and mainly in recycled materials because we want to save nature. You will receive the tracking number for your items by e-mail.

Returns

Returns and exchange will be accepted within fourteen days (14) of receipt at the purchaser's cost to include freight and packaging. Items must be returned in the same condition as when they were shipped, and will not be accepted if damaged or altered in any way. Please inform us via email (info@gotanmaailma.fi) or by calling +358408408352 before sending. We do not accept returns more than 14 days after delivery.