Regular price
Sale price
$925.00
Unit price
per
Sale
Sold out
Share
Pre-Columbian era, Aztecs, c. 1300-1521AD, Mexico.
Important and rare hand-built ceramic stamp with a conical handle and a rectangular body incised to form a complex motif with three abstract figures. The Aztecs (also known as Tenochca or Mexica) were a Mesoamerican culture that flourished in central Mexico in the post-classic period from 1300 to 1521. The Aztec peoples included different ethnic groups of central Mexico, particularly those groups who spoke the Nahuatl language and who dominated large parts of Mesoamerica from the 14th to the 16th centuries.
Some of the earliest examples of ceramic stamps come from Central Mexico during the Early Formative period (c. 1800–1200 B.C.). It is assumed that the earliest examples of such objects functioned much as they did among the Aztecs three millennia later: They were used as decorative devices for embellishing clothing, bark paper (amate), pottery, and possibly skin. Stamps were originally hand-formed, but around 1150 AD the Aztec began to use molds to make multiple copies of the same stamp. The designs on these stamps encompassed abstract and geometric motifs, stylized animals, plants, and religious/metaphysical motifs. In the Aztec culture, only wealthy and elite individuals called scribes were taught to write and make art, so it is believed that only the scribes made and distributed the stamps initially. Stamping was an elite mark for valuable and luxurious objects. The practice of creating and using these ceramic stamps continued through to the early 16th century. These clay stamps have been found in ancient burial sites, indicating the meaningful cultural association attached to these objects.
Fantastic ceramic stamp are in excellent condition. The iconography is well preserved and clear. Age-related minor wear. Size approx. 11,1cm x 7,1cm x 3,6cm.
Provenance: According to information, from the collection of Paul Ragnar Wedendal Sr. & Paul Wedendal Jr. Paul Ragnar Wedendal Sr. acquired Pre-Columbian art during his travels in the 1940s-1950s.
For a similar examples see:
Stamp, Birds, The Metropolitan Museum of Art, Accession Number: 00.5.1161 (https://www.metmuseum.org/art/collection/search/307742)
Clay Stamp (pintadera), Royal Albert Memorial Museum & Art Gallery, Accession Number: 283/1990/34 (https://rammcollections.org.uk/collections/de87b3a5-2663-33c1-bb7b-0808defd568e/)
View full details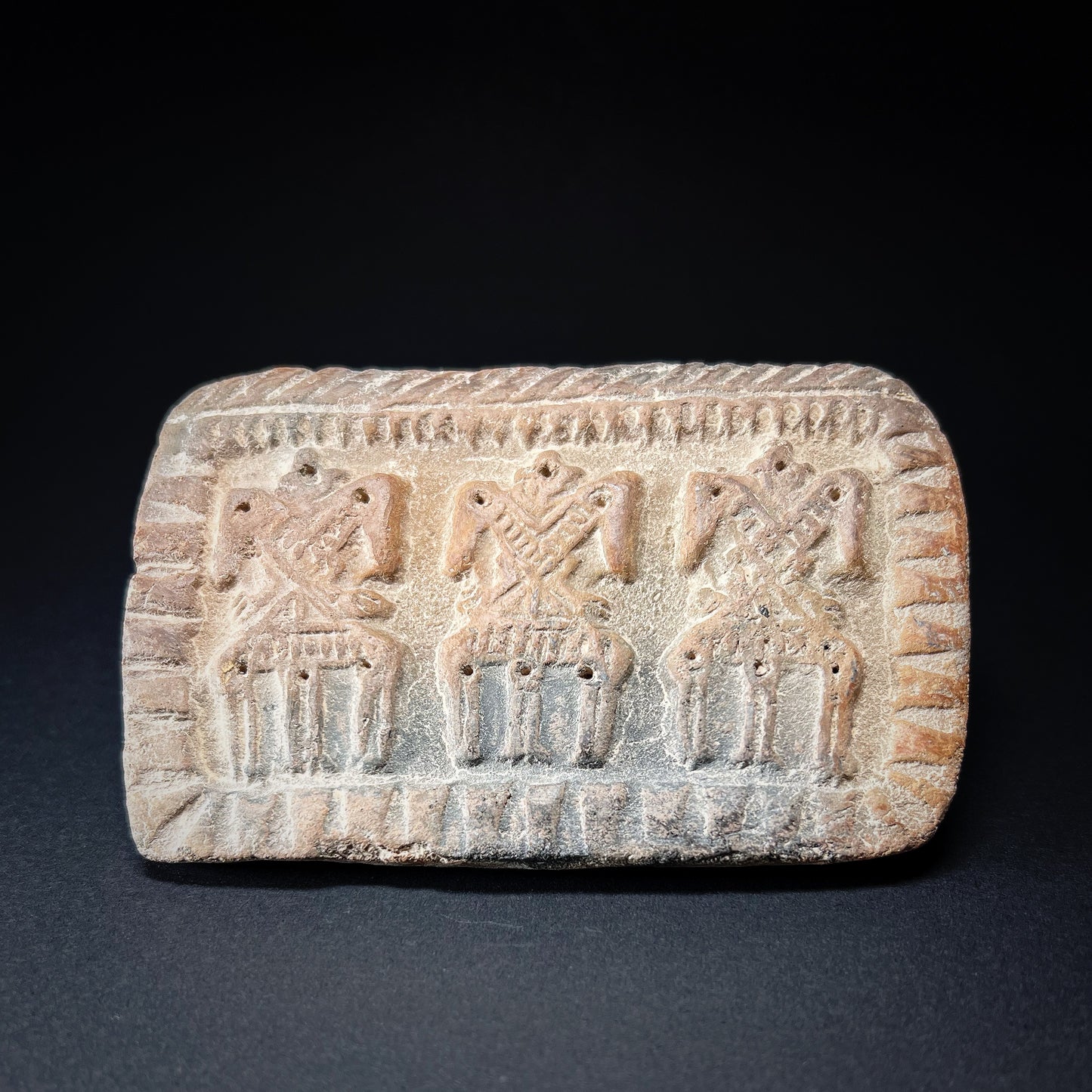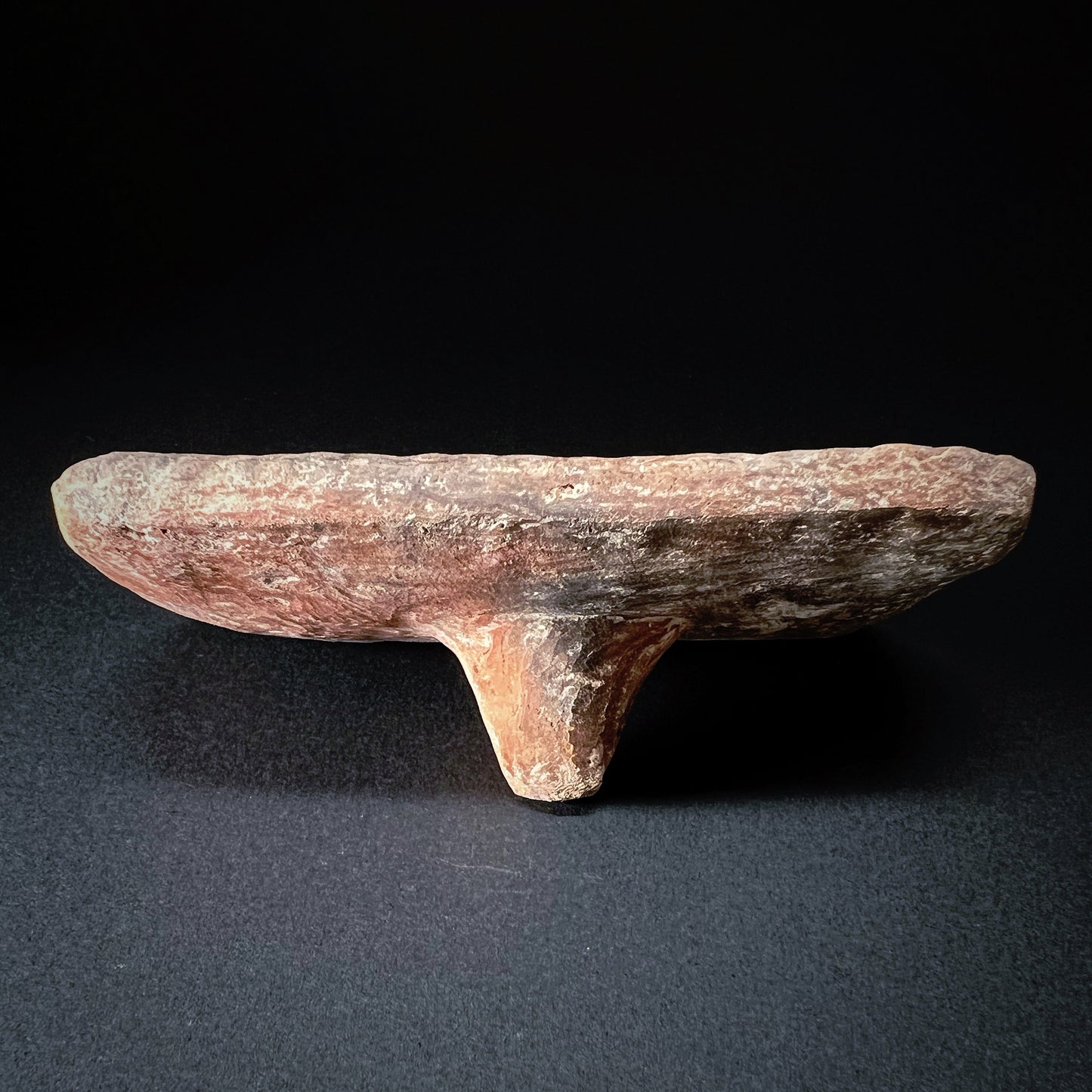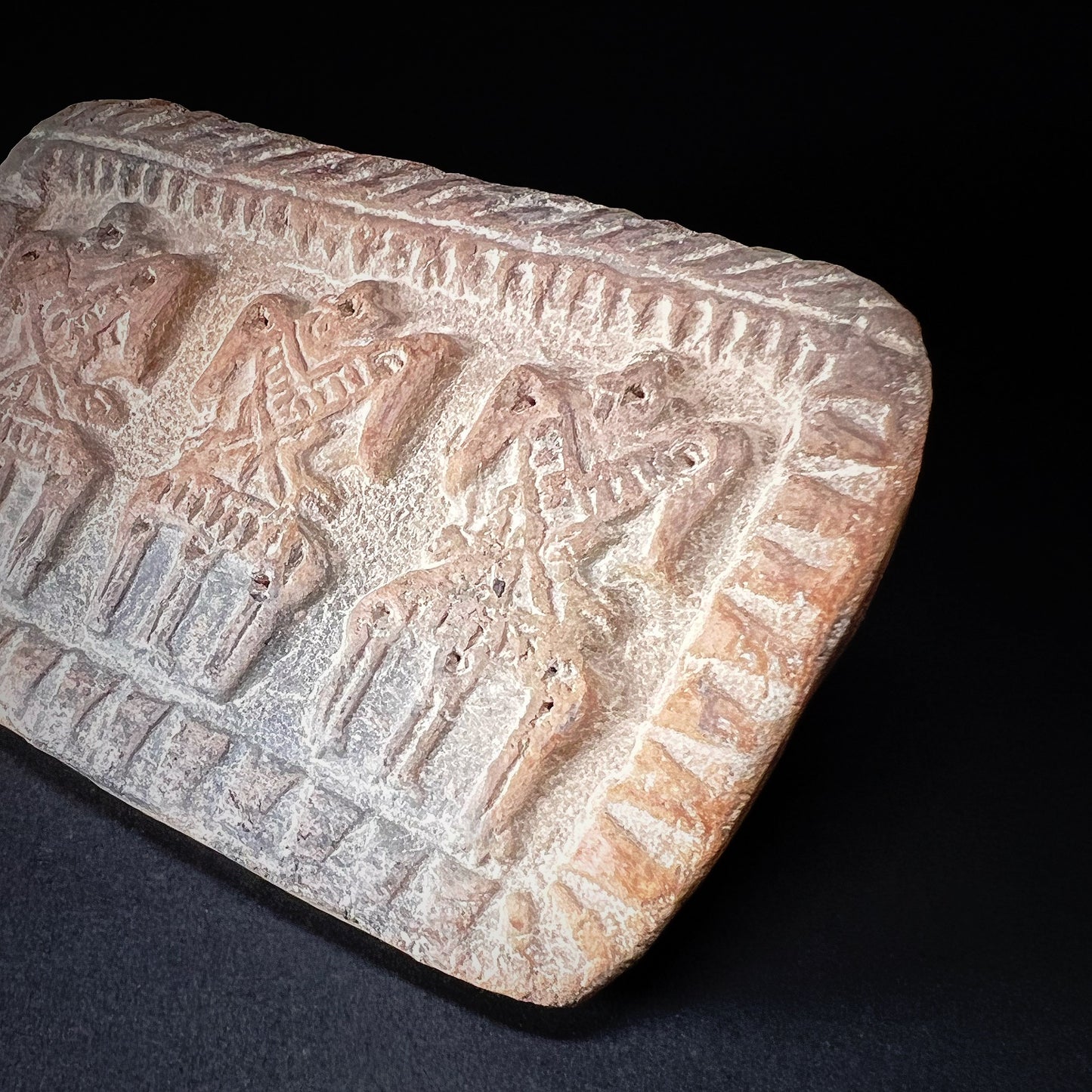 Shipping

The shipment will be prepared in the course of 3-5 days and dispatched via Posti Group Oyj or purchased item(s) can be picked up from our shop during the store's opening hours (Tarkk'ampujankatu 4, 00140, Helsinki, Finland). Within the Finland, all items are shipped via Posti Group Oyj unless otherwise requested. We pack the items carefully and mainly in recycled materials because we want to save nature. You will receive the tracking number for your items by e-mail.

Returns

Returns and exchange will be accepted within fourteen days (14) of receipt at the purchaser's cost to include freight and packaging. Items must be returned in the same condition as when they were shipped, and will not be accepted if damaged or altered in any way. Please inform us via email (info@gotanmaailma.fi) or by calling +358408408352 before sending. We do not accept returns more than 14 days after delivery.