Regular price
Sale price
$2,690.00
Unit price
per
Sale
Sold out
Share
Pre-Columbian era, Aztecs, c. 1428-1521AD, Mexico.
Important Tlaloc figure, the god of rain, water, and earthly fertility. In Aztec iconography, Tlaloc is usually depicted with goggle eyes and fangs. The Aztecs believed that if sacrifices were not supplied for Tlaloc, rain would not come, their crops would not flourish, and leprosy and rheumatism, diseases caused by Tlaloc, would infest the village. Archaeologists have found the remains of at least 42 children sacrificed to Tlaloc at the Great Pyramid of Tenochtitlan. Many of the children suffered from serious injuries before their death, they would have to have been in significant pain as Tlaloc required the tears of the young as part of the sacrifice. The priests made the children cry during their way to immolation: a good omen that Tlaloc would wet the earth in the raining season. 
Exceptional human-like god figure is meticulously carved from a single piece of scoria (a highly vesicular, dark-colored volcanic rock) and seated upon a bulbous base. The short legs are pressed tightly together and the both hands resting above the bent knees. His head is proportionately much larger than a normal human head, compared to the rest of his body. The head of the figure is very square, with a rounded oval shape at the chin and his eyes look straight at the viewer. Thes eyes are exterior circular forms with depressions in those circular forms which depict the pupils. The nose is broad. The open mouth reveals a pair of long fangs. The ears are probably embellished with heavy earrings. Above the face of the figure is a square-shaped hat or headdress that does not seem to relate to the anatomy of the human face. Good condition. Intact. Age-related wear, small chip and abrasion. Dirt, dust and soil. Size approx. 12,3cm x 7,2cm x 5,3cm. 
Provenance: Finnish private collection
View full details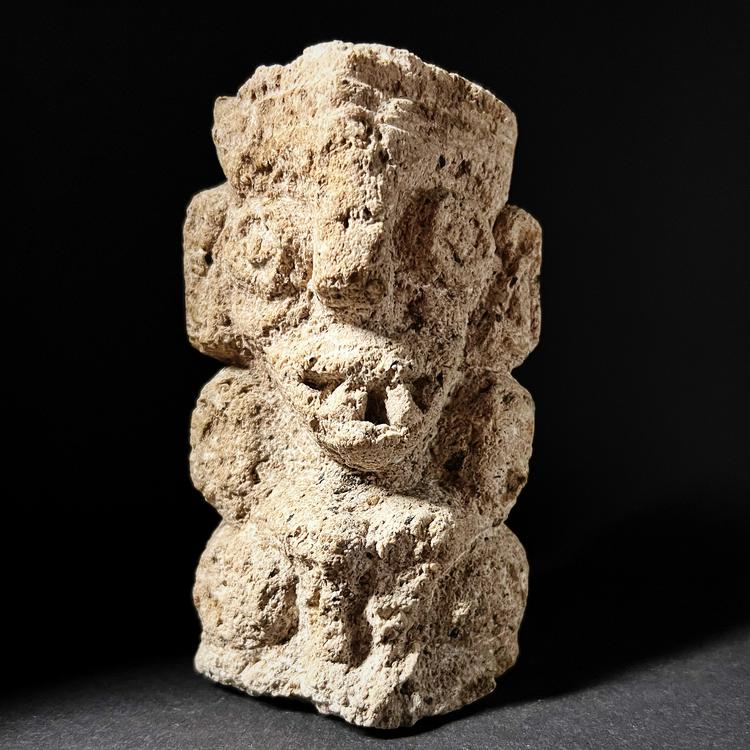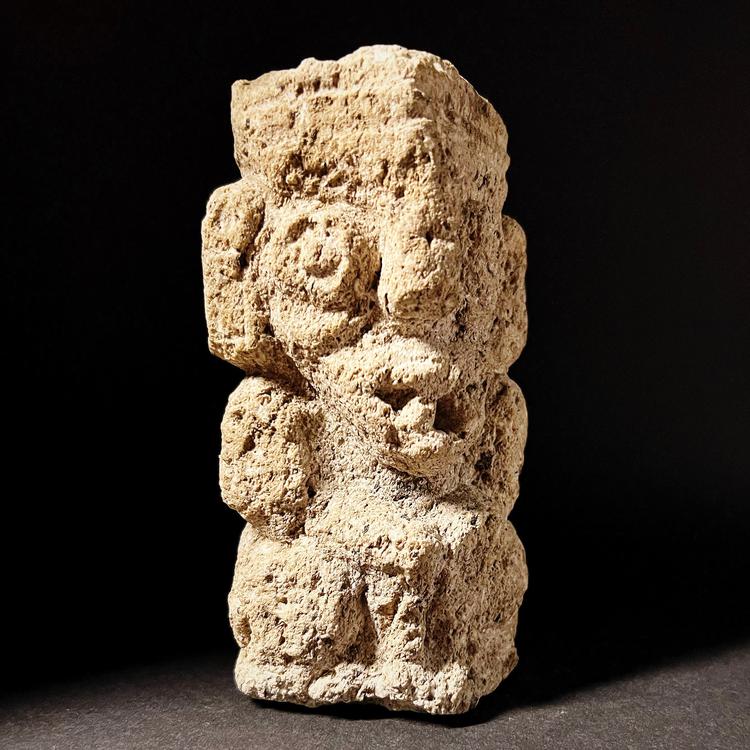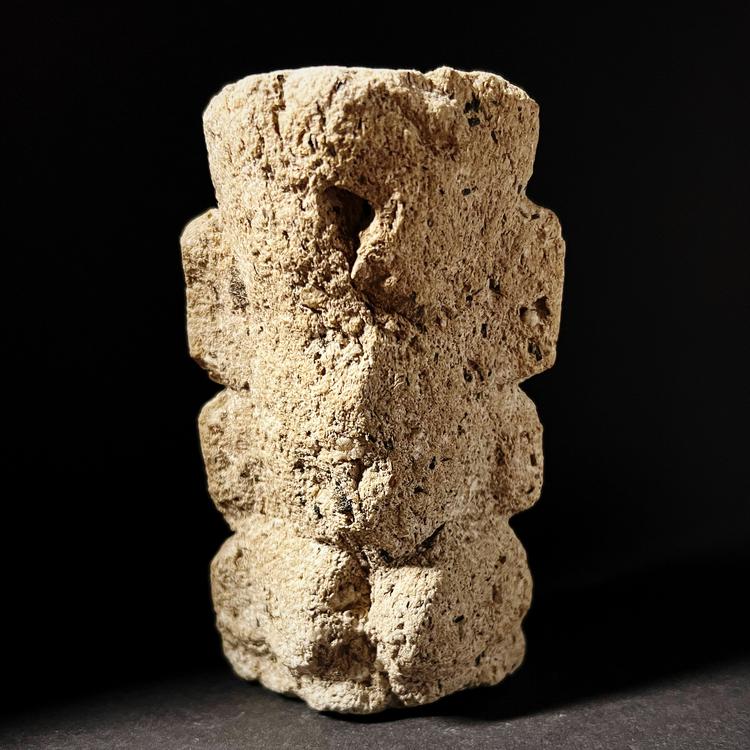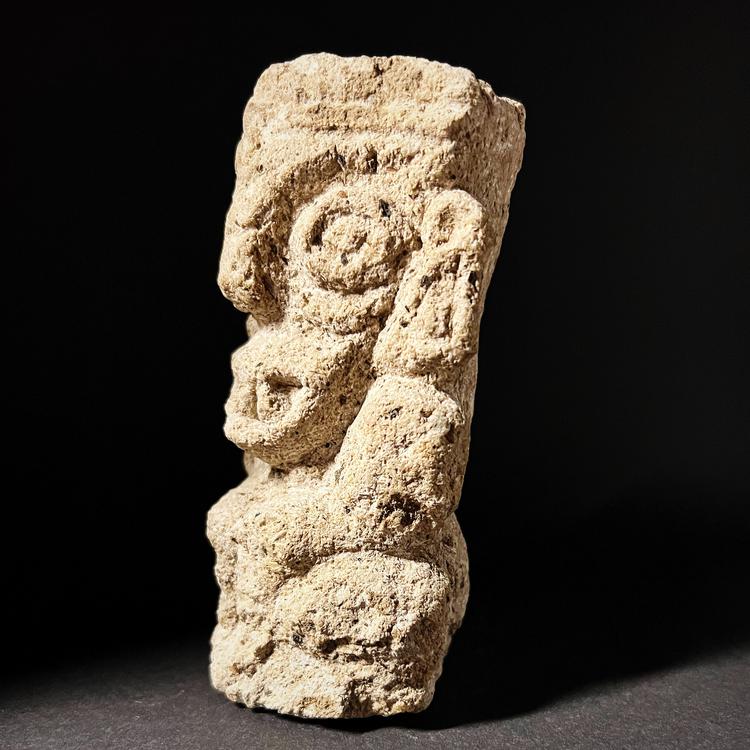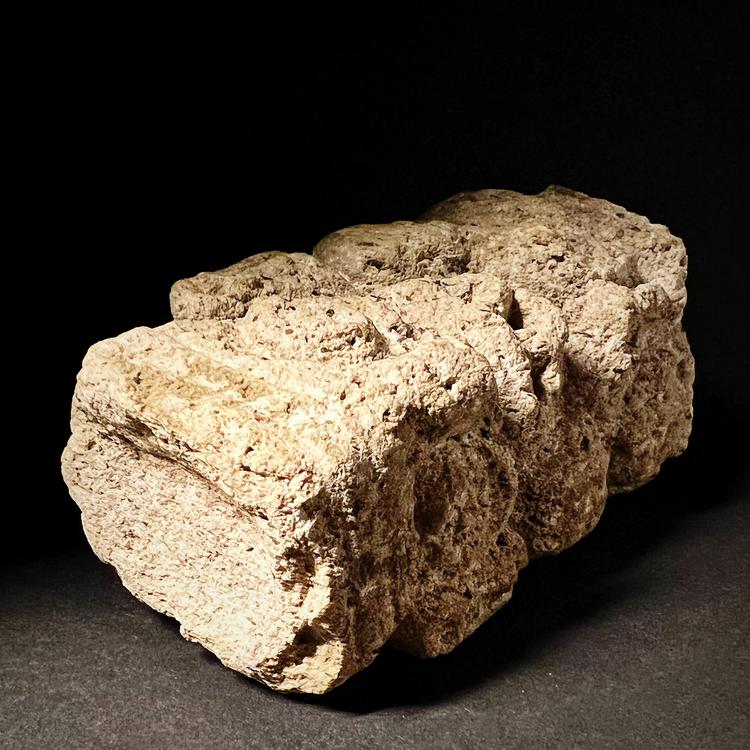 Shipping

The shipment will be prepared in the course of 3-5 days and dispatched via Posti Group Oyj or purchased item(s) can be picked up from our shop during the store's opening hours (Tarkk'ampujankatu 4, 00140, Helsinki, Finland). Within the Finland, all items are shipped via Posti Group Oyj unless otherwise requested. We pack the items carefully and mainly in recycled materials because we want to save nature. You will receive the tracking number for your items by e-mail.

Returns

Returns and exchange will be accepted within fourteen days (14) of receipt at the purchaser's cost to include freight and packaging. Items must be returned in the same condition as when they were shipped, and will not be accepted if damaged or altered in any way. Please inform us via email (info@gotanmaailma.fi) or by calling +358408408352 before sending. We do not accept returns more than 14 days after delivery.