Regular price
Sale price
$138.00
Unit price
per
Sale
Sold out
Share
Bamana people, early to mid. 20th century, Mali, West Africa.
Lovely small-sized passport mask. The Bamana people (called also Bambara, Banmana) are a Mandé ethnic group native to much of West Africa, primarily upper Niger region Mali, Cote d'Ivoire, Guinea and Gambia. Bamana artworks were created both for religious use and to define cultural and religious difference. Bamana artworks were created both for religious use and to define cultural and religious difference. Bamana art include beautiful weawing (Bògòlanfini), fertility figures, power figures (Boliw), pottery etc. They also have extensive masking traditions, which are used as a form of social control and community education. Each mask has its own type, the style and symbolism of which would be understood by initiates. Each of the masks represents a different point in the initiation and education of the men (including such as N'tomo, Korè, Nama, Komo, Kono and Chi Wara).
West African miniature masks, too small to be worn, replicate the forms of masks worn in performance. Passport masks have a multiple purpose: they are proof of membership of particular clan or society, they are carried about the person when traveling, they were used as a powerful charm for personal protection during forest work and for hunting, and they allow the owner to participate in certain rituals. Normally, the passport masks are not performed and are usually hidden from prying eyes. Like their larger counterparts passport masks are filled with spirit, with potential for good or evil. 
Moderate condition. Age-related heavy wear and signs use over the many years. Light old wood. Gorgeous encrusted patina. Smoothed features. Cracks, fractures and worm holes. Dirt, dust and soil. Size approx. 33,5cm x 7,5cm.
Provenance: Dutch private collection
View full details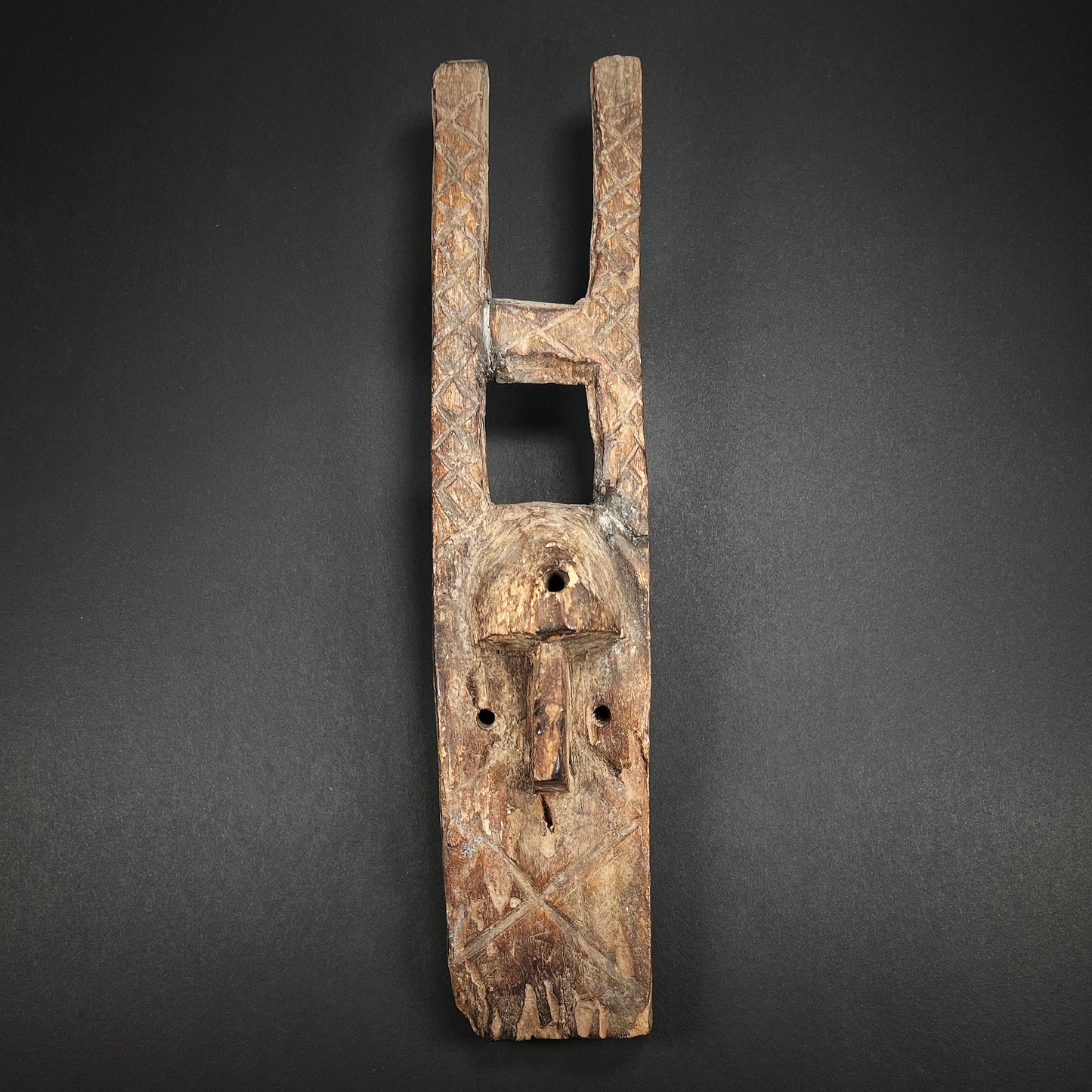 Shipping

The shipment will be prepared in the course of 3-5 days and dispatched via Posti Group Oyj or purchased item(s) can be picked up from our shop during the store's opening hours (Tarkk'ampujankatu 4, 00140, Helsinki, Finland). Within the Finland, all items are shipped via Posti Group Oyj unless otherwise requested. We pack the items carefully and mainly in recycled materials because we want to save nature. You will receive the tracking number for your items by e-mail.

Returns

Returns and exchange will be accepted within fourteen days (14) of receipt at the purchaser's cost to include freight and packaging. Items must be returned in the same condition as when they were shipped, and will not be accepted if damaged or altered in any way. Please inform us via email (info@gotanmaailma.fi) or by calling +358408408352 before sending. We do not accept returns more than 14 days after delivery.