Regular price
Sale price
$1,373.00
Unit price
per
Sale
Sold out
Share
Baule people, early to mid. 20th century, 
Côte d'Ivoire.
Important and finely carved wooden maternity figure from the Baule in the Côte d'Ivoire. It depicts a tall, youthful female with a long, well-defined neck, large head, elongated arms and torso, with shortened legs. Her posture is highly elegant, sitting with the child in her hands in a nursing position. The mother rests on an Akan style decorated stool. Delicate facial features with finely arched brows, narrow nose, small mouth, ears and almond-shaped eyes with downward gaze. Elaborate, high crested coiffure of this example is particularly prosperous. Traditional scarifications are present on the back, chest, abdomen, neck, forehead, temples and on the both cheeks. Maternity figures like this fine example were carved in honour of the fertile woman and kept in the hut by her husband.
The Baule people (also Baoulé) are a Kwa people and one of the largest ethnicities in the region between the Comoe and Bandama rivers, Côte d'Ivoire. According to a legend, during 17th century the Queen Adla Pokou had to lead her people from Ghana when the Ashanti people rose to power. While they were run away for their lives they came to the river Komoe which they were unable to cross. With their enemies following them they began to throw their most prized belongings into the river. The Queen found that their most valuable possession was her son. She soon realized that she had to sacrifice her son to the river and threw him in. As she did so, a large hippo emerged from the river and allowed them to cross, saving their lives. After the crossing, the queen was so distraught at the loss of her son that she could only say "baouli" (meaning: the child is dead). From that point they were known as Baule.
Exceptional older Baule maternity figure are in good condition. Figure has gorgeous light brown patina. Age-related heavy wear and signs of handling over many years. Fractures and chip. Repaired. Size approx. 28,0cm x 6,1cm x 6,6cm.
Provenance: Finnish private collection.
For a similar examples see:
Maternity figure, The Israel Museum, Jerusalem, Accession number: B91.0187  (https://www.imj.org.il/en/collections/312101-0)
Female figure with child, Sainsbury Centre, University of East Anglia, Accession number: 572 (https://www.sainsburycentre.ac.uk/art-and-objects/572-female-figure-with-child/)
References and further reading:

Baule: African Art, Western Eyes, Susan Mullin Vogel, Publisher Yale University Press, 1997, pp. 260, 261, 262, 291.
Baule Statuary Art: Meaning and Modernization, P. L. Ravenhill, Institute for the Study of Human Issues, Working Paper 5, Philadelphia, 1980
Baule, 101 Last Tribes (https://www.101lasttribes.com/tribes/baule.html)
The Tribal Arts of Africa, Jean-Baptiste Bacquart, Publisher Thames & Hudson, 2002, p. 48, ill. 5
View full details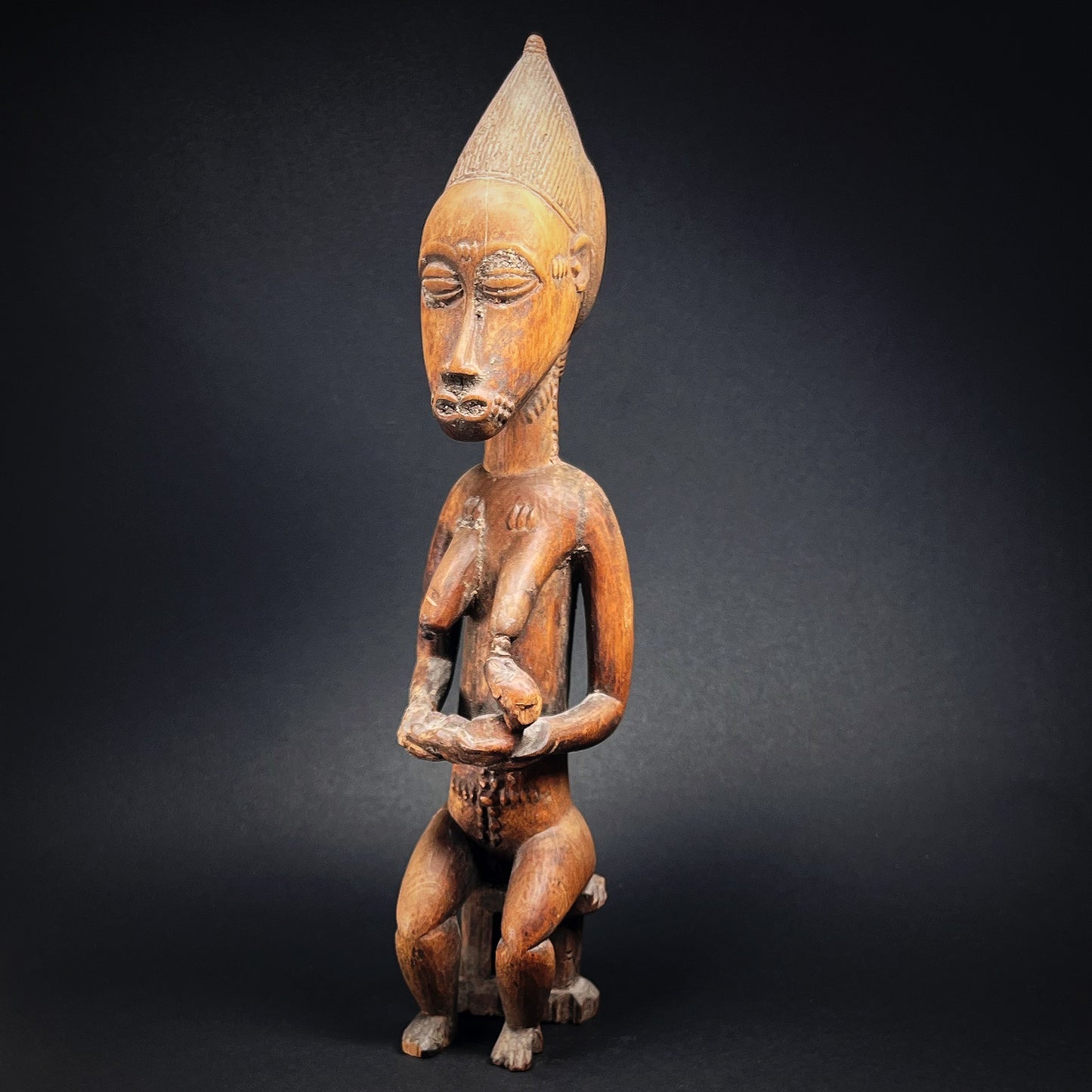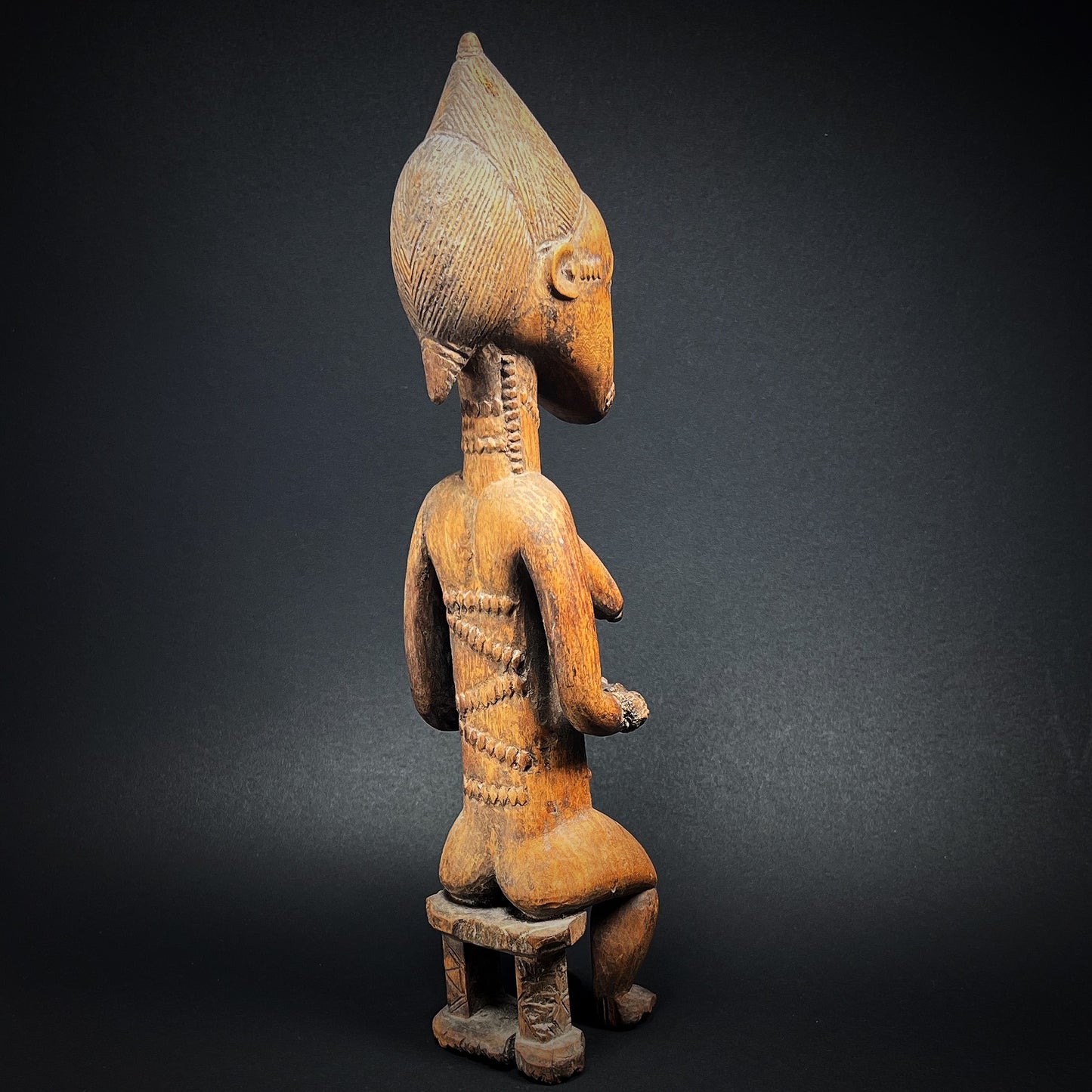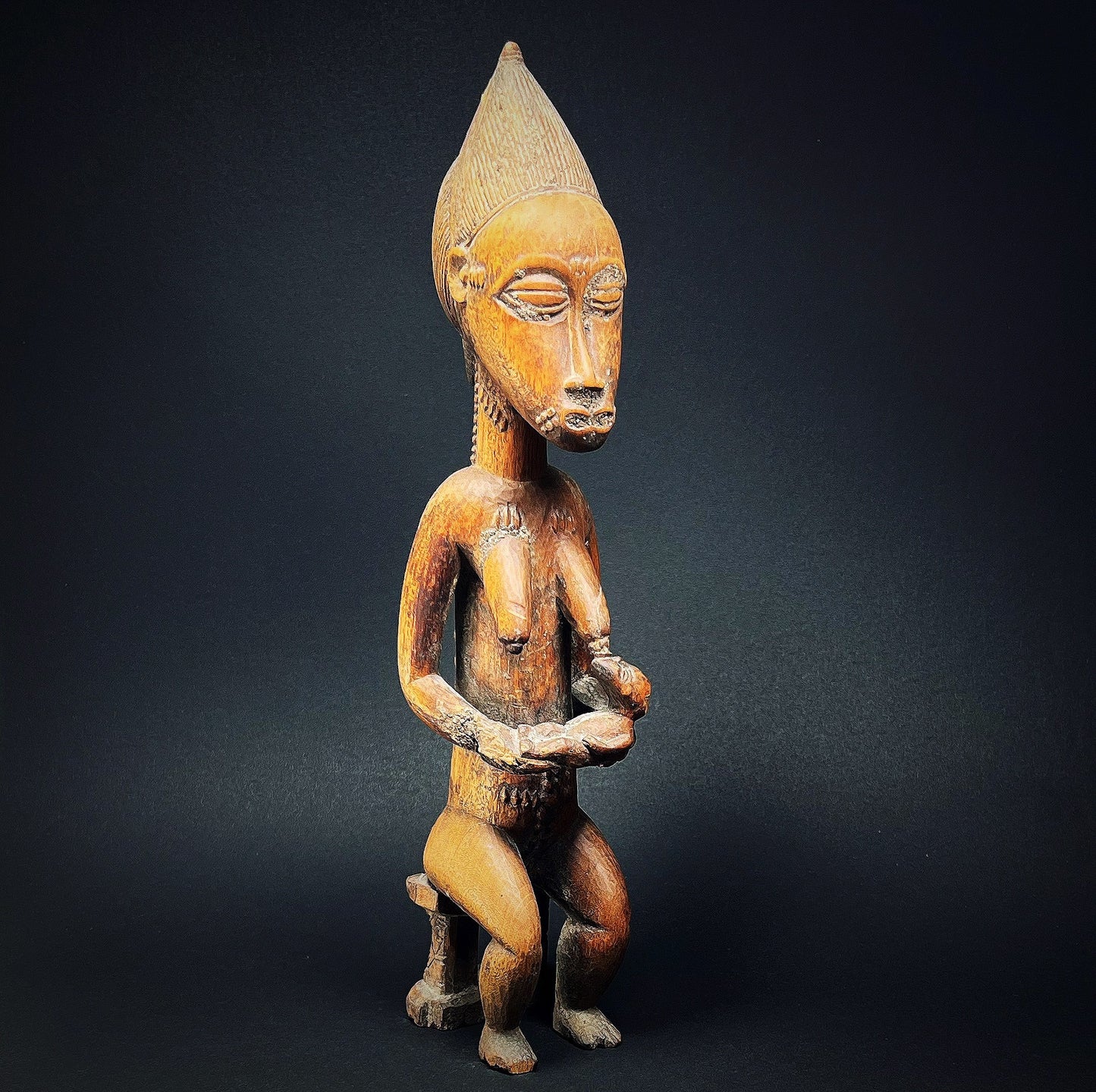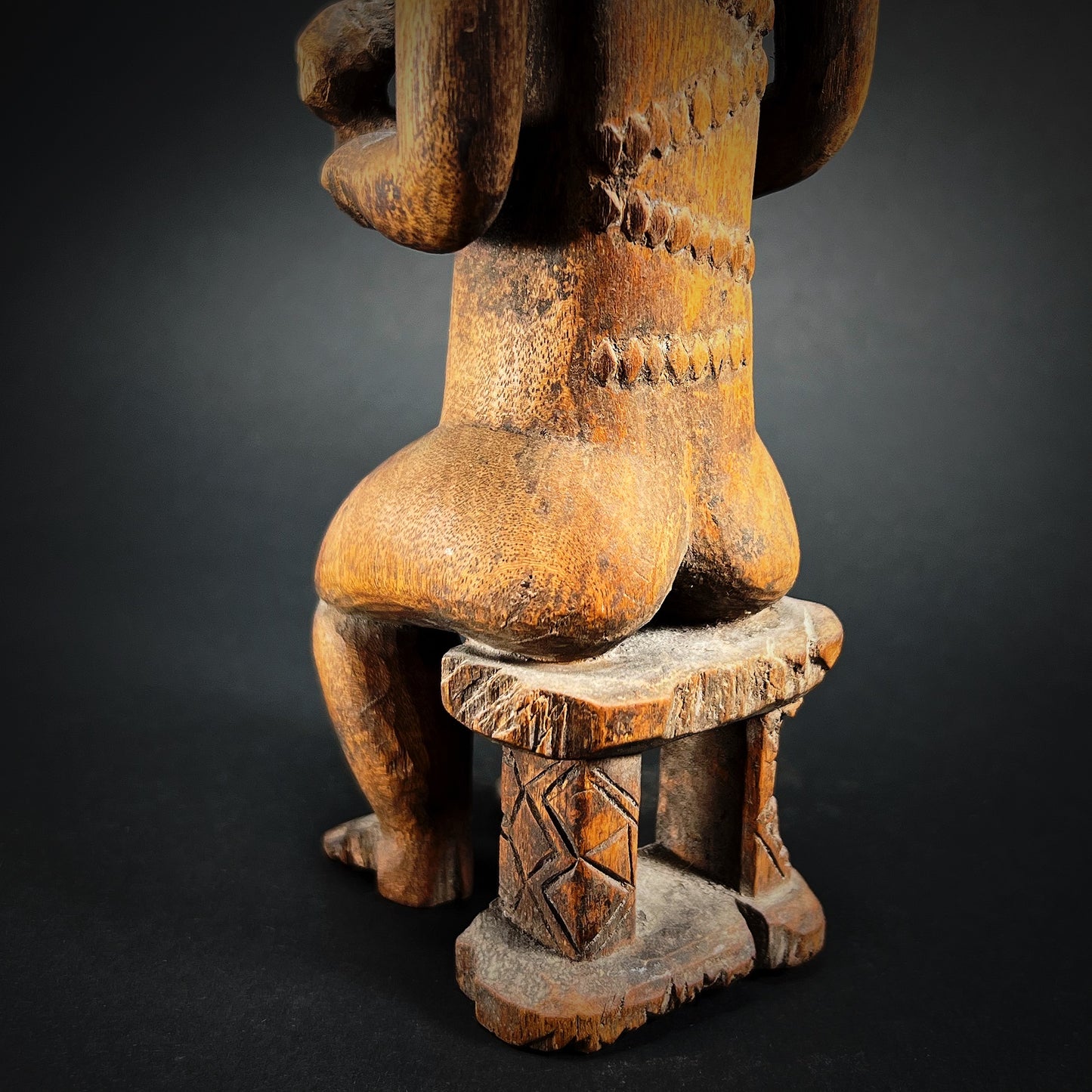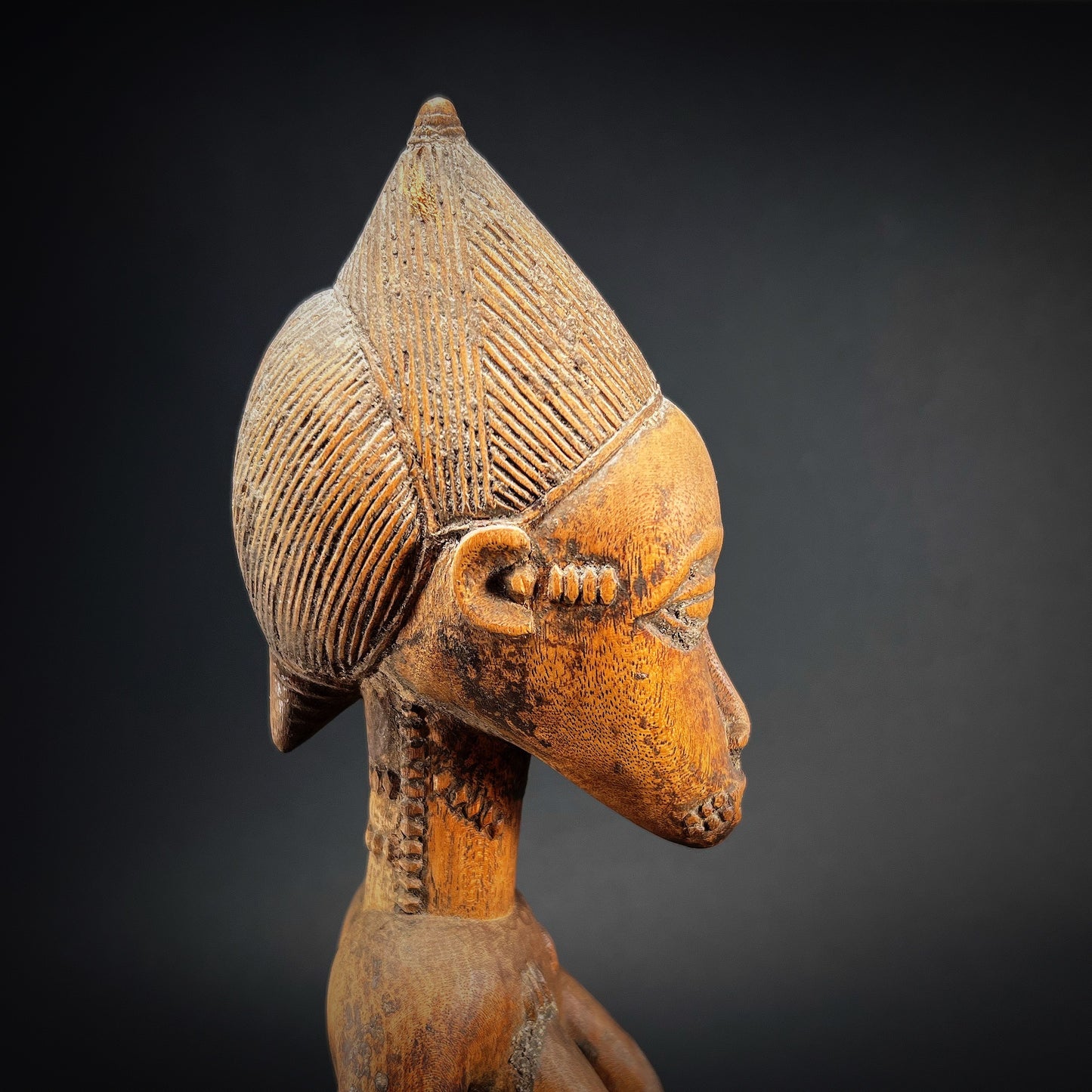 Shipping

The shipment will be prepared in the course of 3-5 days and dispatched via Posti Group Oyj or purchased item(s) can be picked up from our shop during the store's opening hours (Tarkk'ampujankatu 4, 00140, Helsinki, Finland). Within the Finland, all items are shipped via Posti Group Oyj unless otherwise requested. We pack the items carefully and mainly in recycled materials because we want to save nature. You will receive the tracking number for your items by e-mail.

Returns

Returns and exchange will be accepted within fourteen days (14) of receipt at the purchaser's cost to include freight and packaging. Items must be returned in the same condition as when they were shipped, and will not be accepted if damaged or altered in any way. Please inform us via email (info@gotanmaailma.fi) or by calling +358408408352 before sending. We do not accept returns more than 14 days after delivery.