Regular price
Sale price
$352.00
Unit price
per
Sale
Sold out
Share
Bembe people, late 20th century, Democratic Republic of the Congo, Central Africa
Fascinating unusual power figure. The Bembe are an small ethnic and linguistic group based in the eastern Democratic Republic of the Congo, western Tanzania and Burundi. The Bembe had close contacts with their neighbors the Teke and Bakongo. The Bembe religion is based on individual and lineage ancestor cults. The Bembe believed in a creator god called Nzambi, whom they did not depict figuratively. He was the master of life and death, unless the latter was due to the act of a sorcerer (ndoki), who could magically "eat" the life force of clan members. The ancestors had close ties with living and received offerings through the priest who made appeals to the wooden figures, consecrated by a sorcerer. These figurines were the idealized images of the ancestors and would often wear attributes that allowed them to be identified as medicine men or hunters. The ancestor worship among the Bembe is older, though, and precedes the use of power figures (nkisi) by the sorcerers. It recalls the history of their respective clans through worship at private and public shrines, which appear in the form of miniature huts, enclosures or tables and are situated either somewhere in the village or on an ancestor's grave. Often food is offered or animals are sacrificed on the shrine and, sometimes, magical stones, horns or blades are left in situ. In exchange, the ancestor protects the tribe and increases fecundity. The Bembe also honor nature spirits (bahomba), earth spirit (m'ma) and the spirit of Lake Tanganyika (mkangualukulu).
The Bembe figures are divided by size and sex. All sculpted Bembe figures are called nkumba; figures that have not been loaded with special powers or the minds of their owners. On the death of the owner of a figure, pieces of the corpse of the individual are mixed with medicines and magical ingredients (bilongo). This mixture is then inserted into small carved hole near the rectum of the figure. By inserting the mixture and sealng the hole with a wooden cap and/or a wrapping sheet, the figure nkumba receives the spirit of the ancestor and thus turns into an ancestor figure nkiteki (also called kiteki, bimbi, sibiti or mukuya). As long the spirit lives in the statue, it watches over its descendants and punishes transgressors of customs or precepts. 
A large power figure with a body composed light wood. Characteristic elongated trunk with raffia and cloth stripes wrapped around, richly adorned with large seed pods, plant fiber cord and horn. Eyes inlaid with cowrie shells. Oblong head with stylistic long nose and small mouth. Figure are in upright position with knees slightly bent, its large feet with articulated toes standing on the base. A cavity between legs with medicinal substances. Sealed with wooden cap. Good condition. Fractures and cracks.  Encrusted patina. Wormholes. Size approx. 57,5cm x 14,5cm x 11,5cm.
References and further reading:
Northern Kongo Ancestor Figures, Kavuna Simon and Wyatt MacGaffey, African Arts, Vol.28, No.2, pp. 48-53+91, Published UCLA James S. Coleman African Studies Center, Spring 1995.
Bembe Art, Daniel P. Biebuyck, African Arts, Vol.5, No. 3, pp. 12-19+75+84, Spring 1972.
Bembe, Art & Life in Africa, University of Iowa Stanley Museum of Art.
Bembe people, Africa, 101 Last Tribes.
View full details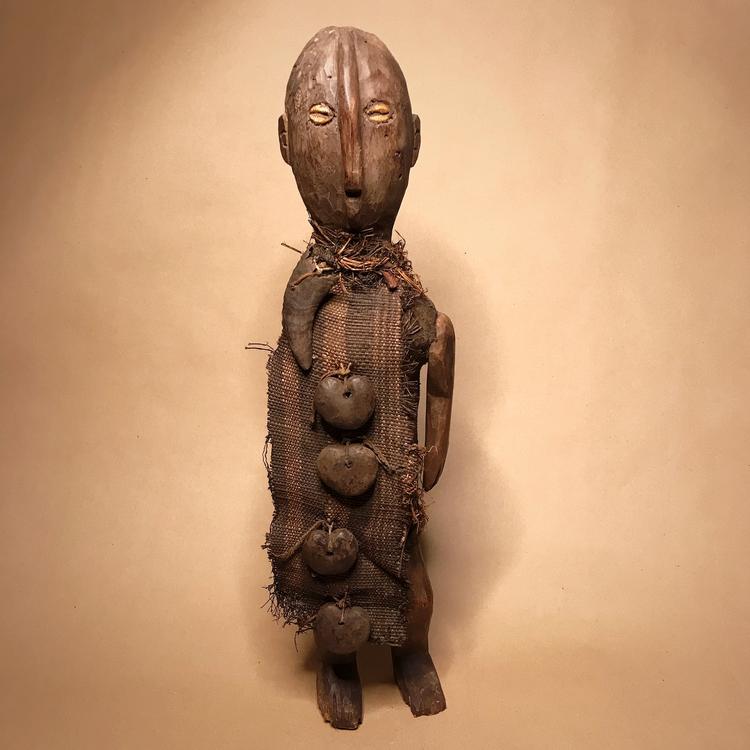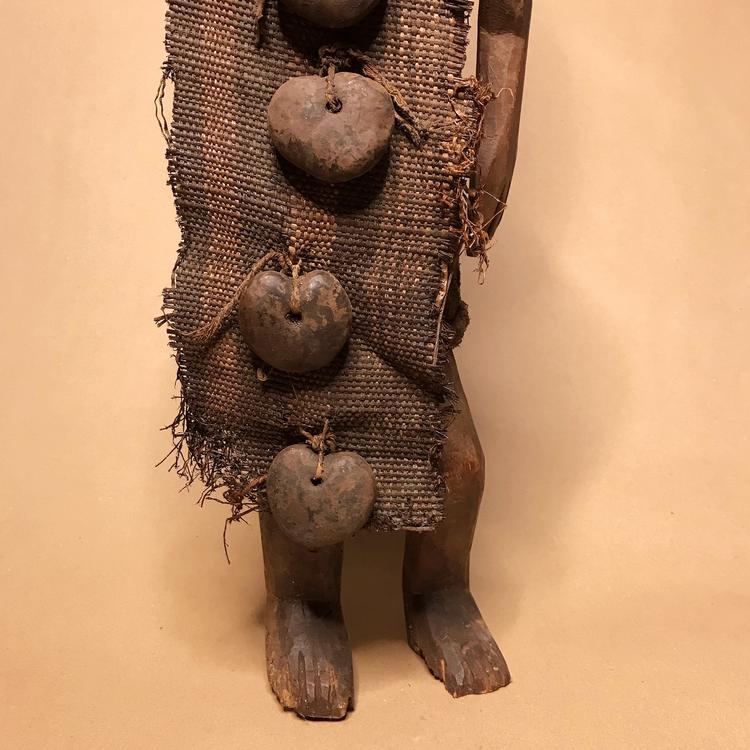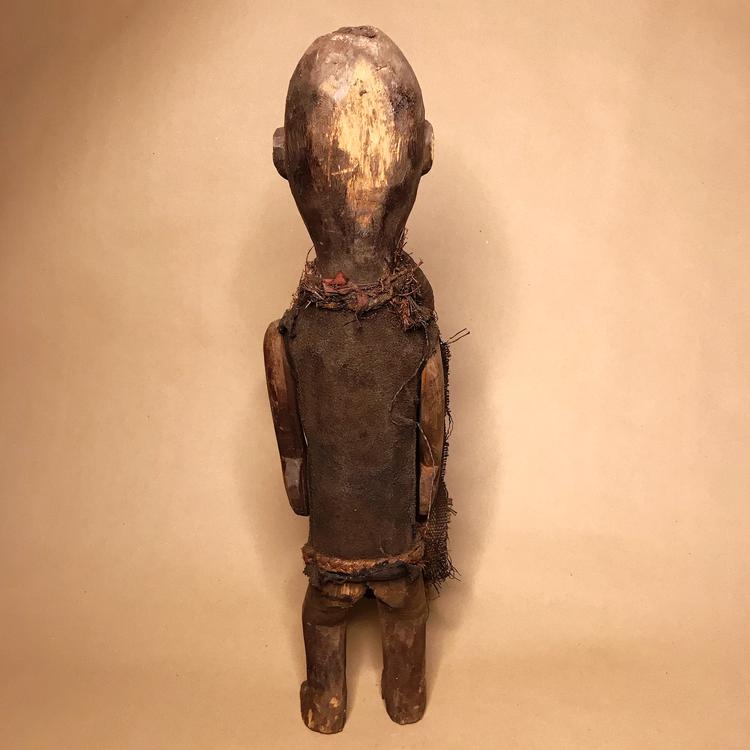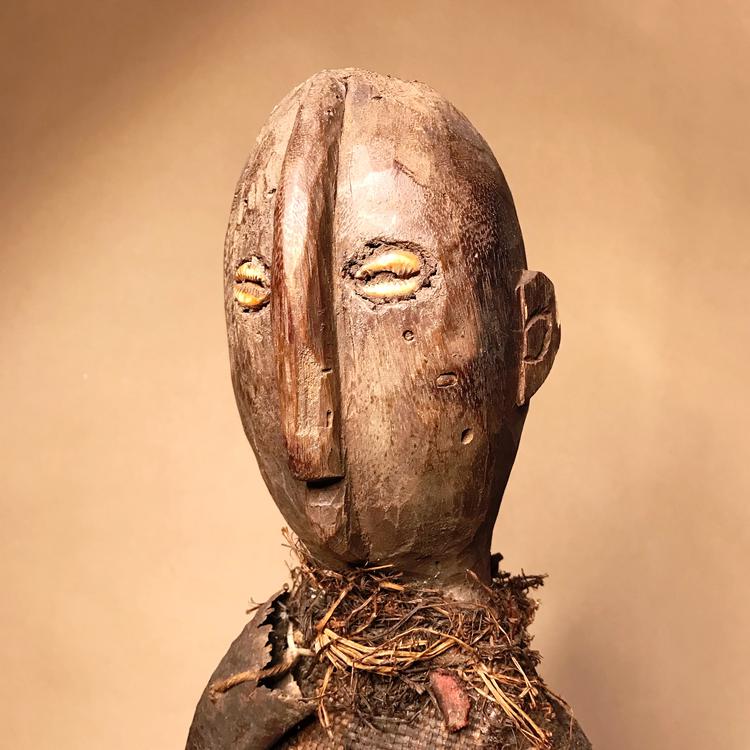 Shipping

The shipment will be prepared in the course of 3-5 days and dispatched via Posti Group Oyj or purchased item(s) can be picked up from our shop during the store's opening hours (Tarkk'ampujankatu 4, 00140, Helsinki, Finland). Within the Finland, all items are shipped via Posti Group Oyj unless otherwise requested. We pack the items carefully and mainly in recycled materials because we want to save nature. You will receive the tracking number for your items by e-mail.

Returns

Returns and exchange will be accepted within fourteen days (14) of receipt at the purchaser's cost to include freight and packaging. Items must be returned in the same condition as when they were shipped, and will not be accepted if damaged or altered in any way. Please inform us via email (info@gotanmaailma.fi) or by calling +358408408352 before sending. We do not accept returns more than 14 days after delivery.