Regular price
Sale price
$934.00
Unit price
per
Sale
Sold out
Share
Bulu or Fang people, mid. 20th century, Beti-Pahuin, Cameroon or Gabon, 
Central Africa
Mesmerizing Bulu or Fang wooden power figure with various sacrificial materials such as hammered nails, cowrie shells, fabrics, kaolin clay, seeds, vertebraes, monkey skull etc. The Beti-Pahuin are a group of closely related Bantu ethnic groups located in rainforest regions of Cameroon, Republic of the Congo, Equatorial Guinea, Gabon, and São Tomé and Príncipe. One of the groupings is called Bulu (also spelled Boulou) that inhabit the hilly, forested areas and rainforest regions of a few nations northern Gabon, mainland Guinea and Cameroon. Bulu people are a subgroup of the Fang people. 
The Fangs believe in the existence of a mighty and eternal god (called Mebe'e or Mebere) who is viewed as the creator of the known world. Mebe'e not only blew life into Earth, but also the creator of the first ancestor/ lesser god (called Ndzame or Sekome), who was fashioned from clay and whose form was first as a lizard. Mebe'e placed this lizard in the water for eight days, on the final day, the lizard gratefully emerged from water as a man. The Fang also believe that Mebe'e was once god with three different aspects: Ndzame, Mebe'e, and Nkwa. These three parts consulted with one another during the creation process and particularly in the creation of the first man. To achieve their mediation for solving the daily life hardships, the Fangs practise the cult of the ancestors. They also maintain tribal cohesion through the So, Gil and Ngi societies. Ngi means gorilla among the Fang, when Bulu people call it Nji. The Bulu have also the Nji secret society, which is reported as being precisely similar to the Fang Ngi. The Bulu and Fang are among the many peoples in the area to share a reverence for the great apes of the forest, especially mandrills and gorillas, which are seen to symbolize fire and positive power (when the chimpanzee represents evil). The powerful Ngi was often seen watching the manners of the members of this secret society. He punished them with illness, for example with leprosy, if they broke the rules. Ngi also protected the society members as he rose at night to fight sorcerers who had left their bodies to kill people.
Impressive power or fetish figure are carved from a single wood log. Good condition. Age-related wear and ritual use over many years. Piece of mirror are missing. Worm holes, cracks and minor defects. Traces of libations. Size approx. 56cm x 13,5cm x 14,5cm.
Provenance: Dutch private collection
References and further reading:
Fang Religious Experience - Bwiti. An Ethnography of the Religious Imagination in Africa, J. W. Fernandez, Princeton: Princeton University Press, 1982.
Fang, 101lasttribes, (https://www.101lasttribes.com/tribes/fang.html)
A Masterwork That Sheds Tears... and Light: A Complementary Study of a Fang Ancestral Head, Roland Kaehr, UCLA James S. Coleman African Studies Center. 40, pp. 44–57 (https://www.jstor.org/stable/i20447849)
View full details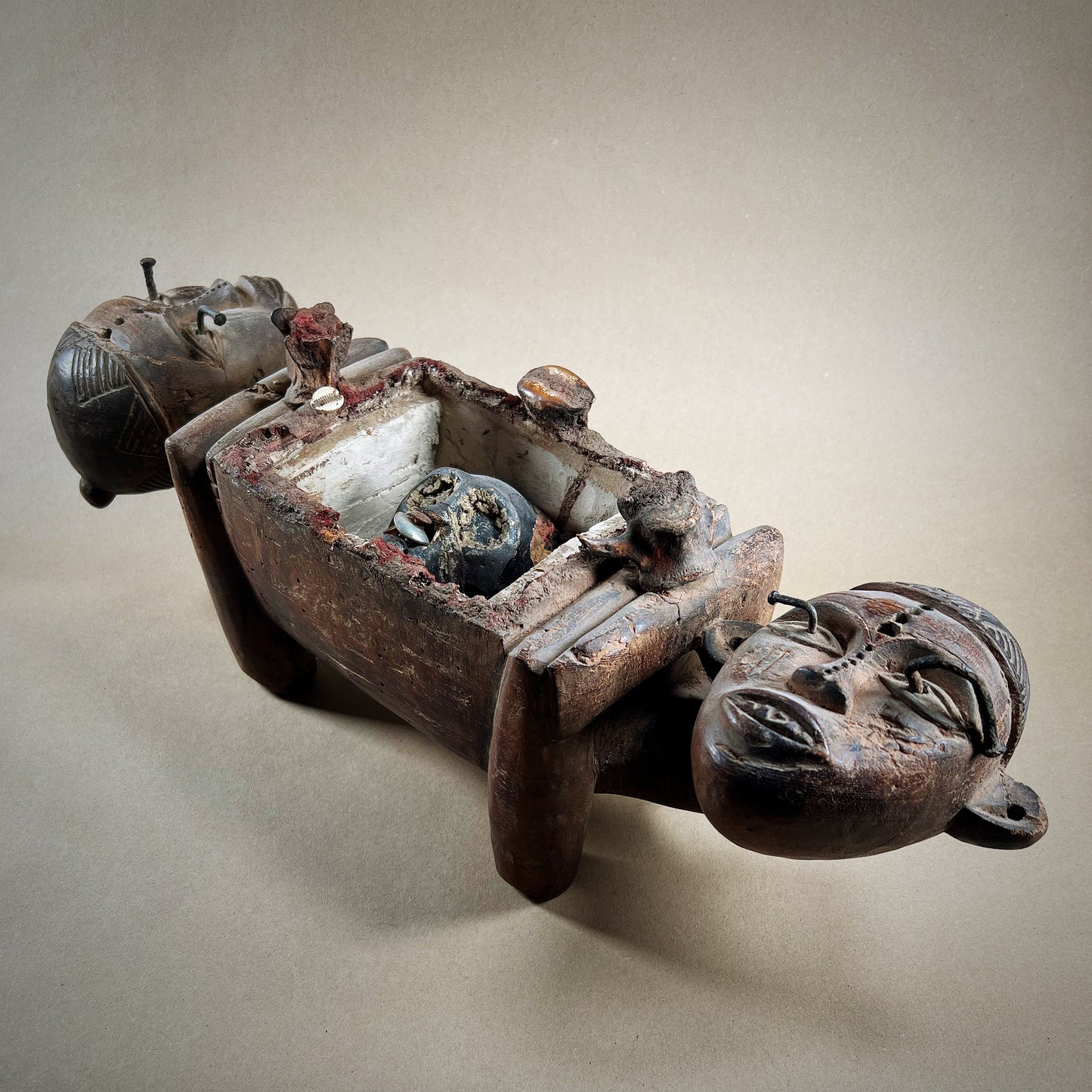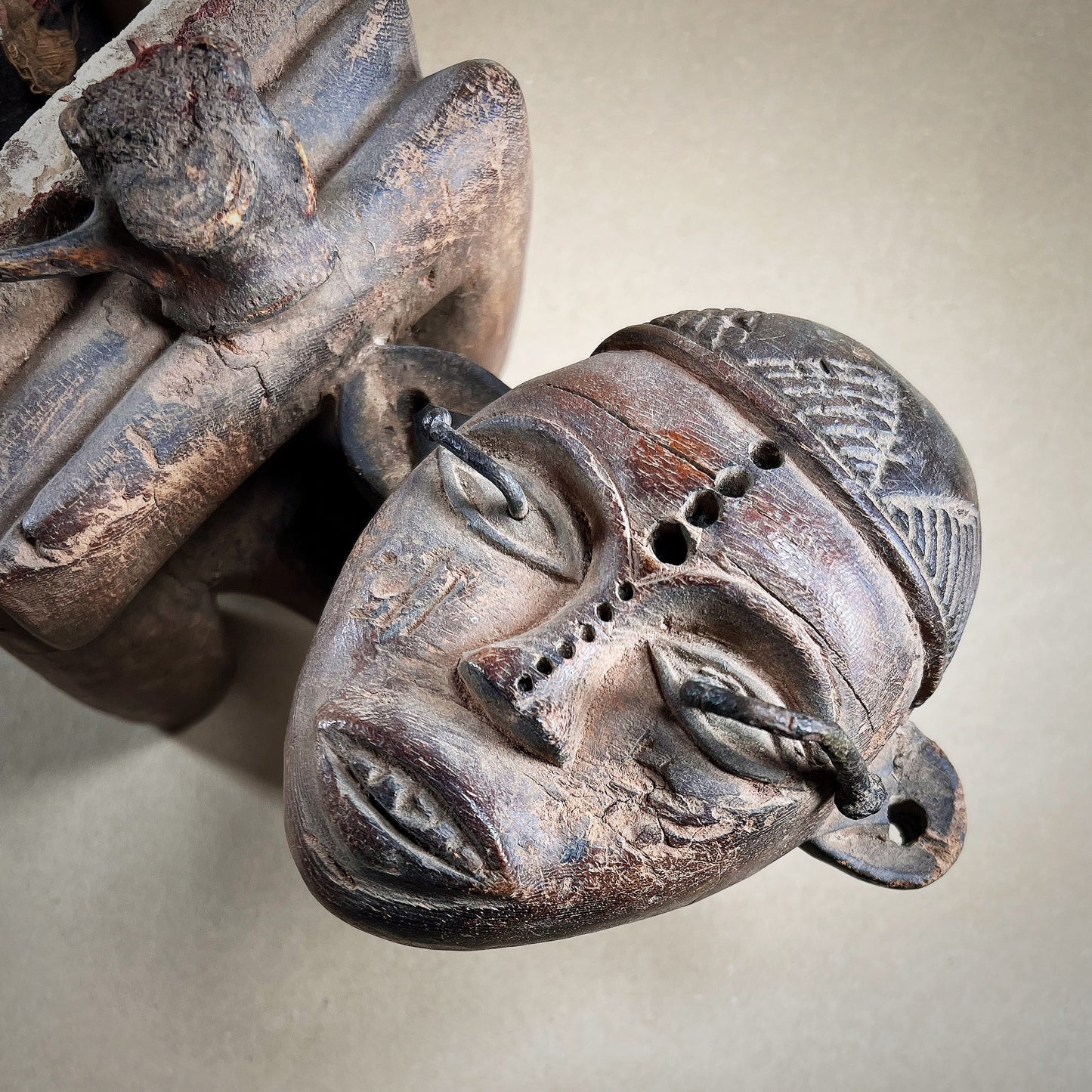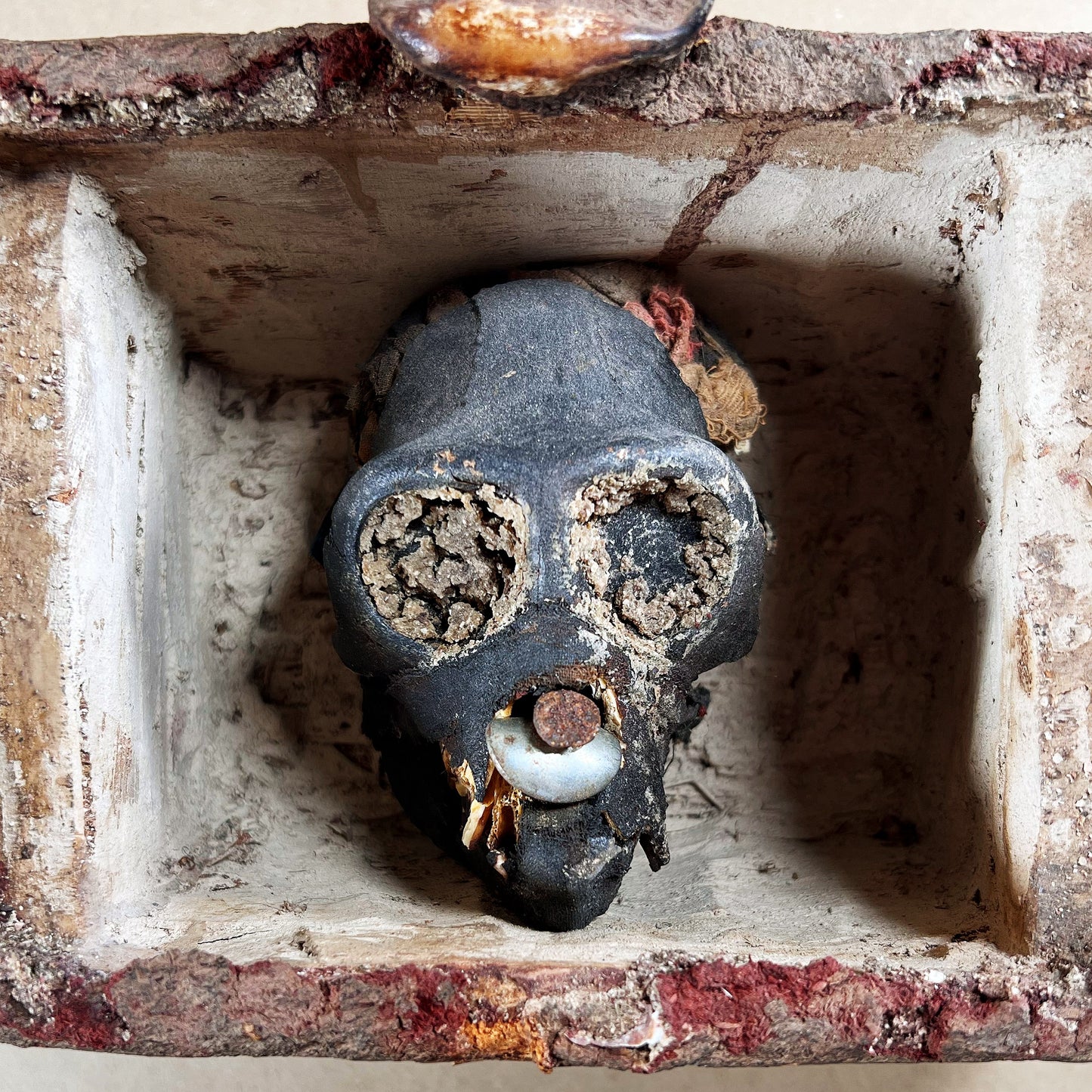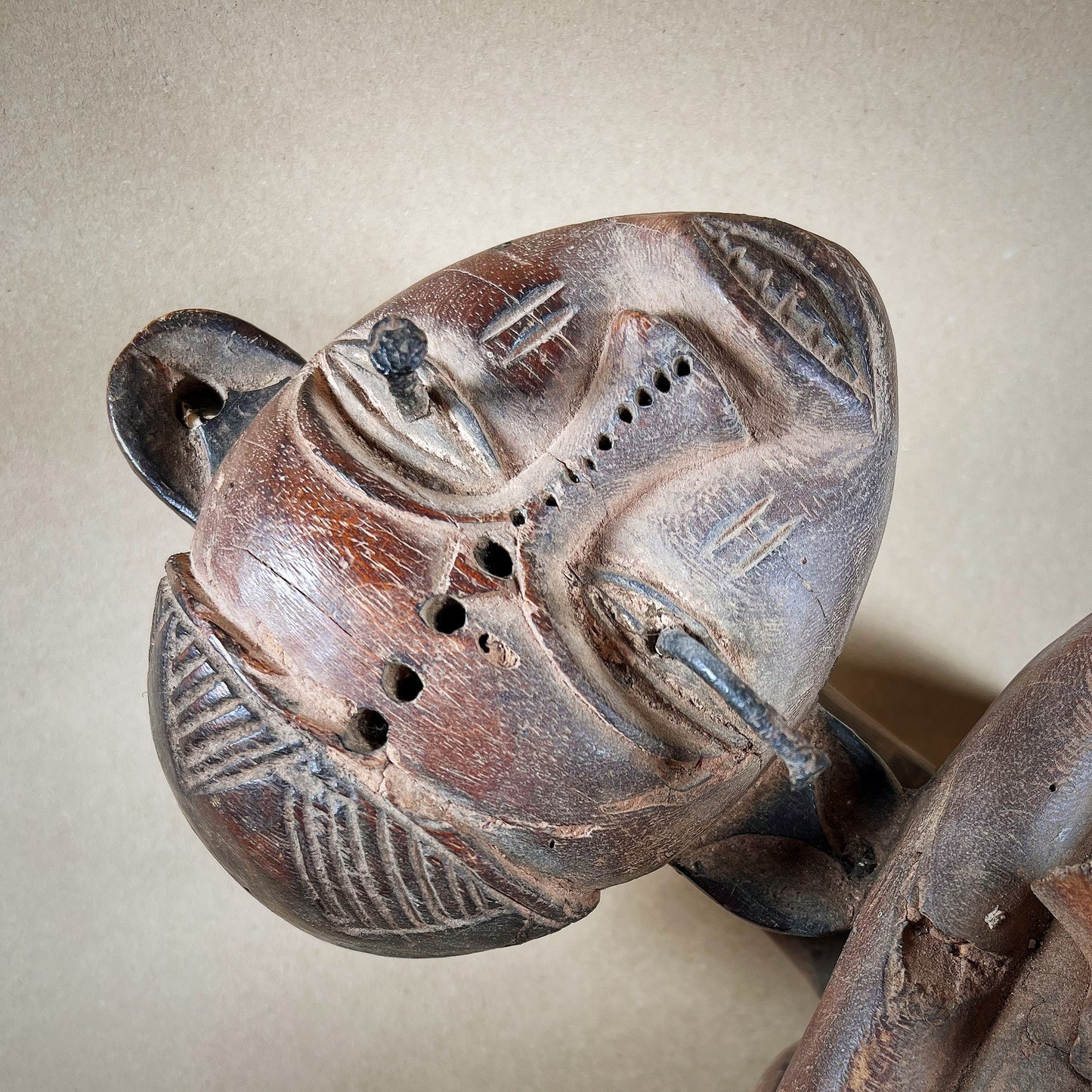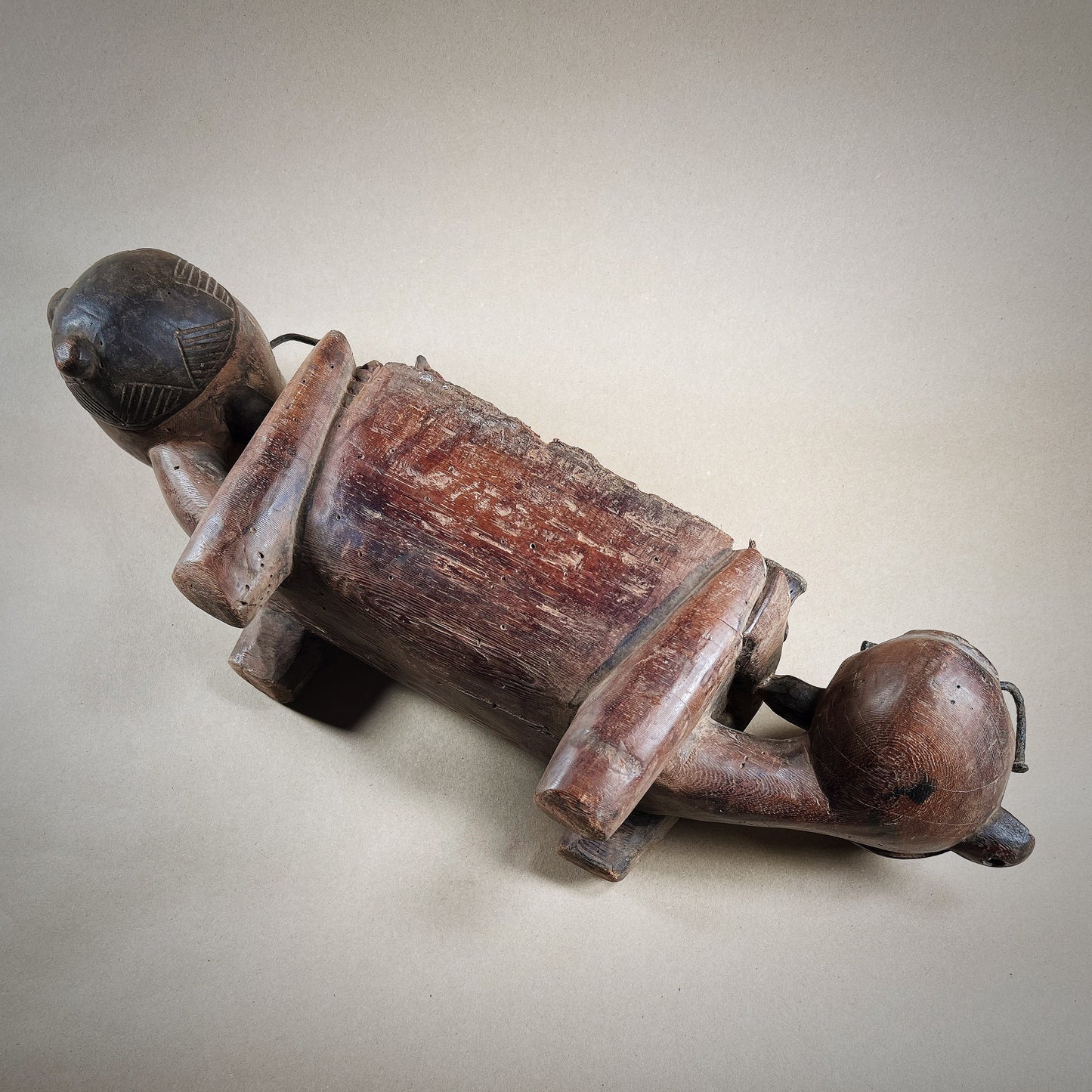 Shipping

The shipment will be prepared in the course of 3-5 days and dispatched via Posti Group Oyj or purchased item(s) can be picked up from our shop during the store's opening hours (Tarkk'ampujankatu 4, 00140, Helsinki, Finland). Within the Finland, all items are shipped via Posti Group Oyj unless otherwise requested. We pack the items carefully and mainly in recycled materials because we want to save nature. You will receive the tracking number for your items by e-mail.

Returns

Returns and exchange will be accepted within fourteen days (14) of receipt at the purchaser's cost to include freight and packaging. Items must be returned in the same condition as when they were shipped, and will not be accepted if damaged or altered in any way. Please inform us via email (info@gotanmaailma.fi) or by calling +358408408352 before sending. We do not accept returns more than 14 days after delivery.