Regular price
Sale price
$1,044.00
Unit price
per
Sale
Sold out
Share
Mandalay period, 19th century, Mandalay, Burma.
Mesmerizing gilded wooden disciple statue from Mandalay, Burma (Myanmar). Śariputra was one of the top disciples of the Buddha. He is considered the first of the Buddha's two chief male disciples, together with Maudgalyayana. Śariputra had a key leadership role in the ministry of the Buddha and is considered in many Buddhist schools to have been important in the development of the Buddhist Abhidharma. He frequently appears in Mahayana sutras, and in some sutras, is used as a counterpoint to represent the Hinayana school of Buddhism. Śariputra is depicted seated on the Buddha's right. Śariputra was foremost in wisdom and it was said that Śariputra was only second to Lord Buddha when it comes to ability to teach. Images of the Śariputra and Moggallana often are found in Burmese artwork. Carved wooden and lacquered images were used in temples and monasteries where they were placed before images of the Buddha as part of a shrine (hpaya khan).
Śariputra sits in a position of listening with one hand resting on a shin and the other on his thigh. The modeling of his head is particularly naturalistic. His face with serene meditative expression, finely arched eyebrows and slightly-smiling bow-shaped mouth. The gaze are inquiring and contemplative. Wearing a monastic close-fitting sanghati  draped over his left shoulder. His right shoulder has been left bare. He sits in the way of a Buddhist worshipper with feet pointing behind him and away from the focus of veneration. His right foot rests over the long robe which trails behind him.
Finely hand-carved in hard wood, covered with layers of black lacquer (thit-si), and cinnabar (mercuric sulphide) tinted bright red lacquer with gilding. Inset glass eyes. Sanghati hem embellished with inlay glass fragments backed with green and silver foil (hman-zi-shwei-cha) and raised leafy scroll bands made of putty-like filler (thayo). Excellent condition. Age related minor wear. Gilding and lacquer partially worn out. Stunning patina. Some glass insets missing. Minor flaking. Repaired robe trail. Size approx. 31,0cm x 23,0cm x 25,0cm. 
References and further reading:
Great Disciples of the Buddha: Their Lives, Their Works, Their Legacy, Nyanaponika Thera & Hellmuth Hecker, ed. Bhikkhu Bodhi, Wisdom Publications, 2003.
Visions from the Golden Land: Burma and the Art of Lacquer, Ralph Isaacs & T. Richard Blurton & British Museum, Art Media Resources Ltd, March 1, 2000.
Lacquerware Journeys: The Untold Story of Burmese Lacquer, Than Htun, River Books Press Dist A C, March 16, 2013.
Burmese Lacquerware, Sylvia Fraser-Lu, Orchid Press Publishing Limited, 1 Sept. 2001.
Burma and the Art of Lacquer, Ralph Isaacs & T. Richard Blurton, River Books, January 1, 2000.
View full details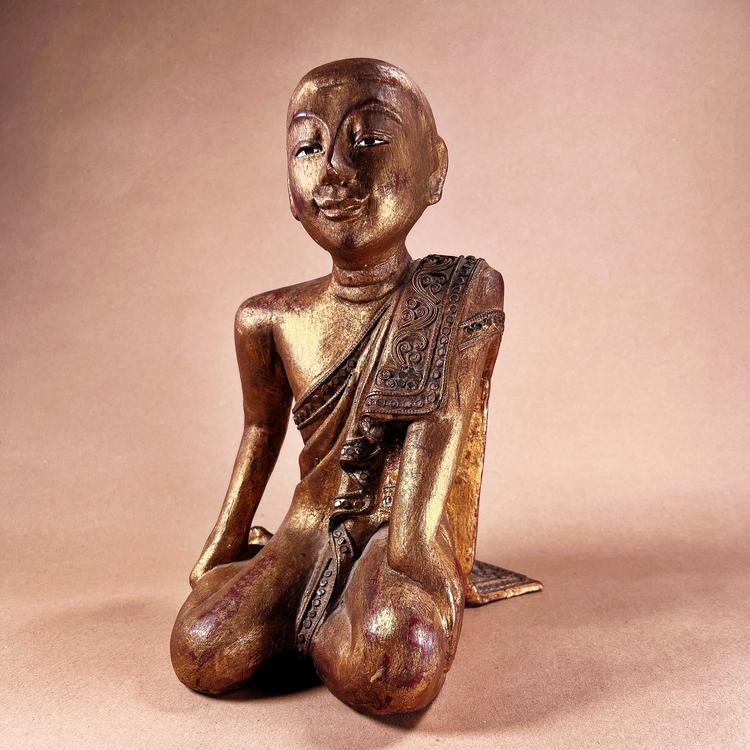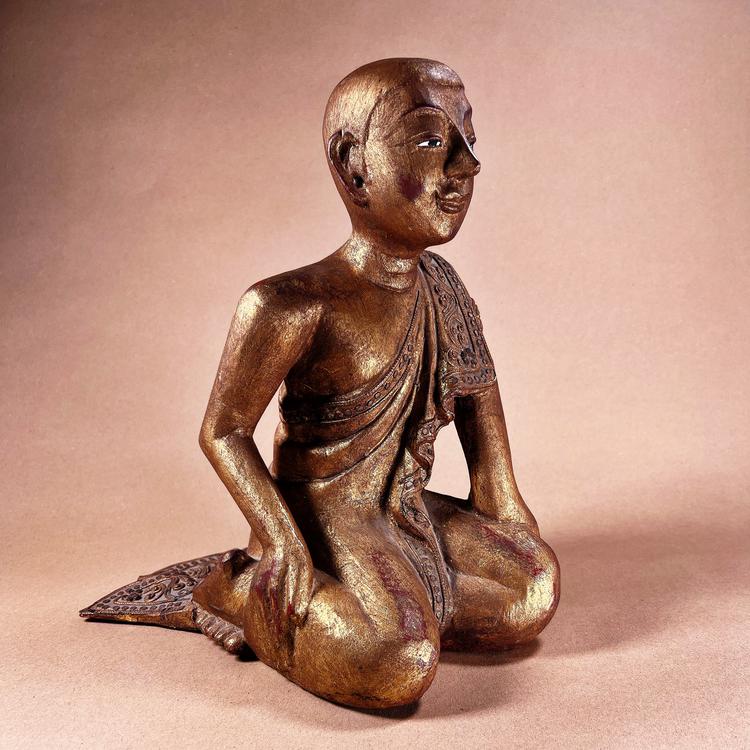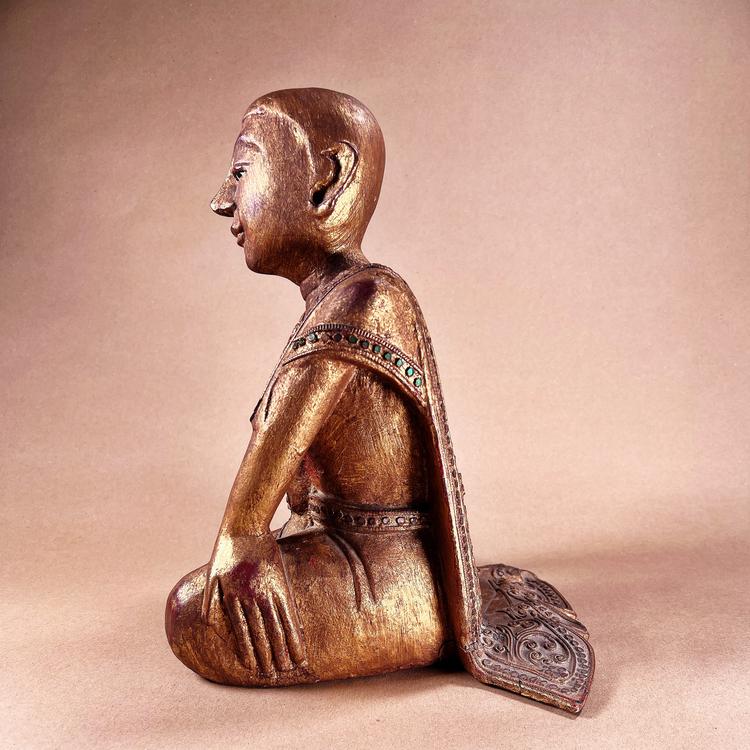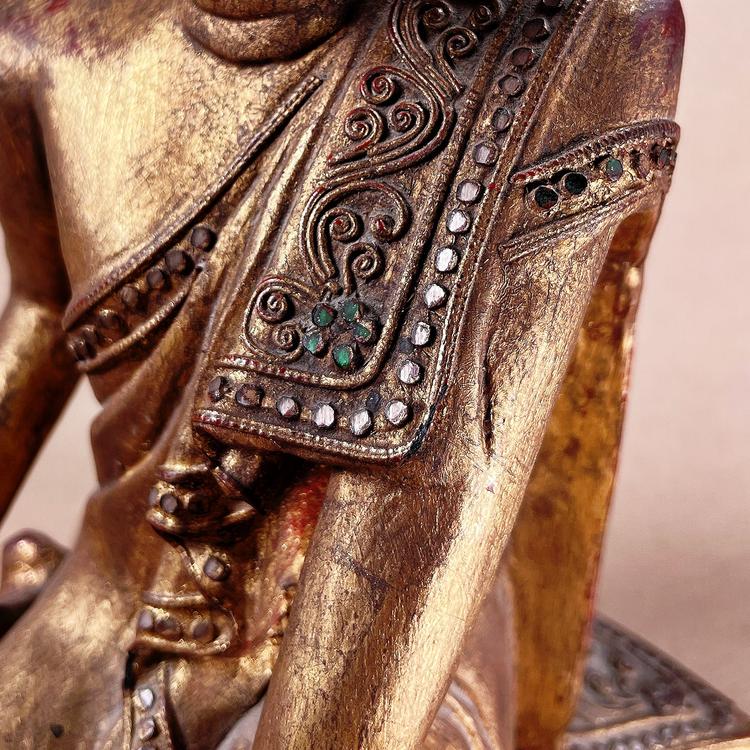 Shipping

The shipment will be prepared in the course of 3-5 days and dispatched via Posti Group Oyj or purchased item(s) can be picked up from our shop during the store's opening hours (Tarkk'ampujankatu 4, 00140, Helsinki, Finland). Within the Finland, all items are shipped via Posti Group Oyj unless otherwise requested. We pack the items carefully and mainly in recycled materials because we want to save nature. You will receive the tracking number for your items by e-mail.

Returns

Returns and exchange will be accepted within fourteen days (14) of receipt at the purchaser's cost to include freight and packaging. Items must be returned in the same condition as when they were shipped, and will not be accepted if damaged or altered in any way. Please inform us via email (info@gotanmaailma.fi) or by calling +358408408352 before sending. We do not accept returns more than 14 days after delivery.