Regular price
Sale price
$15,920.00
Unit price
per
Sale
Sold out
Share
Mandalay period, 19th century, Mandalay, Burma (Myanmar)
Absolutely stunning and important large-scale gilded wooden Shakyamuni Buddha statue from Mandalay period, late 19th century Burma (Myanmar). Hand-carved in hard wood, covered with layers of black lacquer (thit-si), and cinnabar (mercuric sulphide) tinted bright red lacquer with gilding. The modeling is particularly naturalistic. In Burma Mandalay is regarded as the center of Buddhism, and consequently art flourished in this region and it became known as the center of pure art of Myanmar. The artists employed advanced techniques to create a sophisticated style. Imposing and massive buddha is seated in vajrasana, with his right hand gesturing to the earth in the bhumisparsa mudra position. The posture, known as "calling the earth to witness", symbolizes the Buddha's enlightenment under the bodhi tree, when he summoned the earth goddess, Sthavara, to bear witness to his attainment of enlightenment. The right hand, placed upon the right knee in earth-pressing mudra, and complemented by the left hand, which is held flat in the lap in dhyana mudra of meditation, symbolizes the union of method and wisdom, samasara and nirvana. 
Mandalay artists appreciated realism, particularly when depicting the facial features. This one-of-a-kind example possesses characteristic attributes of the Mandalay Buddha with its oval shaped face with serene meditative expression, flat temples, finely arched eyebrows, eyes downcast in contemplation and slightly-smiling bow shaped mouth. The prominent elongated earlobes reflect back to the days before his enlightenment, when he wore heavy earrings as the Indian Prince Siddhartha, symbolizing Buddha's all-hearing powers and wisdom. The head protuberance (ushnisha) is round and even, adorned with glass jewels crown band at the hairline - this is characteristic of the Mandalay style and suggestive of Thai influence. Wearing a uttarasanga and monastic close-fitting sanghati with hem embellished inlay glass fragments backed with green and silver foil (hman-zi-shwei-cha) and raised leafy scroll bands made of putty-like filler (thayo). His elegant robe cascade from the left shoulder over the body when his right shoulder has been left bare. Buddha sits on thin waist high tiered throne elaborately decorated with various inset glass mosaics, rosettes and borders of mirrored glass segments. Hollow space in the backside of the base was used to store relics. Excellent condition. Age-related light wear, chip and fractures. Gilding and lacquer partially worn out. Stunning patina. Some glass insets missing. Size approx. 76,0cm x 49,0cm x 30,0cm. 

NB! We will not ship this object. Pick-up from the shop.
Provenance: Finnish private collection
References and further reading:
Visions from the Golden Land: Burma and the Art of Lacquer, Ralph Isaacs & T. Richard Blurton & British Museum, Art Media Resources Ltd, March 1, 2000.
Lacquerware Journeys: The Untold Story of Burmese Lacquer, Than Htun, River Books Press Dist A C, March 16, 2013.
Burmese Lacquerware, Sylvia Fraser-Lu, Orchid Press Publishing Limited, 1 Sept. 2001.
Burma and the Art of Lacquer, Ralph Isaacs & T. Richard Blurton, River Books, January 1, 2000.
View full details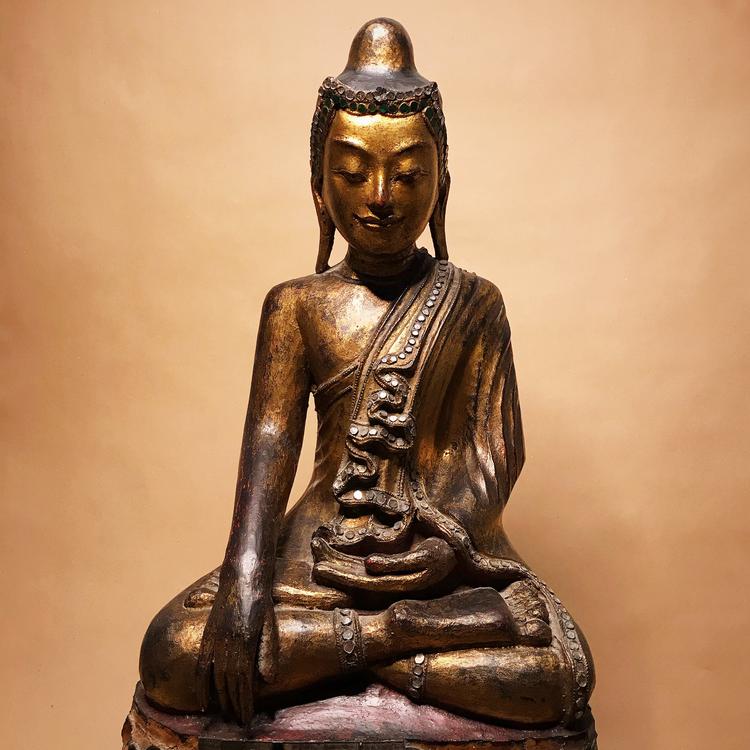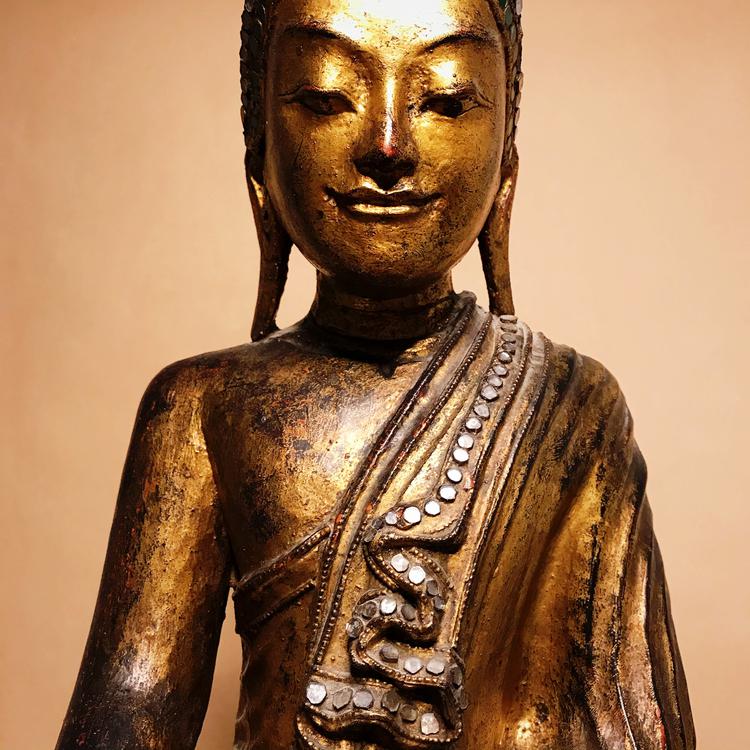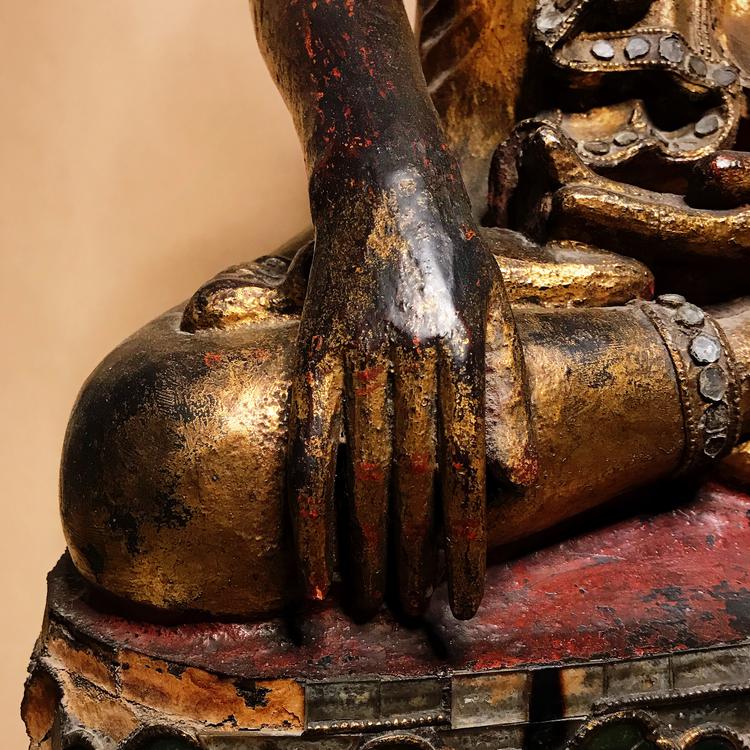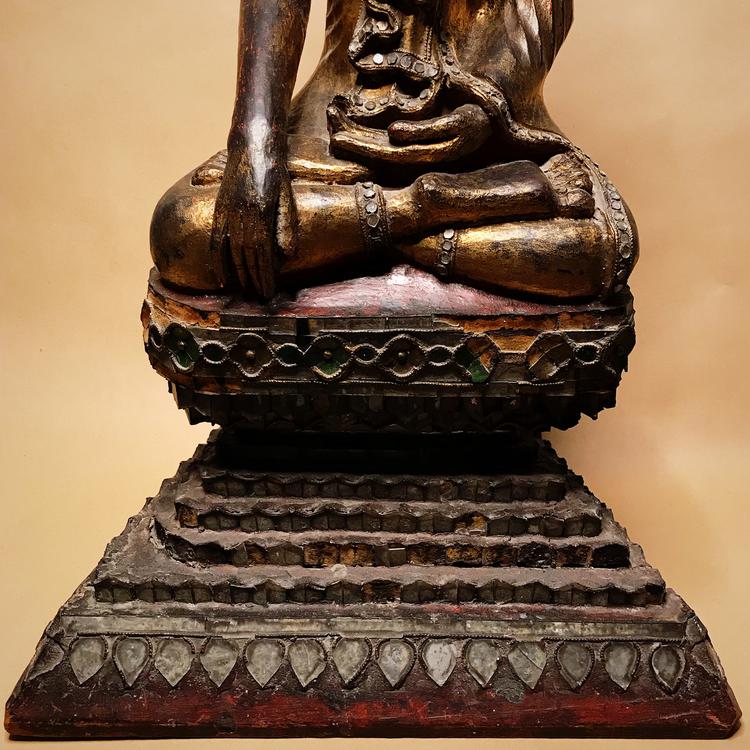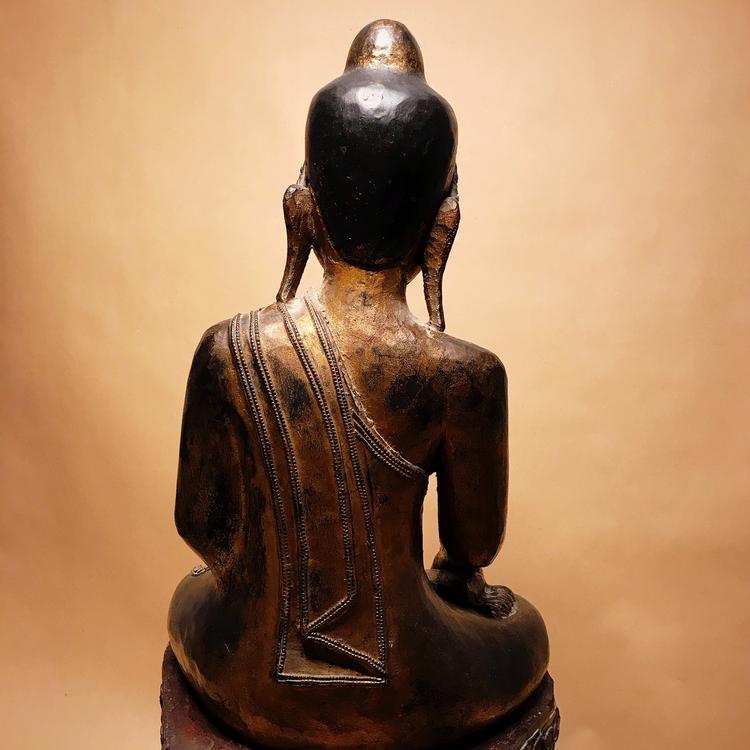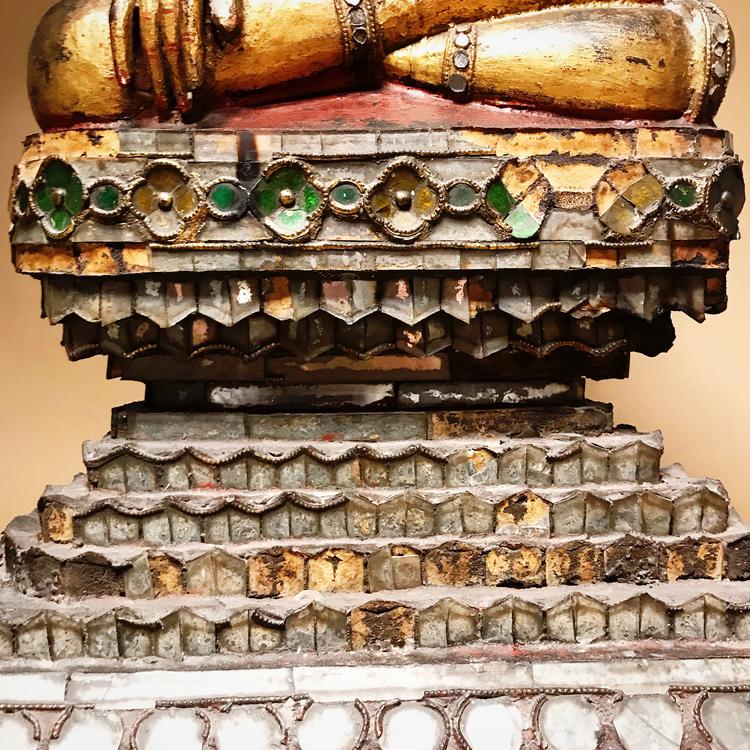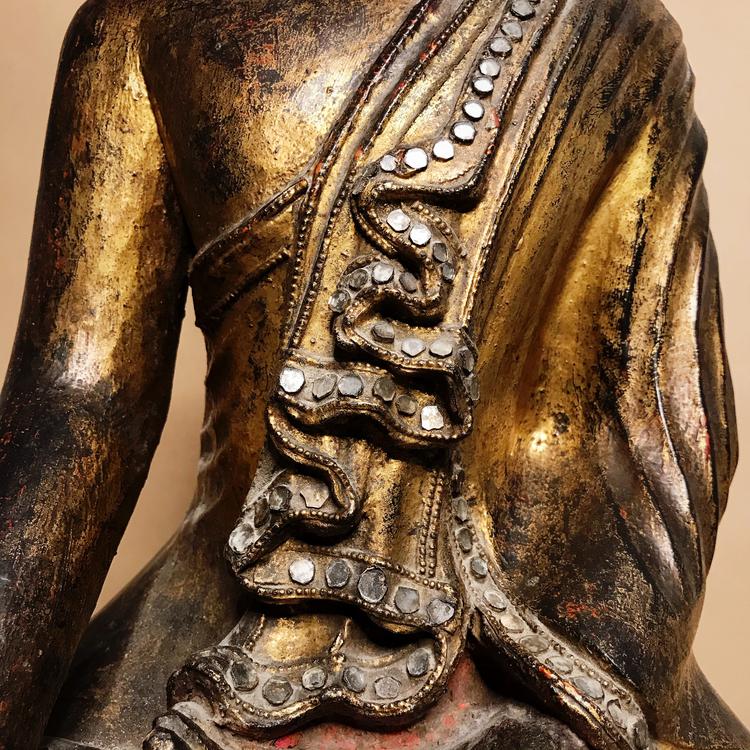 Shipping

The shipment will be prepared in the course of 3-5 days and dispatched via Posti Group Oyj or purchased item(s) can be picked up from our shop during the store's opening hours (Tarkk'ampujankatu 4, 00140, Helsinki, Finland). Within the Finland, all items are shipped via Posti Group Oyj unless otherwise requested. We pack the items carefully and mainly in recycled materials because we want to save nature. You will receive the tracking number for your items by e-mail.

Returns

Returns and exchange will be accepted within fourteen days (14) of receipt at the purchaser's cost to include freight and packaging. Items must be returned in the same condition as when they were shipped, and will not be accepted if damaged or altered in any way. Please inform us via email (info@gotanmaailma.fi) or by calling +358408408352 before sending. We do not accept returns more than 14 days after delivery.