Regular price
Sale price
$873.00
Unit price
per
Sale
Sold out
Share
Late Ming dynasty, Wanli (1572-1620) period, 
Jingdezhen, Jiangxi
 province, 
China.
Magnificent and rare, finely decorated blue white kraak klapmuts bowl. The Ming dynasty, officially the Great Ming, was the ruling dynasty of China from 1368 to 1644. The Kraak porcelain (Dutch: Kraakporselein) is a type of Chinese export porcelain produced at the famed Jingdezhen kilns in Southern China, mainly in the late Ming Dynasty, in the Wanli reign (1573–1620) up to that of the Chongzhen Emperor (1627–1644). It was among the first Chinese export wares to arrive in Europe in mass quantities with the Dutch East India Company (Vereenigde Oost-Indische Compagnie). Porcelain from captured Portuguese vessels (caraccas) was called kraak porcelain, a Dutch corruption of the Portuguese word. The distinctive porcelain are thin, usually rather quickly finished and often have roughly cut footrim, glaze grit and firing flaws. The glaze on the edge is often retracted. Kraak porcelain wares have been classified into four groups: dishes, bowls, closed forms, and klapmutsen. Shallow bowls of this shape, with a flattened rim are traditionally called klapmuts in Dutch, comparing the shape with a cap with flaps. The klapmuts is mentioned in Dutch East India Company records for the first time in 1608. It is thought that the klapmuts were designed specifically for the European customers, who wanted to be able to rest their spoons in the bowl edge well supported without damaging the edge. Kraak ware is almost all painted in the underglaze cobalt blue only, and often decorated with variations on the more traditional motifs found on Chinese porcelain, such as landscapes, stylized flowers and animals, rarely human figures, making this porcelain suitable for Islamic markets, too. Buddhist and Daoist auspicious symbols make up the paneled border decorations. However, most characteristic of Kraak decoration is the use of foliated radial panels. 
Gorgeous klapmuts or bowl on footring, flat slightly upturned rim with a scalloped edge. Decorated in underglaze blue with a riverscape with a pagoda and tree on a piece of land, a flag, rocks and mountains. On the interior wall four delicate medallions two filled with peach the other two with flowering peony. The narrow sections between the medallions are filled with hanging ribbons. On the exterior four oval shaped medallions with four stylized flaming pearls, separated by narrower panels with lingzhi. On the exterior rim two elongated flowering stems. Good quality. Still vivid cobalt blue underglaze color. Small chip in the rim and 7 hairlines. Fritting and glazing flaws. Kiln grit on the footrim. Size approx. 21,5cm x 21,5cm x 5,6cm.
Provenance: Finnish private collection

References and further reading:
Kraak porcelain. A moment in the history of trade, Maura Rinaldi, Bamboo Publishing Ltd, London, 1989.
Chinese Ceramics in the Collection of the Rijksmuseum, Amsterdam. The Ming and Qing Dynasties, Christian J.A. Jörg in collaboration with J. van Campen, Philip Wilson Publishers Limited, London, 1997
The Hatcher Porcelain Cargoes. The Complete Record, Colin Sheaf & Richard Kilburn, Phaidon Inc Ltd, Oxford, 1988
The Wares of the Transitional Period between the Ming and the Ch'Ing 1620-1683, Soame Jenyns, Archives of the Chinese Art Society of America, Published By: Duke University Press, Vol. 9, 1955, pp. 20-42.
View full details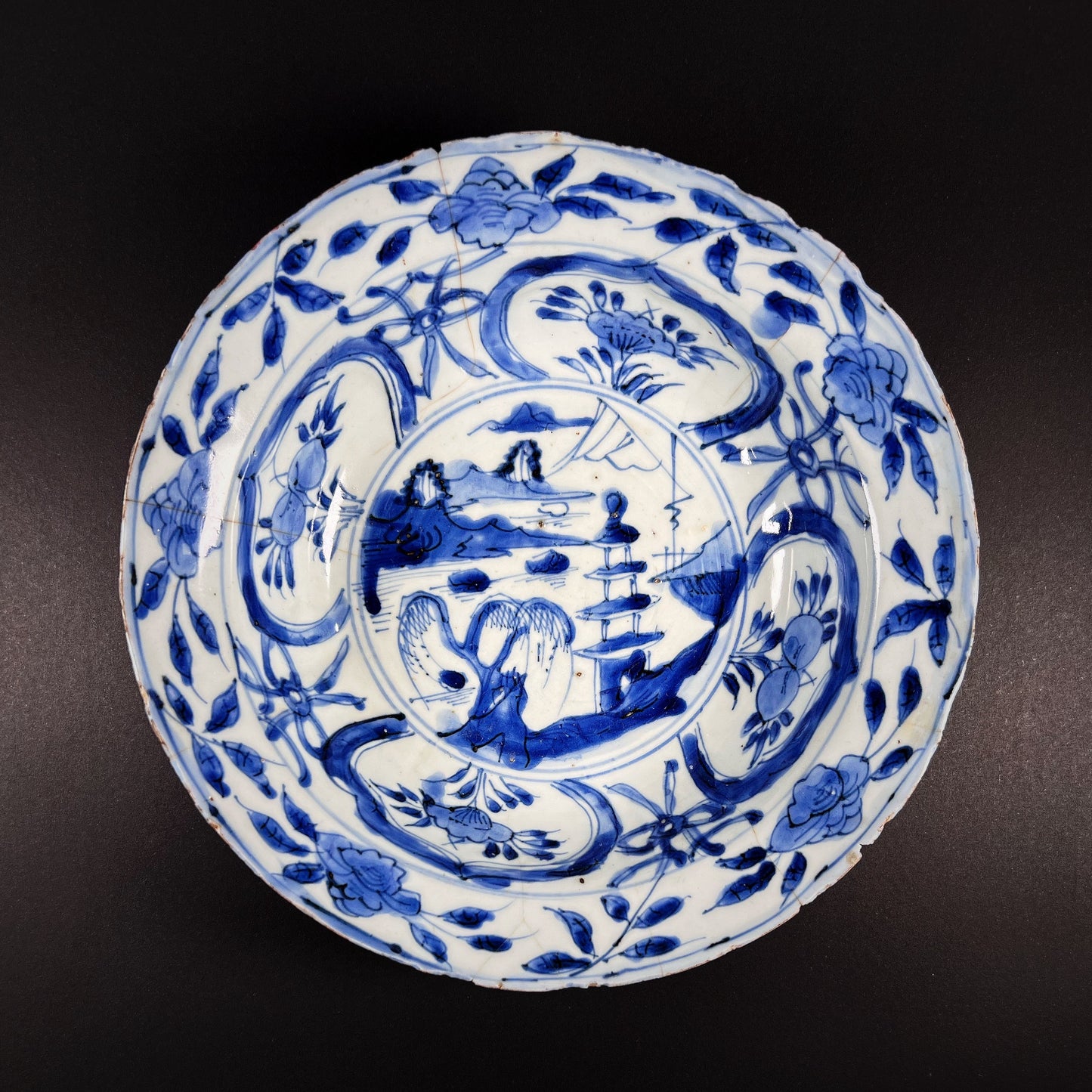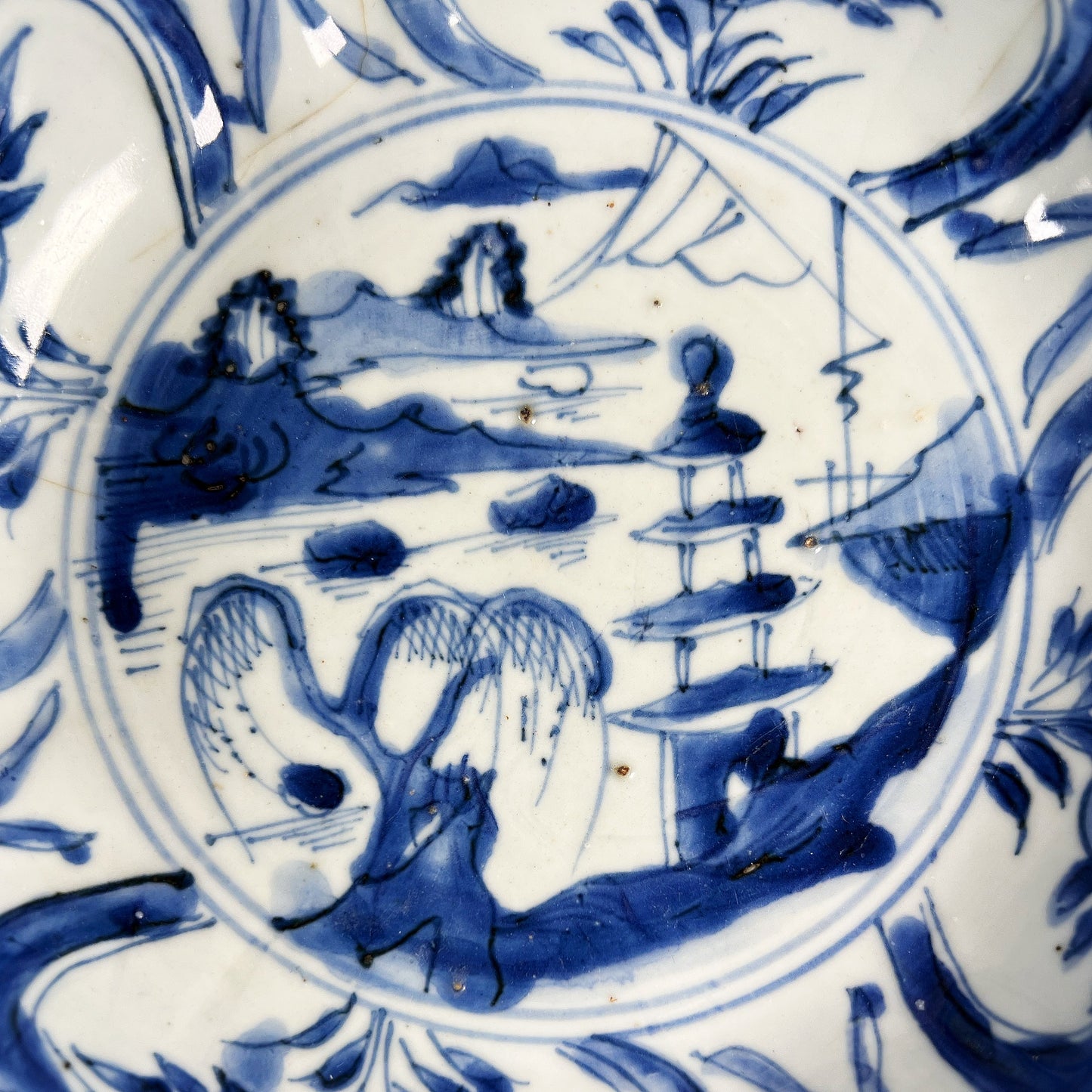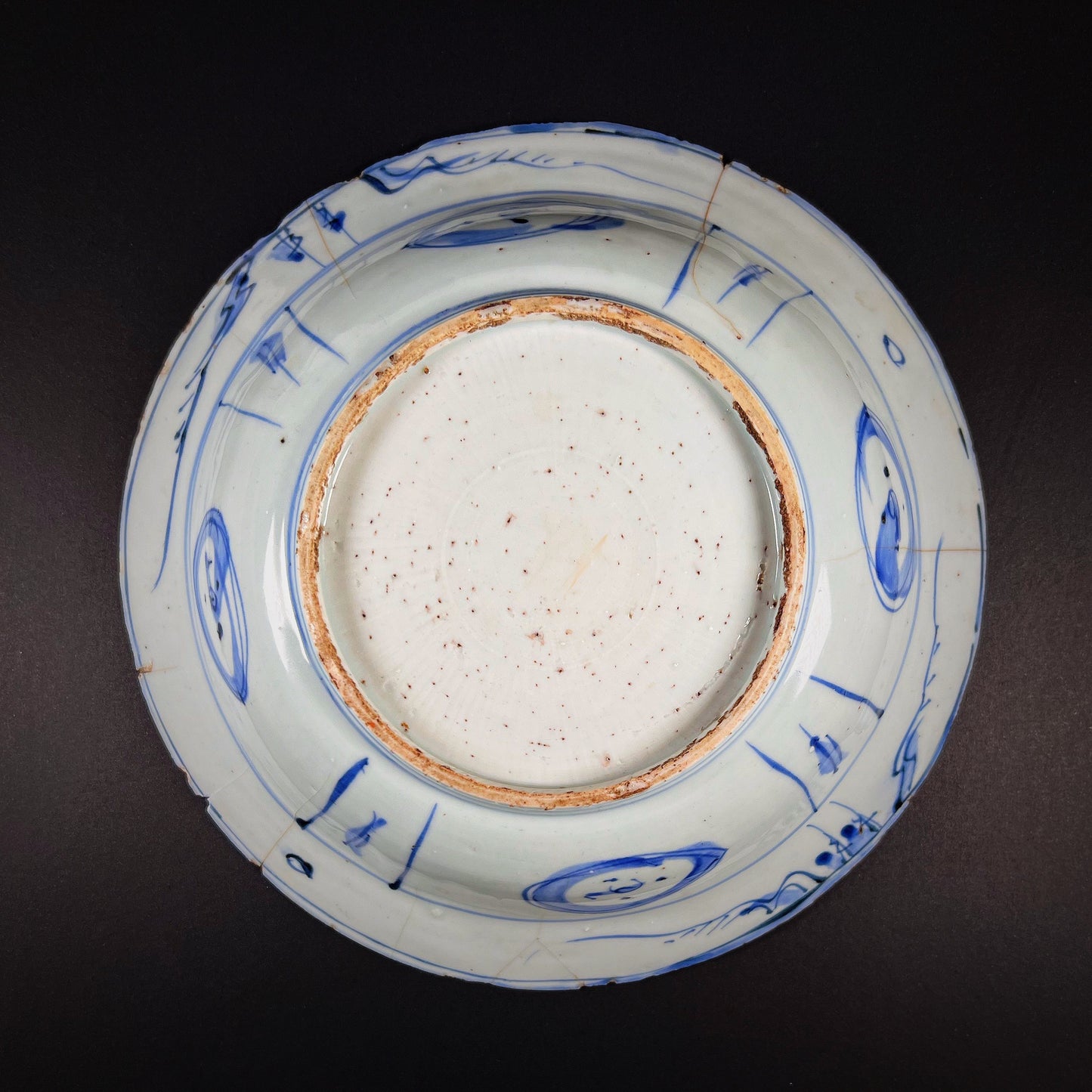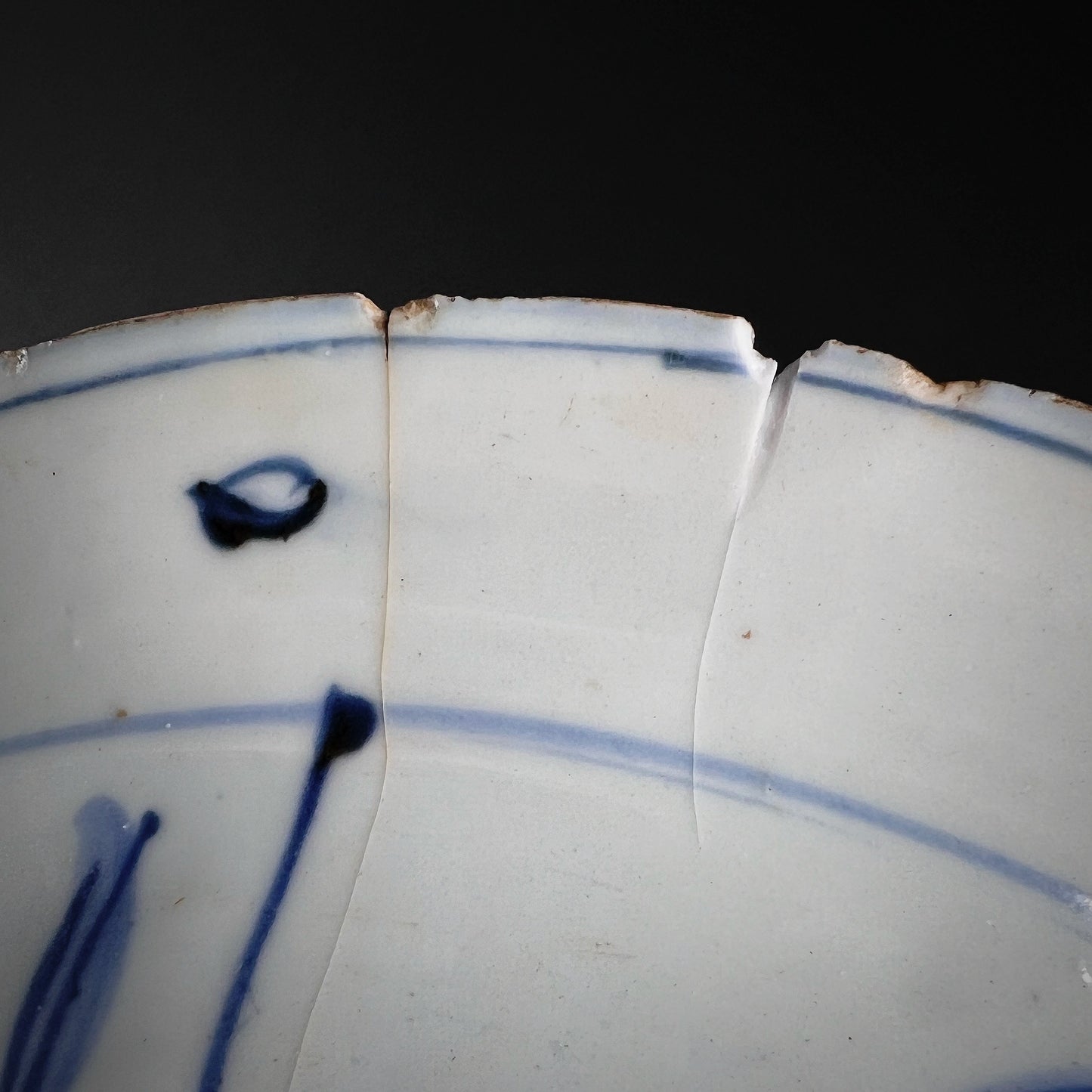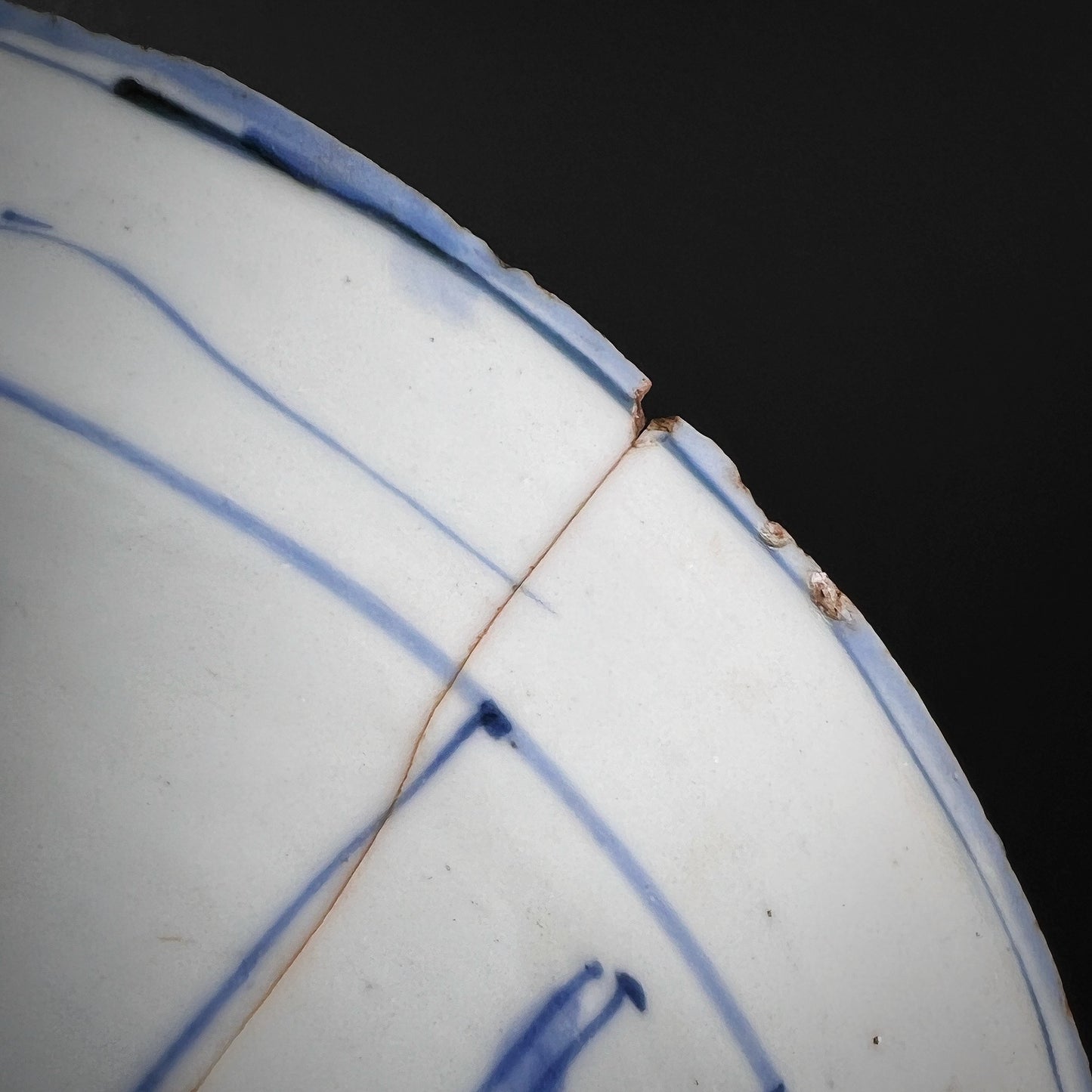 Shipping

The shipment will be prepared in the course of 3-5 days and dispatched via Posti Group Oyj or purchased item(s) can be picked up from our shop during the store's opening hours (Tarkk'ampujankatu 4, 00140, Helsinki, Finland). Within the Finland, all items are shipped via Posti Group Oyj unless otherwise requested. We pack the items carefully and mainly in recycled materials because we want to save nature. You will receive the tracking number for your items by e-mail.

Returns

Returns and exchange will be accepted within fourteen days (14) of receipt at the purchaser's cost to include freight and packaging. Items must be returned in the same condition as when they were shipped, and will not be accepted if damaged or altered in any way. Please inform us via email (info@gotanmaailma.fi) or by calling +358408408352 before sending. We do not accept returns more than 14 days after delivery.