Regular price
Sale price
$292.00
Unit price
per
Sale
Sold out
Share
Pre-Columbian era, Nazca culture, 200BC to 600AD, Peru.
Superb and rare thorn spindle with attached pottery spindle whorl. Remains of fine-spun cotton threads are still wrapped around the spindle and light bands of red, black, white, and yellow pigments highlight the needle as well as the bead.
Nazca civilization flourished on the southern desert coast and western slopes of the Andes in Peru between 200BC and 600AD. Early Nazca society was made up of local chiefdoms and regional centers of power centered around Cahuachi, a non-urban ceremonial site (AD 50–300). These pyramid-like structures and plazas, situated in lower part of the Nazca Valley, served as important spaces for fertility and agricultural rituals. Nazca are known for two extensive construction projects that would have required the coordination of large groups of laborers: the geoglyphs made on the desert floor known as Nazca lines, whose purpose is unknown, and underground aqueducts (puquios), for providing water for irrigation and domestic purposes in the arid environment. The Nazca are also known for their distinctive colourful pottery and technically complex textiles. The textiles were most likely woven by women from spun cotton and wool. Shawls, tunics, belts, and bags have been found through excavations. Many textiles associated with the Nazca culture are garments that were included with grave goods found at burial sites. Almost every body found is wrapped (sometimes partially) in a textile as a part of burial ritual. These textiles are found with partial burials as well. Often piles of bones are found wrapped in a textile garment. The deposits of shawls contained both high-status garments (embellished with exotic feathers, painting, embroidery) and plain garments, suggesting different social roles or authority. There were also burials of what appear to be sacrificial victims. These have the eyes blocked and excrement was placed in the mouth which was then pinned shut with sharp cactus needles. Alternatively, the tongue was removed and kept in a cloth pouch.
Extremely well-preserved ancient weaving tool are in excellent condition. Age-related wear. Repaired whorl. Faded colors. Size approx. 31,0cm x 0,4cm.
Provenance: From the estate of Paul Ragnar Wedendal Sr. & Paul Wedendal Jr. Collected in the 1940's to 1950's.
For a similar examples see:
Spidle, The Cleveland Museum of Art, Accession number: 1948.484 (https://www.clevelandart.org/art/1948.484)
Spidle, The Metropolitan Museum of Art, Accession number: (https://www.metmuseum.org/art/collection/search/315779)
References and further reading:
The Nasca, Helaine Silverman & Donald A. Proulx, Blackwell Publishers, Malden, 2002.
The Body Context: Interpreting Early Nasca Decapitation Burials, Lisa DeLeonardis, Latin American Antiquity, 2000, vol. 11, No. 4, pp. 363-368.
Nazca Civilization, Mark Cartwright,World History Encyclopedia, Last modified May 23, 2014. (https://www.worldhistory.org/Nazca_Civilization/)
View full details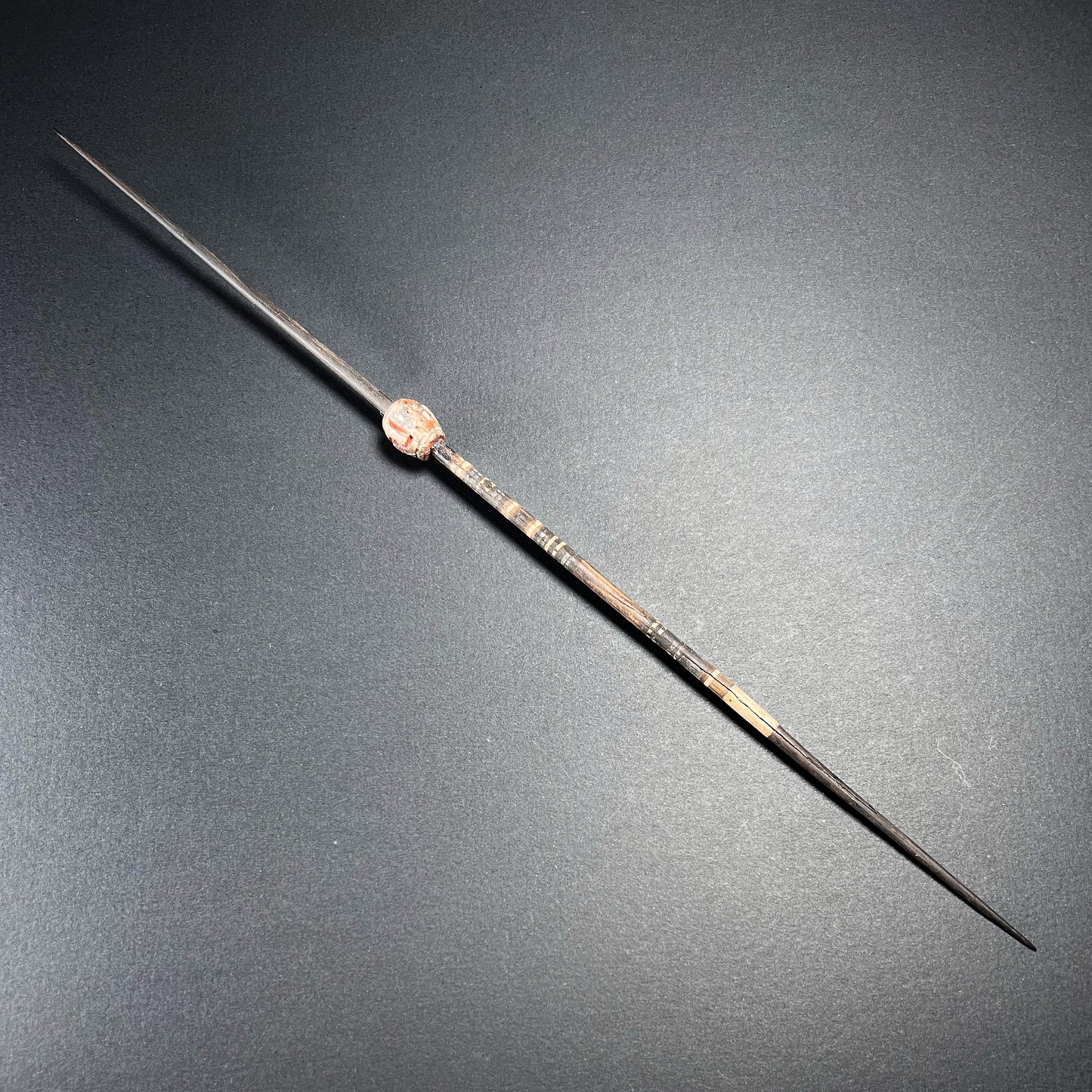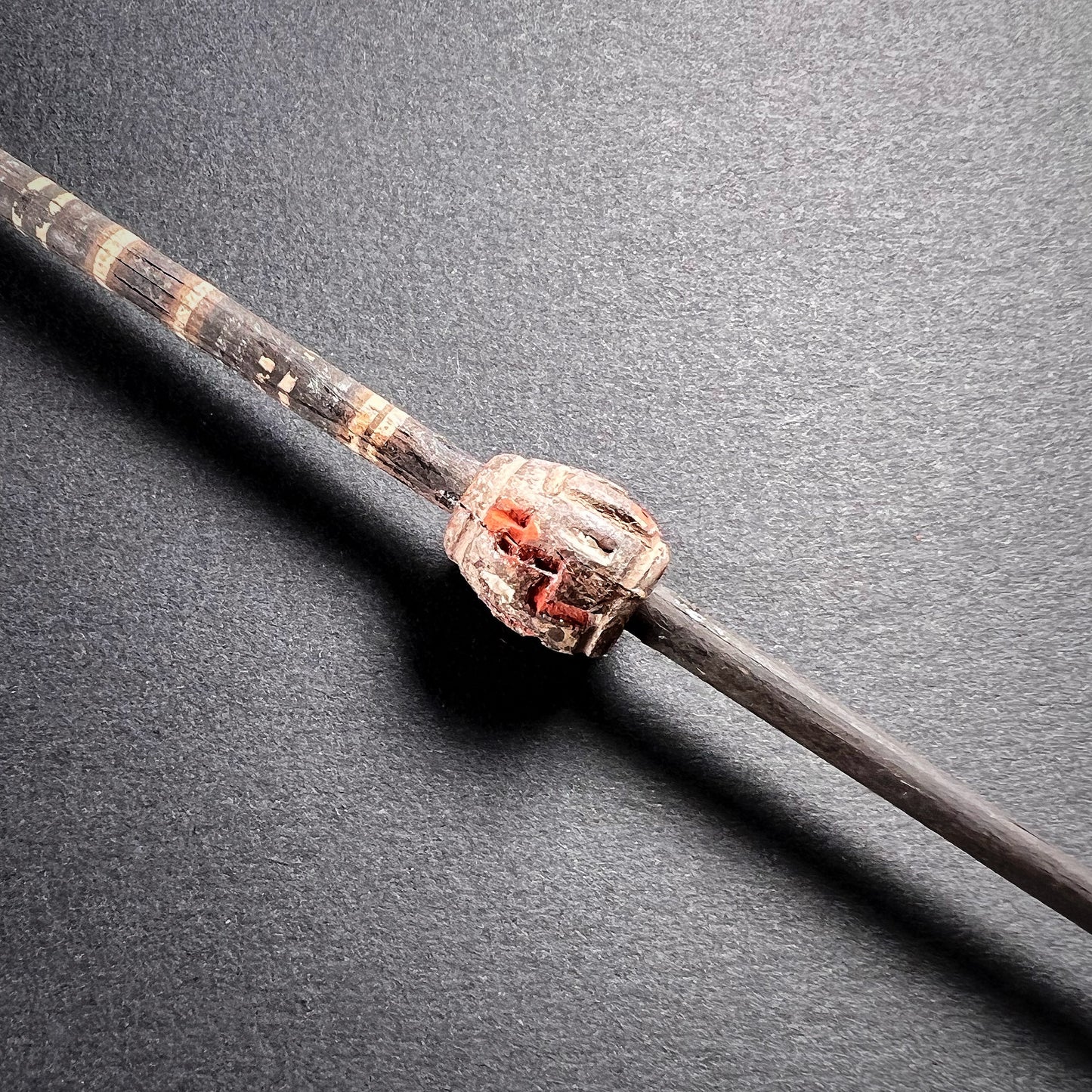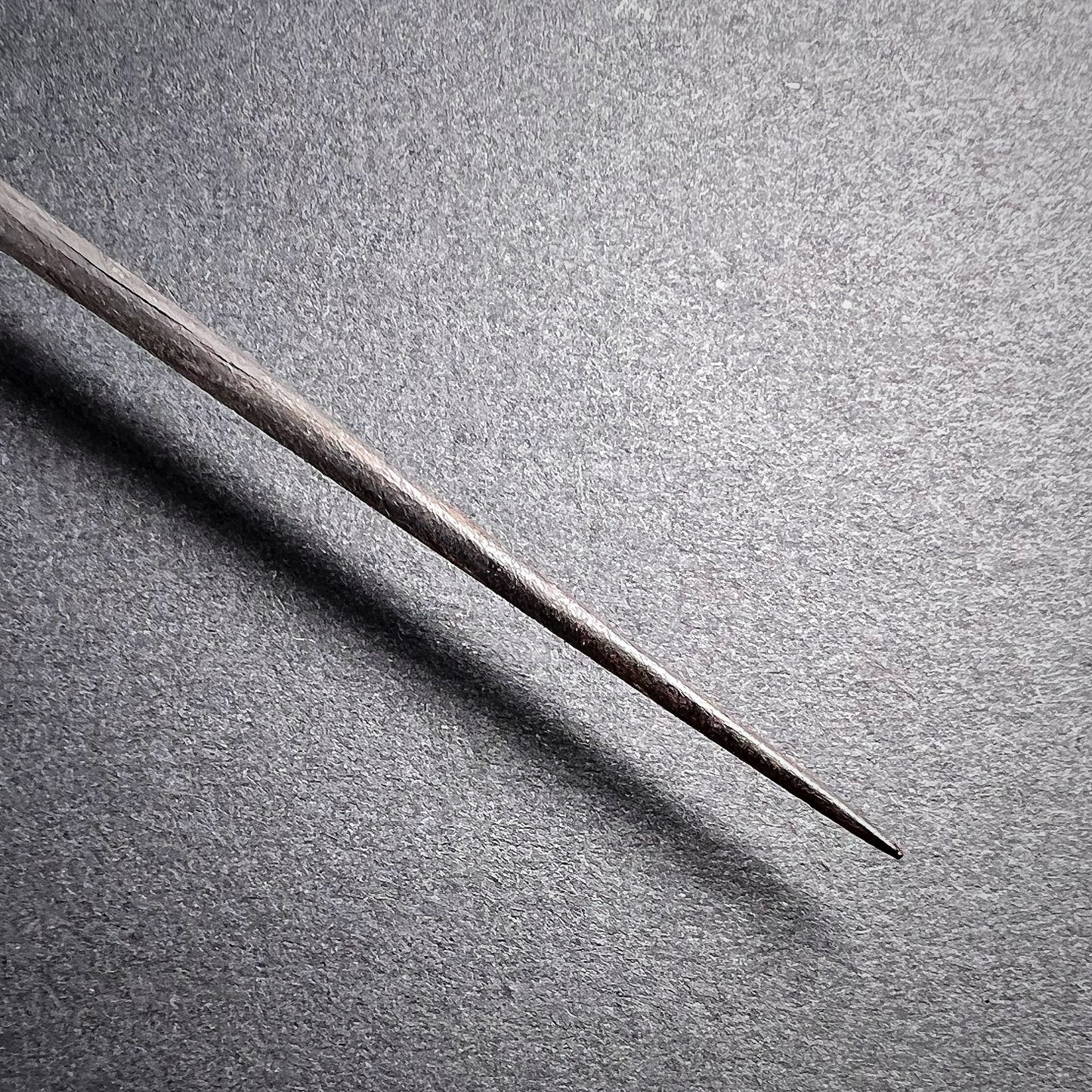 Shipping

The shipment will be prepared in the course of 3-5 days and dispatched via Posti Group Oyj or purchased item(s) can be picked up from our shop during the store's opening hours (Tarkk'ampujankatu 4, 00140, Helsinki, Finland). Within the Finland, all items are shipped via Posti Group Oyj unless otherwise requested. We pack the items carefully and mainly in recycled materials because we want to save nature. You will receive the tracking number for your items by e-mail.

Returns

Returns and exchange will be accepted within fourteen days (14) of receipt at the purchaser's cost to include freight and packaging. Items must be returned in the same condition as when they were shipped, and will not be accepted if damaged or altered in any way. Please inform us via email (info@gotanmaailma.fi) or by calling +358408408352 before sending. We do not accept returns more than 14 days after delivery.