Regular price
Sale price
$275.00
Unit price
per
Sale
Sold out
Share
Dan people, late 20th century, Cote d'Ivoire or Liberia, West Africa.
Lovely Zakpei or Sagbwe style mask. The Dan are a Mande ethnic group from northwestern Cote d'Ivoire and neighboring Liberia. The Dan have a complex traditional religion. The Dan believe that the world can be divided into two separate and clear categories; the human realm, surrounded by the village and people, and the spirit realm, residing in the forest encompassed by spirits and wild animals. Crossing over the dividing line is seen dangerous, and whenever it is done, whether to clear new fields or simply crossin the forest, the bush spirits must be appeased. The Dan acknowledge a creator God (Zlan). They believe that no one can reach or see him physically, so instead they worship Dü (Zu), a spiritual power that is more accessible and resides in every human being. After death, some Dü remain bodiless, inhabiting the forest as bush spirits. Dü is harnessed through masquerade or divination practises. Often the Dü will request the chosen person to dance the spirit, utilizing a mask to illustrate the spirit's embodiment. When a man wishes to visit the supernatural realm, he dons a mask and is transformed into a spirit. During the ritual, the masker will enter into a deep trance, which he is compelled to speak in tongue.

Dan refer masks as Gle or Ge, terms that refers both to the physical masks and the individual spirits the mask is believed to embody during masquerade performances. Whether or not they are worn, such masks are spiritually charged. It is believed that each Gle has it own personality, dance and speech pattern. The male performers (Gle-zo), experience a dream sent by the mask spirit that allows them to dance it. The Dan masks are divided into two large groups of masks: the Ge bande and Ge nome. Ge bande is the most sacred examples of Dan masks while Ge nome is alower rank of masks. The classifications relate to the content which the Dan attribute to the mask, rather than the appearence of the mask. In performance, the masks are integrated into the hierarchial system that governs political and religious life.
Traditional small-sized Zakpei or Sagbwe style mask with smooth oval-shaped face with circular eyeholes, triangular nose and strongly projecting mouth and full lips. Elegant curve of the forehead. Fabrics and white cowry shells form a band on the forehead of the mask symbolizing wealth and prestige. Good condition. Size approx. 22,0cm x 15,0cm.
Provenance: Finnish private collection
References and further reading:
Four Dan sculptors: continuity and change, Barbara C. Johnson, San Francisco: Fine Arts Museums of San Francisco, 1986.
"Dan", Africana: The Encyclopedia of the African American Experience, David P. Johnson Jr., Kwame Anthon Appiah & Henry Louis Gates, Oxford University Press, p. 307, 2005.
Dan Ge Performance: Masks and Music in Contemporary Cote D'Ivoire, Daniel B. Reed, Indiana University Press, 21.8.2003.
Dan, 101lasttribes. (https://www.101lasttribes.com/tribes/dan.html)
View full details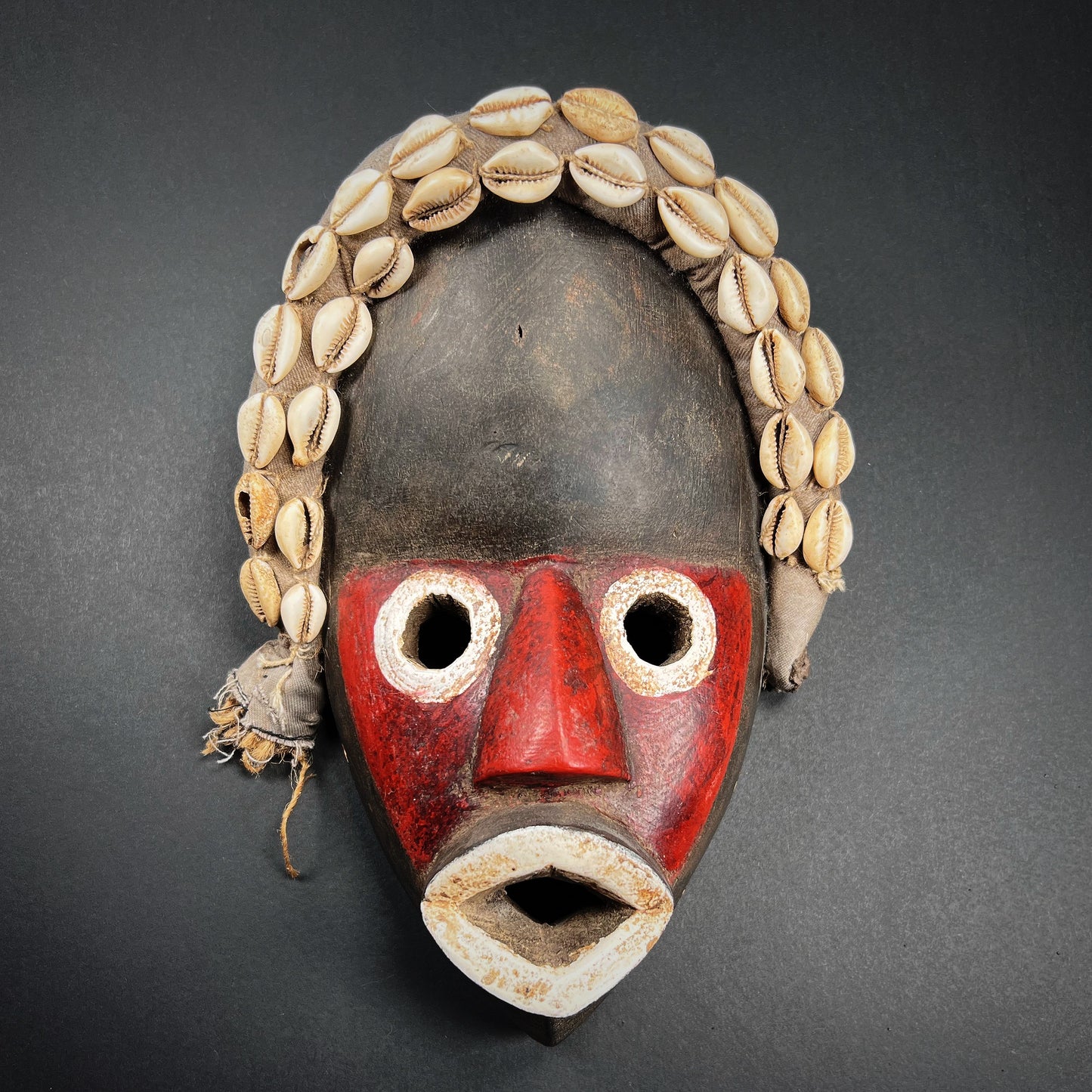 Shipping

The shipment will be prepared in the course of 3-5 days and dispatched via Posti Group Oyj or purchased item(s) can be picked up from our shop during the store's opening hours (Tarkk'ampujankatu 4, 00140, Helsinki, Finland). Within the Finland, all items are shipped via Posti Group Oyj unless otherwise requested. We pack the items carefully and mainly in recycled materials because we want to save nature. You will receive the tracking number for your items by e-mail.

Returns

Returns and exchange will be accepted within fourteen days (14) of receipt at the purchaser's cost to include freight and packaging. Items must be returned in the same condition as when they were shipped, and will not be accepted if damaged or altered in any way. Please inform us via email (info@gotanmaailma.fi) or by calling +358408408352 before sending. We do not accept returns more than 14 days after delivery.