Regular price
Sale price
$105.00
Unit price
per
Sale
Sold out
Share
The Ertebølle culture, Mesolithic period c. 5400-3950 BC,
 Denmark
Stunning late Mesolithic period flint tool from Denmark. The core chisel is a type of handheld lithic flake with pointed edge which prehistoric humans used for carving wood or bone. Mesolithic core chisels occur in the same variations as the core axes. They are slender with a narrow edge. The Ertebølle (also known as Ertebolle or Ellerbek) culture was a Mesolithic culture that flourished in the area around the Limfjord in Northern Jutland from around 5400 to 3950 BC and was replaced the earlier Maglemosian (9000-6400 BC) and Kongemosen culture (6400-5400 BC). The Ertebølle population settled on headlands, near or on beaches, islands and along rivers and bays away from the dense forests. The Ertebølle people mainly lived from fishing, hunting, and gathering.
The Ertebølle hunters most visible remnants are the huge shell heaps that are called kitchen middens, which primarily consist of shells of oysters, picked up from that time colossal oyster beds in the many shallow fjords and straits. The Ertebølle people were masters of inland waters, which they traversed in paddled dugouts. The flint industry evolved a high and unified standard with small and flake axes, adzes, knives, burins, chisels, scrapers, blades and arrow heads. However, tools of many materials were in use, such as wood prongs and points, antler parts, and carved bone tools. Pottery was manufactured from native clays tempered with sand. The Ertebølle culture is also known for its unique burial customs, which included cremation and the placement of objects in graves. Shortly after 4100 BC the Ertebølle began to expand along the Baltic coast at least as for as Rugen. Shortly thereafter it was replaced by the Funnelbeaker culture.
Gorgeous small-sized core chisel are in good condition. Age-related wear and minor chip. Size approx. 7,1cm x 1,9cm x 1,8cm.
Provenance: private collection from Denmark.
References and further reading:
Europe's First Farmers – T. Douglas Price, University of Wisconsin, Madison, Cambridge University Press, 2000 (http://assets.cambridge.org/97805216/62031/ sample/9780521662031ws.pdf)
Inland Ertebølle Culture: the importance of aquatic resources and the freshwater reservoir effect in radiocarbon dates from pottery food crusts, Bente Philippsen & John Meadows, Internet Archaeology (doi:10.11141/ia.37.9)
View full details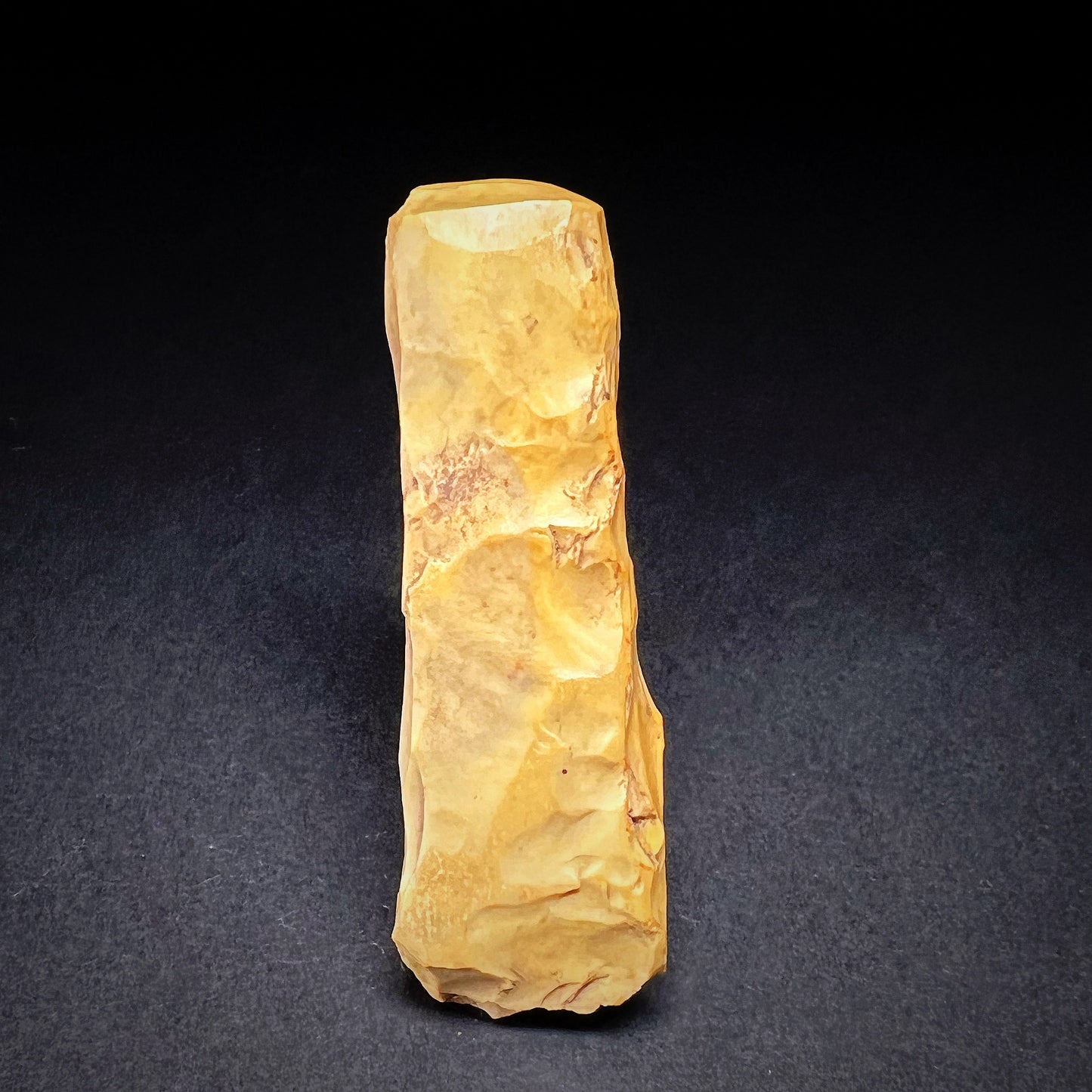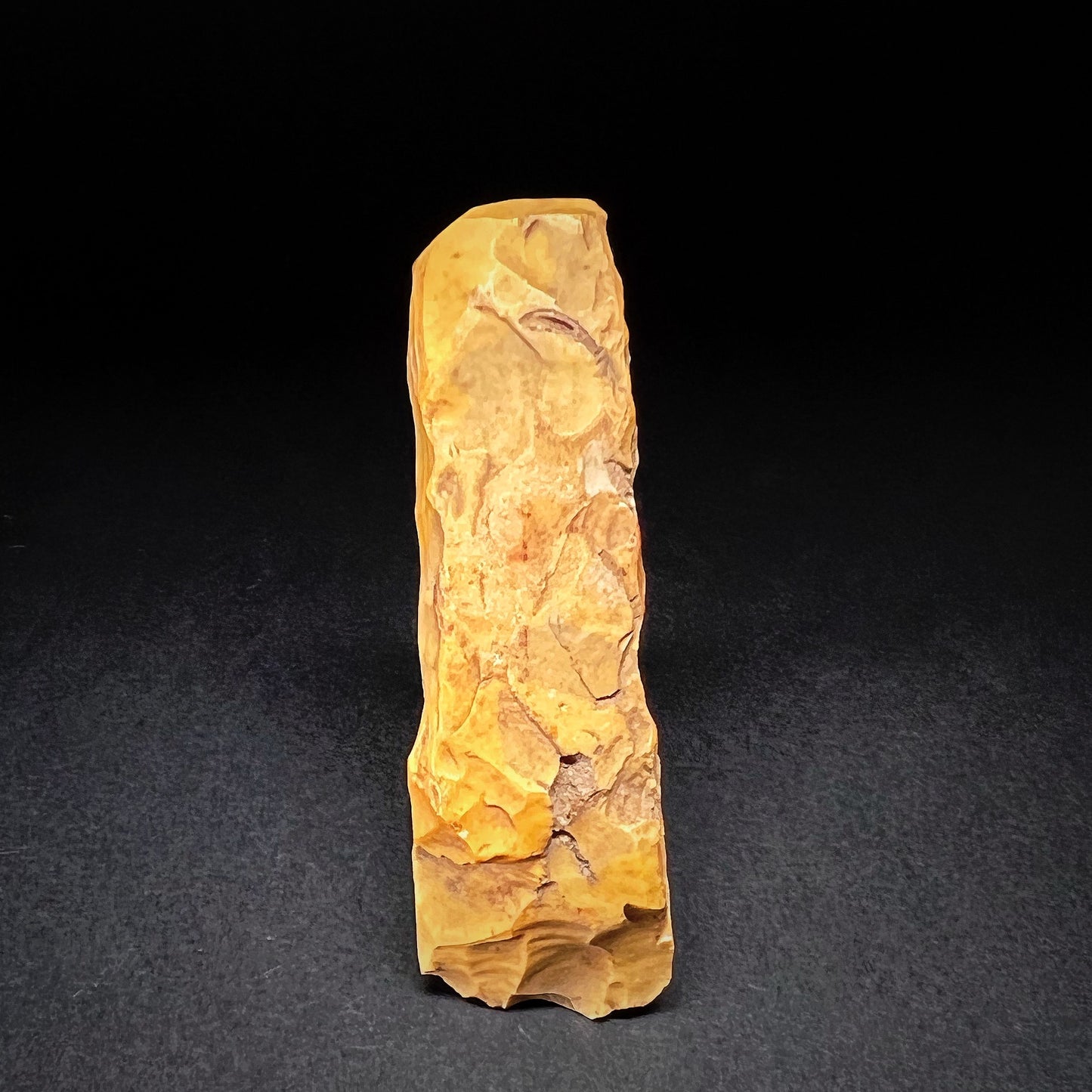 Shipping

The shipment will be prepared in the course of 3-5 days and dispatched via Posti Group Oyj or purchased item(s) can be picked up from our shop during the store's opening hours (Tarkk'ampujankatu 4, 00140, Helsinki, Finland). Within the Finland, all items are shipped via Posti Group Oyj unless otherwise requested. We pack the items carefully and mainly in recycled materials because we want to save nature. You will receive the tracking number for your items by e-mail.

Returns

Returns and exchange will be accepted within fourteen days (14) of receipt at the purchaser's cost to include freight and packaging. Items must be returned in the same condition as when they were shipped, and will not be accepted if damaged or altered in any way. Please inform us via email (info@gotanmaailma.fi) or by calling +358408408352 before sending. We do not accept returns more than 14 days after delivery.