Regular price
Sale price
$264.00
Unit price
per
Sale
Sold out
Share
The New Kingdom of Egypt, c. 1550-1069 BC, Egypt.
Magnificent, restrung strand of ancient beads, spindle whorls and amulets, composed of core glass, faiance, pottery, and semi-precious stones (carnelian, agate, alabaster and quartz). In ancient Egypt the plain necklaces were made of small beads of shell, bone, faiance, metal, or glazed steatite. More elaborate examples had beads in form of amulets, including uraeus-cobras, wedjat-eyes (the eye of the falcon-god Horus), scarabs (charms in the form of beetles), or images of gods such as Hathor. Egyptian faiance (called tjehenet) was the first man-made non-clay ceramic, with examples of this material dating back to the Pre-Dynastic period. Faiance is made of quartz or sand (silica) mixed with alkaline salts, lime, and metallic colorants. Egyptian faiance comes in a variety of different colours, possibly intended to imitate precious stones, but the most common colour is a blue or blueish green that is visually very similar to turquoise. Two common colorants are copper (turquoise) and cobalt (blue). For the ancient Egyptians, blue was a magical colour. It was associated with the sky and the river Nile, and thus came to represent the universe, rejuvenation and rebirth.
These ancient beads and amulets were originally part of colorful necklaces worn by Egyptian commoners and nobility alike. Good condition. Age-related wear. Minor chip and abrasion. 12 unique beads and amulets. Collected in the early 20th century. Cotton string is modern. Individual bead size varies from 0,5cm to 1,7cm. 

Provenance: Dutch private collection.
References and further reading:
Egyptian Faiance: Technology and Production, Carolyn Riccardelli, Department of Objects Conservation, December 2017, The Metropolitan Museum of Art.
Ancient Technology: Faiance Beads in the Garstang Museum, Garstang Museum of Archaeology.
Gifts of the Nile: Ancient Egyptian Faiance, Friedman, Florence Dunn, Thames and Hudson, London, 1998.
View full details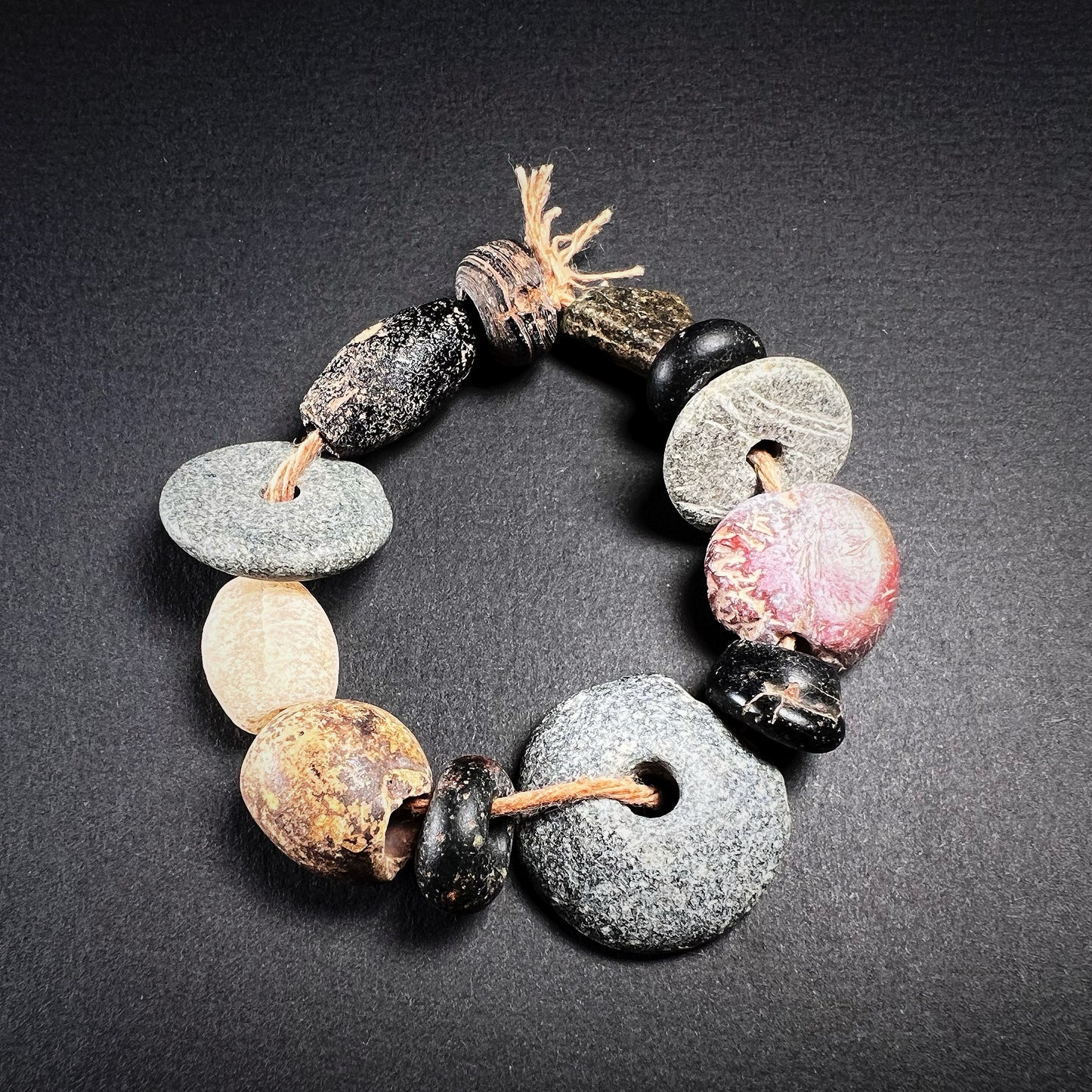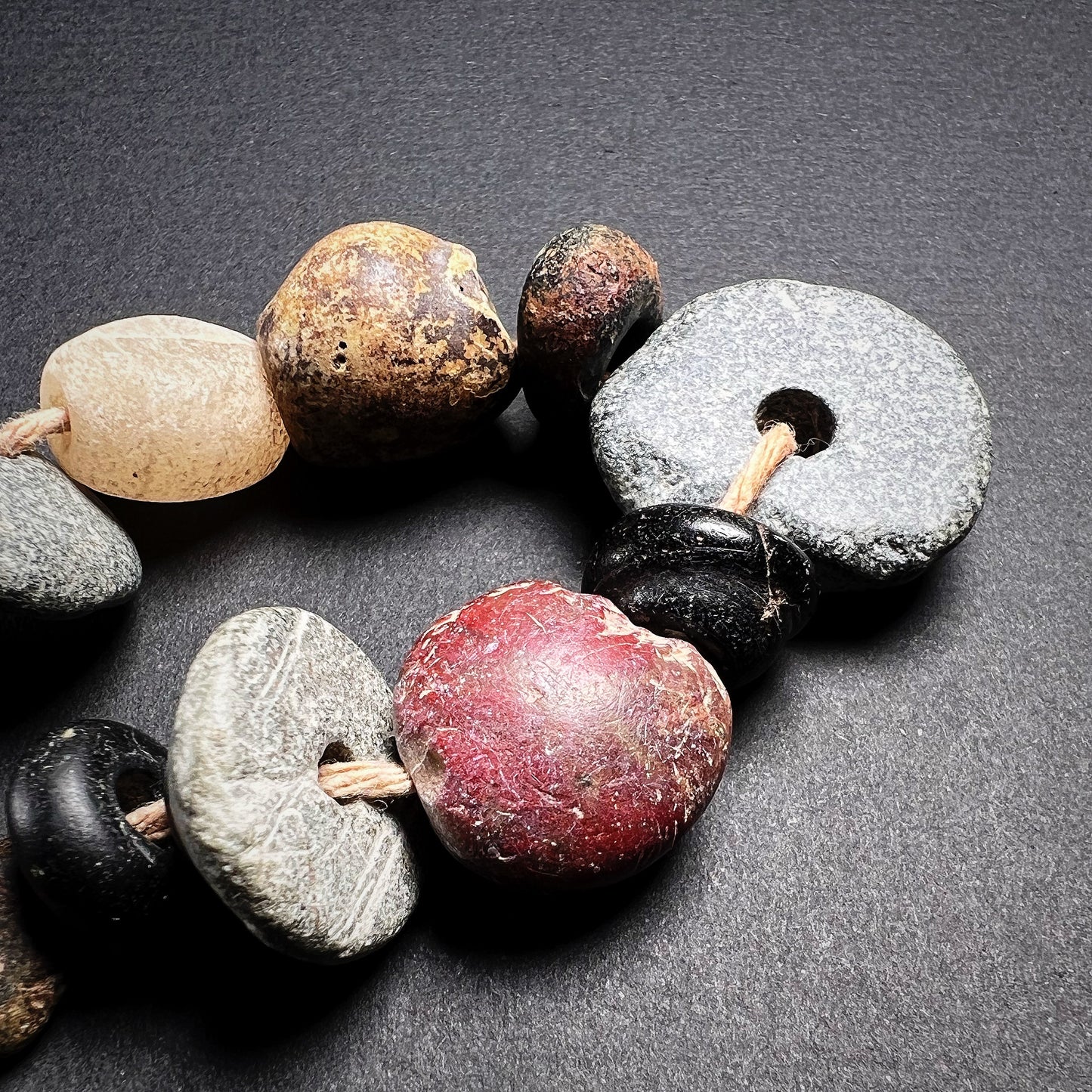 Shipping

The shipment will be prepared in the course of 3-5 days and dispatched via Posti Group Oyj or purchased item(s) can be picked up from our shop during the store's opening hours (Tarkk'ampujankatu 4, 00140, Helsinki, Finland). Within the Finland, all items are shipped via Posti Group Oyj unless otherwise requested. We pack the items carefully and mainly in recycled materials because we want to save nature. You will receive the tracking number for your items by e-mail.

Returns

Returns and exchange will be accepted within fourteen days (14) of receipt at the purchaser's cost to include freight and packaging. Items must be returned in the same condition as when they were shipped, and will not be accepted if damaged or altered in any way. Please inform us via email (info@gotanmaailma.fi) or by calling +358408408352 before sending. We do not accept returns more than 14 days after delivery.