Regular price
Sale price
$604.00
Unit price
per
Sale
Sold out
Share
Iatmul people, early to mid. 20th century, 
East Sepik Province, Papua New Guinea.
Fantastic hand-carved wooden ceremonial gable mask. Depending on the specific area, large masks woven in basketry or carved and painted wood that depicted human faces were placed on the facade just under the spire of the ceremonial men's house. The homeland of the Iatmul people is along the middle course of the Sepik river in the Papua New Guinea. Numbering about about eight to ten thousand people, the Iatmul classify themselves into three territorial subgroups, eastern (woliagui), central (palimbei), and western (nyaura). Their social organisation, kinship and religious systems are very complex. In the days before contact with Western man, head-hunting expeditions were quite common in this area of Papua New Guinea. 
The Iatmul villages, containing 300-1000 people, are built high on the riverbanks. The life is centered on the river. The Sepik changes with the seasons. During the rainy season that lasts for around five months, the river may rise dramatically and flood the surrounding lowlands. Houses were often built in two rows, parallel to or at a right angle to the course of the river. Villages are traditionally centered on a men's house (ngaigo or ngeko), which was the architectural centerpiece of the village. The ngeko embodies the paramount female ancestor whose enormous face appears on the gable and whose name is given to the house. Typically, the immense structure had a saddleback roof with two facades and towering spires adorned with various types of sculptures representing clan creation myths and other stories. As an ominous notice to those who approached with harmful intent, enemies' decorated skulls peered out from rectangular windows. Only men who are initiated are permitted inside the ngeko and, during ritual ceremonies, the house becomes 'hot', indicating the presence of spirits. 
Traditional religious beliefs of the Iatmul people centered on the spirits of the rivers, forests, and swamps. Ancestor worship is fundamental to the Iatmul; they believe that the spirits of the dead retain some power over those still living. The term "wagen" are used to describe such ancestors. Wagen is seen more threatening and more powerful than most another ancestors, and therefore one who needs to be appeased from time to time. The Iatmul are also aware of the spirits (marsalai) that were never human, mainly evil spirits that are believed to be living in mountains, lakes or bushes. There are also spirits that are belived to live near water (wansimot or wanjimout) and those that live near bushes (winsumbu, winjumbu). Each of the clans usually claims a particular species of flora or fauna as totemic ancestor (ngwail).

Iatmul art is well known for its excellent carvings, which were usually painted in a curvilinear style. Almost all art objects were used in ritual contexts and only through such use did they receive meaning. Also famous are the skulls overmodeled with clay and then painted. Notable features of Iatmul style include frequent use of the human face and relative lack of emphasis on the elaboration of body parts. Human faces occur on carvings in the round, standing figures, masks, and restored human skulls. Facial features vary in shape and size, as do the spatial relations between them. Eyes may be round or elongated, mouths compressed or open. These features occur in countless combinations. The nose are often beaked, overly elongated and touch the chest, navel or genitalia. Human figures are combined very often with the animals and birds, and decorated with the shells, feathers, tusks, and paint.
Finely carved and painted wooden masks such as this example with protruding tongue or beaked nose and bulbous eyes that decorated the gable served both apotropaic and threatening functions to warn enemies to beware and repel evil spirits. Good condition. Age-related wear and minimal chip. Faded colours. Size approx. 44,5cm x 27,5cm x 4,0cm
Provenance: Dutch private collection
References and further reading:
Iatmul Art as Iconography (New Guinea), Ina R. Dinerman, Anthropos Bd. 76, H. 5./6, 1981, Published by Nomos Verlagsgesellschaft mbH, pp. 807-824.
Surviving Traditional Art of Melanesia, John E. Edgerly, The Journal of the Polynesian Society, Vol. 91, No. 4, December 1982, Published by The Polynesian Society, pp. 543-579.
The mother and her ancestral face. A commentary on Iatmul iconography, Christian Kaufmann, Dossier Hommage à Bernard Juillerat, p. 173-190. (https://doi.org/10.4000/jso.6182.)
The Pairing of Musicians and Instruments in Iatmul Society, Gordon D. Spearritt, Yearbook for Traditional Music, Vol. 14, 1982, Published by Cambridge University Press, pp. 106-125.
A Iatmul Gable mask from a ceremonial house, Virginia-Lee Webb, Catalogue note, Sotheby's, May 2019.
Iatmul people, Brigitta Hauser-Schäublin, encyclopedia.com. 
Iatmul people, Countries and Their Cultures, everyculture.com.
View full details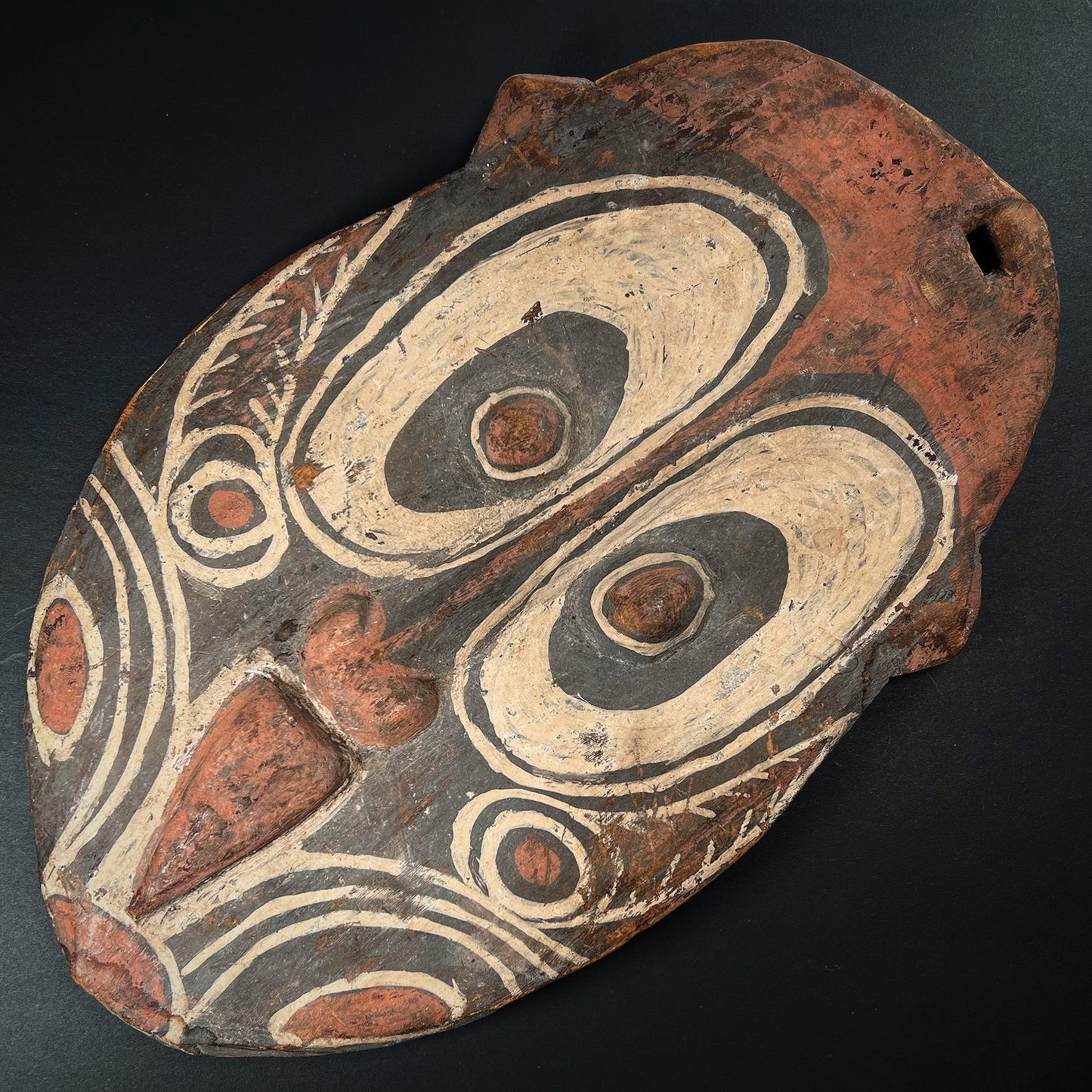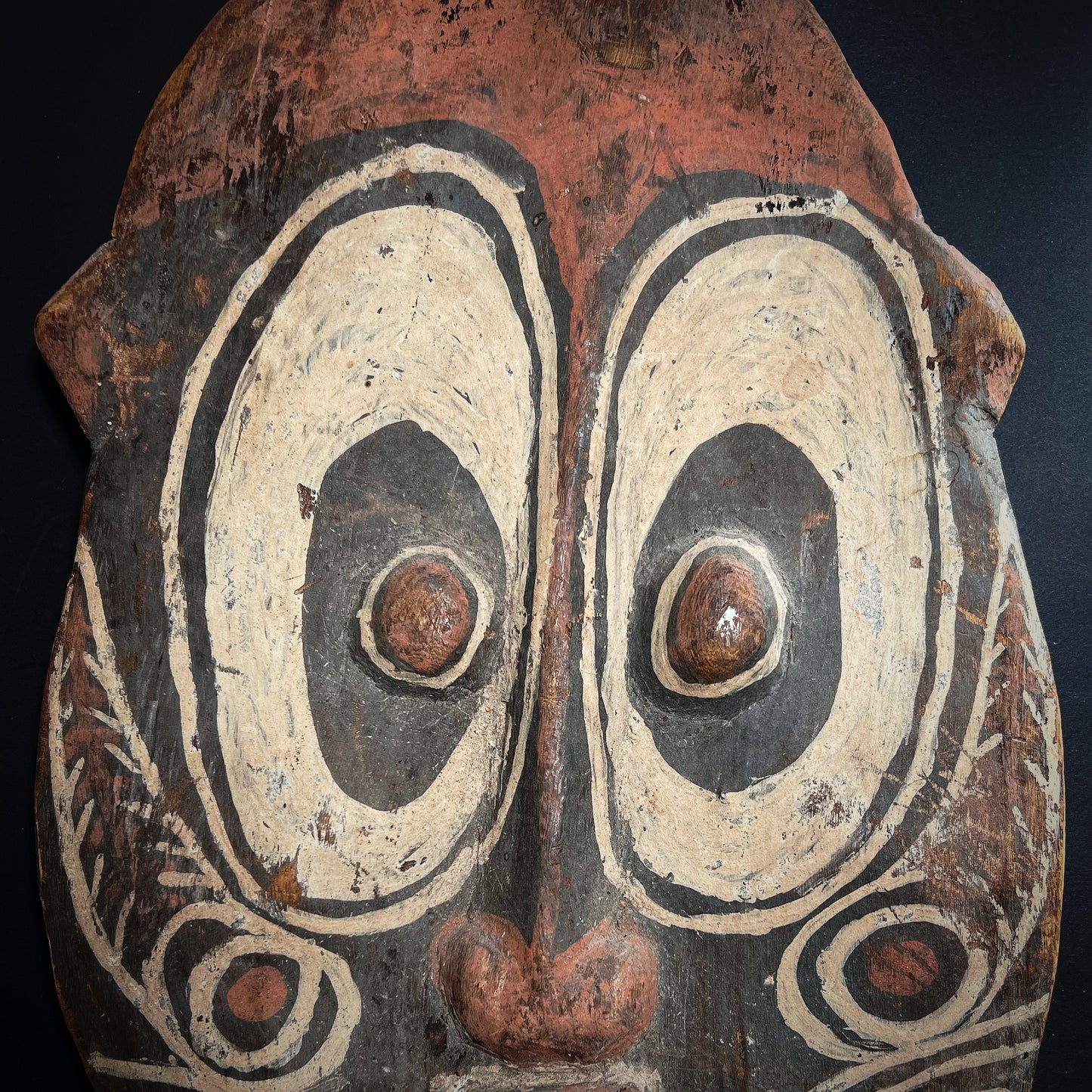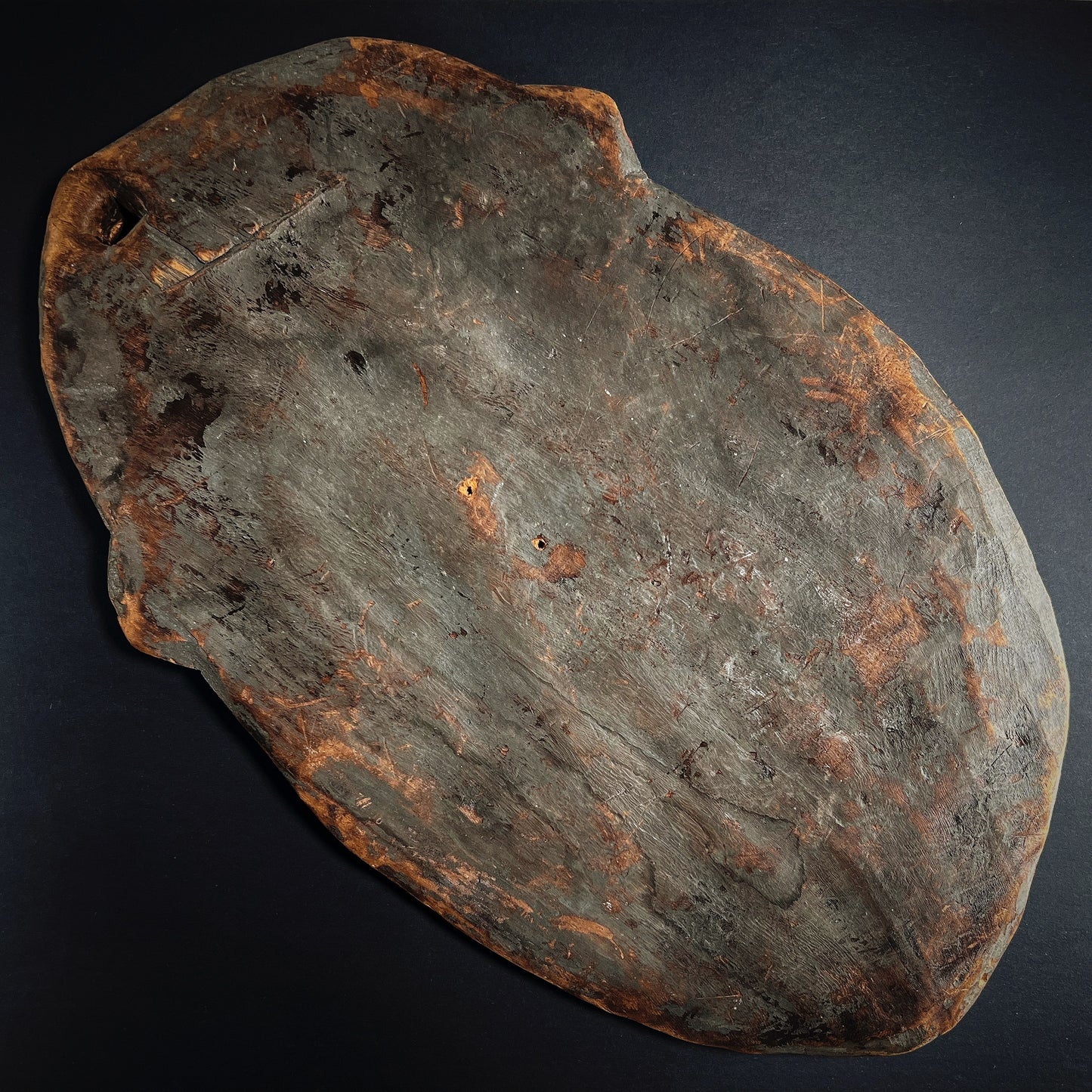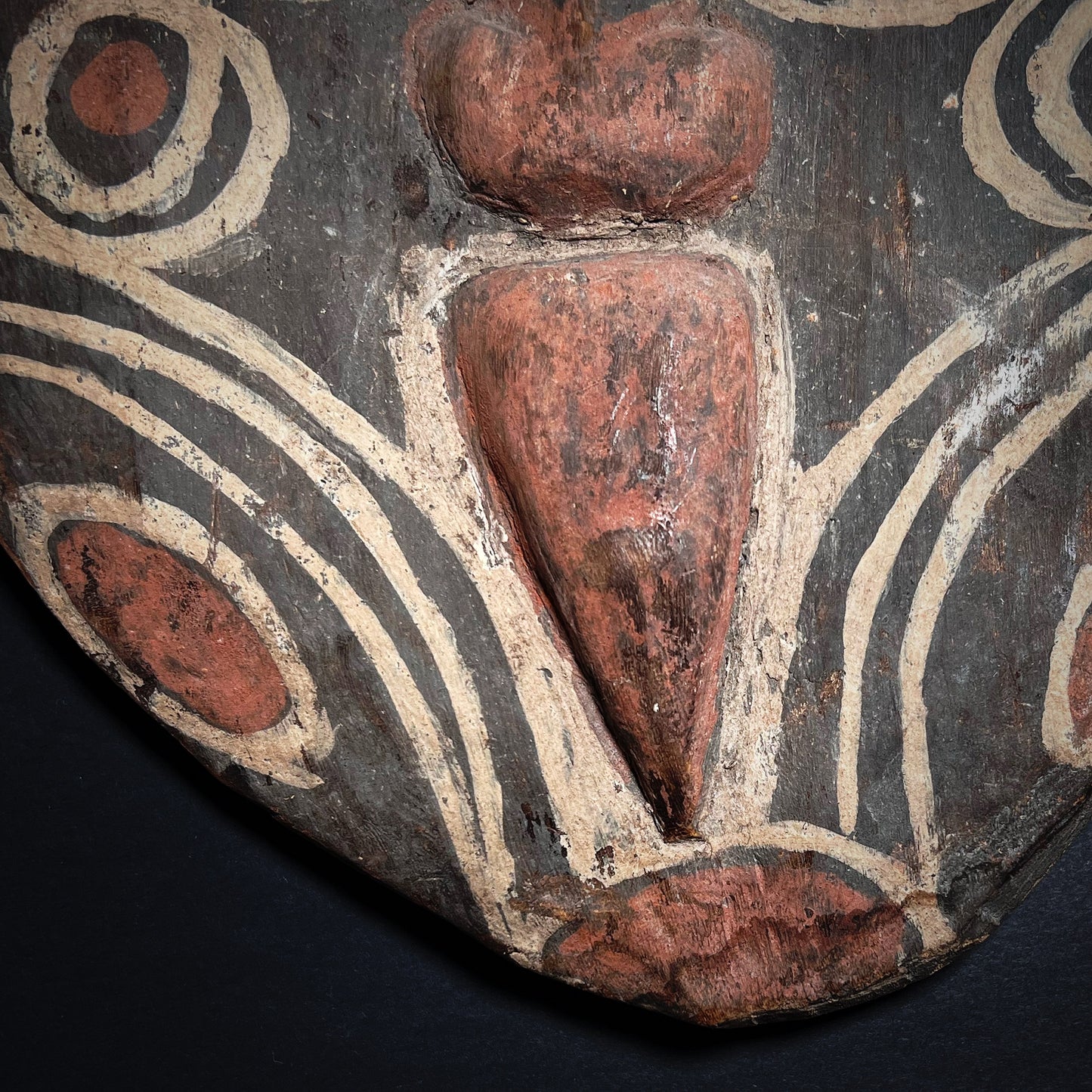 Shipping

The shipment will be prepared in the course of 3-5 days and dispatched via Posti Group Oyj or purchased item(s) can be picked up from our shop during the store's opening hours (Tarkk'ampujankatu 4, 00140, Helsinki, Finland). Within the Finland, all items are shipped via Posti Group Oyj unless otherwise requested. We pack the items carefully and mainly in recycled materials because we want to save nature. You will receive the tracking number for your items by e-mail.

Returns

Returns and exchange will be accepted within fourteen days (14) of receipt at the purchaser's cost to include freight and packaging. Items must be returned in the same condition as when they were shipped, and will not be accepted if damaged or altered in any way. Please inform us via email (info@gotanmaailma.fi) or by calling +358408408352 before sending. We do not accept returns more than 14 days after delivery.