Regular price
Sale price
$1,373.00
Unit price
per
Sale
Sold out
Share
Post-conquest period, Inca culture, c. 1550-1640AD, Andes region, South America.
Absolutely magnificent carved wooden drinking vessel qiru (also called kero) are from post-conquest period, c. 16th to early 17th century. The vessels were typically made in identical pairs. This followed the custom that two individuals were required to drink together and both qirus in the pair would have identical size, shape, and decoration. These pairs were typically used for toasts in ceremonies and were also given along with textiles as gifts as a sign of generosity. There is a strong religious connection with the qiro as well. Fermented corn beer (chicha) was known as an important ritual libation and offering in ancient Andean culture. Chicha was served in qirus, where a special goblet version of the qiru was very closely connected to the "Sacrifice Ceremony" depicted on Moche painted ceramics. Many depictions of the qiru show a maize plant emerging from the vessel. These renderings allude to qirus' use as a pan-Andean offering receptacle for blood to be poured on the ground to guarantee a successful farming season.
The squat vessel was turned on a lathe to create its elegant form, showing a geometric patterns, floral themes and a continuous narrative scene of everyday life of agricultural farmers decorated in vibrant shades of red, yellow, green and tan atop the dark-brown ground. A discoid foot supports the conical body which expands outwards towards a thick rim. Good condition. Age-related wear and abrasion. Chip in the foot, otherwise intact. Possibly partially repainted details. Dirt, dust and soot. Size approx. 16,0cm x 9,7cm x 9,6cm. 
Provenance: Finnish private collection
View full details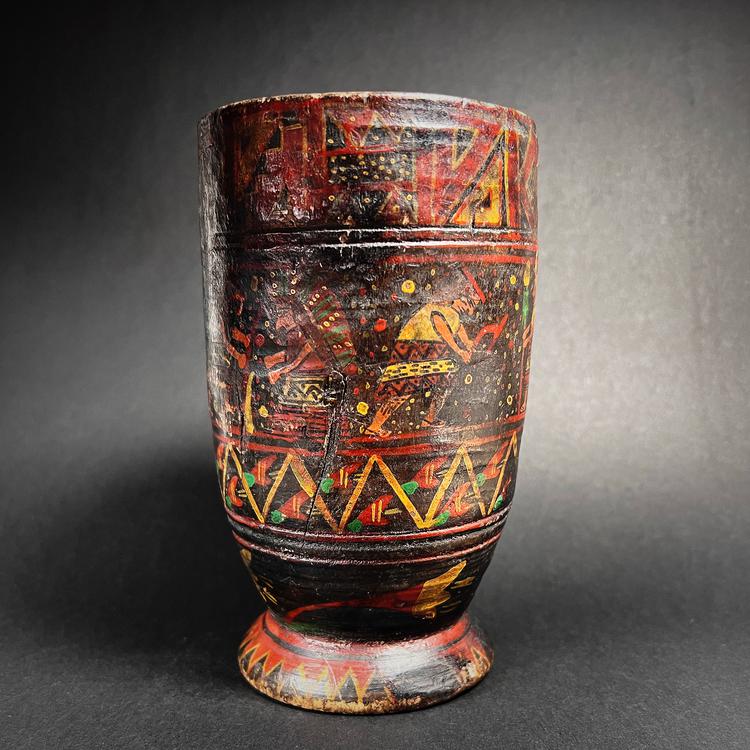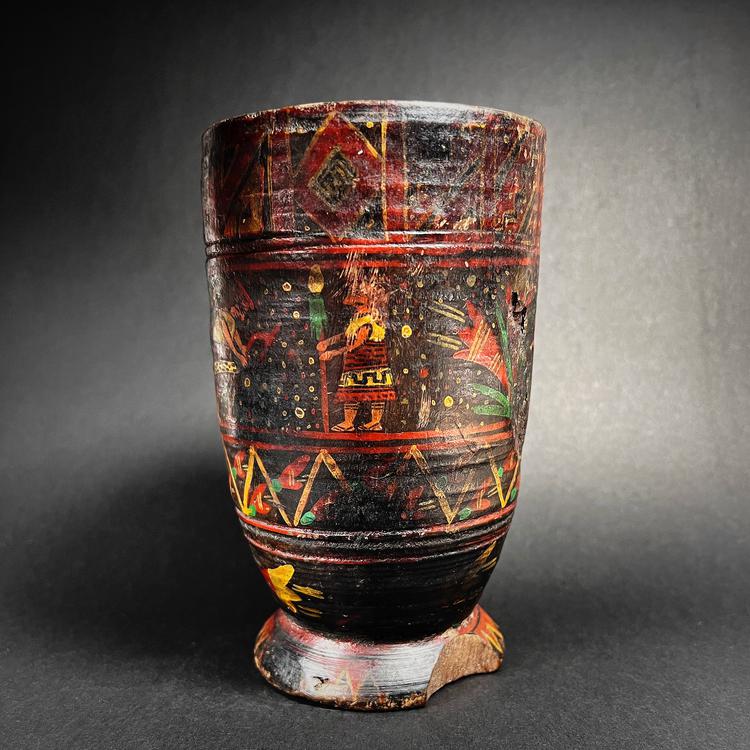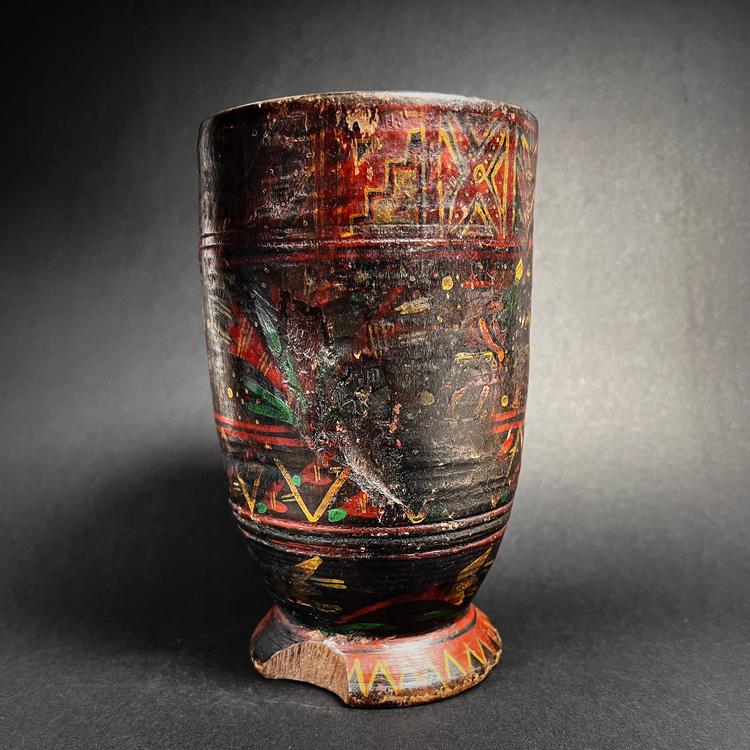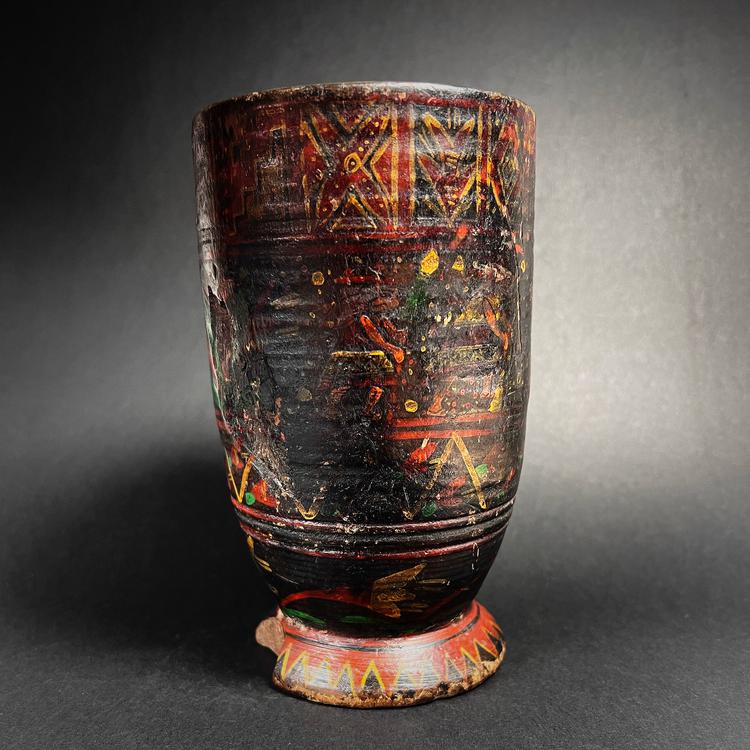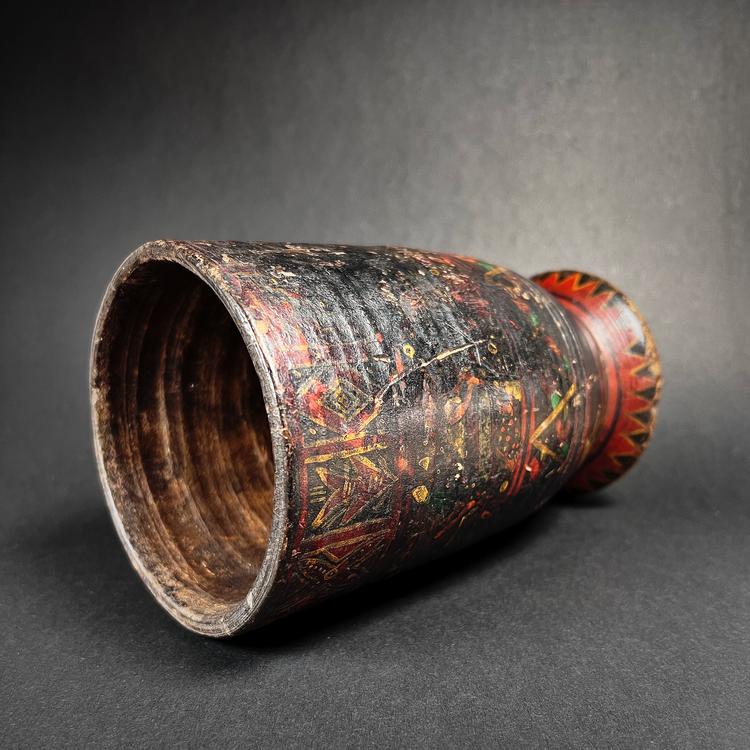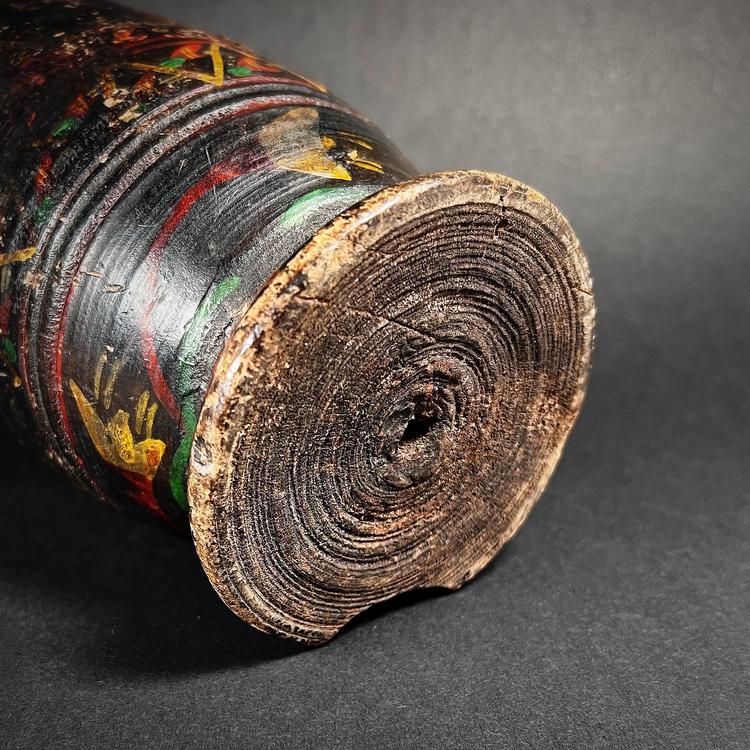 Shipping

The shipment will be prepared in the course of 3-5 days and dispatched via Posti Group Oyj or purchased item(s) can be picked up from our shop during the store's opening hours (Tarkk'ampujankatu 4, 00140, Helsinki, Finland). Within the Finland, all items are shipped via Posti Group Oyj unless otherwise requested. We pack the items carefully and mainly in recycled materials because we want to save nature. You will receive the tracking number for your items by e-mail.

Returns

Returns and exchange will be accepted within fourteen days (14) of receipt at the purchaser's cost to include freight and packaging. Items must be returned in the same condition as when they were shipped, and will not be accepted if damaged or altered in any way. Please inform us via email (info@gotanmaailma.fi) or by calling +358408408352 before sending. We do not accept returns more than 14 days after delivery.