Regular price
Sale price
$61.00
Unit price
per
Sale
Sold out
Share
Pre-Columbian era, Inca Empire c. 1438-1533AD, Andes region, South America.
Delicate bronze alloy sewing needle. The Inca Empire (1438-1533), also known as Incan Empire, and the time known as the Realm of the Four Parts, was the largest empire in pre-Columbian America. The Inca appeared in the Andes region during the 12th century AD. and gradually built a massive kingdom through the military strength of their emperors. Known as Tawantinsuyu, the Inca state spanned the distance of northern Ecuador to central Chile and consisted of 12 million inhabitants from more tha 100 different ethnic groups at is peak. Notable features of the Inca Empire included its monumental architecture, especially stonework, extensive road network reaching all corners of the empire, finely-woven textiles, use of knotted strings (quipu) for record keeping and communication, agricultural innovations and production in a difficult environment. The massive Inca citadel Macchu Picchu was probably built for the emperor Pachacutec around 1450AD at a height of around 8,000 feet above sea level using dry stone masonry. The economy was based on agriculture, its staples being maize, white and sweet potatoes, squash, tomatoes, peanuts, coca, cassava and cotton. They raised guinea pigs, llamas, alpacas, and dogs, and paid taxes through public labor. The Inca religion combined features of animism, fetishism, and the worship of nature gods. The pantheon was headed by sun god (Inti), and included also creator god (Viracocha), and the rain god (Apu Illapu). Inca rituals included elaborate forms of divination and the sacrifice of humans and animals. Impressive shrines were built throughout the kingdom, including a massive Sun Temple in Cusco.
Good condition. Age-related wear, corrosion and dirt. Lovely encrusted patina. Size approx. 8,6cm x 0,4cm x 0,3cm.
Provenance: Dutch private collection

References and further reading:
Inca Civilization, Mark Cartwright, World History Encyclopedia. Last modified September 15, 2014 (https://www.worldhistory.org/Inca_Civilization/).
The Incas and Their Ancestors : The Archaeology of Peru, Michael E Moseley, Thames and Hudson, 1992.
Life of the Incas in Ancient Peru, Jésus Romé & Lucienne Romé, Productions Liber, 1987.
The Incas: New Perspectives, Gordon F. McEwan, Santa Barbara, California: ABC-CLIO, 2006.
Ancient Inca  (Part of Case Studies in Early Societies), Alan L. Kolata, University of Chicago, Cambridge University Press, 2013.
View full details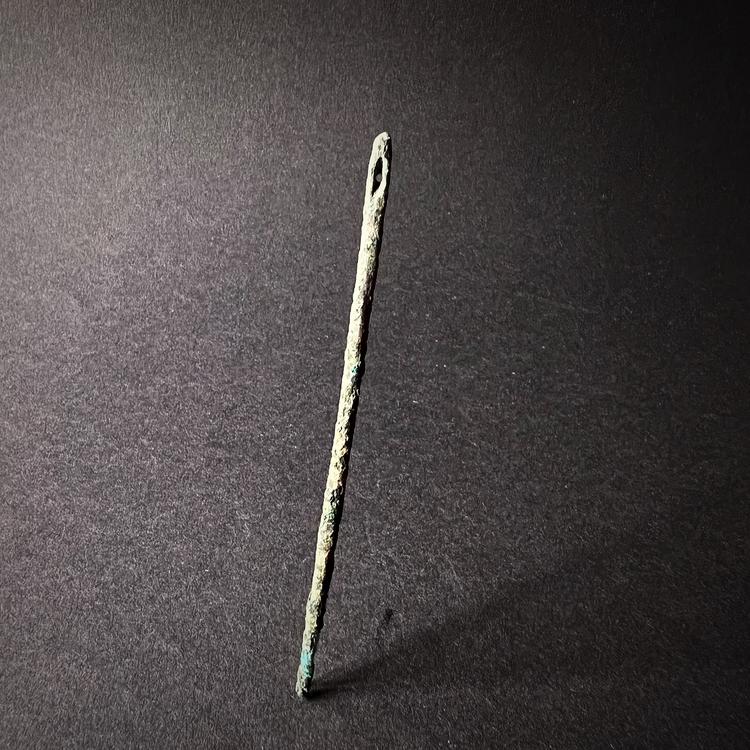 Shipping

The shipment will be prepared in the course of 3-5 days and dispatched via Posti Group Oyj or purchased item(s) can be picked up from our shop during the store's opening hours (Tarkk'ampujankatu 4, 00140, Helsinki, Finland). Within the Finland, all items are shipped via Posti Group Oyj unless otherwise requested. We pack the items carefully and mainly in recycled materials because we want to save nature. You will receive the tracking number for your items by e-mail.

Returns

Returns and exchange will be accepted within fourteen days (14) of receipt at the purchaser's cost to include freight and packaging. Items must be returned in the same condition as when they were shipped, and will not be accepted if damaged or altered in any way. Please inform us via email (info@gotanmaailma.fi) or by calling +358408408352 before sending. We do not accept returns more than 14 days after delivery.