Regular price
Sale price
$272.00
Unit price
per
Sale
Sold out
Share
Early to mid. 19th century, Kerala, Southern India
Mesmerizing, aged and finely cast bronze alloy lime container, known as Chuna-Dani or Killotaya, with original spatula on a bronze chain, are from the Southern India, possibly Kerala. Sectionally cast in bronze and finished with delicate bands and elaborate fluted  decoration. The example embodies a riveted strap type hinge, the hinge mounted with an ornate suspension lug. Internally, an integral hemispherical cover combines a central hole, allowing spatula access to the lime compartment. Lime powder (Chuna) was used with the betel quid, betel leaves (Hindi: Pan) being a mild social narcotic that was chewed. Traditional wisdom was that poison could be concealed in lime, so betel consumers would bring along their own lime to social occasions, therefore the need for portable, elegant lime containers such as this one.
Excellent condition. Age-related minor wear and abrasion. Polished dark patina. Heavily encrusted, build-up lime residue, consistent with age and sustained usage. Size approx. 9,5cm x 7,0cm x 6,8cm. Chain and spatula c. 41,5cm x 1,0cm. 
Provenance: Finnish private collection
References and further reading:
Betel Chewing Traditions in South-East Asia, Dawn F. Rooney, Kuala Lumpur, Oxford University Press, 1993. (http://rooneyarchive.net/books/betel_chewing_traditions_in_south-east_asia.pdf)
The Lerche Collection: Chewing Betel Through the Ages, Beowulf K. Klebert, Arts of Asia, January-February 1983, pp. 107.13.
From Betel-Chewing to Tobacco-Smoking in Indonesia, Anthony Reid, The Journal of Asian Studies, Vol. XLIV, No. 3, May 1985, pp. 529-47.
View full details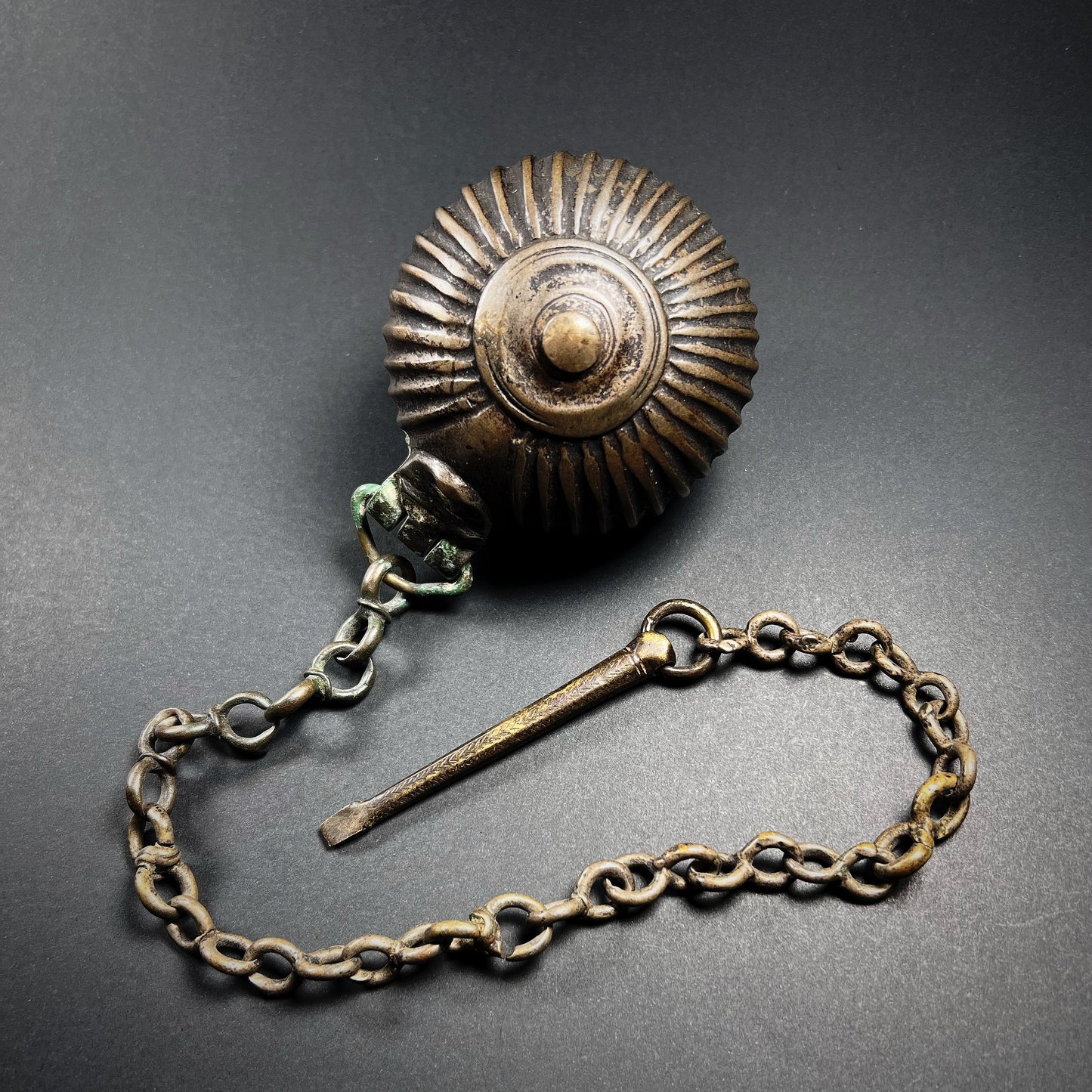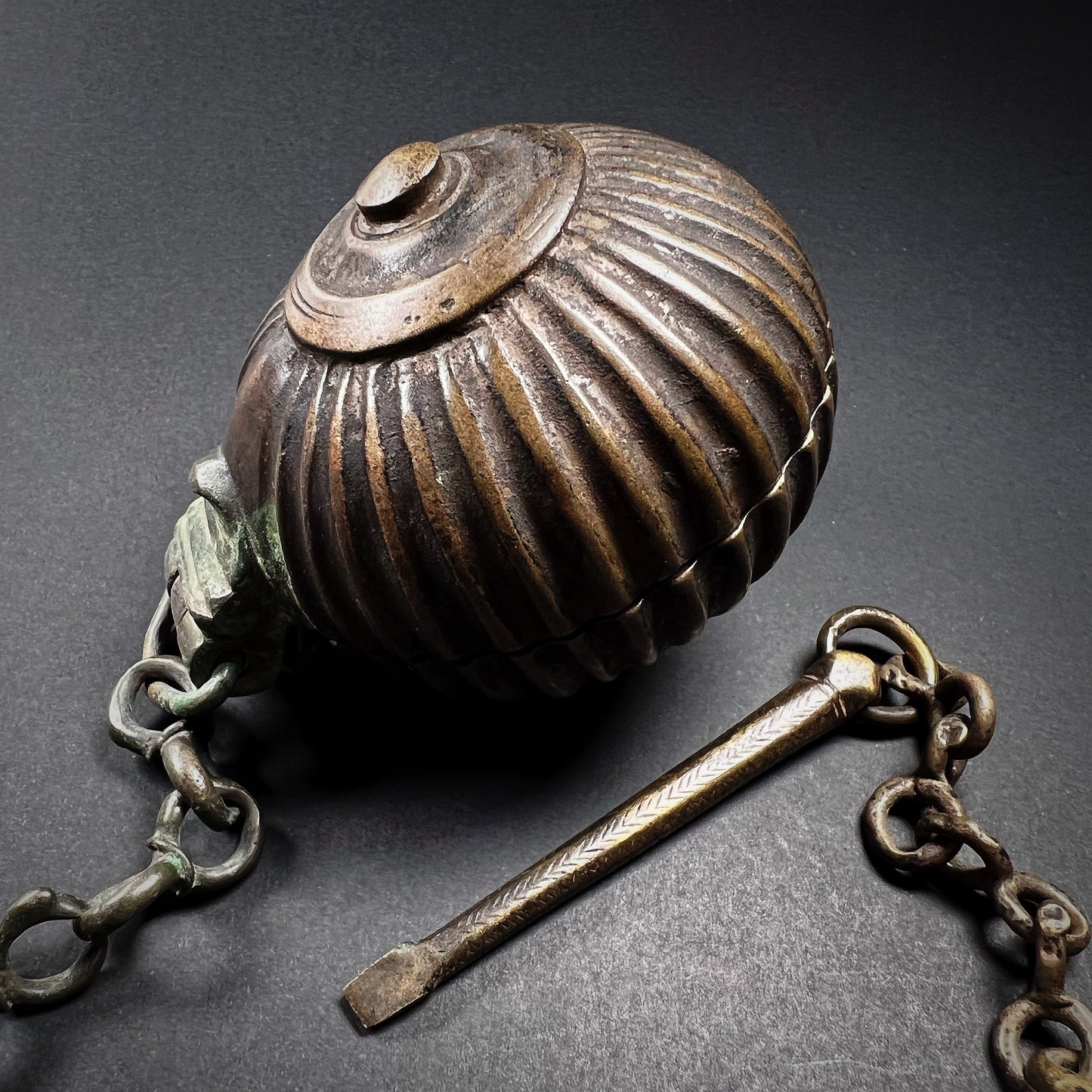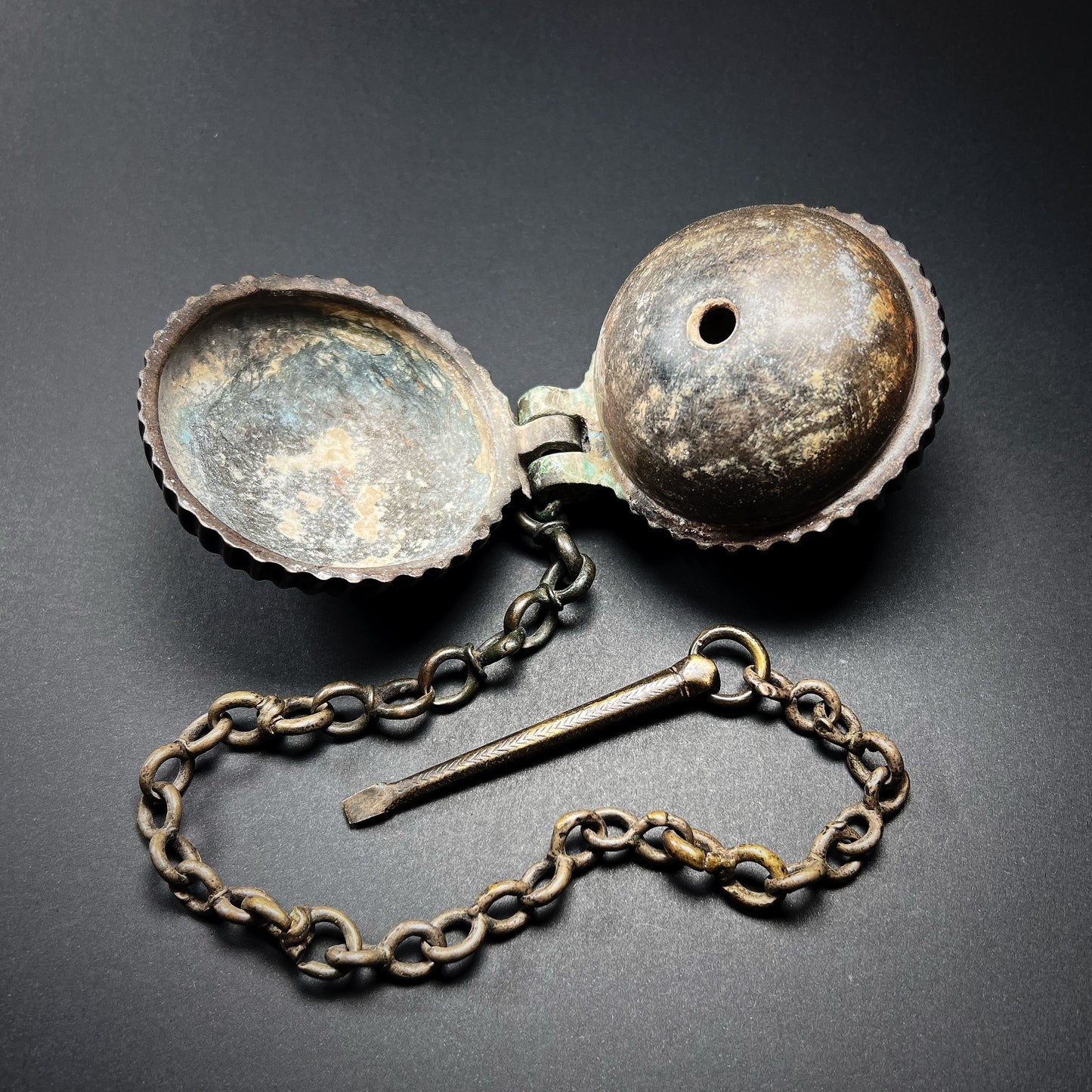 Shipping

The shipment will be prepared in the course of 3-5 days and dispatched via Posti Group Oyj or purchased item(s) can be picked up from our shop during the store's opening hours (Tarkk'ampujankatu 4, 00140, Helsinki, Finland). Within the Finland, all items are shipped via Posti Group Oyj unless otherwise requested. We pack the items carefully and mainly in recycled materials because we want to save nature. You will receive the tracking number for your items by e-mail.

Returns

Returns and exchange will be accepted within fourteen days (14) of receipt at the purchaser's cost to include freight and packaging. Items must be returned in the same condition as when they were shipped, and will not be accepted if damaged or altered in any way. Please inform us via email (info@gotanmaailma.fi) or by calling +358408408352 before sending. We do not accept returns more than 14 days after delivery.