Regular price
Sale price
$423.00
Unit price
per
Sale
Sold out
Share
The Early Harappan civilization, c. 3200-2600BC, Sindh, Pakistan.
Superb ancient terracotta vessel. Harappan civilization (also known as Indus Valley civilization) was a Bronze Age civilization in the northwestern regions of South Asia, lasted from about 3300-1900BC. It extended over almost 1,25 million square kilometres, and had several large cities with baked brick structures and an intensive drainage network. Over 1000 sites have been found of this ancient culture. Its sites spanned an area from much of Pakistan, to northeast Afghanistan, and northwestern and western India. Together with ancient Egypt and Mesopotamia, it was one of the early civilizations of the Near East and South Asia.
Early Harappan refers to a period between 3200-2600BC, when settlements had spread all over the north-western plains, extending into Haryana, Rajasthan, and Gujarat. According to the archaeologist Gregory Possehl, there were four approximately contemporary, interrelated, archaeological cultures that can be called early Harappan. The main differences in these cultures are the different pottery types. These cultures were Amri-Nal (named after two sites of Amri and Nal), Kot Diji, Damb Sadat, and Sothi-Siswal.

Terracotta pitcher presents a sloped shoulder, a tall, tubular neck, and an annular rim. A thick, loop handles on the both shoulders (one missing). Intricate black-painted, geometric designs adorn the exterior. Moderate condition. Age-related wear with nicks and scratches on surface. Chip from the rim. Repaired. Rich deposits on interior and exterior. Size approx. 13,2cm x 11,5cm x 11,0cm. 
Provenance: Danish private collection
References and further reading:
The Harappan Civilisation: Its Sub-cultures, Roshen Dalal, The Pioneer, Thursday, 10 May 2018.
Indus Valley Civilization, Mark, Joshua J., World History Encyclopedia, Last modified October 07, 2020 (https://www.worldhistory.org/Indus_Valley_Civilization/).
The Indus Civilization: A Contemporary Perspective, Gregory L. Possehl, AltaMira Press, 2002.
The Harappan Civilization, Tarini Carr, Archaeology Online.
Indus Civilization, R.K. Pruthi, Discovery Publishing House, 2004, s. 157.
View full details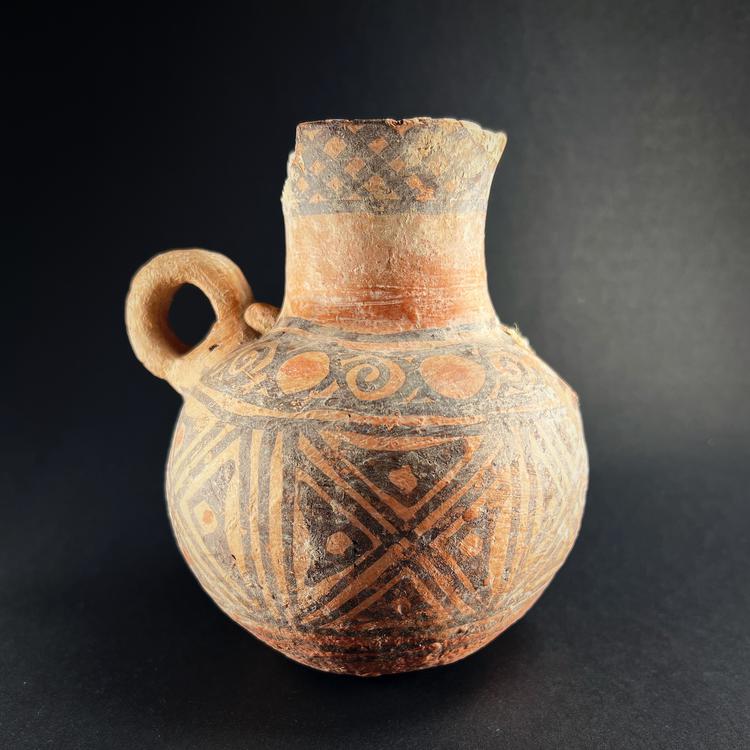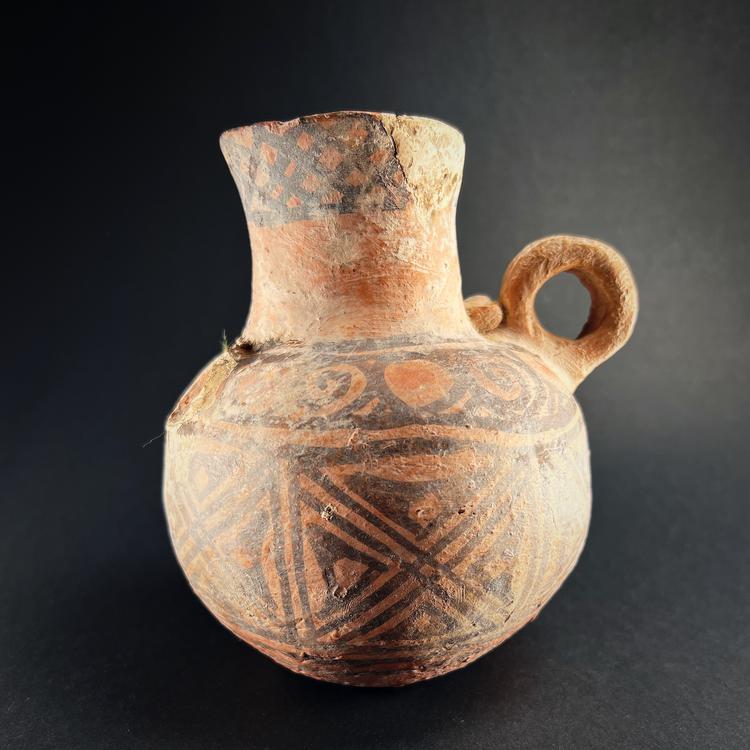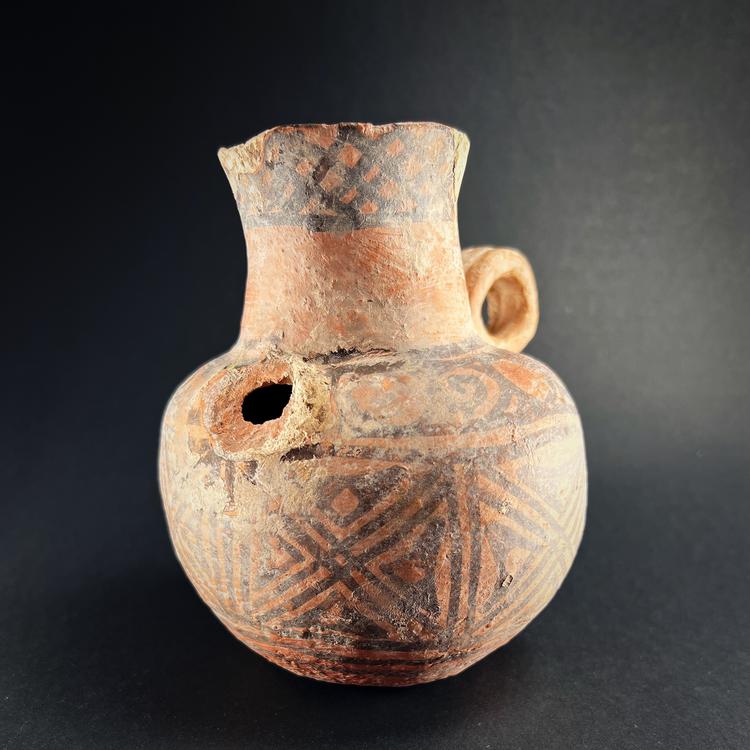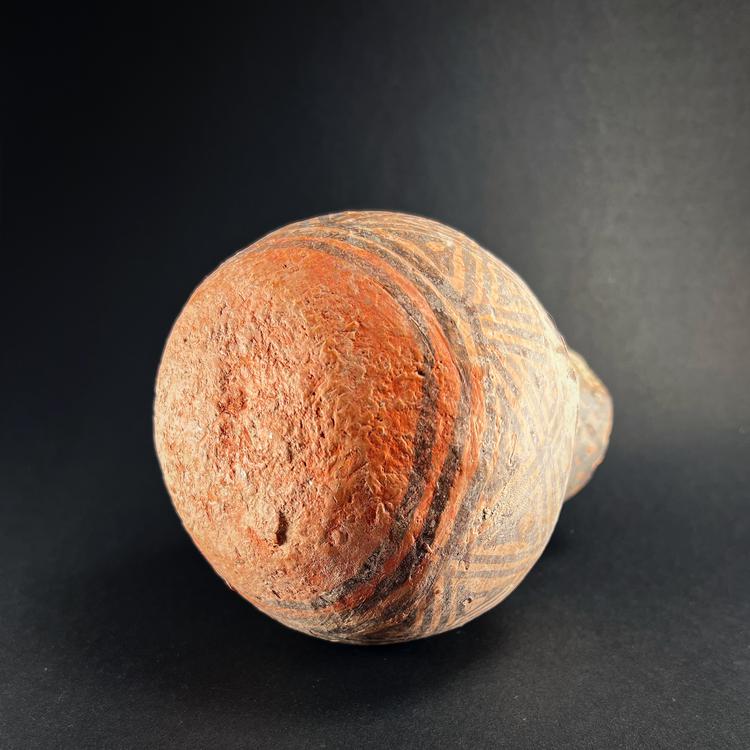 Shipping

The shipment will be prepared in the course of 3-5 days and dispatched via Posti Group Oyj or purchased item(s) can be picked up from our shop during the store's opening hours (Tarkk'ampujankatu 4, 00140, Helsinki, Finland). Within the Finland, all items are shipped via Posti Group Oyj unless otherwise requested. We pack the items carefully and mainly in recycled materials because we want to save nature. You will receive the tracking number for your items by e-mail.

Returns

Returns and exchange will be accepted within fourteen days (14) of receipt at the purchaser's cost to include freight and packaging. Items must be returned in the same condition as when they were shipped, and will not be accepted if damaged or altered in any way. Please inform us via email (info@gotanmaailma.fi) or by calling +358408408352 before sending. We do not accept returns more than 14 days after delivery.