Regular price
Sale price
$934.00
Unit price
per
Sale
Sold out
Share
Pre-Columbian era, Jalisco culture, Tala-Tonalá-style, c. 300BC to 200AD, Western Mexico.
Absolutely gorgeous hand-built and highly burnished Jalisco pottery Tala-Tonalá figure. The major western Mexican cultures shared a tradition of shaft tomb burials. The earliest discovered shaft tomb was at Huitzilapa, Jalisco. These tombs were treasure troves of ceramic objects, including figure groups and vessels containing offerings for the dead. The Jalisco, Nayarit, and Colima artisans produced a variety of ceramic figures in distinctive regional styles. Of the various styles in Jalisco, the most common is the buffware known as Ameca Gray, typified by large, hollow figures that accompanied the dead in their deep shaft tombs. Most figures can be attributed to this Jalisco sub-style; however a number of other subtypes have also been identified. One fascinating subcategory of Jalisco figures are the Tala-Tonalá, or "sheep-faced," variety that appear almost zoomorphic, as implied by their more common name. They have large, projecting noses that resemble a muzzle or beak and small, pointy sheep-like ears. Their heads are very elongated. Ovals of white paint designate eyes and thin, incised lines depict mouths, which sometimes appear to be smiling. Furthermore, figures in this style often have solid earspools or a notched tab that may also be a stylization of multiple earrings.
Fantastic female figure is a good example of this particular style. Large torso with small globular breasts, short arms and legs, covered in red slip. Head is elongated and has a thick, twisted headband, or covered with top hat. Large aquiline nose and oval white eyes. Massive earspools. All are probably markers of high rank. Good condition. Age-related wear and abrasion. One arm missing. Encrusted fine patina. Size approx. 24,6cm x 9,3cm x 5,4cm. 
Provenance: Finnish private collection
View full details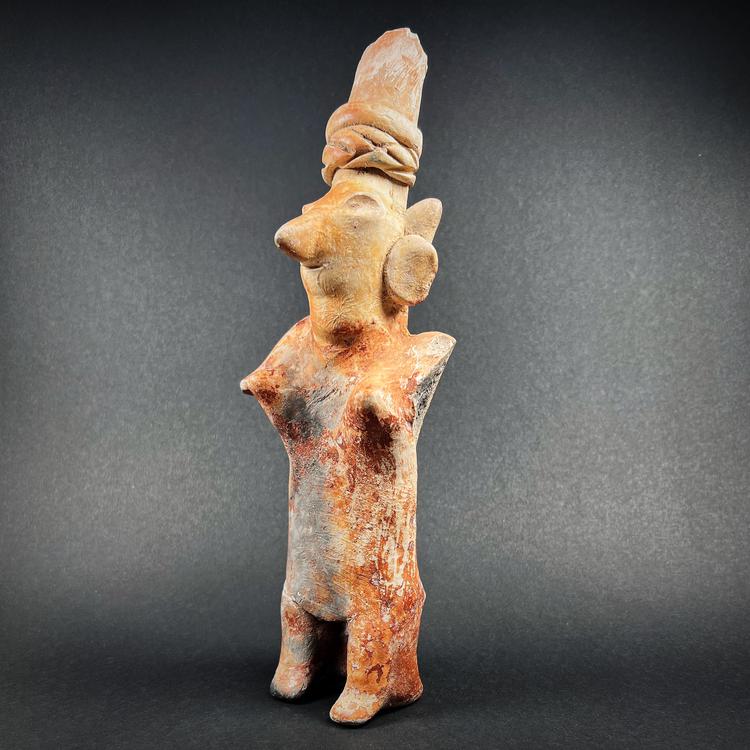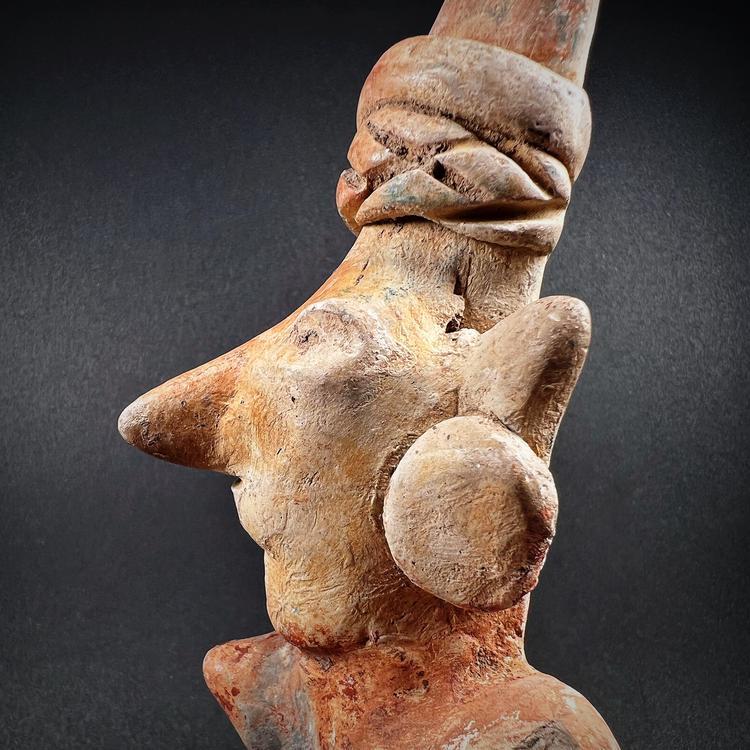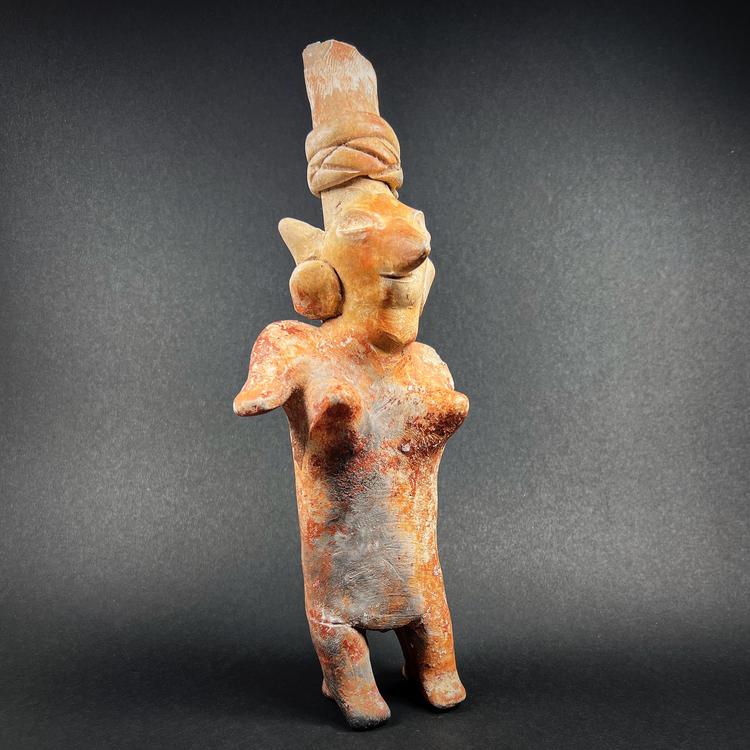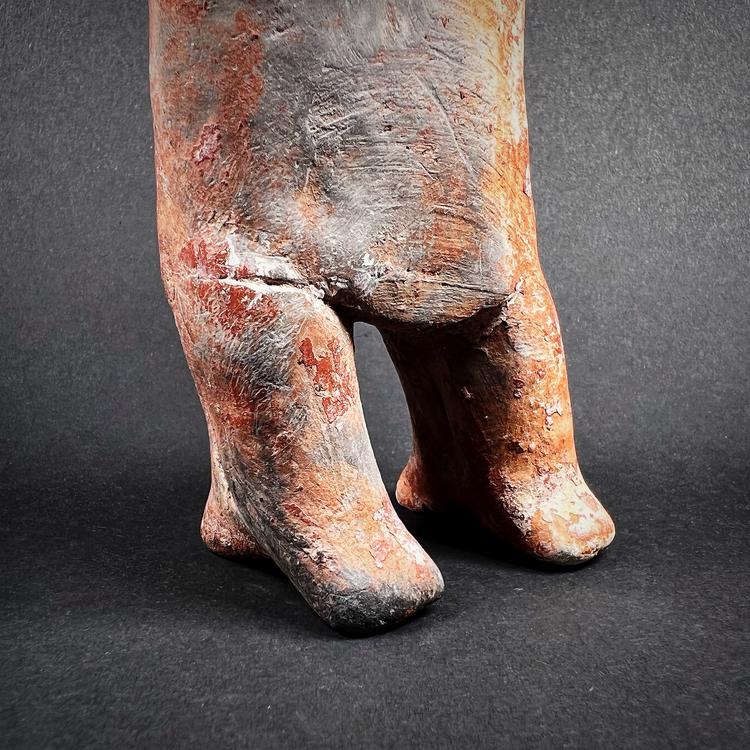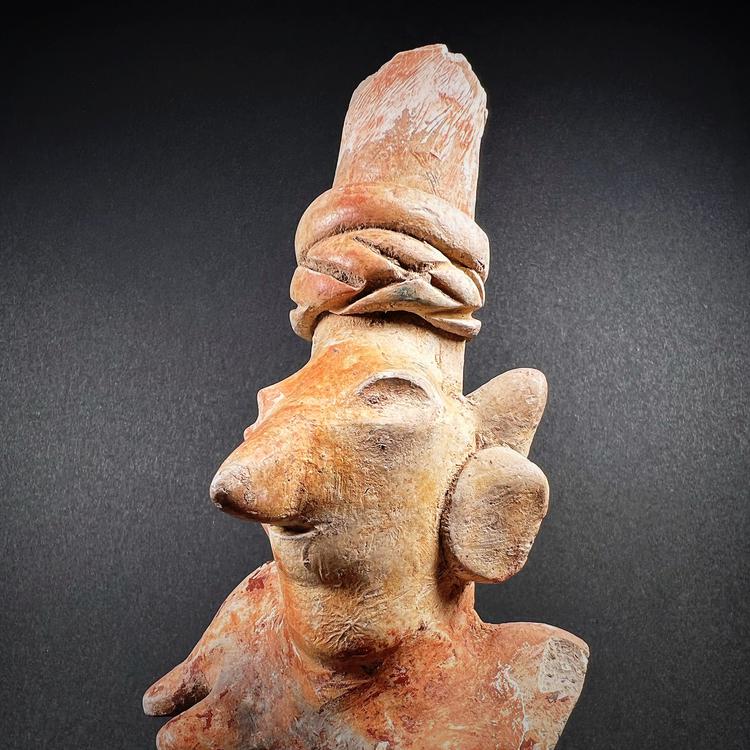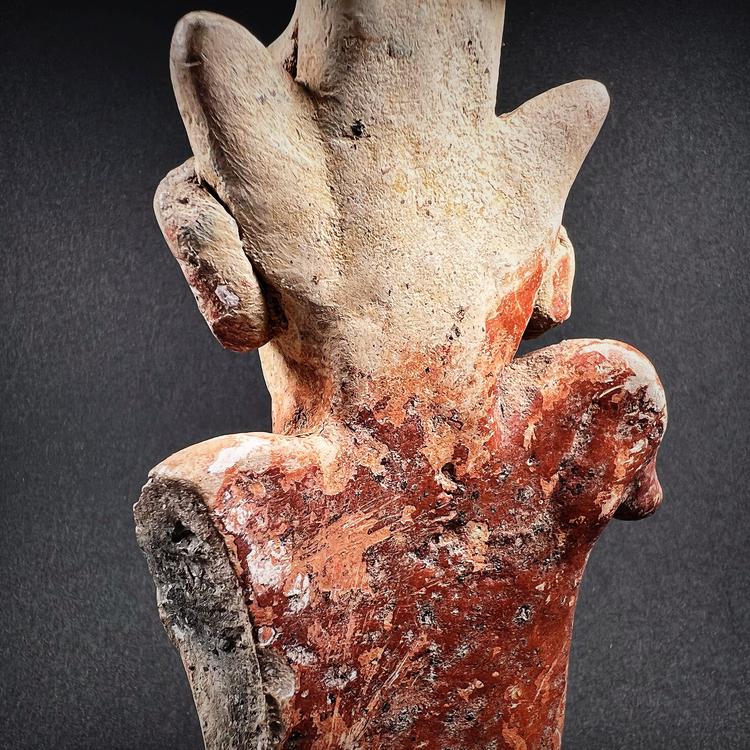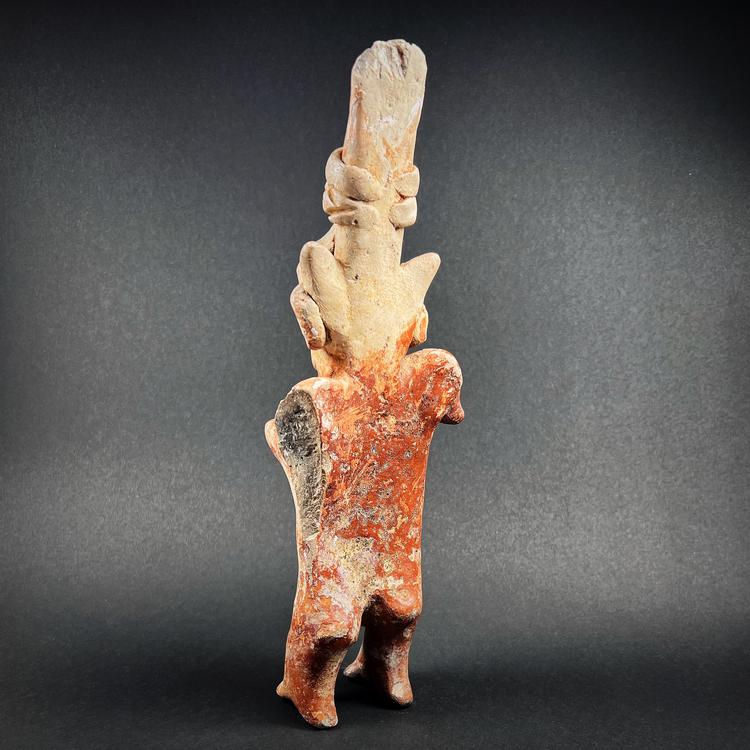 Shipping

The shipment will be prepared in the course of 3-5 days and dispatched via Posti Group Oyj or purchased item(s) can be picked up from our shop during the store's opening hours (Tarkk'ampujankatu 4, 00140, Helsinki, Finland). Within the Finland, all items are shipped via Posti Group Oyj unless otherwise requested. We pack the items carefully and mainly in recycled materials because we want to save nature. You will receive the tracking number for your items by e-mail.

Returns

Returns and exchange will be accepted within fourteen days (14) of receipt at the purchaser's cost to include freight and packaging. Items must be returned in the same condition as when they were shipped, and will not be accepted if damaged or altered in any way. Please inform us via email (info@gotanmaailma.fi) or by calling +358408408352 before sending. We do not accept returns more than 14 days after delivery.