Regular price
Sale price
$215.00
Unit price
per
Sale
Sold out
Share
Qing dynasty, Kangxi period, c. 1680-1700, China.
Fabulous, high quality small-sized Chinese Kangxi Imari plate, finely potted with a carefully cut base rim and a rich glassy, white glaze with a light blue tint. The plate is hand painted in a free flowing style, characteristic of the period, in varying shades of a clear cobalt blue, iron red and gold. The central well is richly decorated in the Imari style with flowering peonies, asters and other flowers issuing from rockwork, all within two sets of concentric blue circles. The cavetto with a band of blue & red flower diaper, the outer rim with flower sprigs and leaves, with seedpods and other small flowers all within an thin outer blue circle. Base unmarked. Imari ware (Imari-yaki) is a European term for a brightly-coloured style of Arita ware.
The Kangxi period (1662-1722) was one of the most productive periods of Chinese ceramics. The Emperor Kangxi was the fourth emperor of the Qing dynasty and the longest-reigning emperor in Chinese history. Under Emperor Kangxi, porcelains underwent enormous changes throughout a period of sixty years. Kangxi porcelain was produced for both domestic and export markets. The high quality of material, sophisticated design, great technical expertise, painting quality and aesthetic charm, made it so popular in Europe that a separate branch of export designs flourished.
Arita ware (Arita-yaki) is a broad term for Japanese porcelain made in the area around the town of Arita, in the former Hizen Province, northwestern Kyūshū. The Imari name is derived from the port of Imari, Saga, where this porcelain was shipped to Nagasaki. In Nagasaki the Dutch East India Company (Verenigde Oostindische Compagnie, VOC) and the Chinese had trading outposts where the porcelain was sold and exported. In the West the richly decorated, iron red and underglaze cobalt blue enamelled, and often lavishly gilded wares became known as "Imari ware". Many of its pattern were inspired by traditional Japanese textiles. The design was so successful that Imari ware was also imitated by Chinese and European producers. Sometimes the different overglaze styles (iroe), of Kakiemon and Kutani ware are also grouped under Imari ware. The blue and white designs were known as "Arita ware", in reality all forms were often produced at the same kilns.

Excellent condition. Rim with one minuscule chip, otherwise intact. No repairs, No fractures. Age-related light wear, fading in gilding. Size approx. 16,5cm x 16,5cm x 3,2cm. 
Provenance: Finnish private collection
References and further reading:
Japanese Art from the Gerry Collection in The Metropolitan Museum of Art, Barbara Brennan Ford & Oliver R. Impey, Metropolitan Museum of Art, 1989. 
Edo-Period Japanese Porcelain, Anna Willmann, In Heilbrunn Timeline of Art History, New York: The Metropolitan Museum of Art, April 2011. (https://www.metmuseum.org/toah/hd/jpor/hd_jpor.htm)
Japanese Ceramics: A Brief History, Henry Trubner, Seattle Art Museum, Ceramic Art of Japan, 1972.
View full details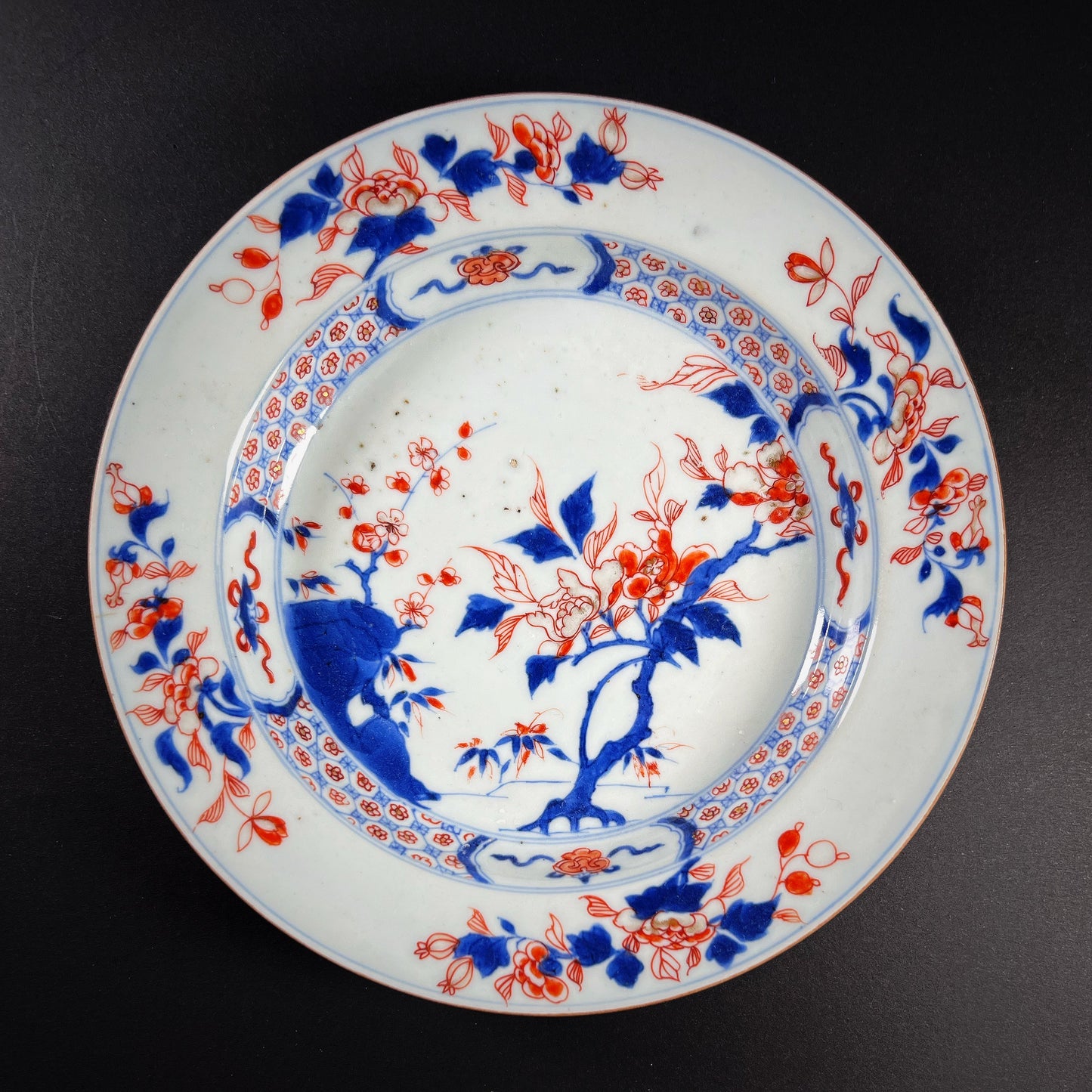 Shipping

The shipment will be prepared in the course of 3-5 days and dispatched via Posti Group Oyj or purchased item(s) can be picked up from our shop during the store's opening hours (Tarkk'ampujankatu 4, 00140, Helsinki, Finland). Within the Finland, all items are shipped via Posti Group Oyj unless otherwise requested. We pack the items carefully and mainly in recycled materials because we want to save nature. You will receive the tracking number for your items by e-mail.

Returns

Returns and exchange will be accepted within fourteen days (14) of receipt at the purchaser's cost to include freight and packaging. Items must be returned in the same condition as when they were shipped, and will not be accepted if damaged or altered in any way. Please inform us via email (info@gotanmaailma.fi) or by calling +358408408352 before sending. We do not accept returns more than 14 days after delivery.