Regular price
Sale price
$10,925.00
Unit price
per
Sale
Sold out
Share
Korwar area, late 19th century, Cenderawasih (Geelvink) Bay region, Indonesian province of Papua (Irian Jaya)
Exeptional and extremely rare ancestral statue, korwar, carved from single piece of wood presenting a squatting human figure on oval base with a symbolically oversized head, hollowed out to accommodate a real ancestor skull, and wears a serrated headdress or tiara. Korwar figures represent ancestor spirits that are highly venerated but also treated with awe and caution. Korwar figures often carry a shield that sometimes supports the chin of the statue decorated with various repeated designs, single and double spirals, scrolls, and s-curves. The exact meaning of the shield is unclear and it has been said to derive from the snake, which in turn represents rejuvenation and regeneration, a key idea in the traditional religion of the people of Cenderawasih Bay.
Korwar were sculpted by a shamanic practitioners (mon) following the death and funerary rites of an esteemed family member. The criteria for being immortalized were also selective. Those considered for the honor were usually important to a village such as a family or clan head, or leader of an expedition. These figures served as a supernatural container for the spirit of an important ancestor, they were consulted for advice and help in all significant life events such as births, marriages and deaths. It was believed that korwar could offer supernatural protection during headhunting raids, heal sick and was said to make a warrior invisible. Korwar were also shipped on dangerous sea voyages to ensure success. Cenderawasih canoes had korwar heads merged into their bow and stern ornaments, and miniatures were worn as amulets. The korwar figures were kept in the home of the deceased's family, treated with reverence and given offerings of tobacco and other desirable items. 

From the late 1880's onwards, several korwar figures were destroyed upon the instigation of Protestant missionaries. Others were sent to museums in the Netherlands. The use of ancestor skulls combined into the sculpture was banned by the Dutch Government in the capital Biak at the early 1900's. Within a short period, the use of korwar figures largely stopped and no more were carved. This example was collected in the early 20th century complete with the ancestor skull and is one of two acquired by a Dutch government official in the area at that time. 
Important and dramatic old korwar figure are in excellent condition. The hardwood has a beautiful grey tint, eroded in several places and shows deep traces of wear, due to bad weather. Size approx. 51,0cm x 21,5cm x 21,0cm. 
Provenance: Dutch private collection.
References and further reading:
Raja Ampat Ritual Art: Spirit Priests and Ancestor Cults in New Guinea's Far West, Raymond Corbey, Leiden: C. Zwartenkot Art Books, 2017.
Knowing Korwar: Ancestor Figures from Cenderawasih Bay, Bowers Museum, Collection Blog, Thursday, 25 August 2022. (https://www.bowers.org/index.php/collection/collection-blog/korwar-figure-from-cenderawasih-bay)
Borneo and Beyond: Tribal Arts of Indonesia, East Malaysia and Madagascar, Michael Heppell & Robyn Maxwell, Published by Bareo Gallery, 1990.
View full details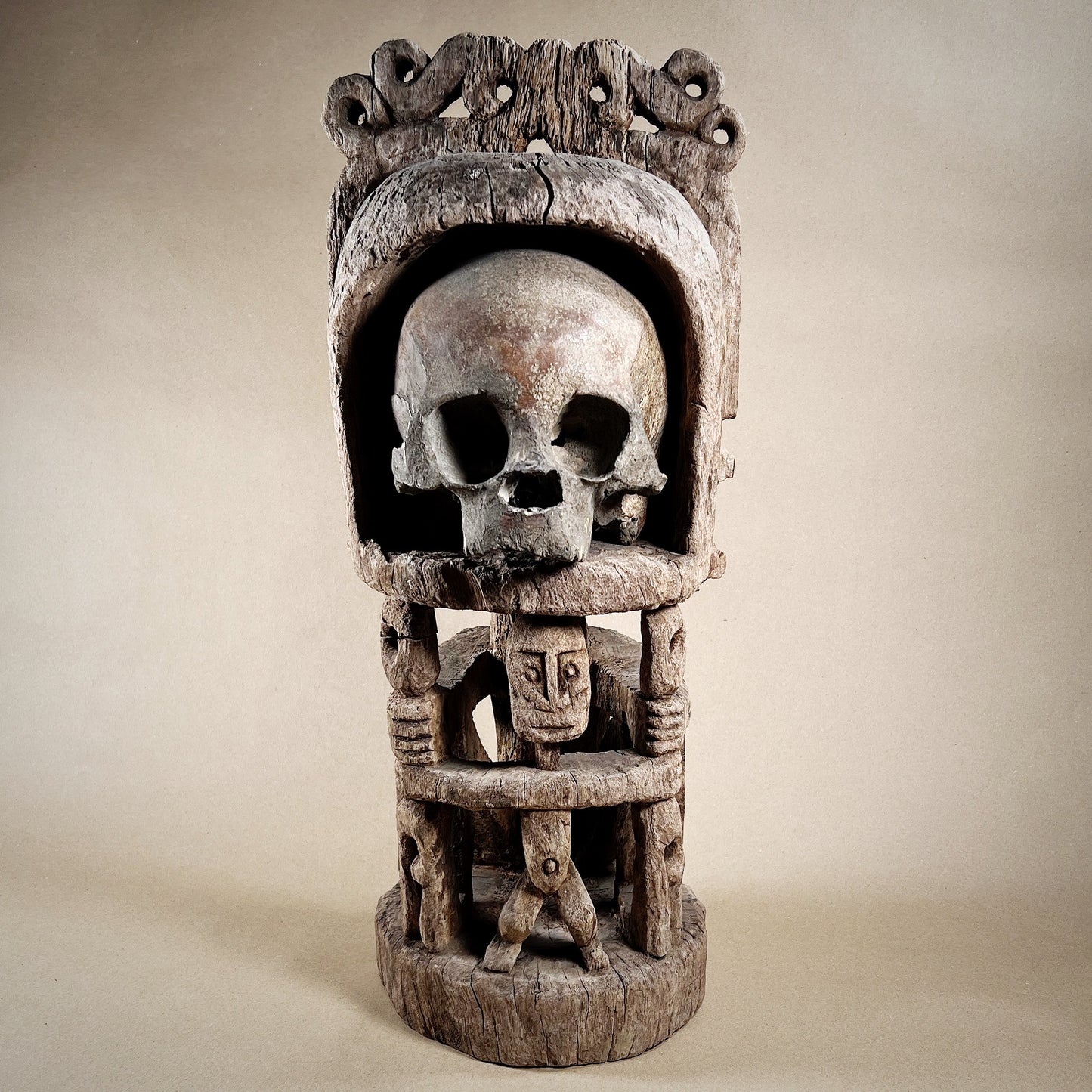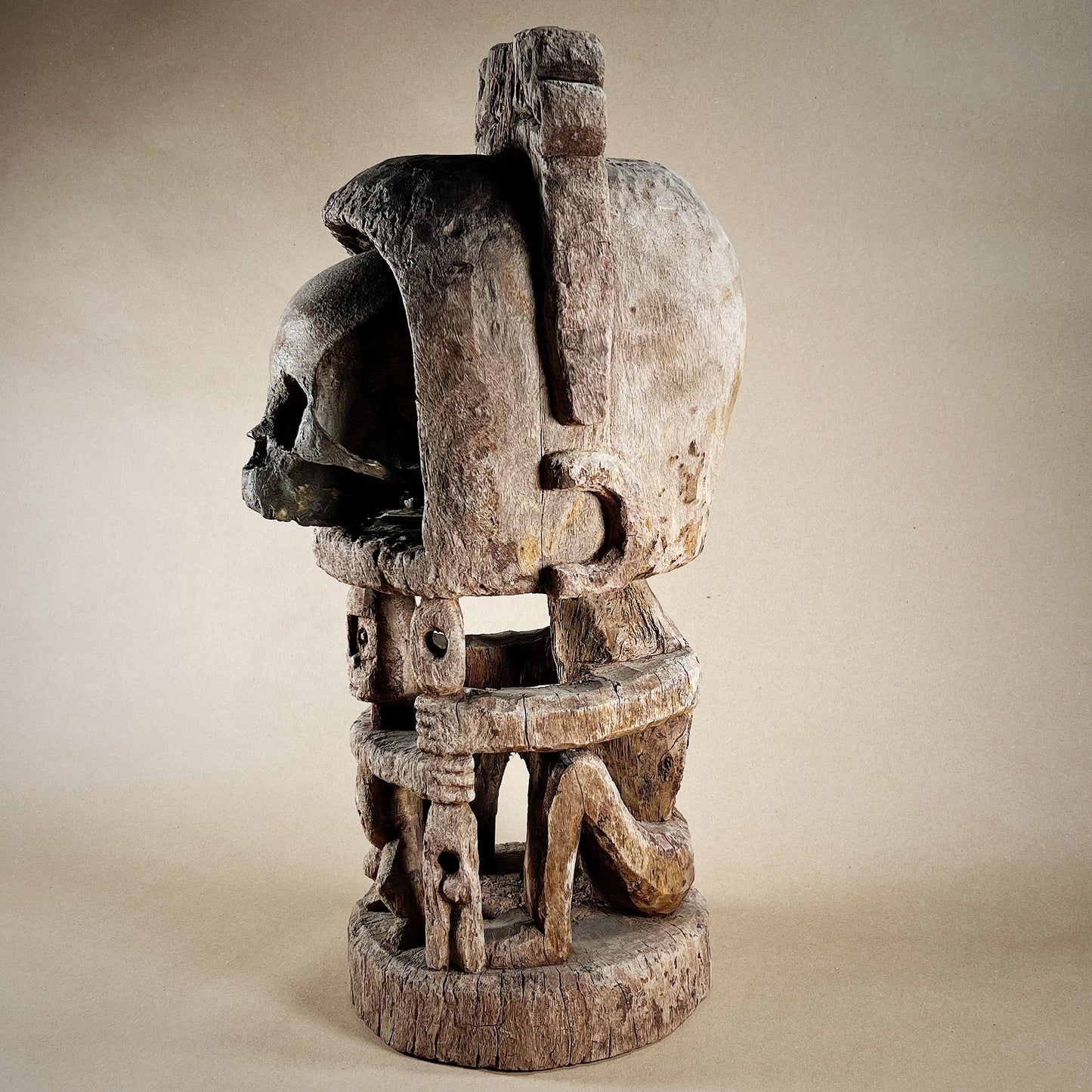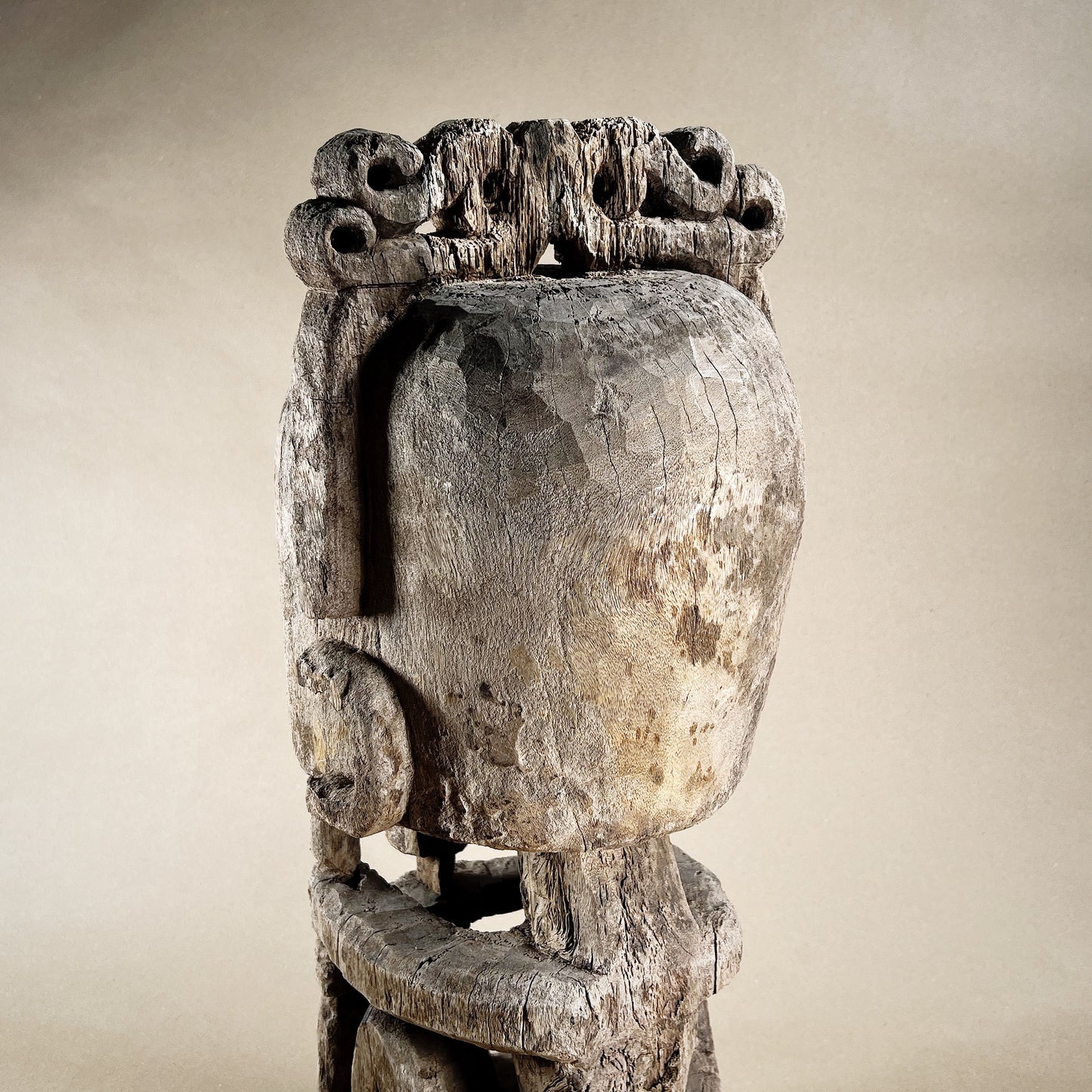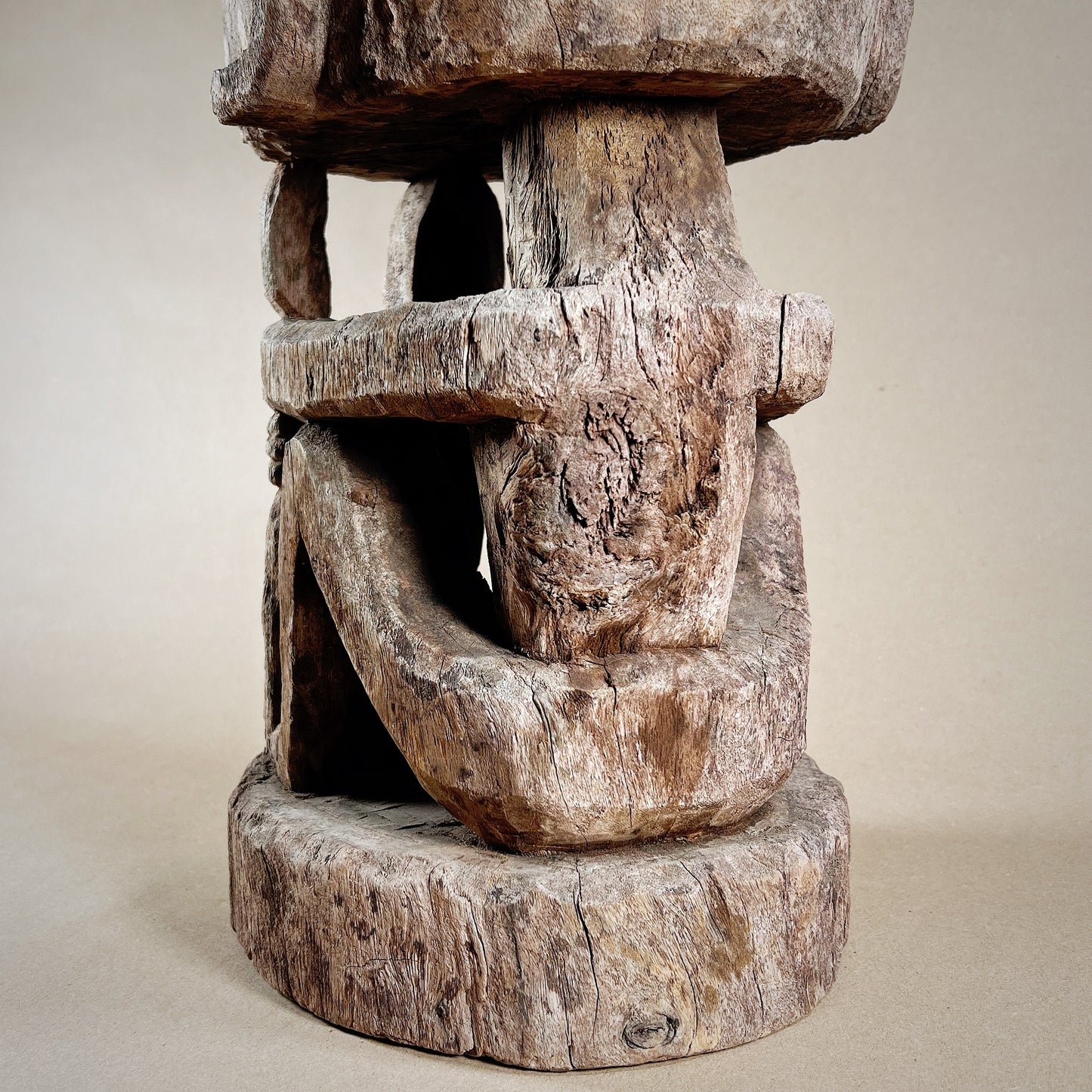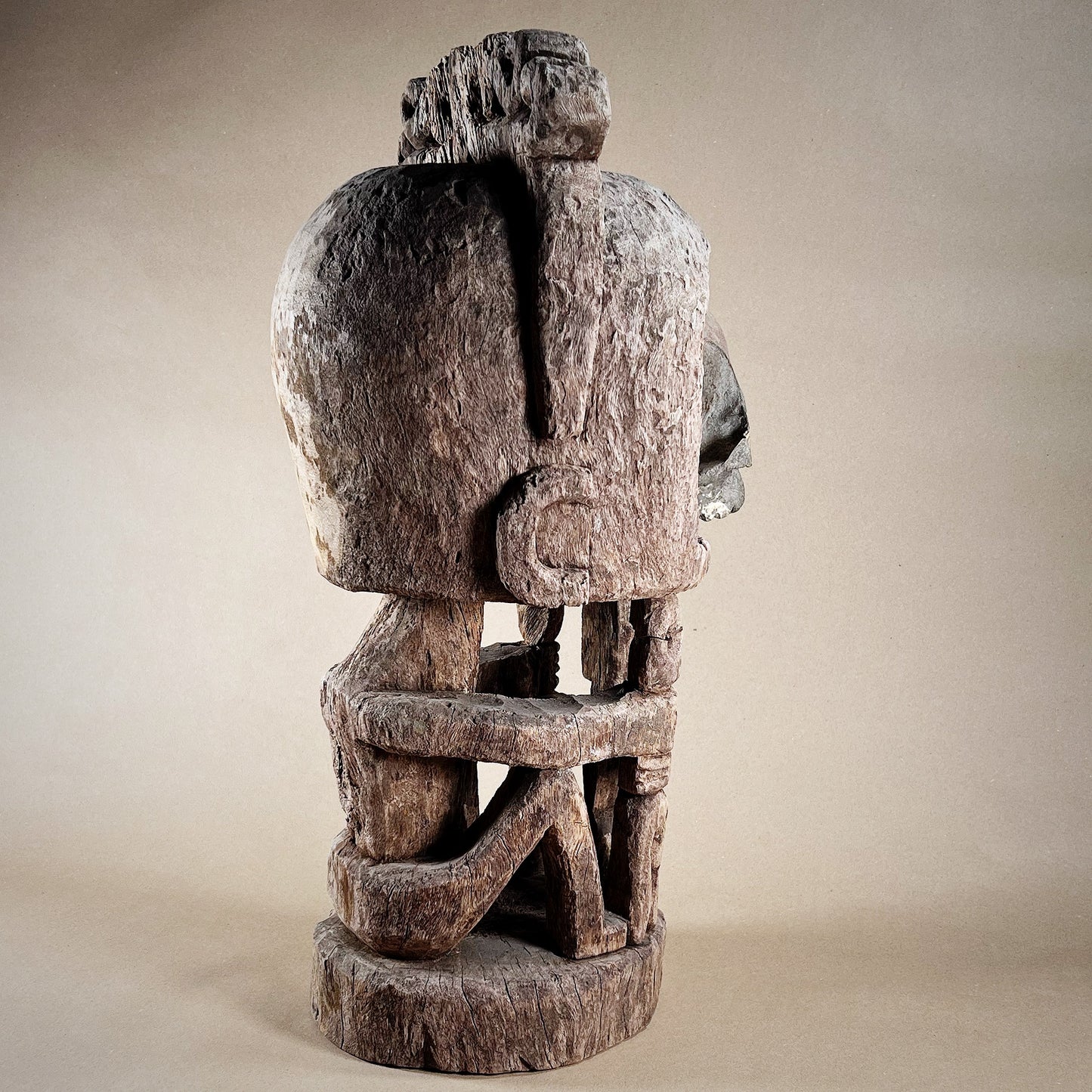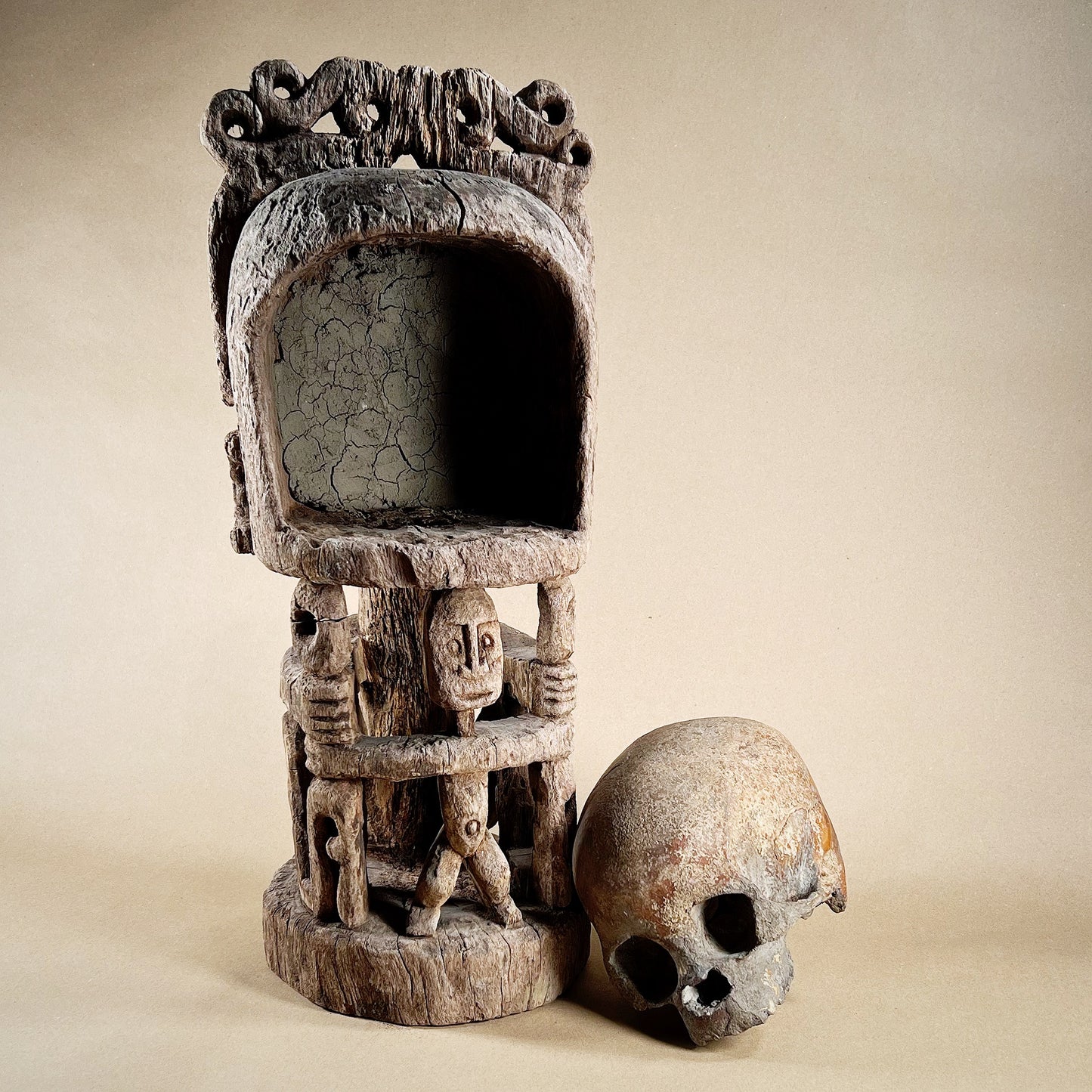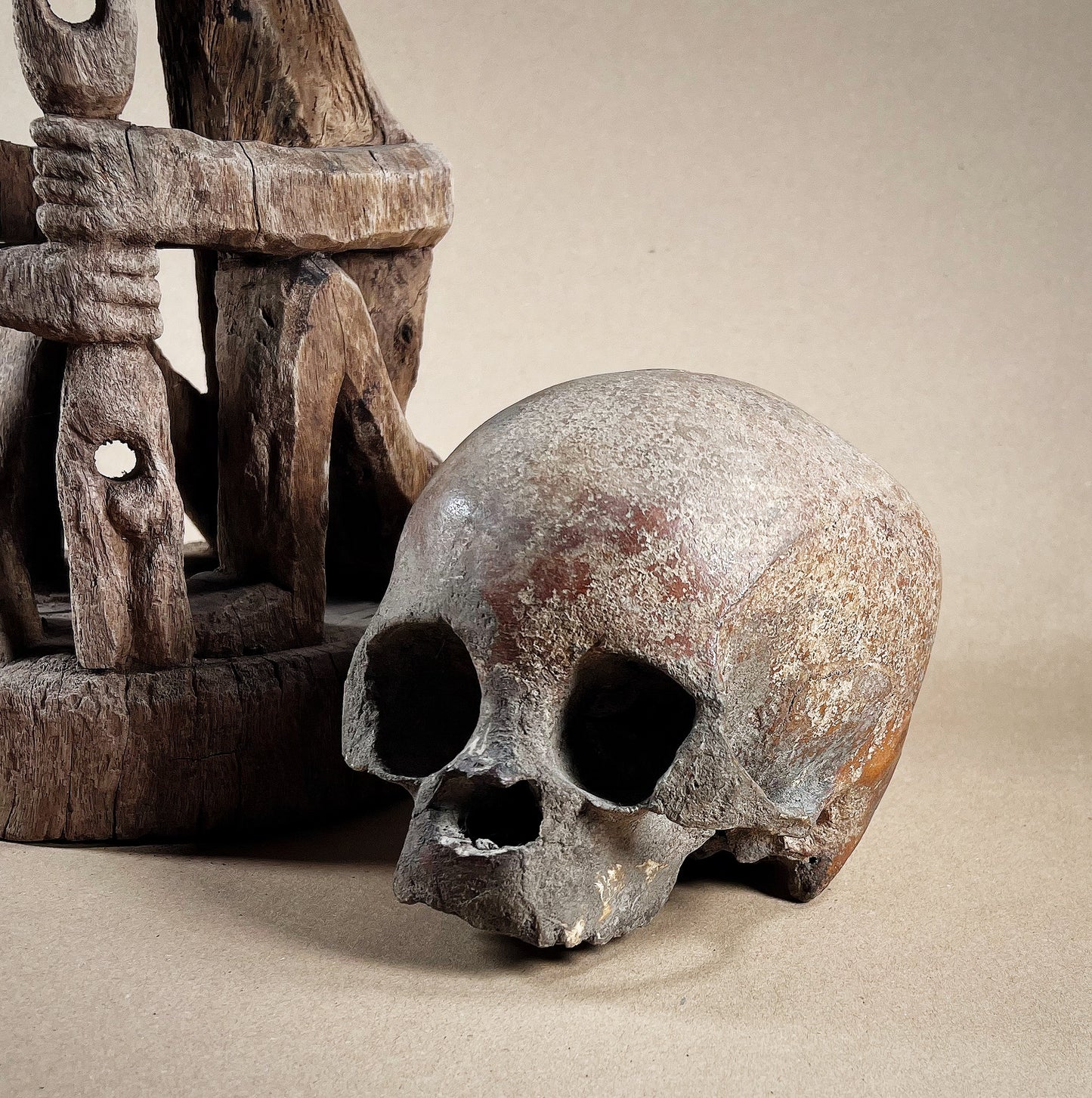 Shipping

The shipment will be prepared in the course of 3-5 days and dispatched via Posti Group Oyj or purchased item(s) can be picked up from our shop during the store's opening hours (Tarkk'ampujankatu 4, 00140, Helsinki, Finland). Within the Finland, all items are shipped via Posti Group Oyj unless otherwise requested. We pack the items carefully and mainly in recycled materials because we want to save nature. You will receive the tracking number for your items by e-mail.

Returns

Returns and exchange will be accepted within fourteen days (14) of receipt at the purchaser's cost to include freight and packaging. Items must be returned in the same condition as when they were shipped, and will not be accepted if damaged or altered in any way. Please inform us via email (info@gotanmaailma.fi) or by calling +358408408352 before sending. We do not accept returns more than 14 days after delivery.