Regular price
Sale price
$495.00
Unit price
per
Sale
Sold out
Share
Kuchis, early to mid. 20th century, Herat, Afghanistan.
Absolutely gorgeous, massive old Kuchi amulet holder (ta'wīz). Pashtuns are an Iranian ethnic group who are native to the geographic region of Pashtunistan in the present-day countries of Afghanistan and Pakistan. Kuchis (also called Kochis) are pastoral nomads belonging primarily to the Ghilji Pashtuns. In the southern, western and northern regions of Afghanistan they are also referred to at times as maldar (Pashto: maldar, "herd-owner"). Some of the most notable Ghilji Kochi tribes include the Kharoti, Niazi, Andar, Akakhel and nasar Ahmadzai. The Kuchis used to move annually from the Afghanistan mountains to the valley of the Indus, across the old Silk Route that connects present-day Turkmenistan, Uzbekistan, Tajikistan, parts of Kazakhstan, Afghanistan, Pakistan, and India, building an extensive network of barter along this route over the years. For centuries, they have migrated across the country in a search of seasonal pastures and milder weather.

Kuchi jewellery sets were mostly worn by girls and women, but they did not only use them to make themselves beautiful, but also to protect themselves against evil forces and ensure fertility. The jewel in itself was thus not only an ornament, but also an amulet. Magical power was usually not only endowed to the material from which the jewel was made, or the ornament that adorned it, but also it was also the very jingle of the pendants made of chainlets, coins, and jingle bells that had the power to ward off evil spirits. Most Kuchi jewellery was concentrated in the upper half of the body, especially on the head. Beautiful headbands with a central circular medallion (Pashto: silsila), pendants of various forms, most often circular (rupay, gogrey, tek, tik), worn individually on the forehead or in a pair on the temples, or small hair clips in the shape of a narrow rectangle (stan). Head ornaments also include earrings, most commonly in the form of a dome with pendants made of chainlets and small metal plates (in Pashto/Persian gushwār-e, kafasi), or crescent-shaped earrings with pendants made of small jingle bells (wāley). Nose studs (cargul) were also a common adornment for Kuchi women, most commonly in the shape of a rosette. Necklaces and chokers (ghārgey) usually consisted of vertical rows of chainlets and pendants in the form of variously shaped small metal plates, coins or jingle bells. A distinctive piece of jewellery is massive wide bracelets with a protruding serrated hoop at one end (bāhu). The Kuchi women's jewellery set also featured metal amulet cases (ta'wīz), which were most often of square, triangular or cylindrical forms, equipped with various metal pendants, chainlets and jingle bells. Inserted into the case was an amulet protecting against evil forces, especially illness, bewitchery, and infertility. Under the influence of Islam, prayers from the Qur'an most commonly fulfilled the function of the amulet.
Beautiful amulet case made from low quality silver (untested) and metal alloy. Elaborately decorated with embedded red glass bezels with traditional embossed rosettes, ornaments and leaf motifs. Numerous dangles and coins hang below, clattering together with movement. Good condition. Age-related wear and signs of use. Soft worn patina. Amulet approx. 21,0cm x 13,0cm x 1,5cm. 
References and further reading:
Pashtun, Contries and their Cultures, Every Culture.com.(https://www.everyculture.com/wc/Afghanistan-to-Bosnia-Herzegovina/Pashtun.html)
Who Are the Kuchi? Nomad Self-Identities in Afghanistan, Richard Tapper, The Journal of the Royal Anthropological Institute 14, no. 1, pp 97-116, 2008. (http://www.jstor.org/stable/20203586)
Kuchis, Minority Rights Group, World Directory of Minorities and Indigenous Peoples. (https://minorityrights.org/minorities/kuchis/)
Kuchi Jewellery, Tereza Hejzlarová & Libor Dušek & Jan Vanco & Michal Čajan & Zdeněk Trávníček, Annals of the Naprstek Museum, 40. pp. 27-48, December 2019.(https://www.researchgate.net/publication/337930163_Kuchi_Jewellery)
View full details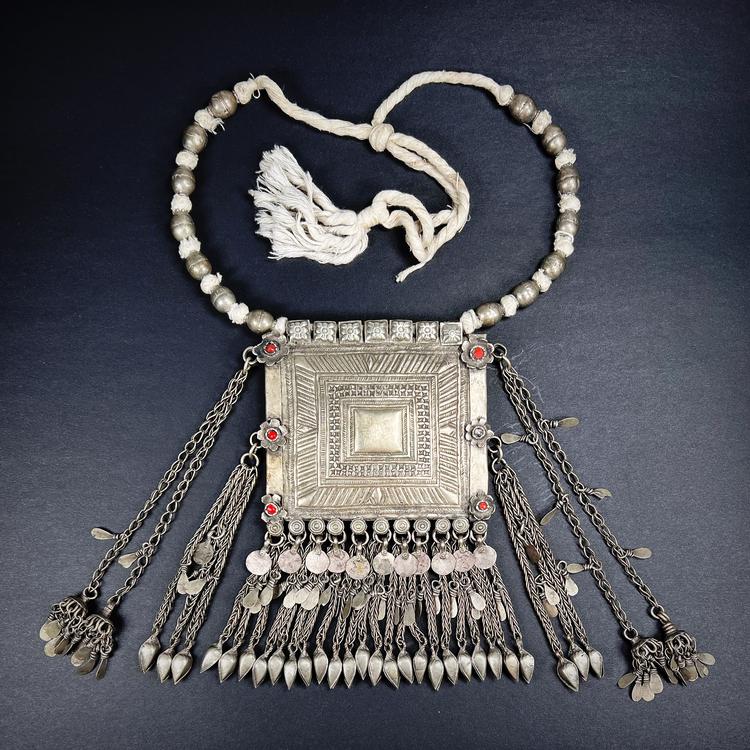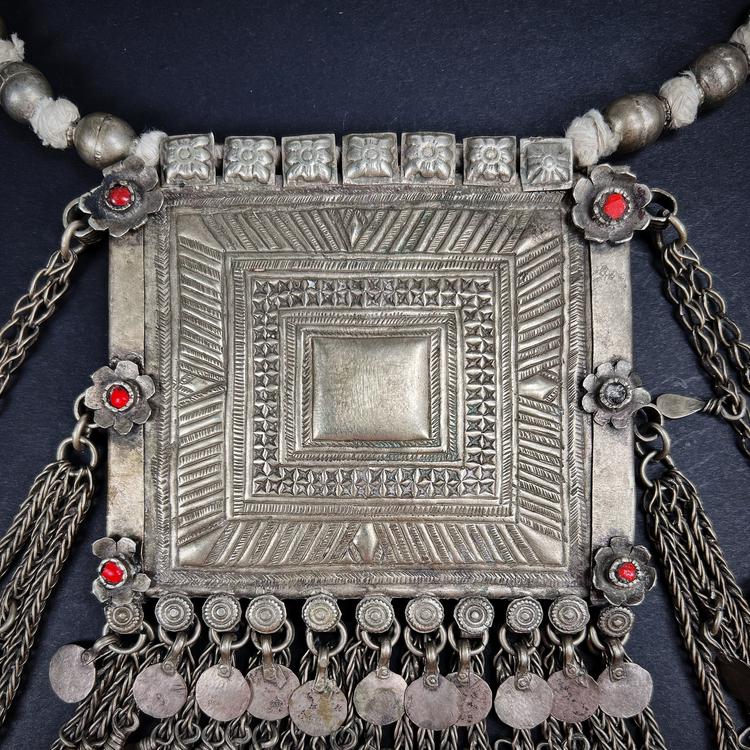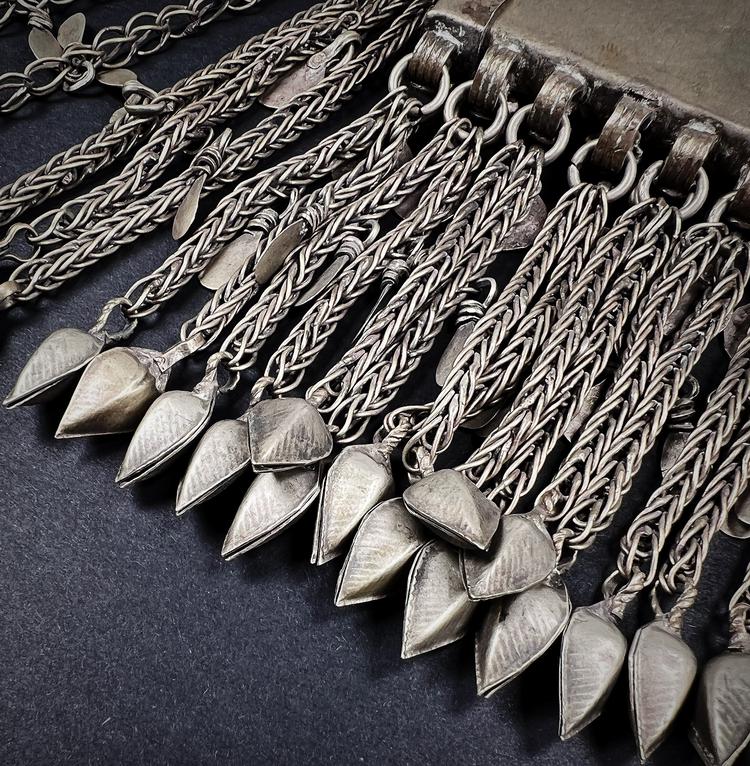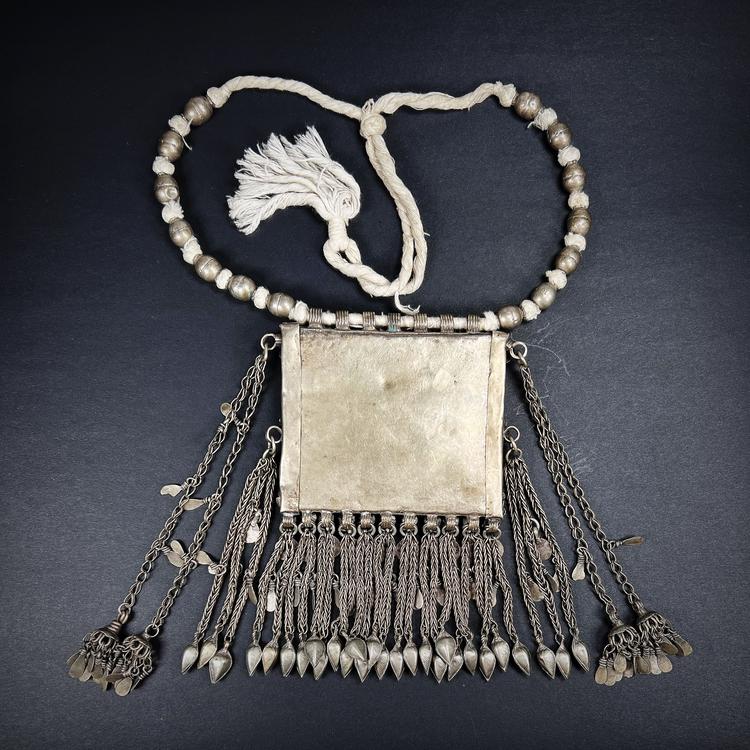 Shipping

The shipment will be prepared in the course of 3-5 days and dispatched via Posti Group Oyj or purchased item(s) can be picked up from our shop during the store's opening hours (Tarkk'ampujankatu 4, 00140, Helsinki, Finland). Within the Finland, all items are shipped via Posti Group Oyj unless otherwise requested. We pack the items carefully and mainly in recycled materials because we want to save nature. You will receive the tracking number for your items by e-mail.

Returns

Returns and exchange will be accepted within fourteen days (14) of receipt at the purchaser's cost to include freight and packaging. Items must be returned in the same condition as when they were shipped, and will not be accepted if damaged or altered in any way. Please inform us via email (info@gotanmaailma.fi) or by calling +358408408352 before sending. We do not accept returns more than 14 days after delivery.