Regular price
Sale price
$215.00
Unit price
per
Sale
Sold out
Share
Lozi people, early to mid 20th century, Lealui, Barotseland, Western Zambia, Africa
Delicate lidded basket box, katumbwa, used to store magical hunting potions in the Barotse floodplain. Hunters believed that these potions made them invisible to the wild game. The Lozi people (called also Malozi, Barotse or Aluyi) are a cluster of interrelated Bantu-speaking ethnic groups inhabiting along the Zambesi River in Barotse Floodplain Province of western Zambia. Lozi believe in the existence of one great god, called Nyambe ("one who does not speak"). Nyambe made the forests, the river and plain, and all the animals and plants, including human being (kamunu). Nyambe's wife was Nasilele (which means "she who is associated with long things") and his mother was Ngula ("she who is pregnant"). Nyambe is said to have created both his wife and his mother. The matrix of the Lozi religion is composed of a threefold strain, especially Nyambe cult, royal grave cult and ancestral worship. Elaborate rituals and offerings are focused on the burial sites of former kings and chief princesses. Priests mediate between the Lozi and the spirits of theirs former rulers. Sorcery, divination, exorcism, and the use of amulets are all elements in the Lozi religious system.
Baskets have been used for centuries in Zambia for winnowing grain, gathering and storing food as well as for personal items. For the Lozi people basketry was essential to everyday life and principal channel for artistic expression. Traditionally woven in two colours, black and natural, typically with different areas having contrasting patterns, most commonly an arrangement of stripes, zig-zags and triangles. The Makenge bush grows to over three meters and cast out long roots. The men only cut off two thirds of the roots allowing the plant to regenerate. Roots are skinned to remove the outer layer, then boiled and dyed with natural pigments. When completely dry they are handwoven by the women using a spiral coiling and weaving technique which results in a very rigid and durable basket. The whole process taking several weeks or even months. Baskets are traditionally given to brides as a wedding gift and often she will pass it down to her own newly married daughter.

Small-sized lidded basket box are in excellent condition. Simple decoration comprises only one single black stripe. Age-related minimal wear. Faded black color. Gorgeous tanned patina. Size approx. 12,0cm x 9,5cm x 9,5cm.

Provenance: Finnish private collection
For a similar examples see:
The British Museum, Accession Number: Af1979,01.5193 (https://www.britishmuseum.org/collection/object/E_Af1979-01-5193)
 The Penn Museum, Accession Number: 2003-81-2A (https://www.penn.museum/collections/object/372918)
View full details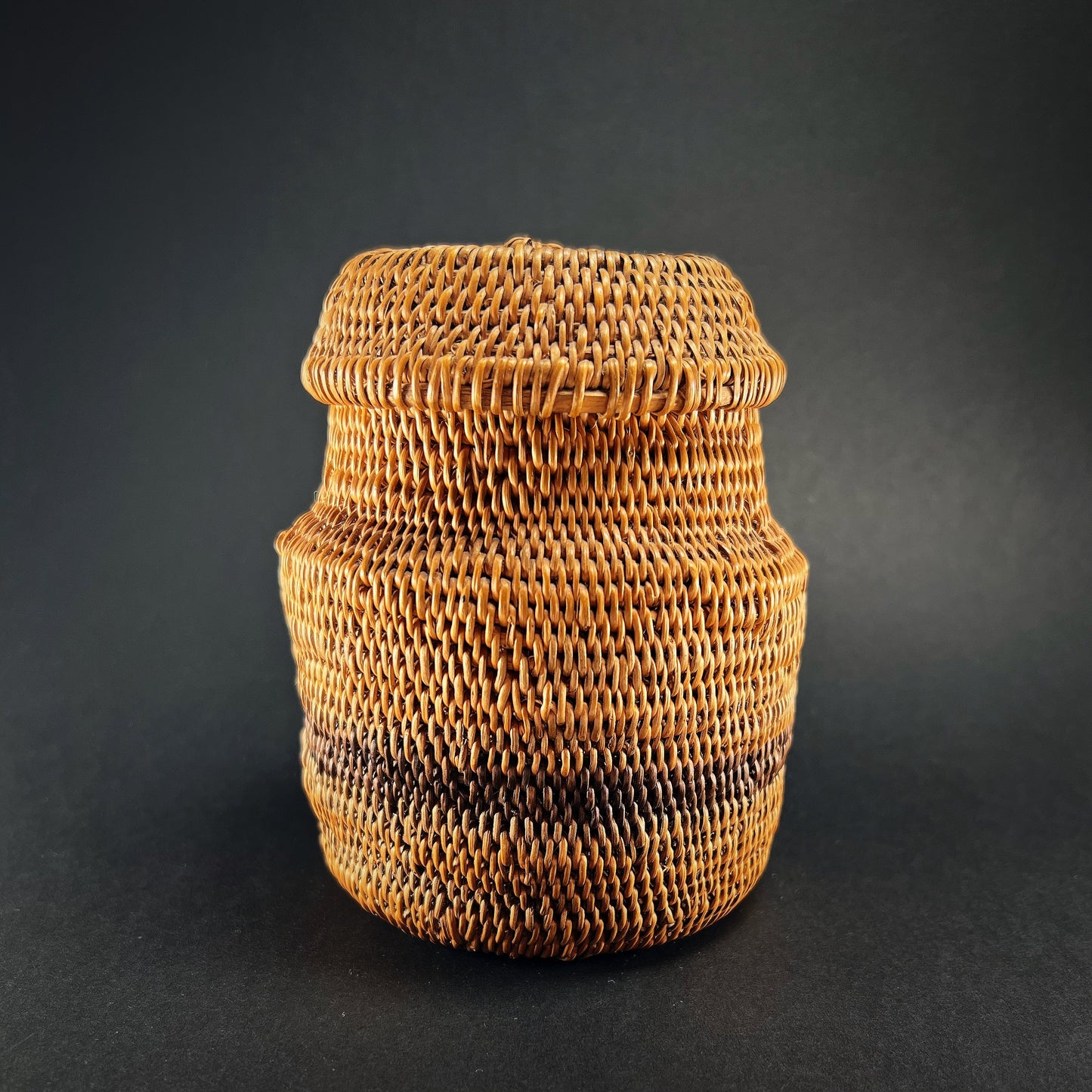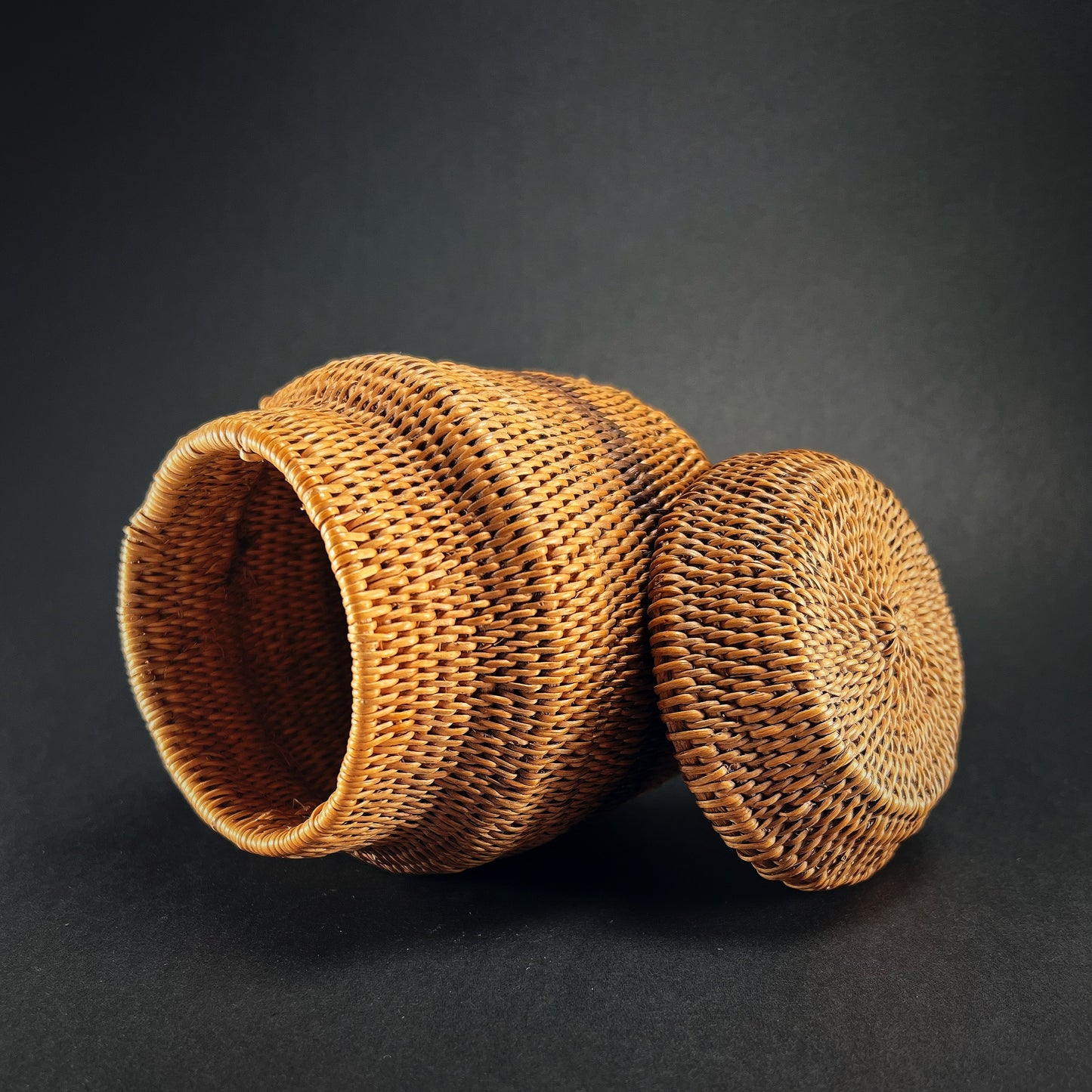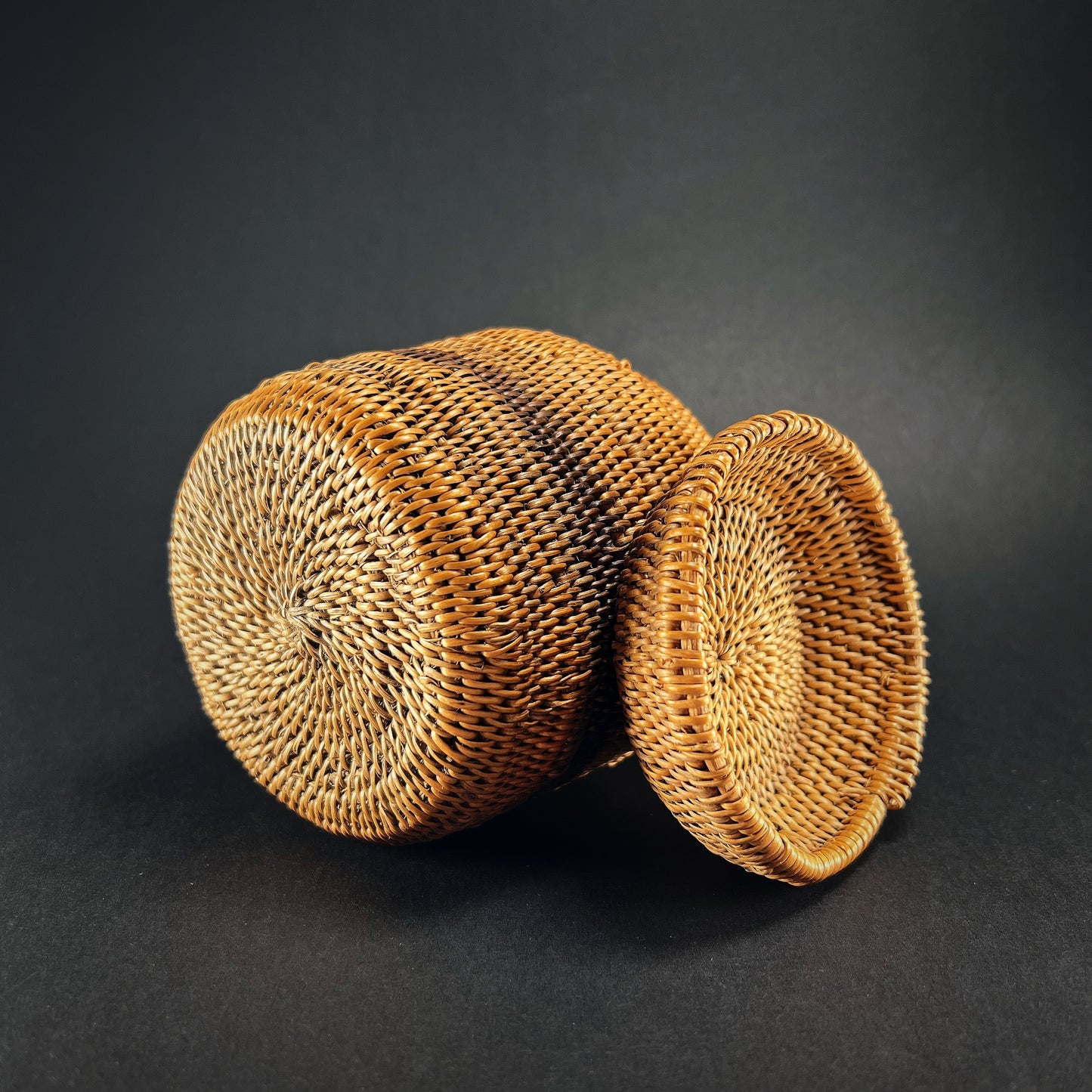 Shipping

The shipment will be prepared in the course of 3-5 days and dispatched via Posti Group Oyj or purchased item(s) can be picked up from our shop during the store's opening hours (Tarkk'ampujankatu 4, 00140, Helsinki, Finland). Within the Finland, all items are shipped via Posti Group Oyj unless otherwise requested. We pack the items carefully and mainly in recycled materials because we want to save nature. You will receive the tracking number for your items by e-mail.

Returns

Returns and exchange will be accepted within fourteen days (14) of receipt at the purchaser's cost to include freight and packaging. Items must be returned in the same condition as when they were shipped, and will not be accepted if damaged or altered in any way. Please inform us via email (info@gotanmaailma.fi) or by calling +358408408352 before sending. We do not accept returns more than 14 days after delivery.