Regular price
Sale price
$2,032.00
Unit price
per
Sale
Sold out
Share
Luba people, mid. 20th century,
Lukuga River Region,

Democratic Republic of the Congo


Excellent, finely carved double caryatid stool (lupona) presenting two addorsed powerful standing female figure with spread short muscular legs, long arms bent at the elbows, and their hands and heads supporting the seat. Both figures with traditional Luba hairstyle and scarification all over the body. The narrow faces with sensitively carved features, straight lips, pointed nose and almond-shaped eyes. Despite their functional form, these royal stools are never used for sitting but, rather, are sacred symbol preserved within a king's palace. They serve as metaphorical, not literal, seats of kingship. The design of Luba seats of leadership may either be abstract or figurative. 

The Luba people are cluster of peoples who inhabit a wide areas of south-central Democratic Republic of the Congo. Their kingdoms were at their zenith between the 17th and 19th century. The Luba traditional religious beliefs included the concept of universal creator (Shakapanga), a Supreme Being (Leza), a natural world and a supernatural world. The supernatural world was where ancestral spirits (bankambo) and other spirits (mikishi, bavidye) lived, and what one joined the afterlife if one lived an ethical life (mwikadilo muyampe). The Luba religions accepts the possibility of communion between the living and the dead. The religious life included prayers, community singing, dances, offerings, rites of passage rituals and invocations. These rituals and services had intermediaries for rites such as priests (nsengha and kitobo). In addition, for anxiety and ailments, a healer (nganga) and the witch (mfwintshi) were in service who would perform divination (lubuko).

The Luba Shankandi and Hemba are renowned wood-carvers; they are especially known for their carvings of anthropomorphic figures, caryatid stools, ceremonial axes, and headrests. Luba blacksmiths are regarded as holders of secret knowledge, possessing skills that according to their lore have been handed down from a mythological hero. The female shape is common in Luba art as women hold high status serving as life-giving mothers, priestesses and other high ranking officials. In addition only a woman's body was believed to be strong enough to embody the spirit of a deceased king. Fabulous female caryatid stool are in excellent condition. Age-related wear and signs of ceremonial use. Wood are dyed dark brown. Beautiful patina. Size approx: 31,0cm x 11,3cm x 23,0cm.

For a similar examples see:

Prestige Stool: Female Caryatid, The Metropolitan Museum of Art, Acession number: 1977.459.2 (https://www.metmuseum.org/art/collection/search/310434)


Caryatid Stool, Michael C. Carlos Museum, Emory University, Accession number: 1994.004.018 (https://collections.carlos.emory.edu/objects/688/caryatid-stool)

Royal Seat (Lupona): Female Caryatid, The Metropolitan Museum of Art, Accession number: 1978.412.317 (https://www.metmuseum.org/art/collection/search/310760)

References and further reading:


Luba: Visions of Africa, Mary Roberts & Allen F. Roberts, Publisher: 5 Continents Editions Srl, 2007.

Luba, Mutombo Nkulu-N'Sengha, Encyclopedia Britannica, 2 Dec. 2018. (https://www.britannica.com/topic/Luba-people)

History of Art in Africa: Second Edition, Monica Blackmun Visona, Robin Poynor and Herbert M. Cole, Publisher: Prentice Hall, 2007.
View full details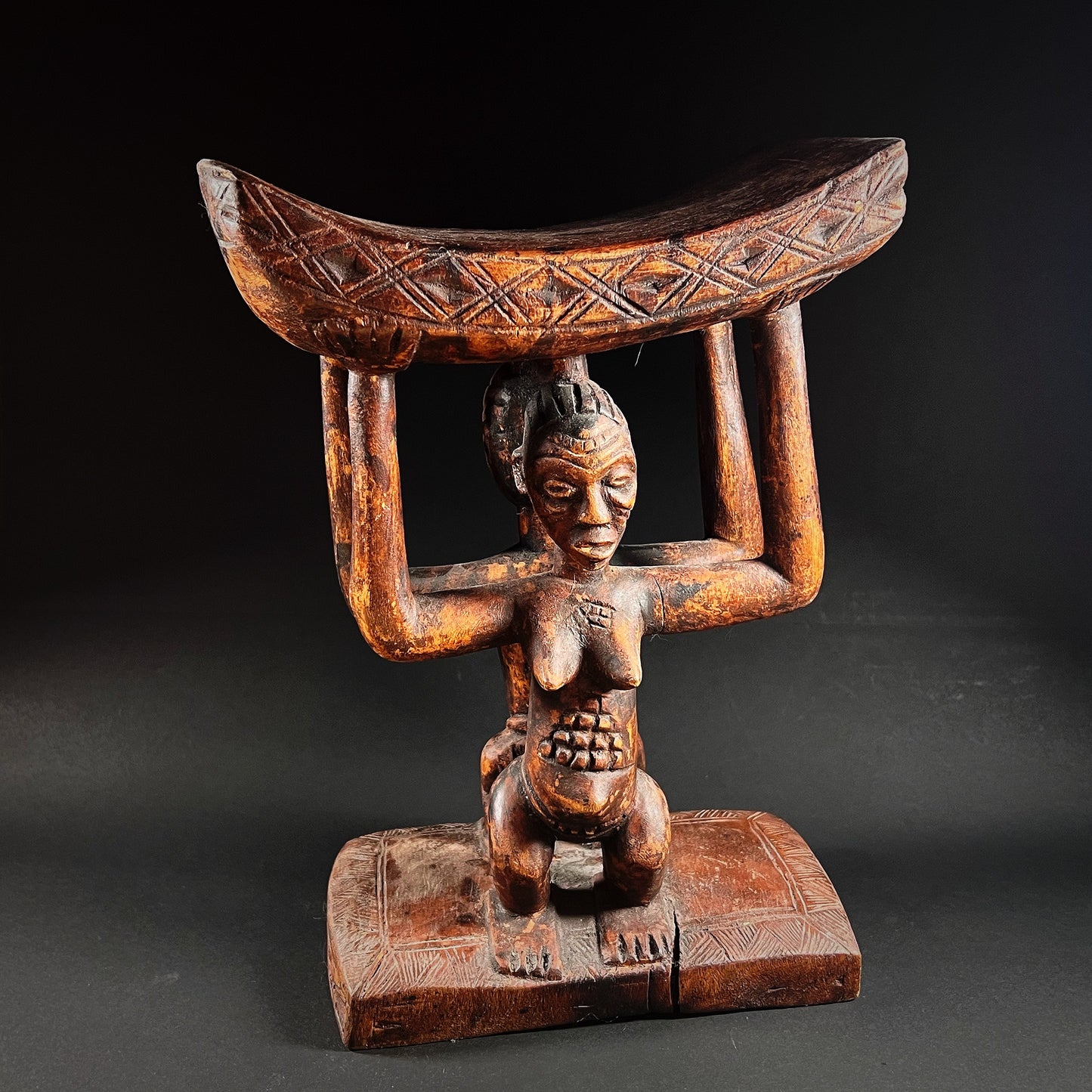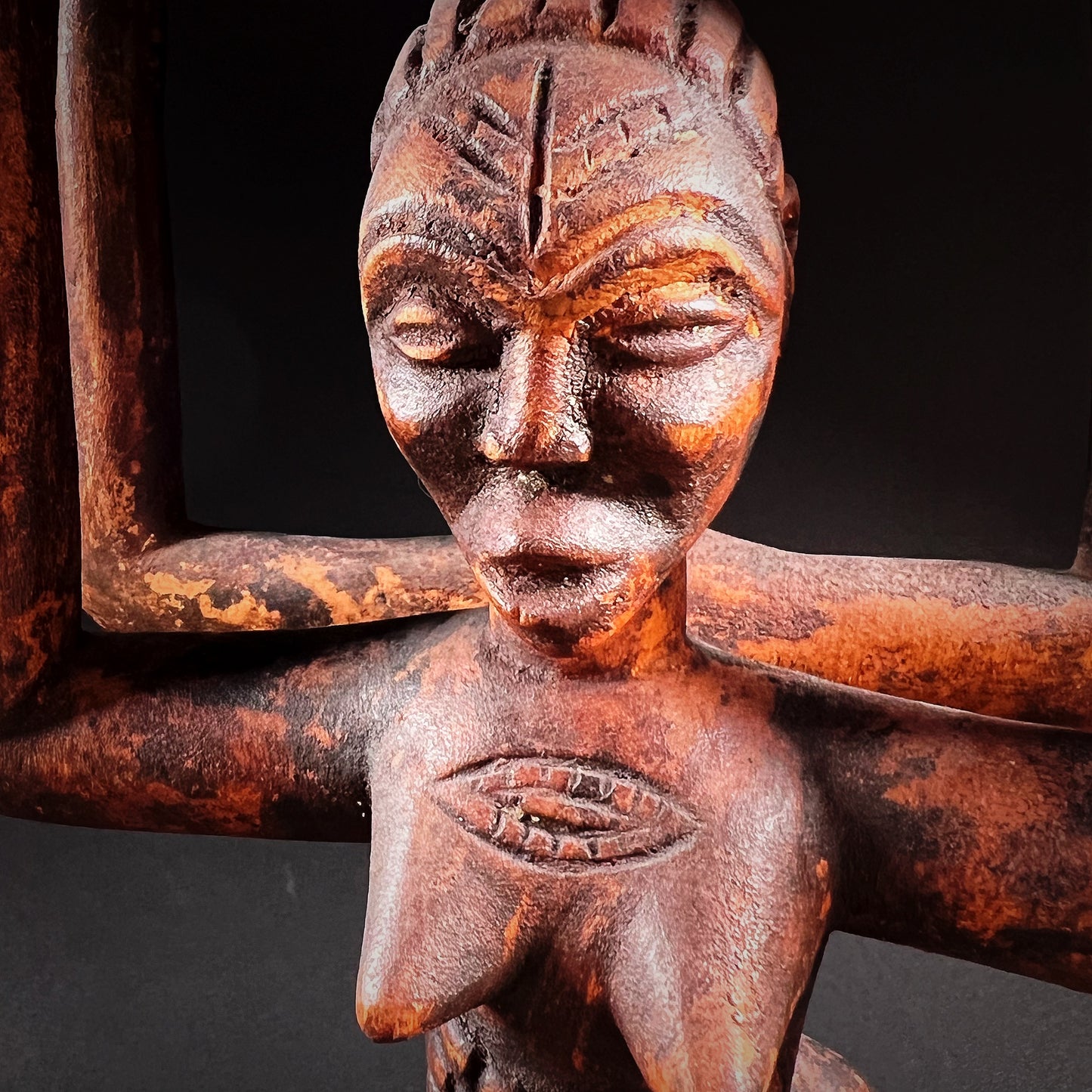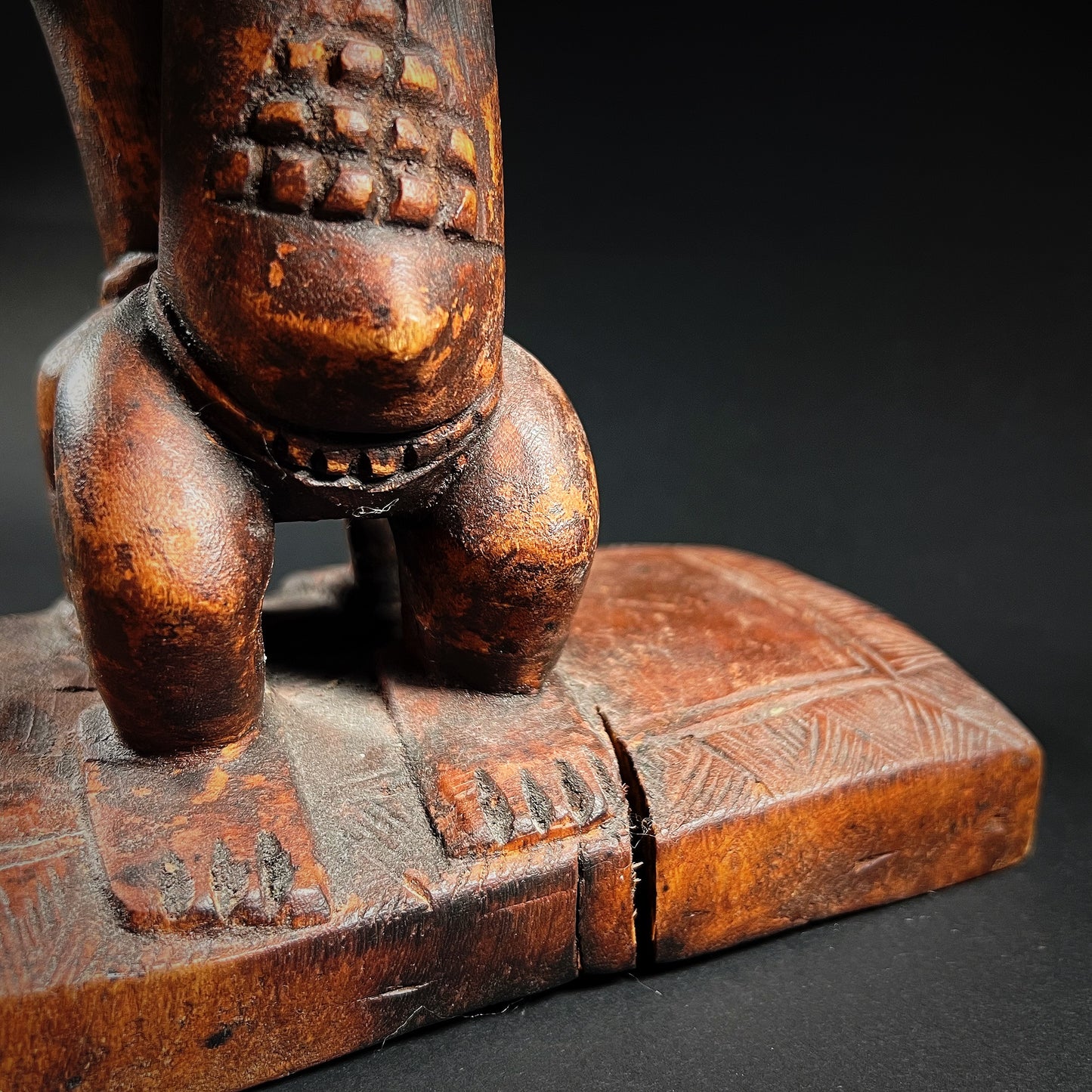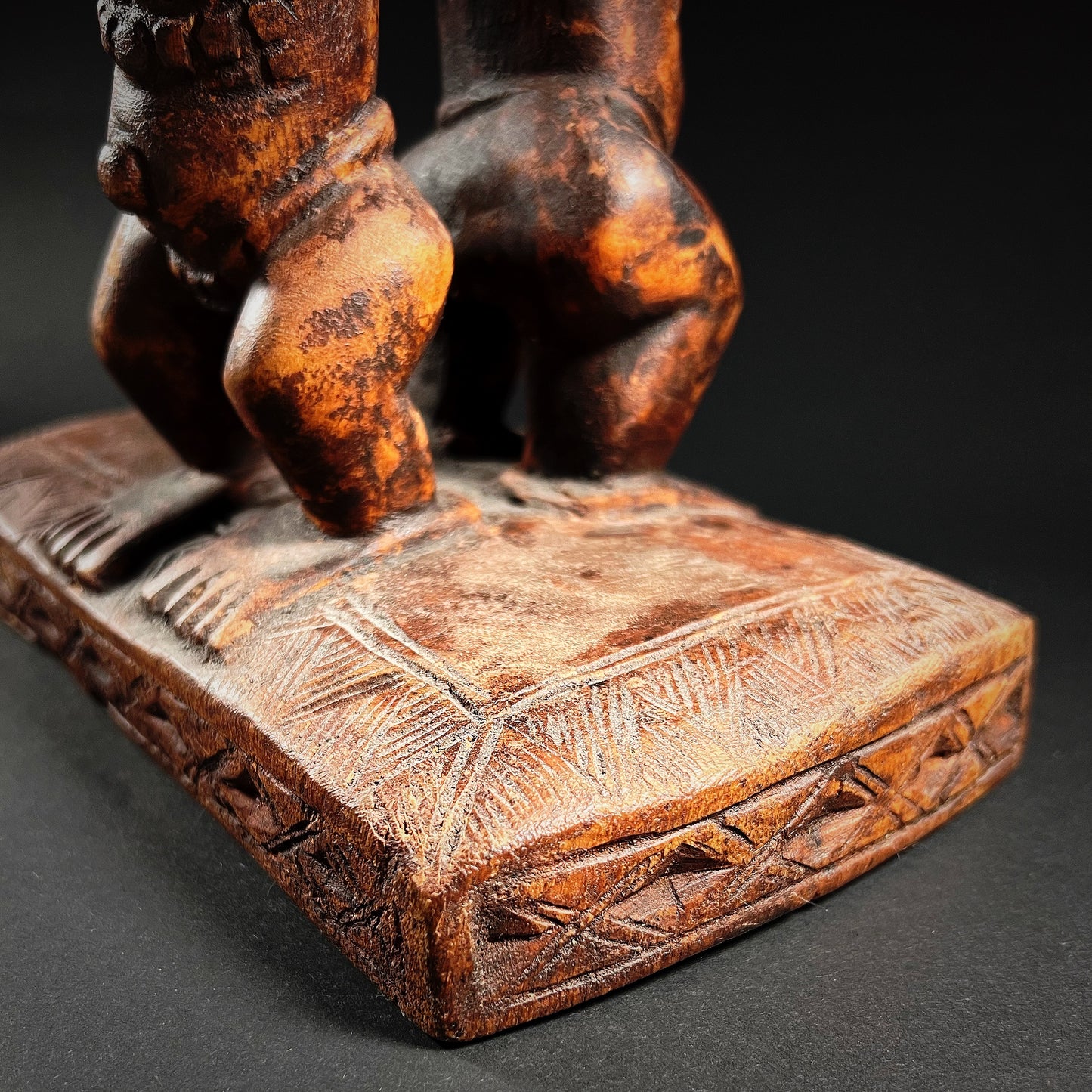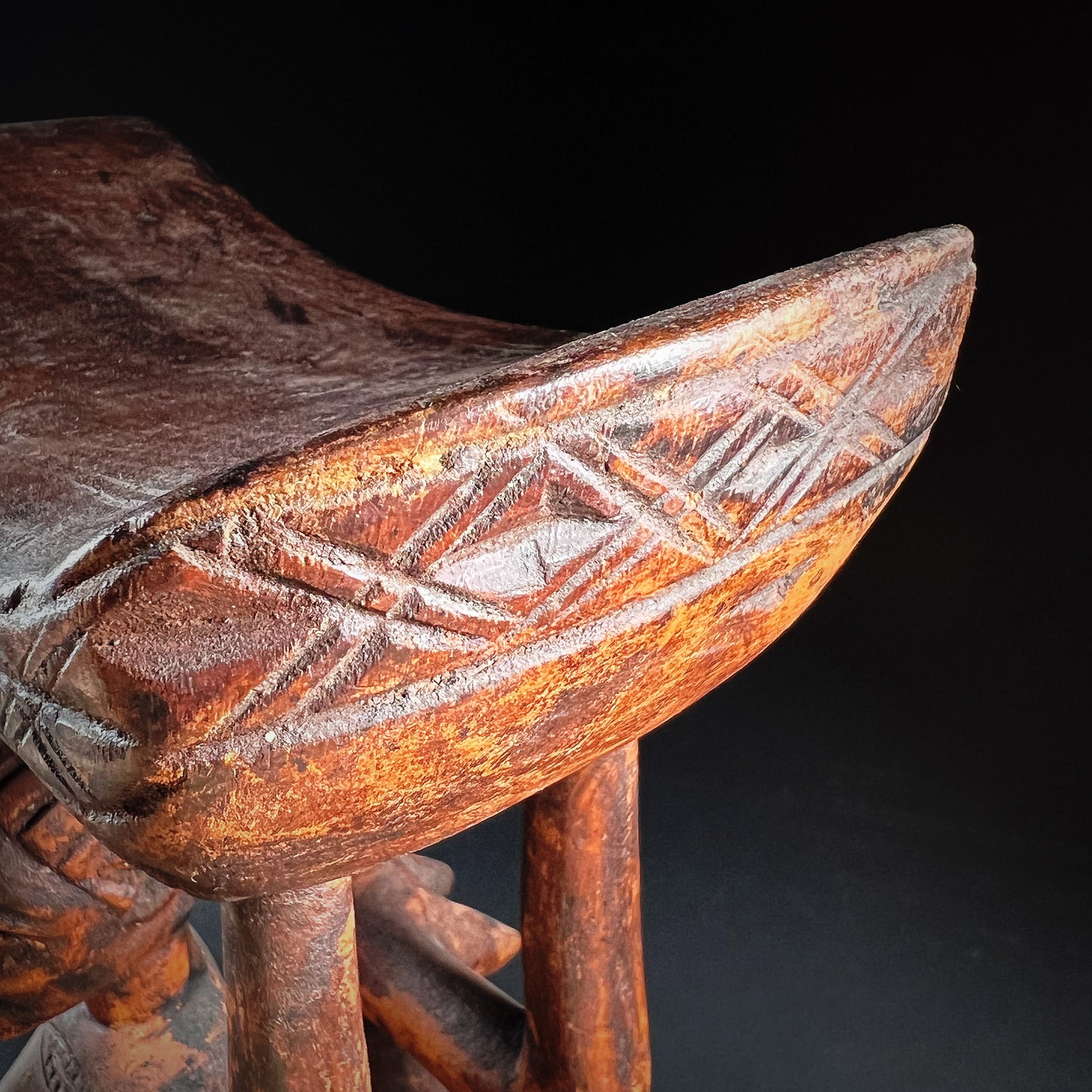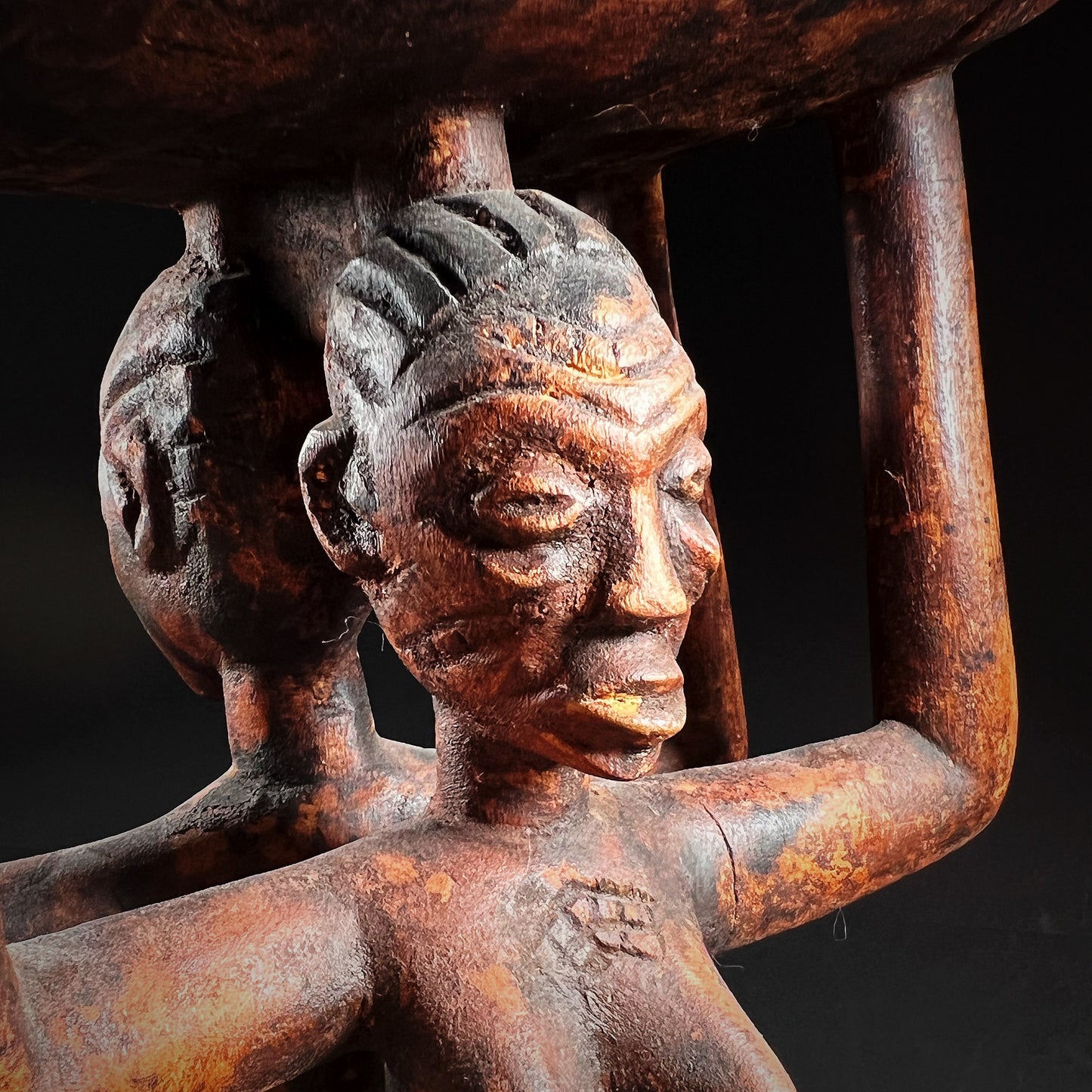 Shipping

The shipment will be prepared in the course of 3-5 days and dispatched via Posti Group Oyj or purchased item(s) can be picked up from our shop during the store's opening hours (Tarkk'ampujankatu 4, 00140, Helsinki, Finland). Within the Finland, all items are shipped via Posti Group Oyj unless otherwise requested. We pack the items carefully and mainly in recycled materials because we want to save nature. You will receive the tracking number for your items by e-mail.

Returns

Returns and exchange will be accepted within fourteen days (14) of receipt at the purchaser's cost to include freight and packaging. Items must be returned in the same condition as when they were shipped, and will not be accepted if damaged or altered in any way. Please inform us via email (info@gotanmaailma.fi) or by calling +358408408352 before sending. We do not accept returns more than 14 days after delivery.