Regular price
Sale price
$1,318.00
Unit price
per
Sale
Sold out
Share
Mambila or Bamum people, early to mid. 20th century, Cameroon Grasslands, Central Africa
Absolutely gorgeous fetish calabash pitcher and magical object from Cameroon Grasslands. Spherical large calabash with a long neck in a basketry holder with a side handle. On the bulbous part richly decorated with various materials such as bones, monkey skull, snails, plant seeds, medicine bags, feathers and others.
The Cameroon Grasslands is inhabited by a large number of related peoples. These peoples can be divided into three smaller subgroups: Bamum, Bamenda Tikar and Bamileke. Within these complexes there are numerous smaller ethnic groups. Bamum (called also Mom, Bamoun, Mum) are living in the Cameroon Grasslands, nearby the rivers Nbam and Nun. The Bamum people believe in a supreme god (Njinyi) who creates children, and who is everywhere and sees and hears everything. The Bamum doctors practise divination by interpreting the earth spider's manipulation of marked leaves. The Bamum believe that the ancestral spirits are embodied in the skulls of the deceased ancestors. The spirits of ancestors whose skulls are not preserved have nowhere to reside and may as a result cause trouble for the family. Recognizing the importance of the skull, representations of head are found in nearly all decorated utilitarian items and masks. 

The Mambila people live on both sides of the Nigeria and Cameroon border, most of them on the Mambila plateau in Nigeria. A smaller number live in Cameroon, especially at the foot of the Mambila Plateau escarpment, on the Tikar Plain. Cameroonian Mambila have adopted the Tikar institution of the chiefship. Traditional Mambila religion includes witchcraft, spider or crab divination (ngam), and rituals relating to lunar cycles. The people are governed by priests whose laws come from the gods. Although the Mambila believe in a creative god (càng or nama), they only worship their ancestors. When someone dies, they believe his spirit leaves the body and is then banished from the house into the bush (tandalu), becoming a "spirit of the bush" (càng tandalu). Their leaders were buried in attics like wheat because they were supposed to symbolize prosperity. Most of the Mambila art centers upon an healing association called Sùàgà (or Sua). The society is concerned with justice, fertility, ritual cleansing and, also defending the community from hostile neighbors and protecting it from witchcraft.
Mesmerizing and unusual ceremonial palm wine pitcher are in excellent condition. Strong black oily and sooty patina, originating from ritual use. Encrusted surface. Age-related wear and abrasion. Signs of use and handling over many years. Size approx. 61,0cm x 31,0cm x 33,0cm.
Provenance: Finnish private collection
For a similar examples see:
African Collection of the Virginia Museum of Fine Arts (VMFA), Accession number: 2010.7a-b  (https://vmfa.museum/piction/6027262-52282614/)
View full details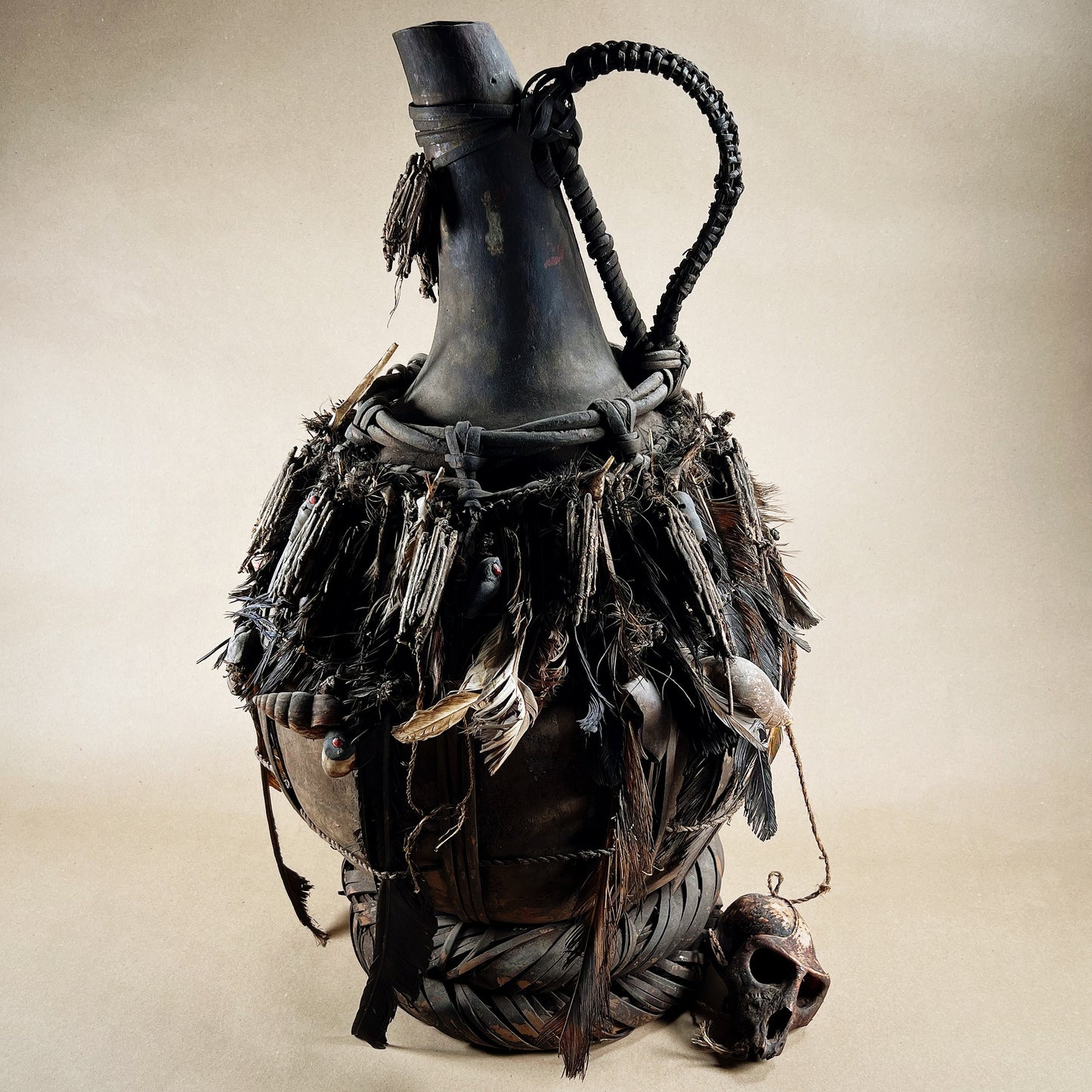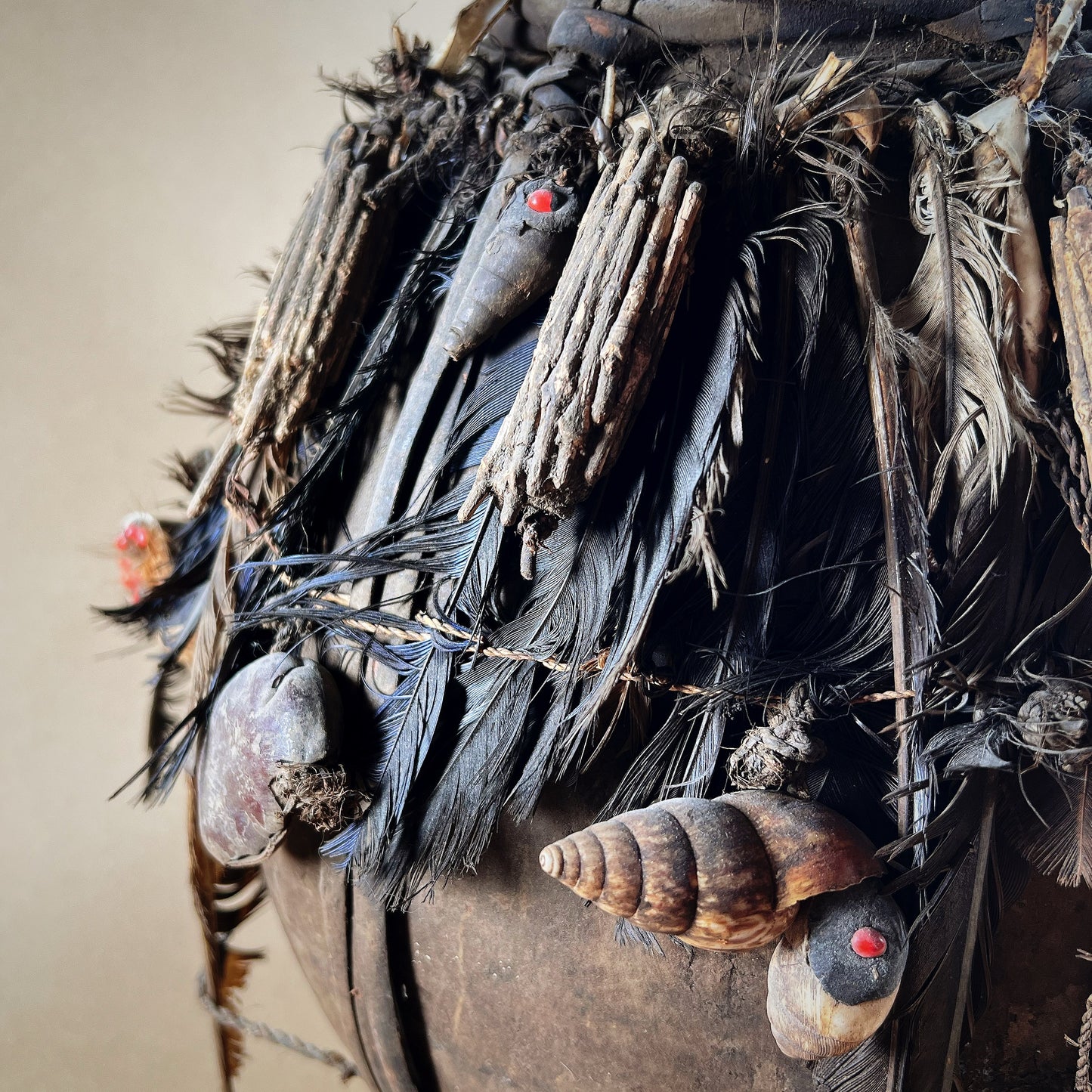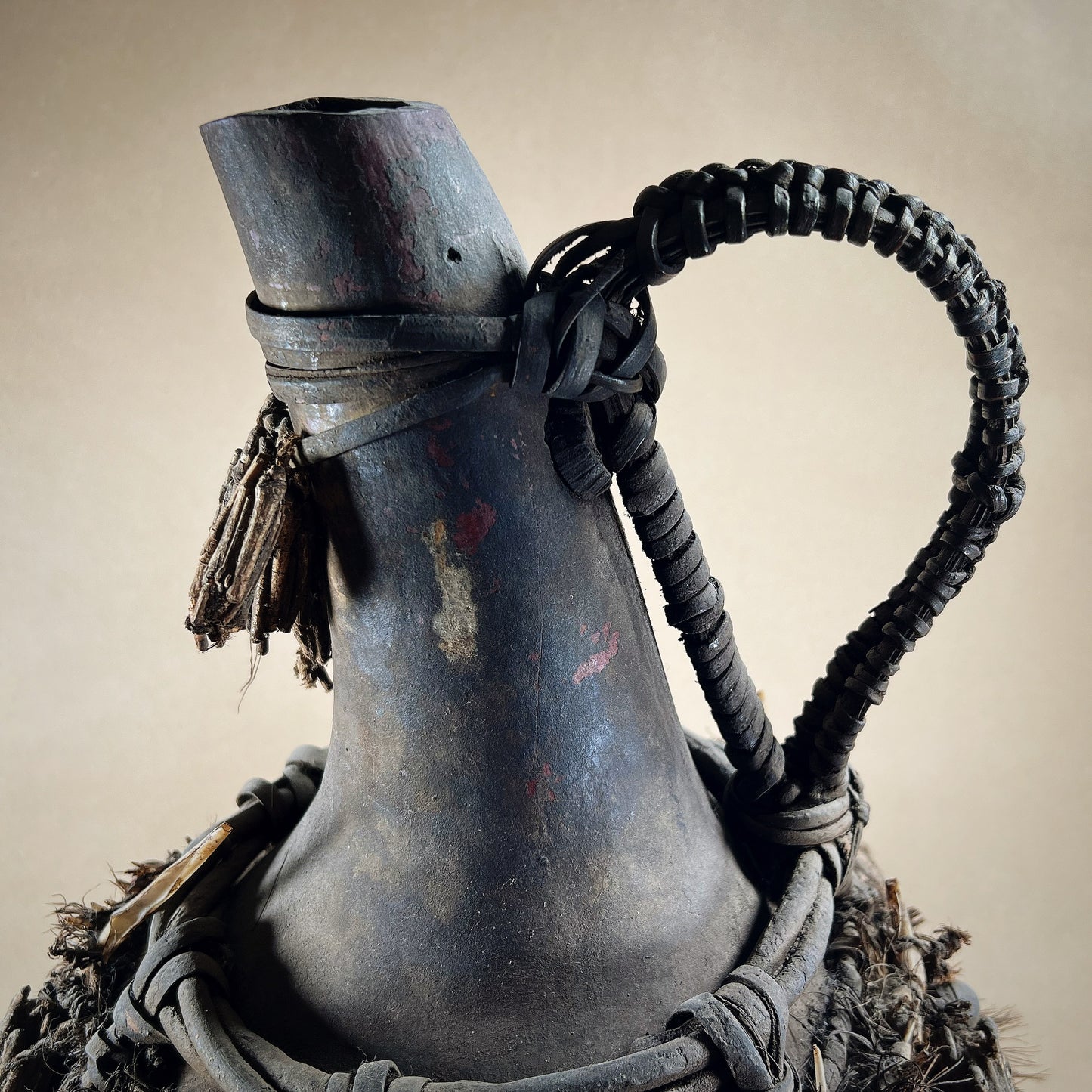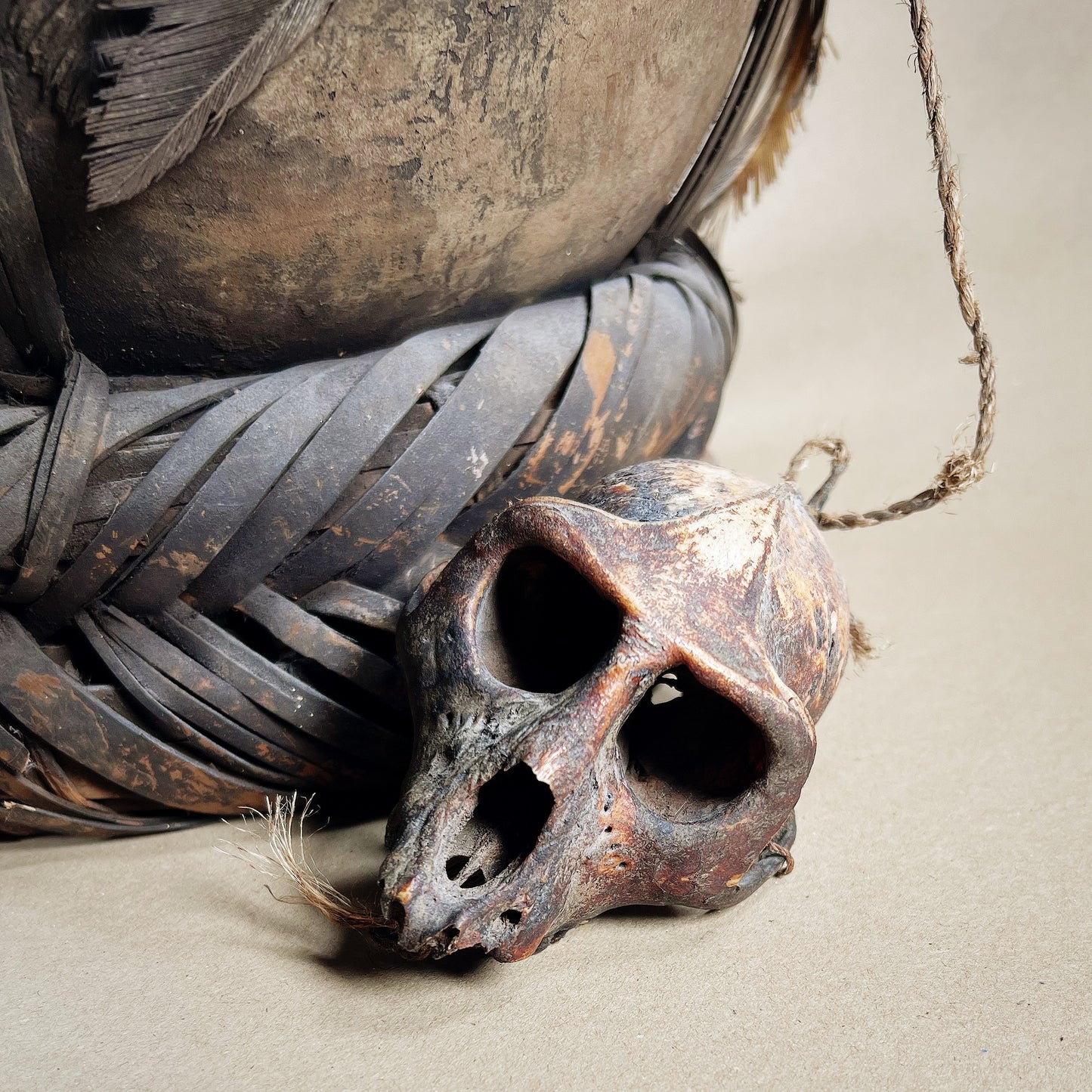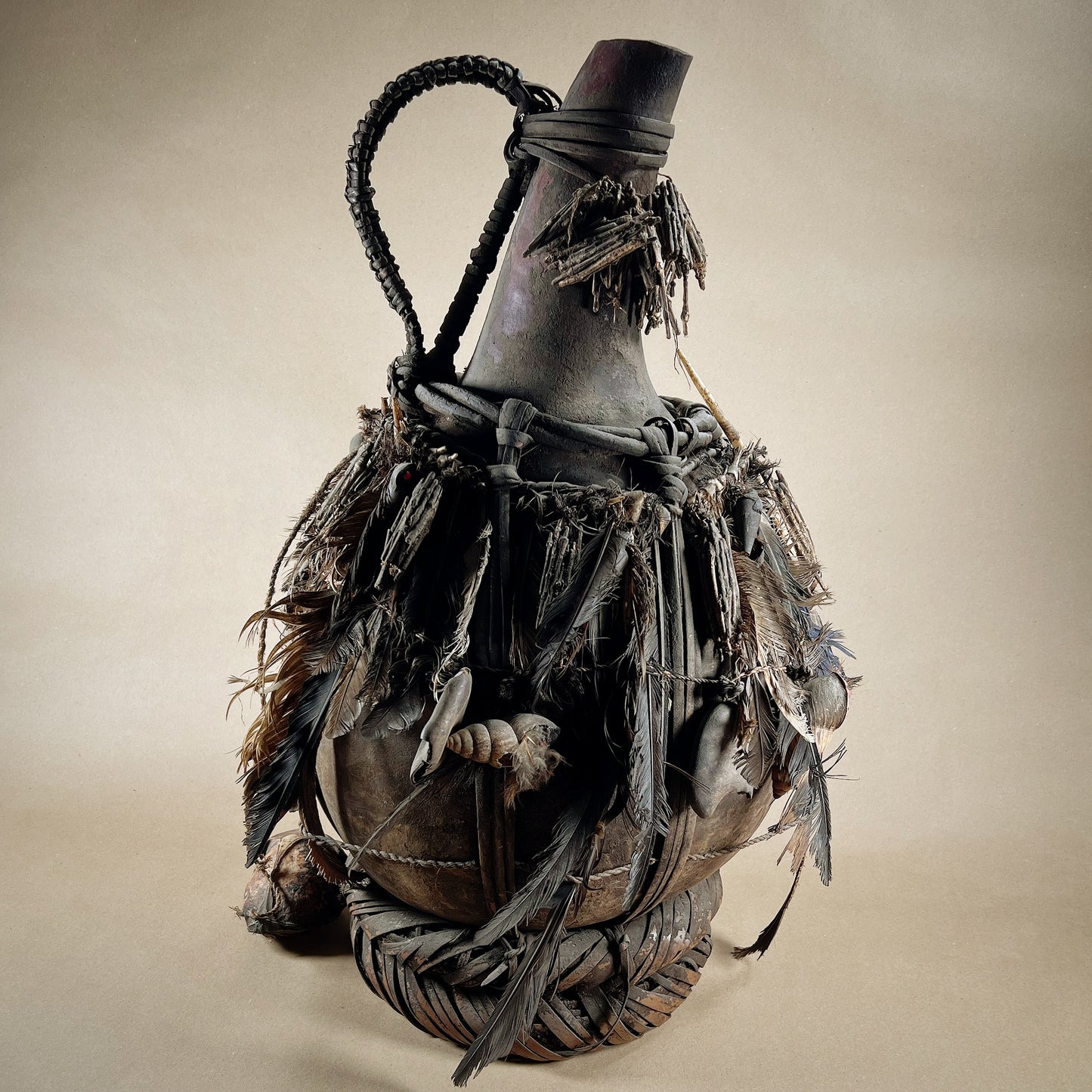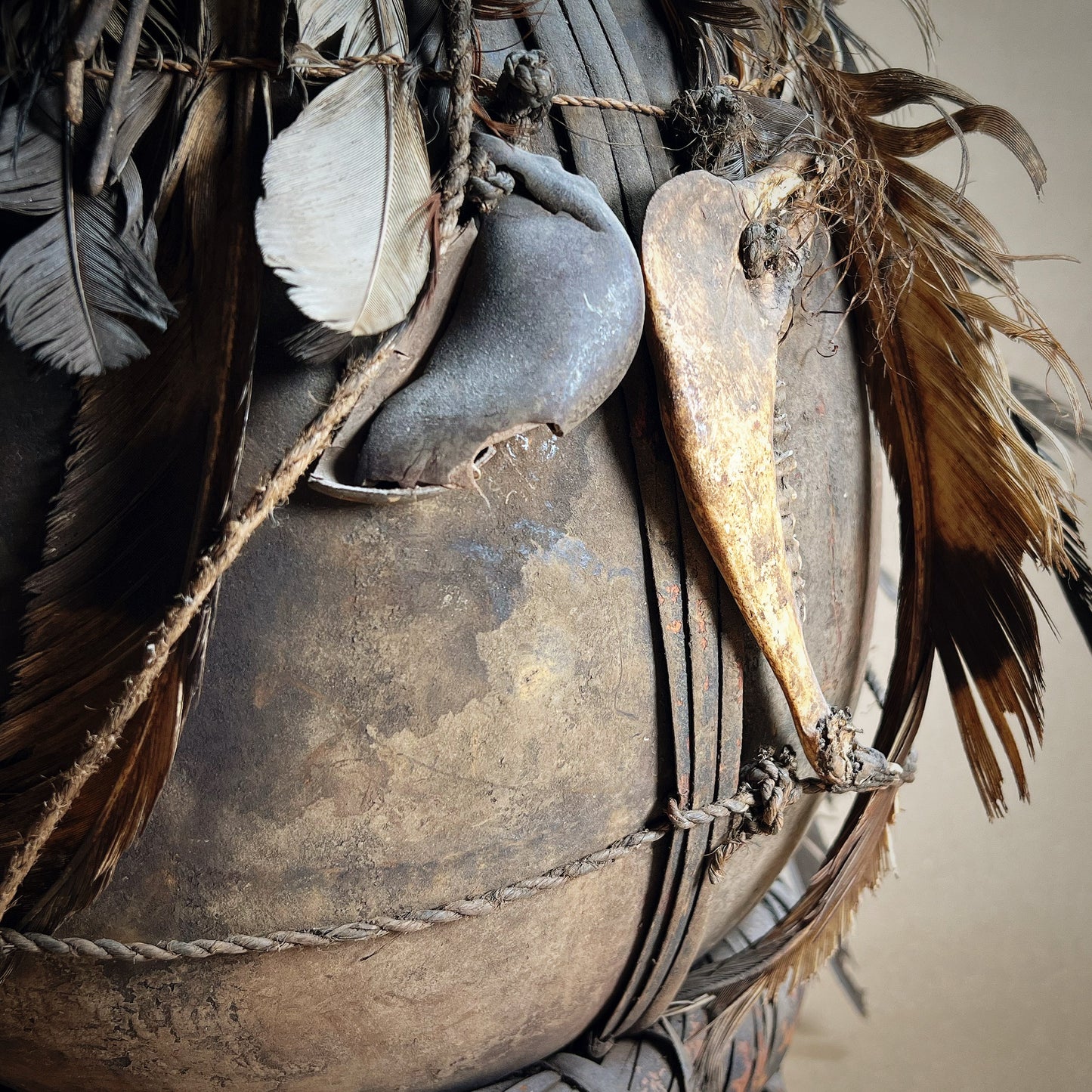 Shipping

The shipment will be prepared in the course of 3-5 days and dispatched via Posti Group Oyj or purchased item(s) can be picked up from our shop during the store's opening hours (Tarkk'ampujankatu 4, 00140, Helsinki, Finland). Within the Finland, all items are shipped via Posti Group Oyj unless otherwise requested. We pack the items carefully and mainly in recycled materials because we want to save nature. You will receive the tracking number for your items by e-mail.

Returns

Returns and exchange will be accepted within fourteen days (14) of receipt at the purchaser's cost to include freight and packaging. Items must be returned in the same condition as when they were shipped, and will not be accepted if damaged or altered in any way. Please inform us via email (info@gotanmaailma.fi) or by calling +358408408352 before sending. We do not accept returns more than 14 days after delivery.