Regular price
Sale price
$610.00
Unit price
per
Sale
Sold out
Share
Mambila people, mid. 20th century, Cameroon, Central
 Africa
Impressive Mambila figure, tadep, carved from a single log of wood and dyed dark brown. Its massive head features a heart-shaped face with deep set coffee bean eyes, a short nose and an open mouth. The characteristic Mambila hairstyle consists of inserted wooden pegs. The eyebrows are embellished with wooden pegs too. The head rests on a neckless, compact body with cubist abstract features. With bent arms and sketched hands, protuding abdomen, short legs with pointed knees and thick feet.
The Mambila people (in Nigeria called Mambilla) live on both sides of the Nigeria and Cameroon border, most of them on the Mambila plateau in Nigeria. A smaller number live in Cameroon, especially at the foot of the Mambila Plateau escarpment, on the Tikar Plain. Cameroonian Mambila have adopted the Tikar institution of the chiefship. Nigerian Mambila did not have the same type of institutionalized chiefship as is found in Cameroon. The Mambila live in small, localized family hamlets. The houses of the compound are normally built around a central courtyard, which is kept cleared except for a small section in the middle where plants having magical powers grow. The majority of these are said to defend the compound against witches. Traditional Mambila religion includes witchcraft, spider or crab divination (ngam), and rituals relating to lunar cycles. The people are governed by priests whose laws come from the gods. Although the Mambila believe in a creative god (càng or nama), they only worship their ancestors. When someone dies, they believe his spirit leaves the body and is then banished from the house into the bush (tandalu), becoming a "spirit of the bush" (càng tandalu). Their leaders were buried in attics like wheat because they were supposed to symbolize prosperity.
Most of the Mambila art centers upon an healing association called Sùàgà (or Sua). The society is concerned with justice, fertility, ritual cleansing and, also defending the community from hostile neighbors and protecting it from witchcraft. The wooden figures (Tadep) are perhaps the most common type of sculptures in Mambila art. Figurative vessels crafted by the Mambila people in Cameroon are high detailed, expressive vessels that could almost be passed off as figurative sculptures, except they are clearly containers made to be filled with substances such as water, food or medicine. In addition, they could also be filled with spiritual elements such as souls, life energy or healing powers. The wooden figures (Tadep) are perhaps the most common type of sculptures in Mambila art. Tadep figures are often placed in shrines outside the village, at the threshold between civilization and the wilderness. They thought to be ancestor figures, but now it seems that they should have been used for therapeutic purposes instead. The Tadep figure were used in magical healing rites and deter thieves.
Gorgeous tadep are in good condition. Age-related wear and desication cracks. Wormholes. Some missing wooden pegs from hair. Lovely encrusted patina. Sacrificial materials. Traces of libation. Size approx. 41,5cm x 16,0cm x 15,0cm.
Provenance: Dutch private collection
View full details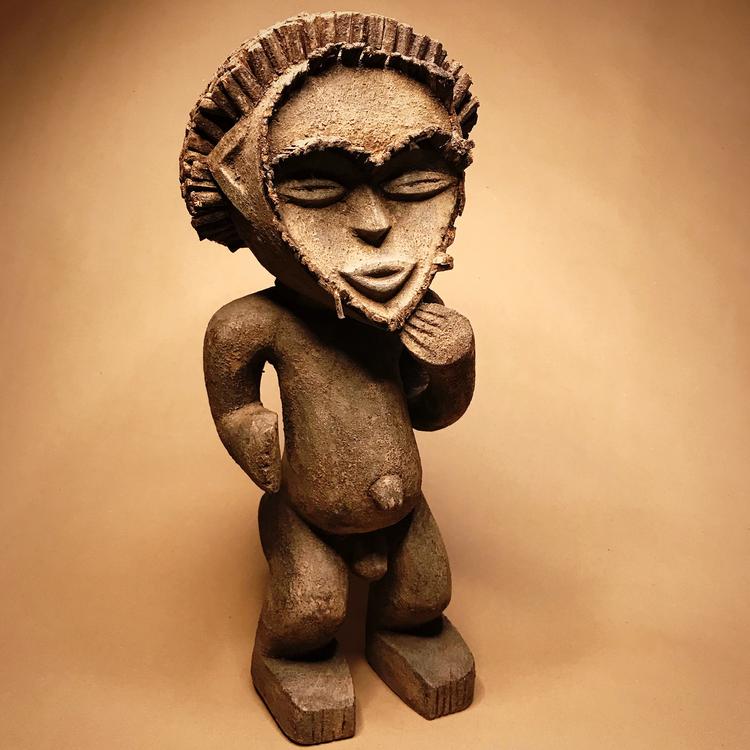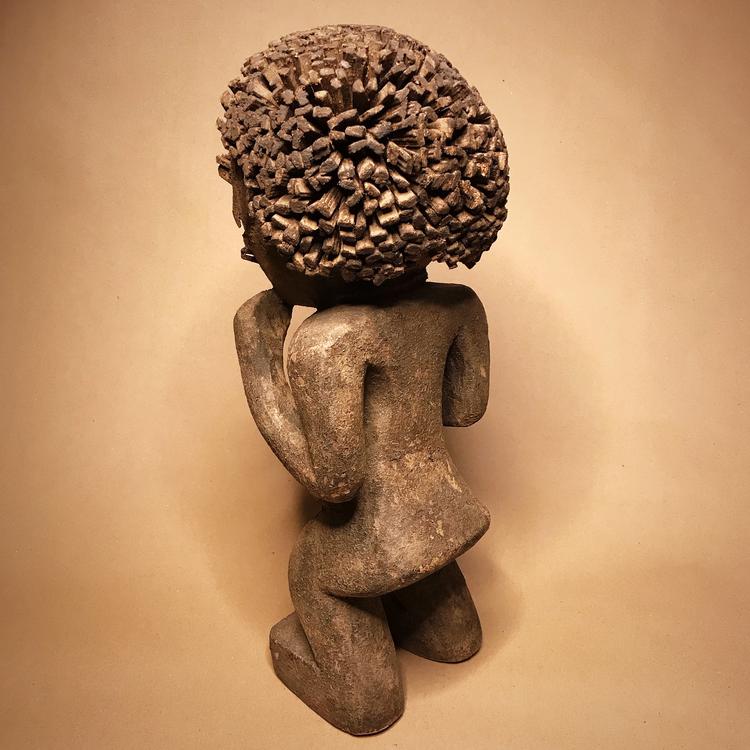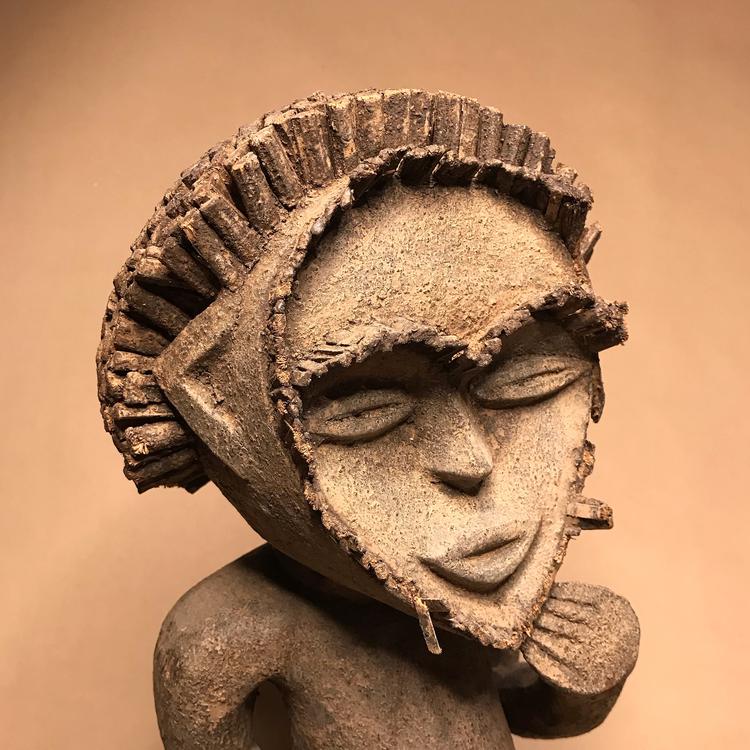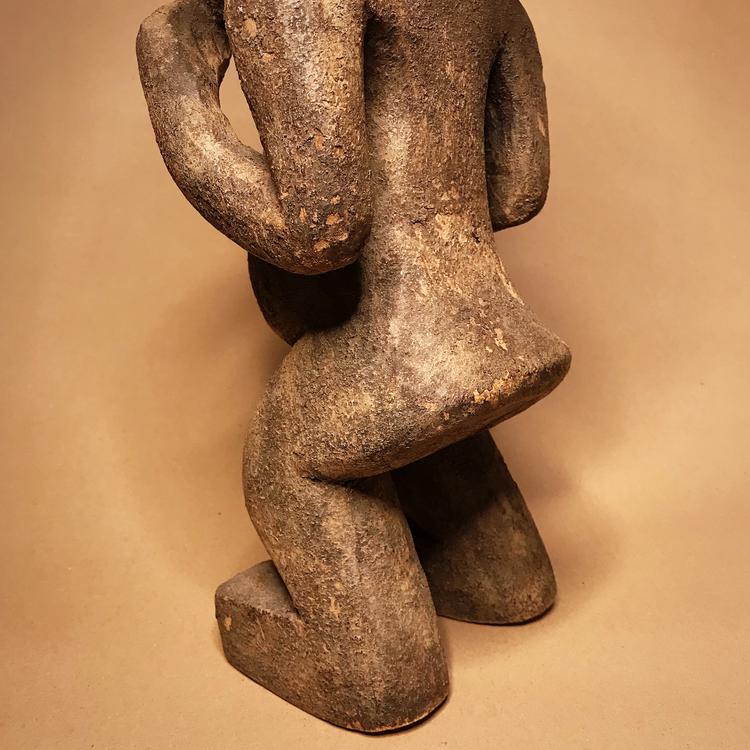 Shipping

The shipment will be prepared in the course of 3-5 days and dispatched via Posti Group Oyj or purchased item(s) can be picked up from our shop during the store's opening hours (Tarkk'ampujankatu 4, 00140, Helsinki, Finland). Within the Finland, all items are shipped via Posti Group Oyj unless otherwise requested. We pack the items carefully and mainly in recycled materials because we want to save nature. You will receive the tracking number for your items by e-mail.

Returns

Returns and exchange will be accepted within fourteen days (14) of receipt at the purchaser's cost to include freight and packaging. Items must be returned in the same condition as when they were shipped, and will not be accepted if damaged or altered in any way. Please inform us via email (info@gotanmaailma.fi) or by calling +358408408352 before sending. We do not accept returns more than 14 days after delivery.