Regular price
Sale price
$4,379.00
Unit price
per
Sale
Sold out
Share
Pre-Columbian era, Manteño-Huancavilca culture, Integration Period c. 500-1531 AD,  Ecuador
Magnificent, rare and sizeable figural incensario (sahumador), finely hand-modeled and built from terracotta with a painted finish to depict a male, probably a chief (cacique), who stands boldly at attention with hands held at his thighs. The figure presents an impressive, wide shouldered build, as well as a focused face, with nicely contoured facial features, a pointy chin, comprised of almond-shaped eyes with pierced irises, incised brows, a disproportionately large nose (this feature particularly characteristic of Manteño faces), and his mouth forms an archaic smile. The figure stands in an erect, rigid pose on a pedestal base - dress a tunic (decorated with a dense profusion of incised triangular motifs), massive pectoral, bracelets and large earspools for ornament. Grand headdress are finely decorated with bands, and also serves as the shallow, platter-like container for the incensario which was most likely used to burn copal incense. 
Manteño-Huancavilca is the name given to the prehistoric culture occupying much of the Ecuadorian coast during the Integration Period (500 - 1531 AD), with two main temples, one located on the mainland coast and the other on Puná Island, which is protected by the coast. At these temples, people came to worship, using many of the methods known from elsewhere in ancient South America, shamanism associated with transformation in jaguars and other animals, the burning of incense for ceremonies, and veneration of rulers. Excellent condition. Age-related wear and minimal abrasion. Small chip in the pedestal, and few hairlines, otherwise intact. Traces of red slip paint. Fading to original pigmentation, light encrustations, and light earthen deposits throughout. Size approx. 25,5cm x 13,1cm x 11,2cm. 
Provenance: Finnish private collection
For a similar examples see:
The Metropolitan Museum of Art, New York, Accession Number: 1980.34.32 (https://www.metmuseum.org/art/collection/search/314177)
Blackware Vessel with Flaring Rim in the Form of a Seated Figure, Arts of the Americas, Art Institute Chicago, Accession Number: 1974.6
View full details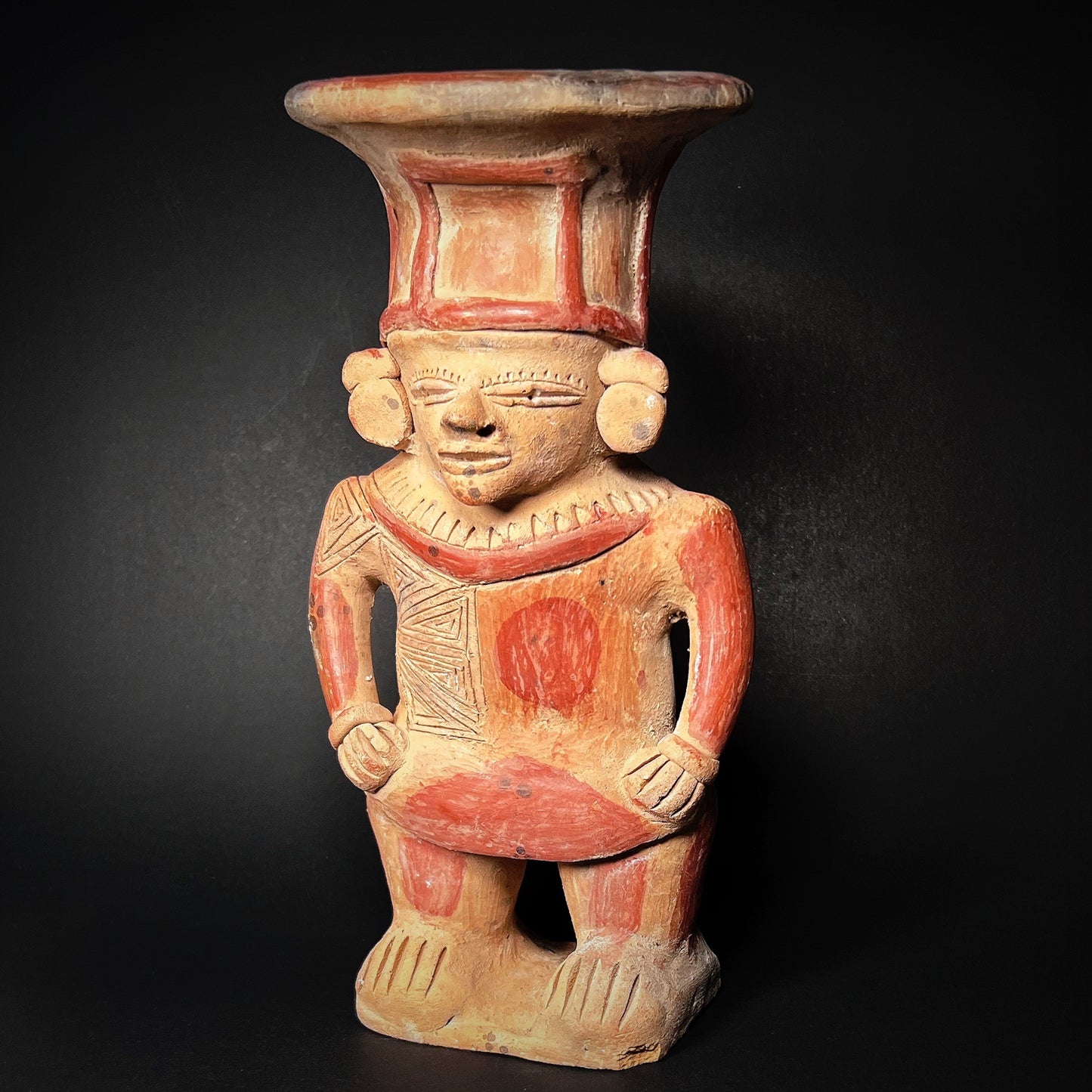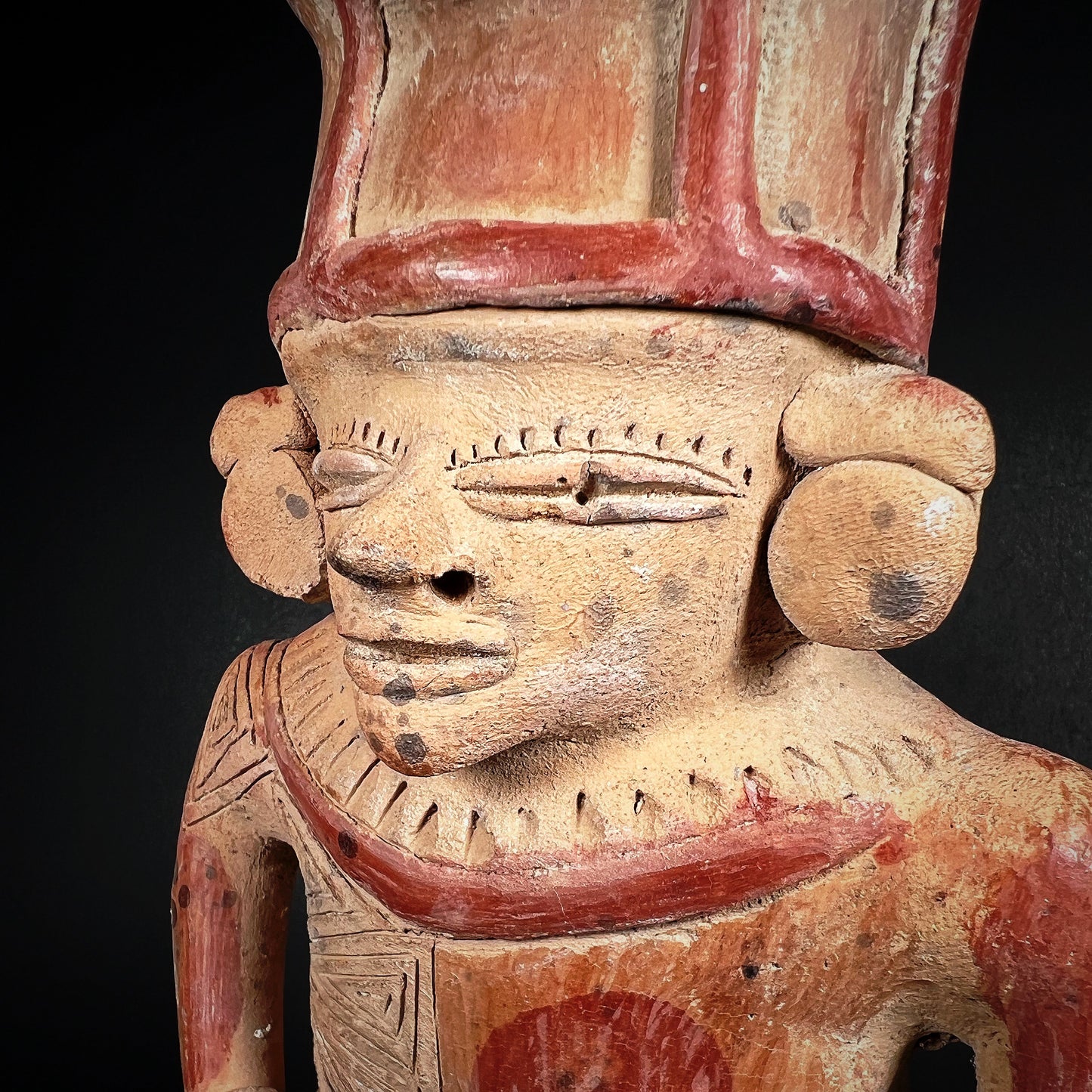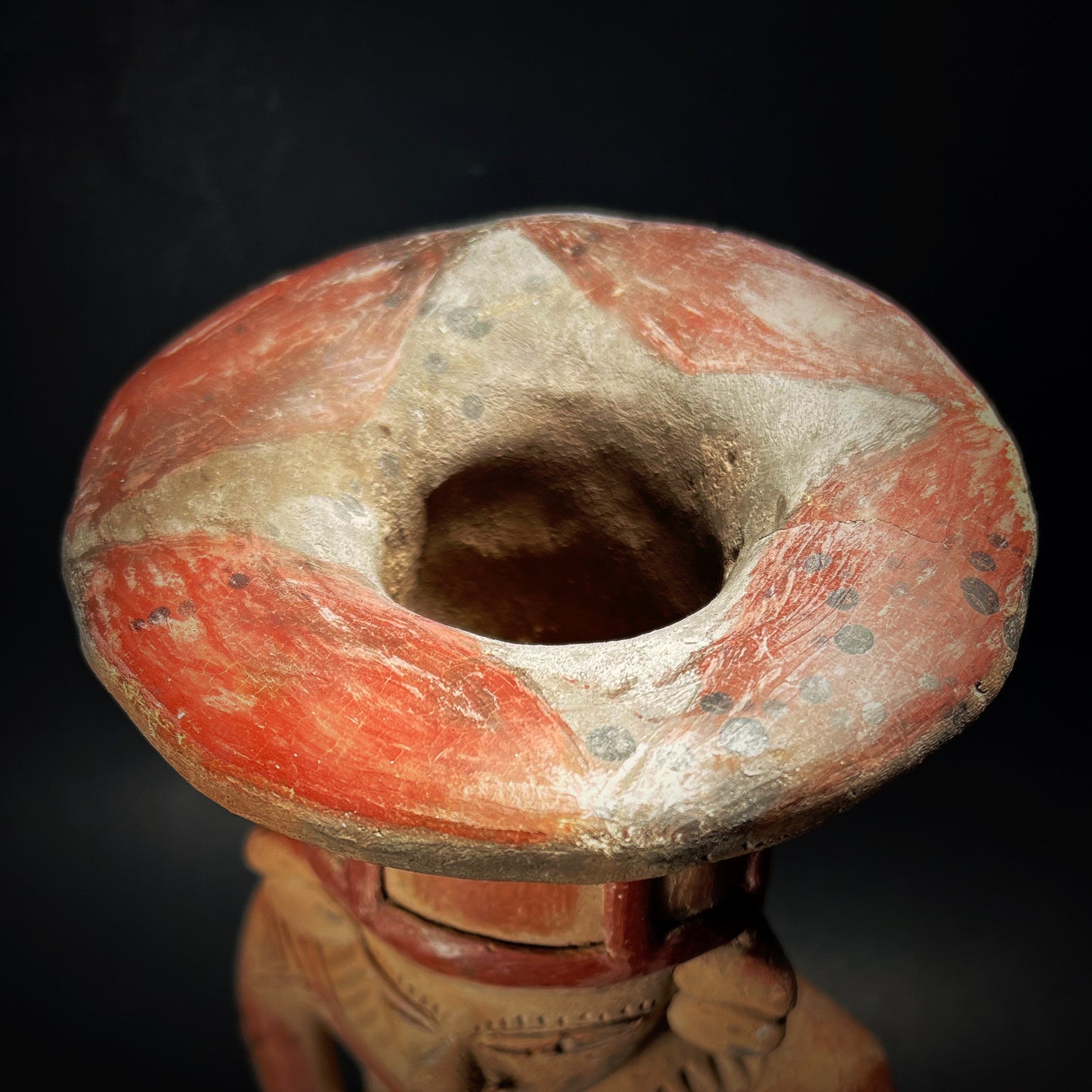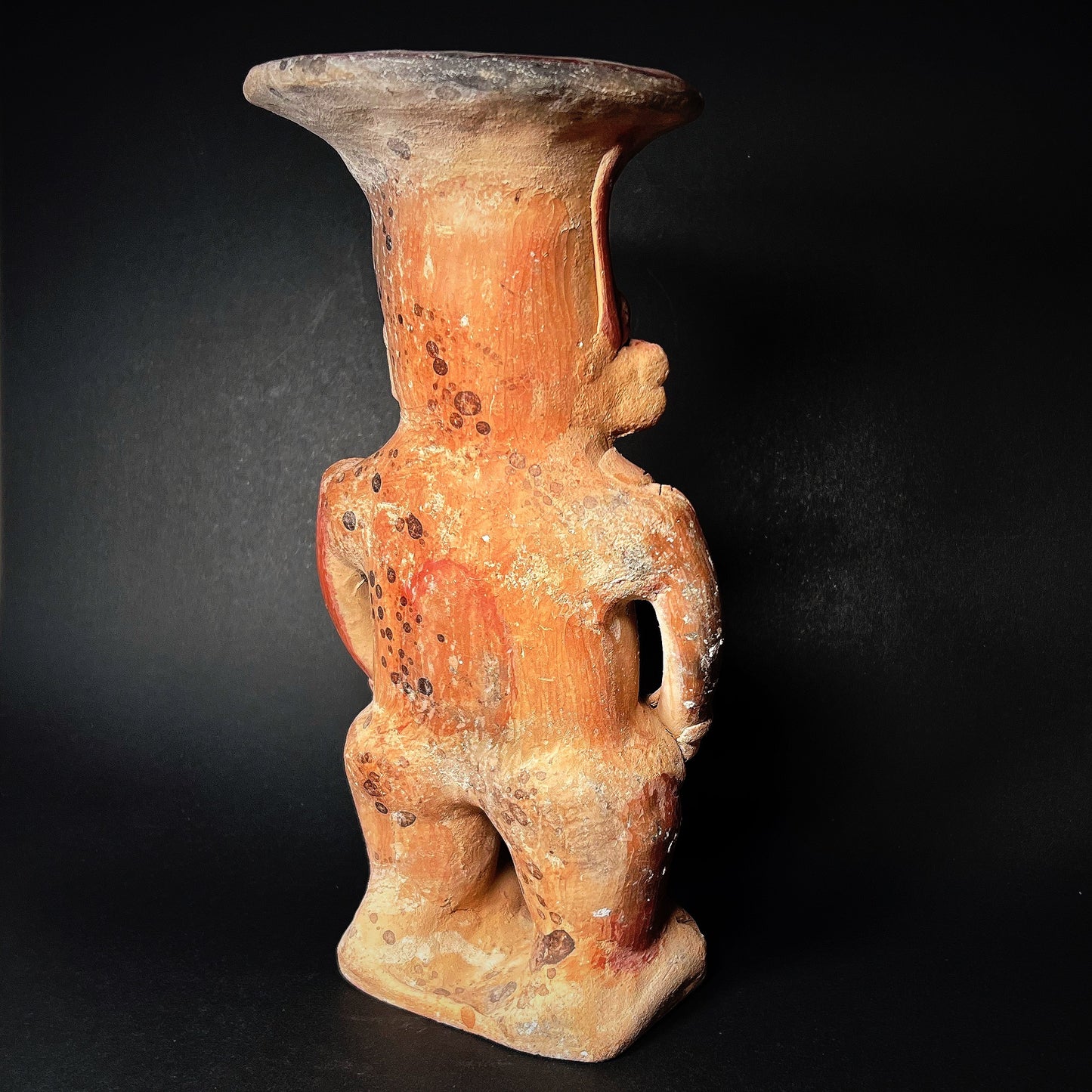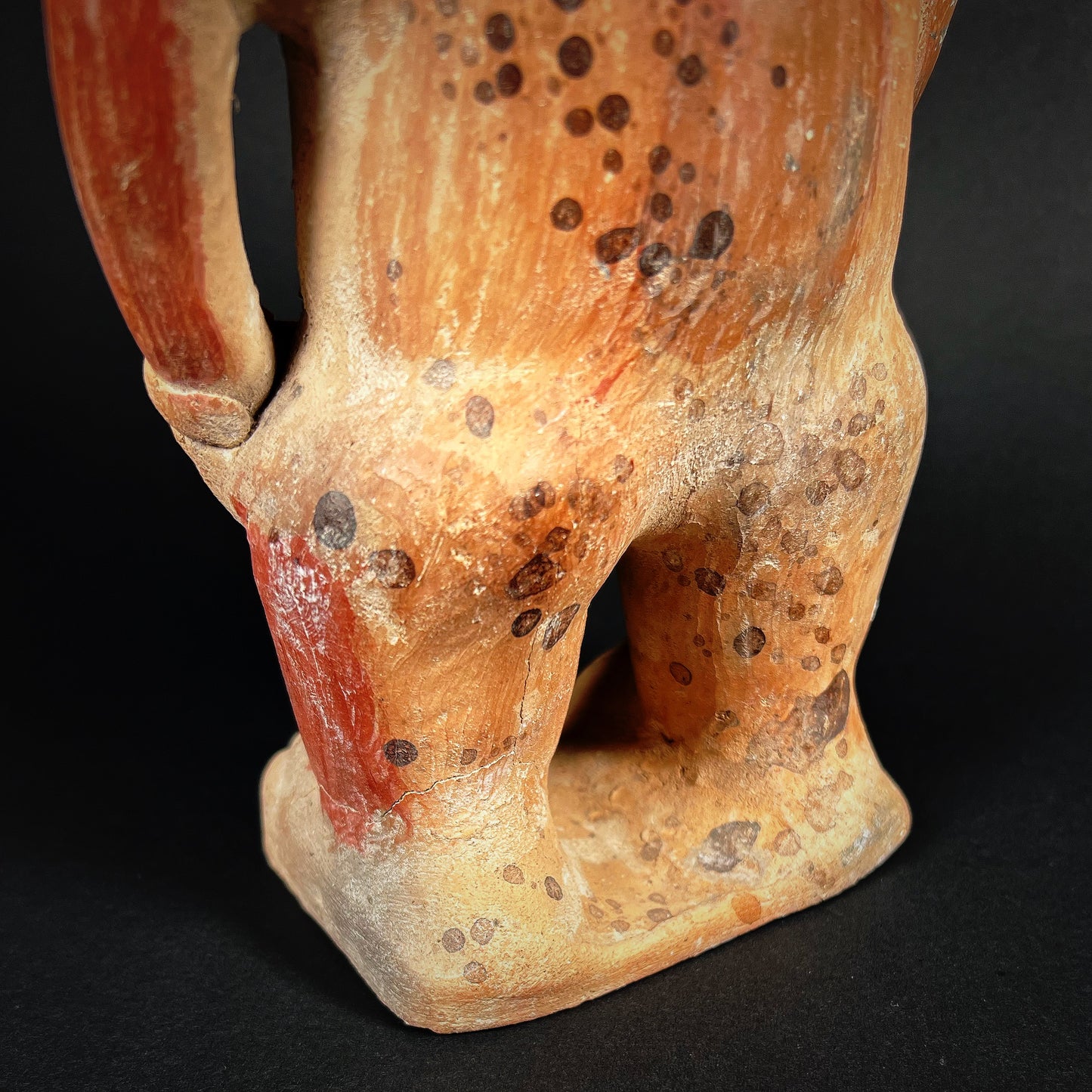 Shipping

The shipment will be prepared in the course of 3-5 days and dispatched via Posti Group Oyj or purchased item(s) can be picked up from our shop during the store's opening hours (Tarkk'ampujankatu 4, 00140, Helsinki, Finland). Within the Finland, all items are shipped via Posti Group Oyj unless otherwise requested. We pack the items carefully and mainly in recycled materials because we want to save nature. You will receive the tracking number for your items by e-mail.

Returns

Returns and exchange will be accepted within fourteen days (14) of receipt at the purchaser's cost to include freight and packaging. Items must be returned in the same condition as when they were shipped, and will not be accepted if damaged or altered in any way. Please inform us via email (info@gotanmaailma.fi) or by calling +358408408352 before sending. We do not accept returns more than 14 days after delivery.