Regular price
Sale price
$83.00
Unit price
per
Sale
Sold out
Share
The Maglemosian culture, 
c. 9000-5000 BC, The Mesolithic Period, Zealand, Denmark.
Fantastic elk or aurochs molar (tooth) are peat bog found artefact from Denmark. Maglemosian is the name given to a culture of the early Mesolithic period in Northern Europe, dating from the postglacial period, approx. 9000 to 5000 BC. This fascinating culture was named after the archeological finds from a bog at Mullerup, in the Magle Mose, near Gørlev and Høng on western Zealand (Danish: Sjælland), southwest of lake Tissø in Denmark. Here the first settlement of the culture was excavated in 1900, by the archaeologist George Sarauw. The name Magle Mose means 'big bog' in Danish. During the following century a extensive series of similar settlements were excavated from England to Poland and from Skåne in Sweden to northern France. When the Maglemosian culture flourished, sea levels were much lower than now and what is now mainland Europe and Scandinavia were linked with Britain. 
The Maglemose peoples lived in forest and wetland environments and were excellent hunters and fishermen. The material culture is well known because a number of excavated sites lay in drowned areas and were well preserved. Their tools and  supplies included flint microliths, axes and adzes, bows and arrows, bone and antler spearheads, as well fishing equipment such as spears, fishhooks, bark twine fishnets and bark floats. Wooden paddles, and even dugout canoes have also been preserved. Adornments such as pendants, tooth beads, bead necklaces, and amulets are also known. All of the excavated settlements are believed to have been the short-term homes of single families or small groups during the summer months. The deposits of animal bones at the sites can be explained by the peoples returning to the site year after year. During the Maglemosian period people hunted large animals like aurochs, elk, red deer, roe deer and wild boar. Hunters also fished, especially for pike. They also collected oysters, but not nearly to the same scale as it was done in the later Ertebølle culture. It also appears that they had domesticated the dog. The dogs of the Maglemosian period were, in shape and size, similar to today's husky-type dogs. It may be that specific types of dog were used for different kinds of hunting. At times dogs were eaten. This is indicated by finds of dog bones showing splitting for marrow and cut marks. The Maglemosian people hunted large animals for their meat, but other parts of animals were also used. Bones from the animal's feet, lower forelegs, ribs, shoulder blades, and antlers could also be utilised to make clubs, harpoons, axes and fish spears.
Fabulous tooth are in good condition. Age-related wear, chip and fractures. Remnants of peat bog. Lovely deep dark brown patina. Fragment is treated with a surface-protecting beeswax layer. Size approx. 8,3cm x 3,0cm x 1,4cm.
Provenance: private collection from Denmark.
References and further reading:
Prehistoric period (until 1050 AD)/ The Mesolithic period, Nationalmuseet i København (https://en.natmus.dk/historical-knowledge/denmark/prehistoric-period-until-1050-ad/the-mesolithic-period/)
Early Maglemosian culture in the Preboreal landscape: Archaeology and vegetation from the earliest Mesolithic site in Denmark at Lundby Mose, Sjælland, Catherine A. Jessen, Kristoffer Buck Pedersen, Charlie Christensen, Jesper Olsen, Morten Fischer Mortensen & Keld Møller Hansen, Quaternary International. 378, 2015, pp. 73–87. (https://doi.org/10.1016/j.quaint.2014.03.056)
Med bue, pil og fiskespyd, Danmarks Oldtid, Jørgen Jensen, Gyldendals Open Encyclopedia (https://danmarksoldtid.lex.dk/Med_bue,_pil_og_fiskespyd) 
View full details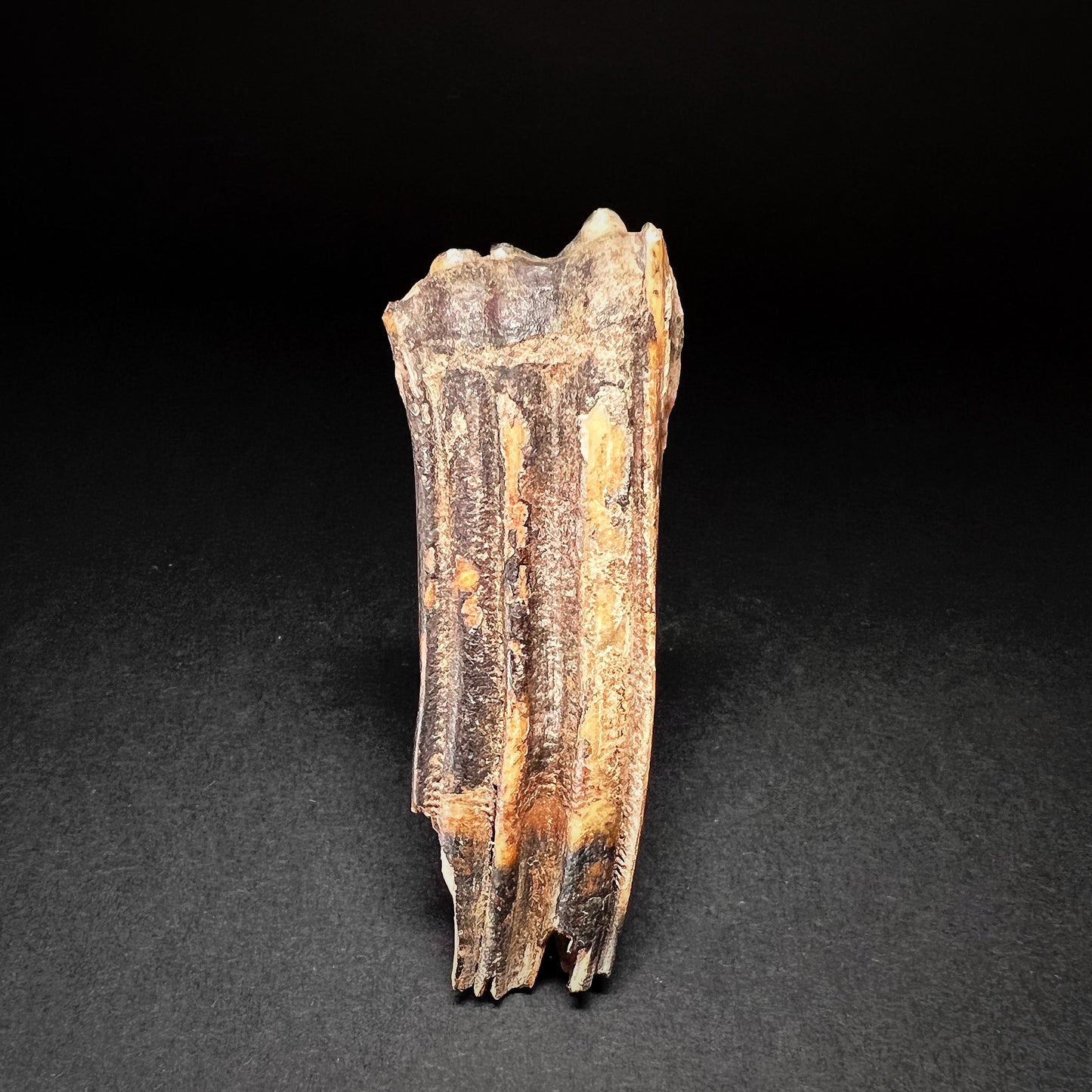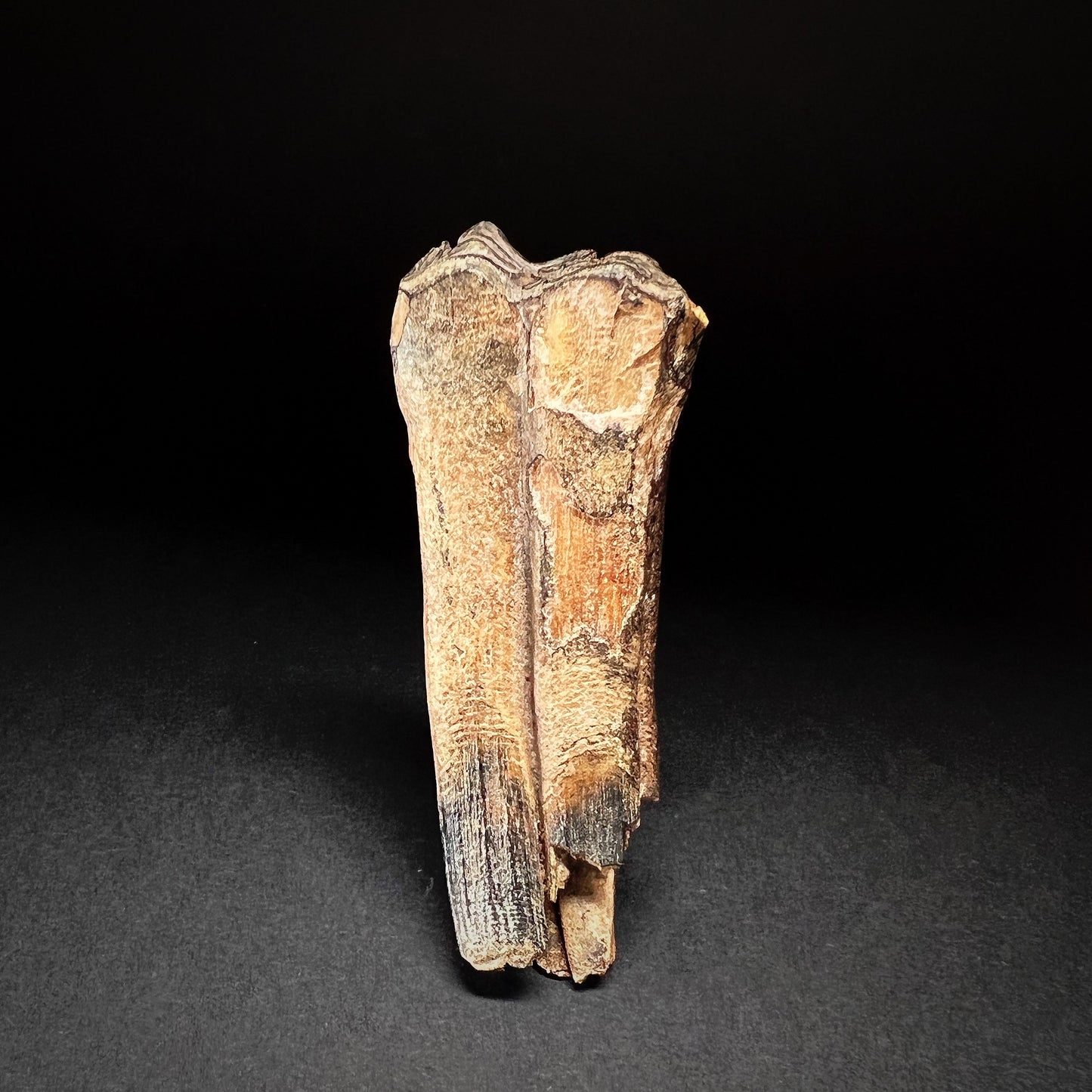 Shipping

The shipment will be prepared in the course of 3-5 days and dispatched via Posti Group Oyj or purchased item(s) can be picked up from our shop during the store's opening hours (Tarkk'ampujankatu 4, 00140, Helsinki, Finland). Within the Finland, all items are shipped via Posti Group Oyj unless otherwise requested. We pack the items carefully and mainly in recycled materials because we want to save nature. You will receive the tracking number for your items by e-mail.

Returns

Returns and exchange will be accepted within fourteen days (14) of receipt at the purchaser's cost to include freight and packaging. Items must be returned in the same condition as when they were shipped, and will not be accepted if damaged or altered in any way. Please inform us via email (info@gotanmaailma.fi) or by calling +358408408352 before sending. We do not accept returns more than 14 days after delivery.