Regular price
Sale price
$12,078.00
Unit price
per
Sale
Sold out
Share
Ming dynasty, 
Wanli period, c. 1573-1620, 
China.
Important and enchanting bronze figure of Guan Yin. In Chinese Buddhism, Guan Yin (called also Guanyin, Kwan-yin or Guanshiyin) is synonymous with the Bodhisattva Avalokitesvara, the pinnacle of mercy, compassion, kindness and love. She is the patron goddess of mothers, the patroness and protector of seamen and fishermen. Of all the Buddhist deities, Guanyin is perhaps the most popular among Chinese. The Chinese name Guanshiyin means "The One Who Perceives the Sounds of the World". The 'Bringer of Sons' Guanyin (Pinyin: Sòngzi Guanyin) is primarily venerated as a fertility goddess and frequently invoked in prayers for children. The Lotus Sutra recounts that Avalokiteshvara bestows children of either sex, depending on the mother's wishes. Despite this, the Chinese most often supplicated the Sòngzi Guanyin, for male heirs, the only gender qualified for the prestigious profession of government service. Usually portrayed in statues and painting as a reclining white-robed young woman with a boy seated on her knee. Iconographic forms of this manifestations were noted by European travelers during the Ming and Qing dynasties to bear a striking resemblance to depictions of the Virgin Mary as the Madonna with Child.
Absolutely remarkable, large and imposing Sòngzi Guanyin is seated in lalitasana with a young boy supported on her left leg and holding a pearl in the right hand that rests on her right knee, wearing loosely draped robes. The face rendered with benevolent expression accentuated with downcast eyes an a gently smile, framed by a pendulous earlobes adorned with large ornate earrings. The headdress centered by a figure of Amitabha Buddha and draped over by a cowl. Good condition. Age-related wear, dents and minimal defects. Casting flaws (hole in back). Traces of cold gilt and colouring. Covered with a dark brown patina all-over. Size approx. 35,0cm x 13,5cm x 12,0cm. 
Provenance: Swedish private collection
References and further reading:
Kuan-yin: The Chinese transformation of Avalokite'svara, Chünfang Yü, New York: Columbia University Press, 2001.
Bodhisattva of compassion: The mystical tradition of Kuan Yin, J.Blofeld, Boston: Shambhala, 1988.
Songzi Guanyin and Koyasu Kannon: Revisiting the Feminization of Avalokiteśvara in China and Japan, Ying Huang, Thesis, Master of Art, Department of East Asian Studies University of Alberta, 2019.
Women in Buddhism: Images of the feminine in the Mahâyâna tradition, D.y Paul, Berkeley and Los Angeles: University of California Press, 1985
Chinese Buddhist Bronzes, Hugo Munsterberg, Rutland, Vermont and Tokyo, 1967, no. 73.
View full details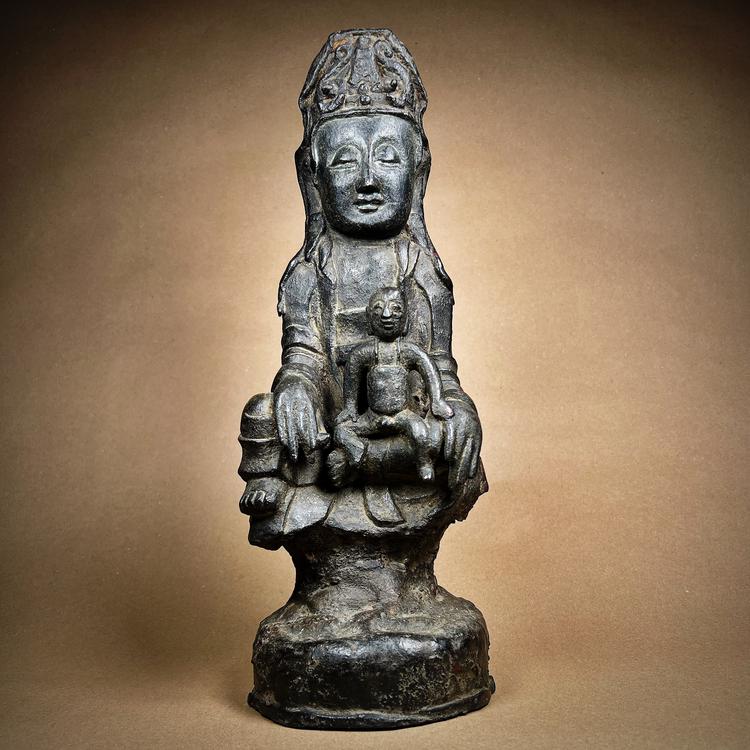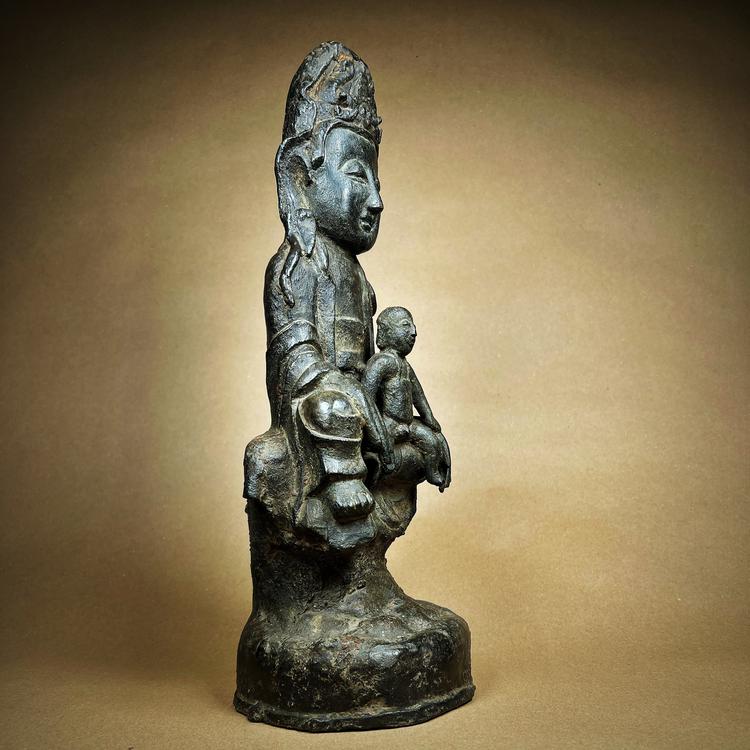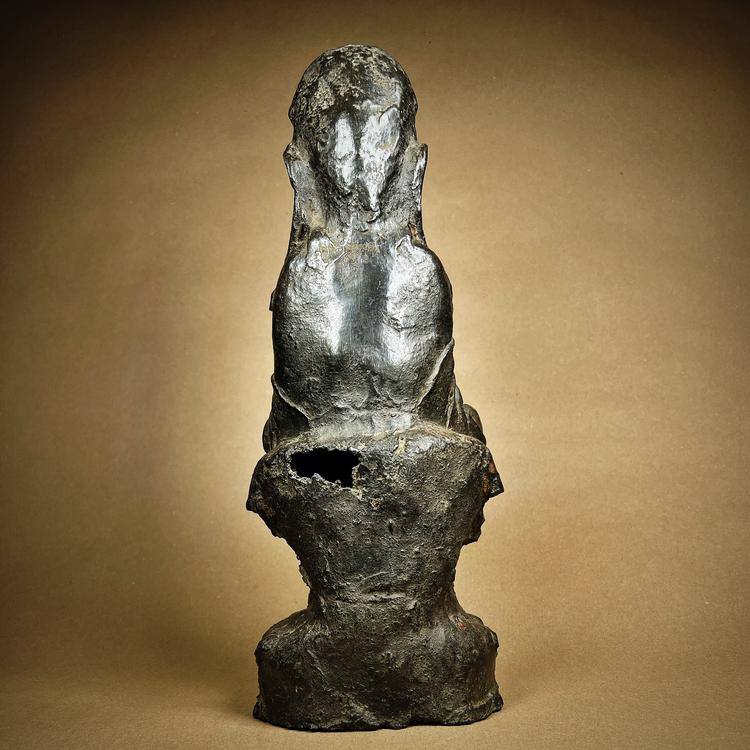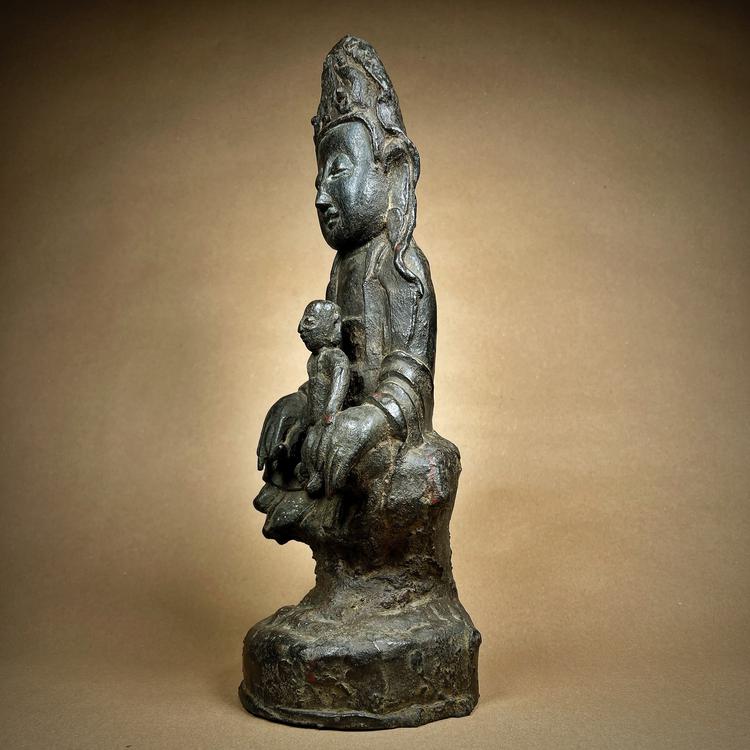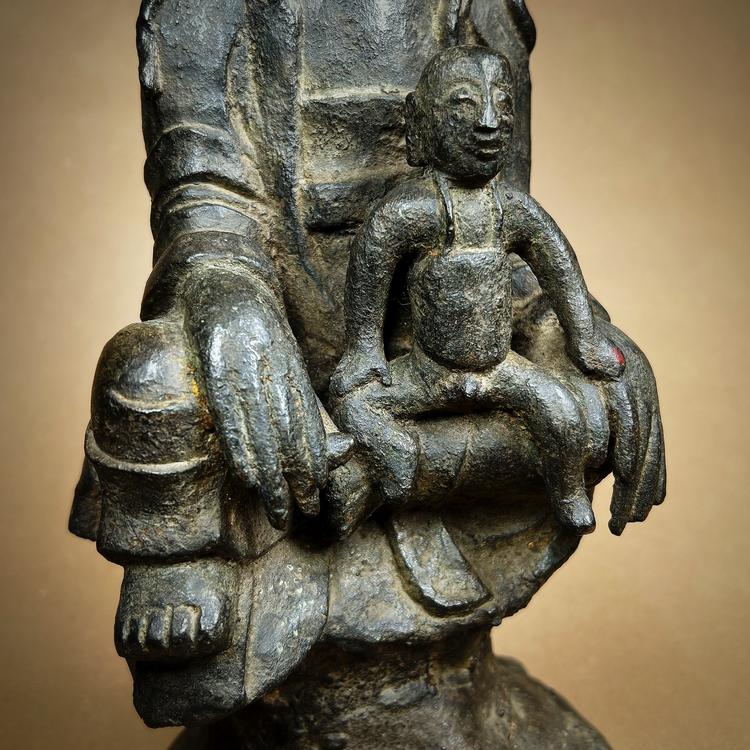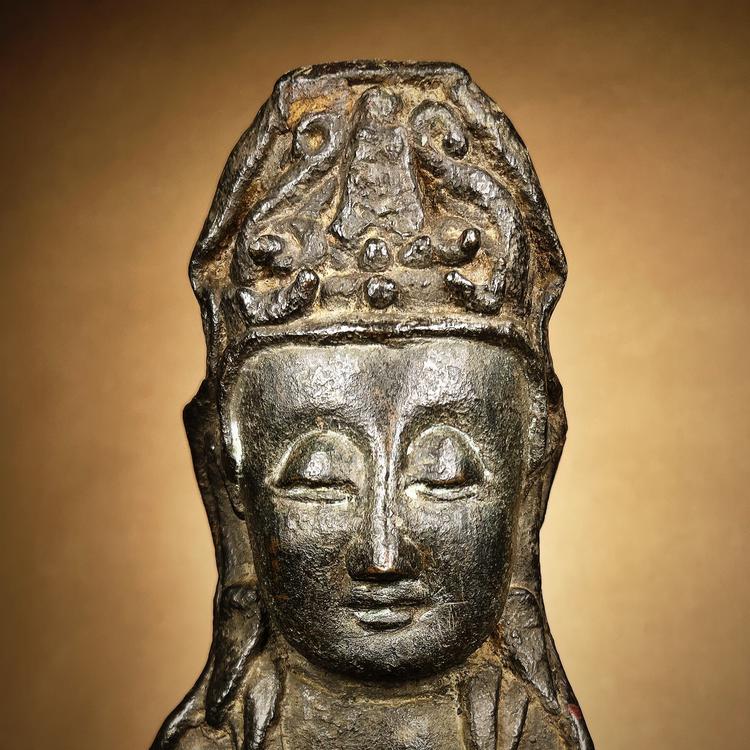 Shipping

The shipment will be prepared in the course of 3-5 days and dispatched via Posti Group Oyj or purchased item(s) can be picked up from our shop during the store's opening hours (Tarkk'ampujankatu 4, 00140, Helsinki, Finland). Within the Finland, all items are shipped via Posti Group Oyj unless otherwise requested. We pack the items carefully and mainly in recycled materials because we want to save nature. You will receive the tracking number for your items by e-mail.

Returns

Returns and exchange will be accepted within fourteen days (14) of receipt at the purchaser's cost to include freight and packaging. Items must be returned in the same condition as when they were shipped, and will not be accepted if damaged or altered in any way. Please inform us via email (info@gotanmaailma.fi) or by calling +358408408352 before sending. We do not accept returns more than 14 days after delivery.