Regular price
Sale price
$500.00
Unit price
per
Sale
Sold out
Share
Late Ming dynasty, Tianqi period
(1620-1627), 
Jingdezhen, Jiangxi province
, China.
Exceptional blue white bowl made for the Japanese tea ceremony meal. The Ming dynasty, officially the Great Ming, was the ruling dynasty of China from 1368 to 1644. Ko sometsuke ("old blue and white") or Tianqi (tenkei in Japanese) porcelain refers to Chinese underglaze blue porcelain made in the unofficial kilns of Jingdezhen, for the specifically Japanese market during the reign of the Emperor Tianqi (r. 1621-1628). Over the same period the related Transitional porcelain was being made. Ko sometsuke wares were made entirely to Japanese taste, in an surprising variety of eccentric and delightfully asymmetrical forms. Designs for this ware are usually landscapes, birds and flowers, animals and human figures. Sizes are usually small to mid-size flatware and bowls. Many examples of the ware were treasured in Japan as part of the tea ceremony culture. In contrast to the classical blue and white wares produced at Jingdezhen, roughly potted ko sometsuke porcelain was intentionally manufactured using poorly levigated clay, and bears with numerous imperfections as a result. The glazing flaws, fritting, kiln grit on the footrims as well the "moth or worm eaten" edges (mushikui), which are so prevalent among these wares, were particularly prized in Japan.
Small-sized kosometsuke ware bowl, loosely painted with a stylized design of two birds perched on a twig of flowers and stems covered in small round buds, encircled by a sketchy thin bands (4). The painting is done quickly using a fully loaded brush. The outer sides have two hastily drawn circles. Good condition. Small chip in the rim. Considerable fritting and glazing flaws. Kiln grit on the footrim. Size approx. 14,0cm x 13,8cm x 4,5cm.
Provenance: Finnish private collection

References and further reading:
Ko-sometsuke: Chinese Porcelain for the Japanese Market, Jorge Welsh, Published by Jorge Welsh Books, Lisbon/London, 2013.
Kosometsuke, Masahiko Kawahara, Published by Kyoto Shoin Co., Ltd, Japan, 1977.
The Wares of the Transitional Period between the Ming and the Ch'Ing 1620-1683, Soame Jenyns, Archives of the Chinese Art Society of America, Published By: Duke University Press, Vol. 9, 1955, pp. 20-42.
The Ceramic Trade Across the South China Sea c. AD 1350-1650, Barbara Harrisson, Journal of the Malaysian Branch of the Royal Asiatic Society, Vol. 76, No. 1, 2003, pp. 99-114.
View full details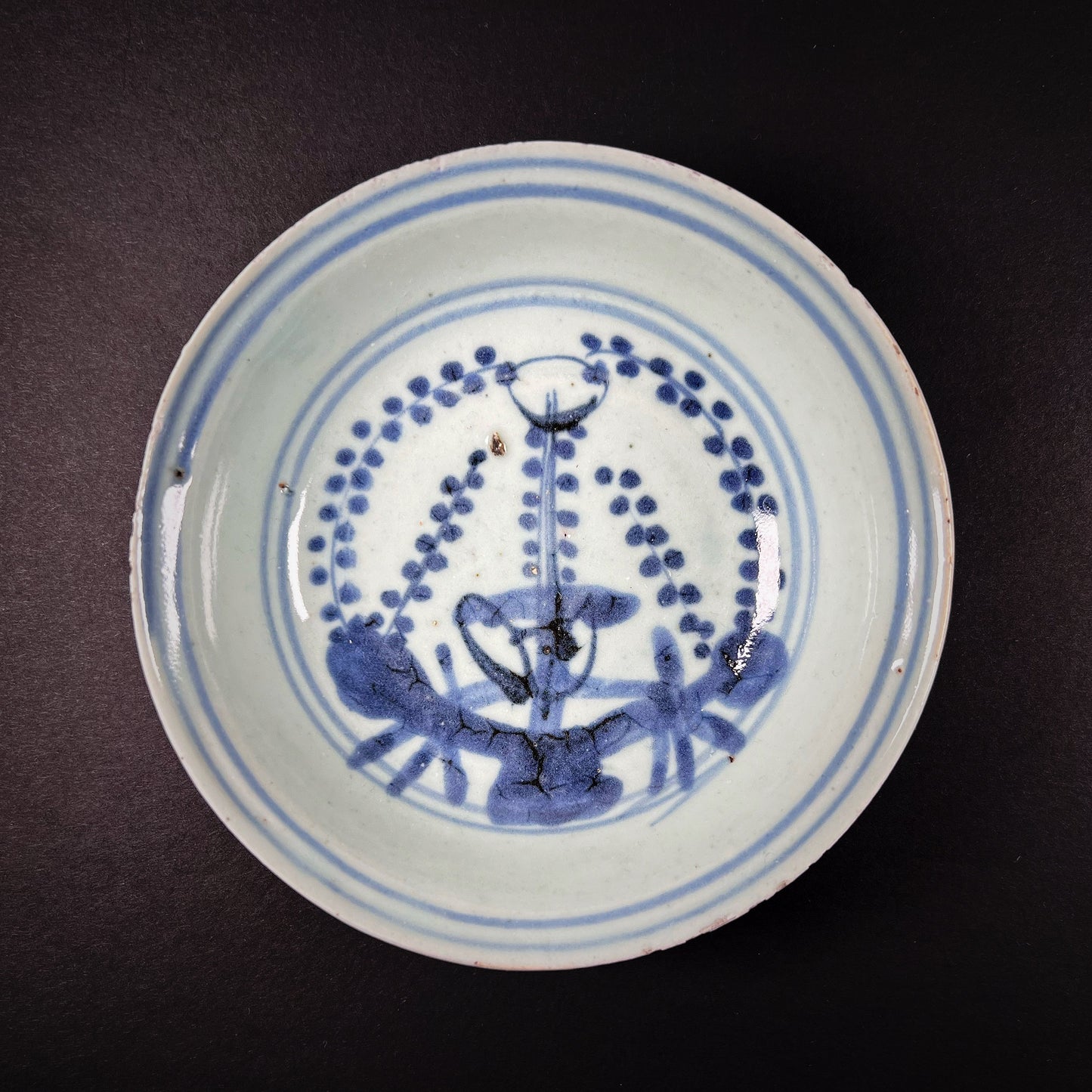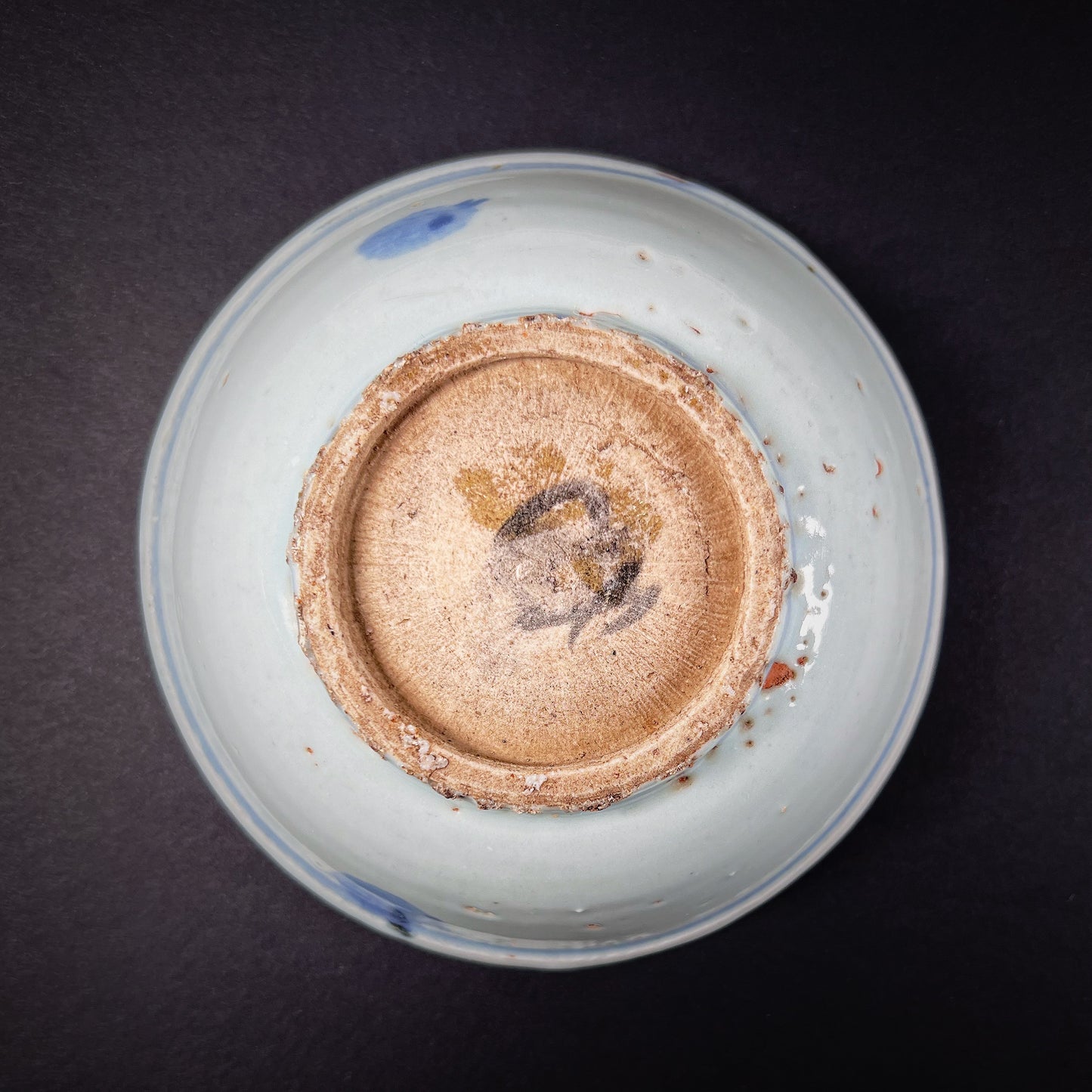 Shipping

The shipment will be prepared in the course of 3-5 days and dispatched via Posti Group Oyj or purchased item(s) can be picked up from our shop during the store's opening hours (Tarkk'ampujankatu 4, 00140, Helsinki, Finland). Within the Finland, all items are shipped via Posti Group Oyj unless otherwise requested. We pack the items carefully and mainly in recycled materials because we want to save nature. You will receive the tracking number for your items by e-mail.

Returns

Returns and exchange will be accepted within fourteen days (14) of receipt at the purchaser's cost to include freight and packaging. Items must be returned in the same condition as when they were shipped, and will not be accepted if damaged or altered in any way. Please inform us via email (info@gotanmaailma.fi) or by calling +358408408352 before sending. We do not accept returns more than 14 days after delivery.