Regular price
Sale price
$324.00
Unit price
per
Sale
Sold out
Share
Late Ming dynasty, early 17th century, Zhangzhou prefecture, Fujian province, China.
Beautiful drinking vessels (kendi) like this example with a globular body, long neck and a bulbous mammiform spout was made in Zhangzhou, China for export, mostly to Muslim communities in Southeast Asia. Decorated with underglaze blue foliate design, foo lions and lingzhi. The Ming dynasty, officially the Great Ming, was the ruling dynasty of China from 1368 to 1644. Swatow (Zhangzhou) ware is a loose grouping of mainly late Ming dynasty export porcelain wares initially intended for the Southeast Asian market. The kilns located all over coastal region, but mostly near Zhangzhou, Pinghe County. Two major and important production sites are Da Long and Er Long in Wuzhai, and the Huazai Lou in Nansheng. The precise dates for the beginning and ending of production remain uncertain, but the evidence from archaeology suggests production between about 1575-1650, though an earlier start has been proposed. The peak levels of production may have ended around 1620.
Swatow ware is generally coarse, crudely potted and often under-fired. The pottery very often have grit from the kiln on the glaze at the foot, indicating rather careless making. They were fired in dragon kilns (lung-yao) of various designs, and the numerous potteries were small concerns, far removed from the industrial scale of Jingdezhen. Pieces were mostly wheel-thrown, but moulds were also used to form pieces. Decoration is underglaze blue and white using cobalt is most common, and was probably the only type of decoration at first.
Glazing flaws with subtle and even network of crackles, in places suffused with minute bubbles. Age-related heavy wear. Numerous chips to rim. Lovely patina. Size approx. 18,5cm x 15,5cm x 14,5cm. 

Provenance: Finnish private collection
References and further reading:

The Ceramic Trade Across the South China Sea c. AD 1350-1650, Barbara Harrisson, Journal of the Malaysian Branch of the Royal Asiatic Society, Vol. 76, No. 1, 2003, pp. 99-114.
Swatow, Barbara Harrisson, Publisher: Museum het Princessehof, Leeuwarden, 1979.
The Wares of the Transitional Period between the Ming and the Ch'Ing 1620-1683, Soame Jenyns, Archives of the Chinese Art Society of America, Published By: Duke University Press, Vol. 9, 1955, pp. 20-42.
Zhangzhou (Swatow) Ceramics. Sixteenth to Seventeenth Centuries Found In Indonesia, Sumarah Adhyatman, Publisher: The Ceramic Society of Indonesia, 1999.
View full details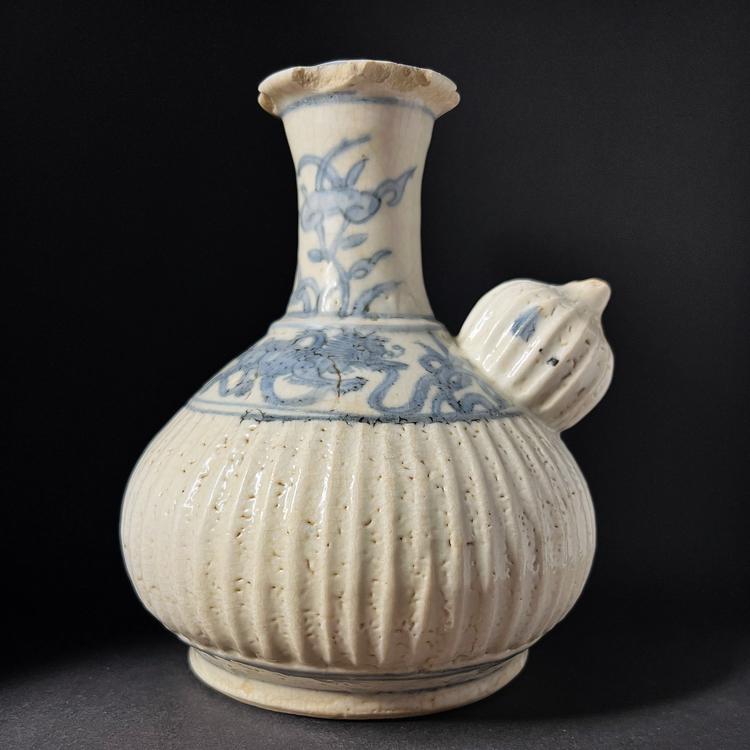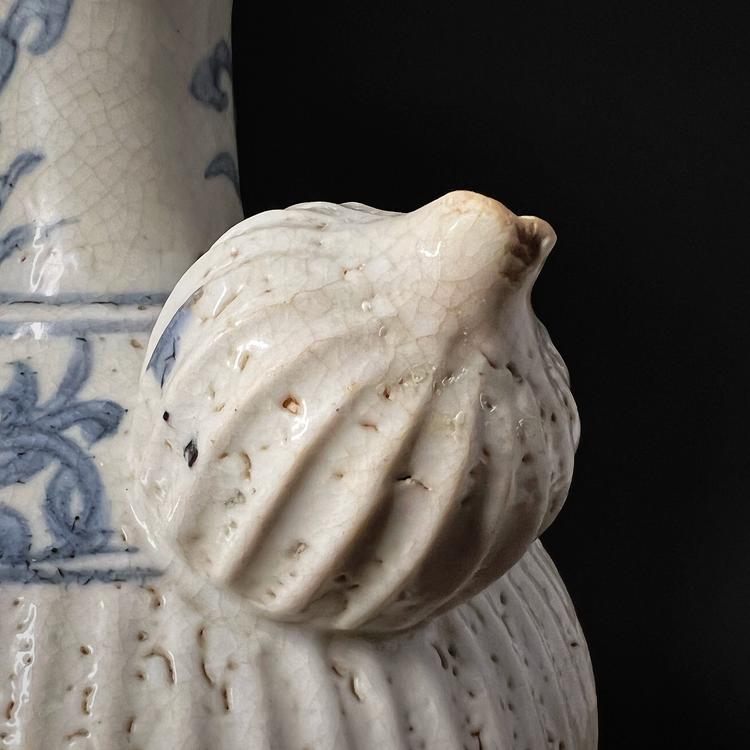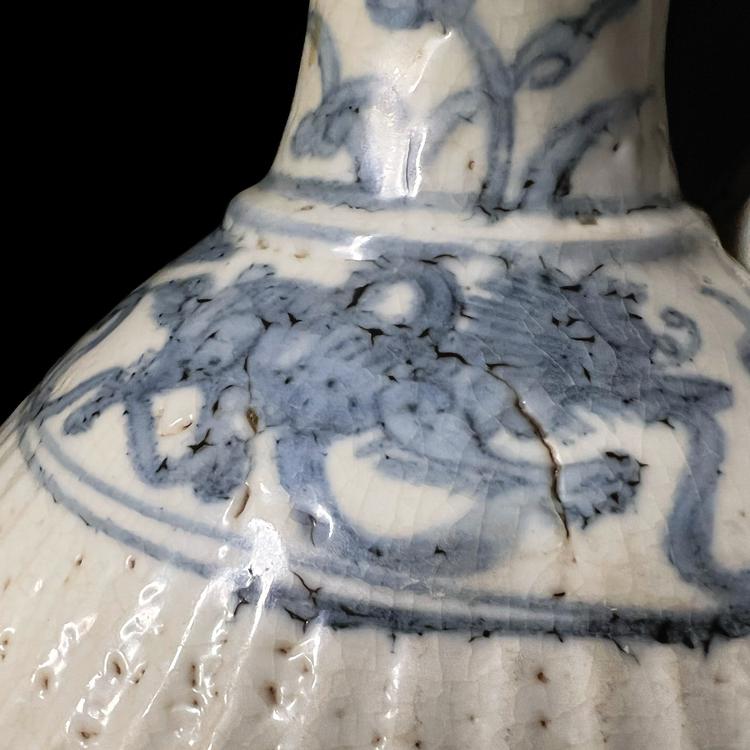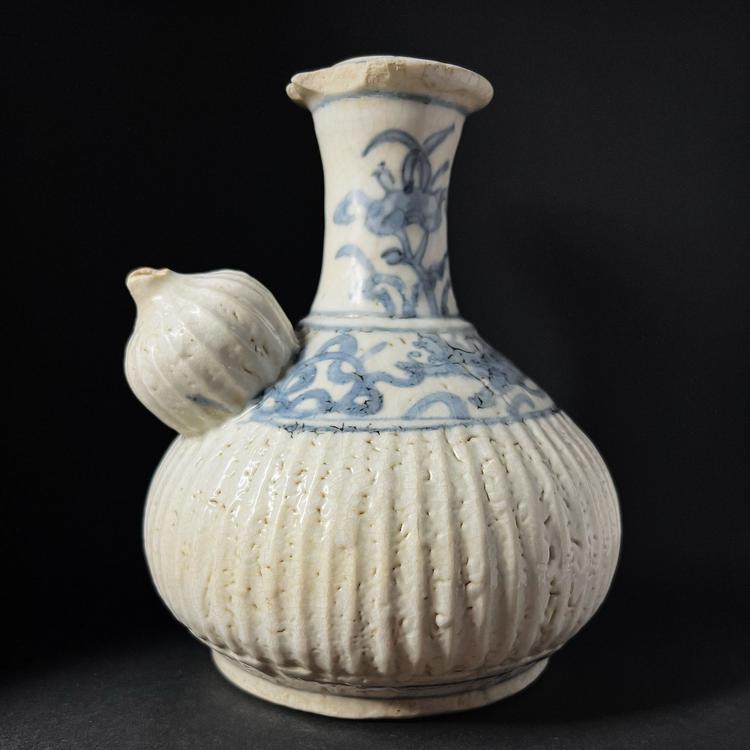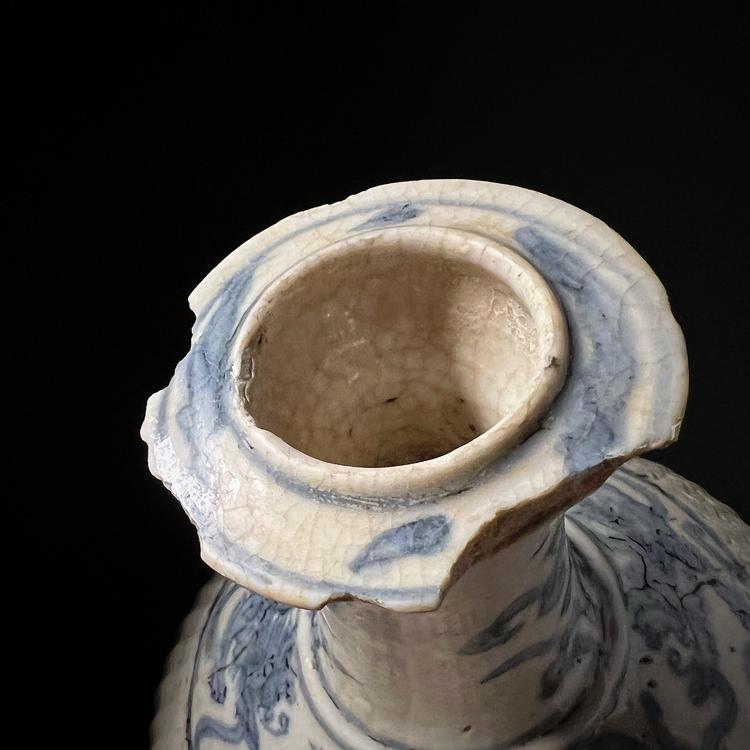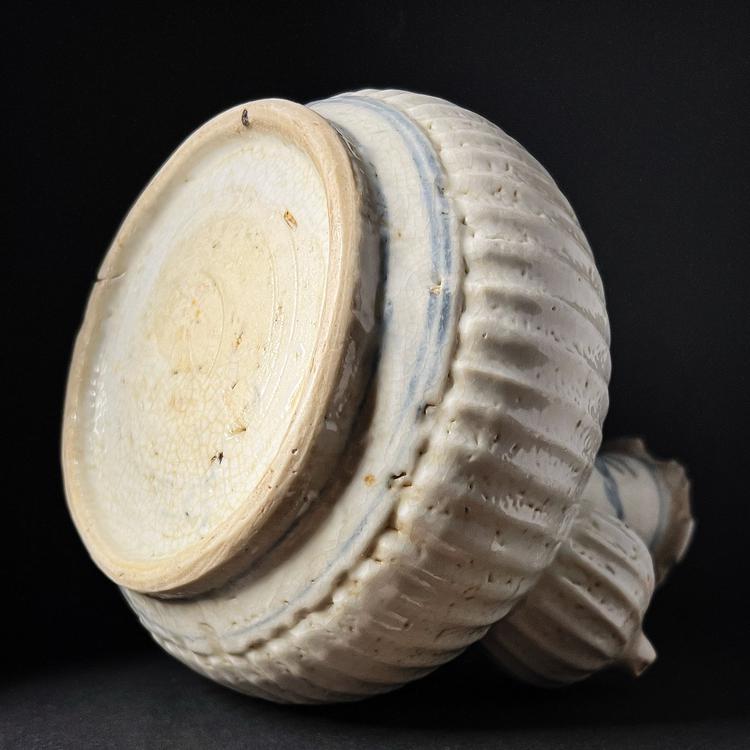 Shipping

The shipment will be prepared in the course of 3-5 days and dispatched via Posti Group Oyj or purchased item(s) can be picked up from our shop during the store's opening hours (Tarkk'ampujankatu 4, 00140, Helsinki, Finland). Within the Finland, all items are shipped via Posti Group Oyj unless otherwise requested. We pack the items carefully and mainly in recycled materials because we want to save nature. You will receive the tracking number for your items by e-mail.

Returns

Returns and exchange will be accepted within fourteen days (14) of receipt at the purchaser's cost to include freight and packaging. Items must be returned in the same condition as when they were shipped, and will not be accepted if damaged or altered in any way. Please inform us via email (info@gotanmaailma.fi) or by calling +358408408352 before sending. We do not accept returns more than 14 days after delivery.