Regular price
Sale price
$132.00
Unit price
per
Sale
Sold out
Share
Naga people, early 20th century, Nagaland, India/Myanmar.
Lovely necklace with smoothed round and tubular shell beads. Naga, group of tribes inhabiting the Naga Hills of Nagaland state in northeastern India and northwestern Myanmar. Nagas are divided into sixteen main tribal groups, each with its own name and distinct language, but their sense of national identity, forged during the years of British administration and reinforced by resistance to Indian government domination, now largely overrides the diffrences that separate them. The traditional Naga religion is animistic, though conceptions of a supreme creator and an afterlife exist. Traditional beliefs in spirits, local deities and supernatural forces associated with life events remain strong even among tribes that have adopted Christianity. Spirits are associated with both animate and inanimate objects and most are regarded as either gods or souls of deceased people. Rather that being divided into good and bad spirits, individual spirits are regarded as having good and bad qualities. 
Nagas traditionally are tribally organized, with a strong warrior tradition. Conflict between tribes, clans and villages was common in the old days and headhunting was a feature of warfare. The traditional weapons of warfare were spears and shields. Headhunting and warfare was common into the early 20th century. The last reports of headhunting in Indian Nagaland were in 1960's. Weaving of colorful woolen and cotton shawls and bamboo headdresses is a central activity for woman of all Naga tribes. Design of the shawl denotes the social status of the wearer. Elaborate headdresses are made of bear fur, feathers, the tusks of wild boar and tufts of human hair. Naga jewelry is an equally important part of indentity and the use of wide range of materials including funnel-shaped beads, shell, bone, claws, teeths and tusks, horns, hair etc. 
Gorgeous necklace comprises 15 beads on native cotton twine. Each of the beads is  uneven round and tubular fragment and has been made from chank shell (Turbinella pyrum) fished from the waters around India, that has varying cream and dark colouring. Necklaces with conch shell pieces were a sign of wealth among the Naga peoples. Typically, the shells were traded into the Naga lands from the Bay of Bengal, northeastern part of the Indian Ocean. Good condition. Age-related wear and signs of use. Lovely patina. String are newer. Chip and fractures. Circumference c. 59,0cm.
Provenance: Dutch private collection
References and further reading:
Naga, Encyclopedia.com (https://www.encyclopedia.com/philosophy-and-religion/eastern-religions/buddhism/naga)
Certain Aspects of Naga Culture, J.P. Mills, The Journal of the Royal Anthropological Institute of Great Britain and Ireland, Vol. 56 (1926), pp. 27-35.

Nagas: Their History, Life and Customs, Facts and Details, August 2020.(https://factsanddetails.com/southeast-asia/Myanmar/sub5_5d/entry-3933.html)
View full details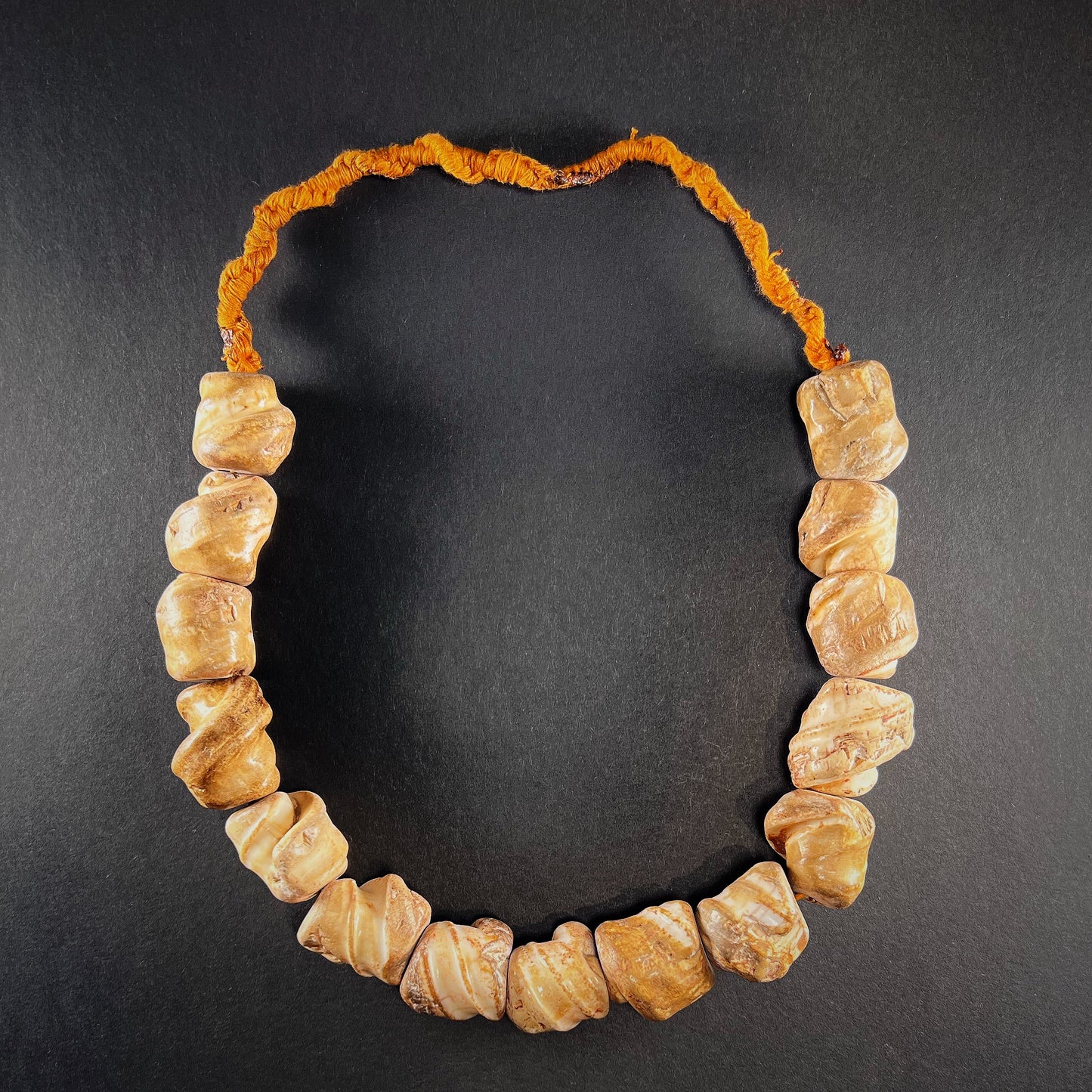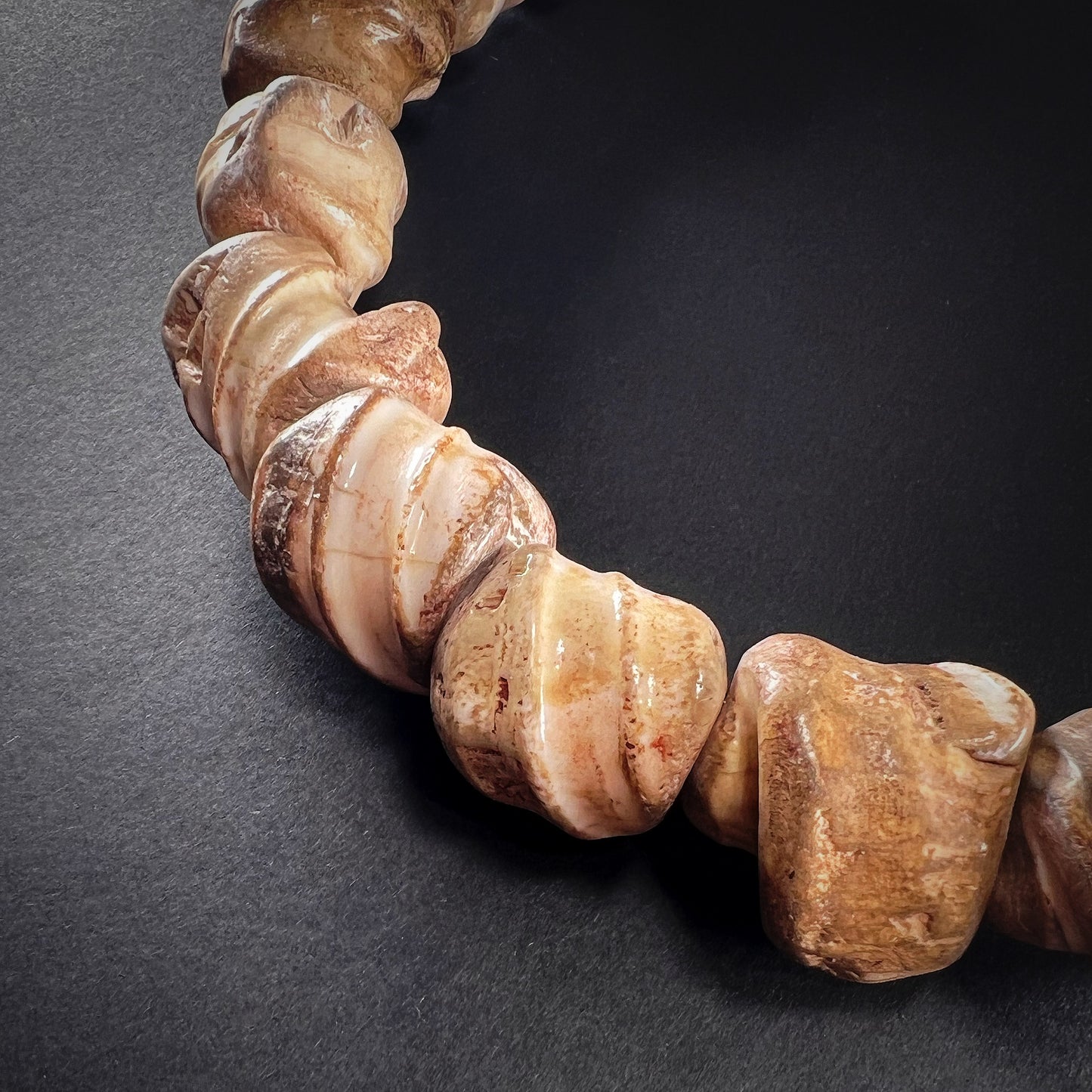 Shipping

The shipment will be prepared in the course of 3-5 days and dispatched via Posti Group Oyj or purchased item(s) can be picked up from our shop during the store's opening hours (Tarkk'ampujankatu 4, 00140, Helsinki, Finland). Within the Finland, all items are shipped via Posti Group Oyj unless otherwise requested. We pack the items carefully and mainly in recycled materials because we want to save nature. You will receive the tracking number for your items by e-mail.

Returns

Returns and exchange will be accepted within fourteen days (14) of receipt at the purchaser's cost to include freight and packaging. Items must be returned in the same condition as when they were shipped, and will not be accepted if damaged or altered in any way. Please inform us via email (info@gotanmaailma.fi) or by calling +358408408352 before sending. We do not accept returns more than 14 days after delivery.