Regular price
Sale price
$1,373.00
Unit price
per
Sale
Sold out
Share
Pre-Columbian era, Nazca civilization, 300BC - 600AD, Peru.
Absolutely gorgeous hand-built pottery jar of a delicate form with a round but stable base, a slightly compressed spherical body with a rounded shoulder, and a squat, thin rim surrounding the opening to the interior. The highly burnished vessel features an upper ground of striking white pigment overlaid with a quartet of abstract, oval-shaped anthropomorphic faces, each surrounded by radiating tendrils. Thick black band surrounds the spout exterior, the lower half of the body is a buffware hue.
Nazca civilization flourished in ancient Peru between 300BC and 600AD. Early Nazca society was made up of local chiefdoms and regional centers of power centered around Cahuachi, a non-urban ceremonial site. These pyramid-like structures and plazas, situated in lower part of the Nazca Valley, served as important spaces for fertility and agricultural rituals. Nazca artifacts indicate that they worshiped a number of gods, or nature spirits. Their polychrome, or multicolored pottery came in different shapes such effigy or animal shaped bulbous vessels, double spouted bottles and round bowls. The Nazca had a headhunting cult; hoard of several trophy heads, some with carrying ropes have been discovered occasionally by archaeologists. The frequent depiction of severed heads is one of the most distinctive features of Nazca ceramic art. Nazca pottery was made by hand (pottery wheel was unknown) by the method of coiling, where a tube of clay was spiralled around base to build up the vessel. Then the sides of vessel, both in and out, were smoothed by hand. Before firing the pottery was painted by using several earth minerals. Because the Nazca had no writing system, iconography painted on pottery vessels were as important means of communicating shared ideas, religious practises and preservation of history. Not simply for everyday use, then, the Nazca created vessels for ritual use, burial offerings, and pure decoration.
Fascinating pottery jar are in excellent condition. Minor abrasions, chip and nicks spout rim, with minimal fading to exterior pigment, otherwise intact. Great preservation to painted decorations throughout. Size approx. 14,0cm x 15,5cm x 15,5cm. 

Provenance: Danish private collection
View full details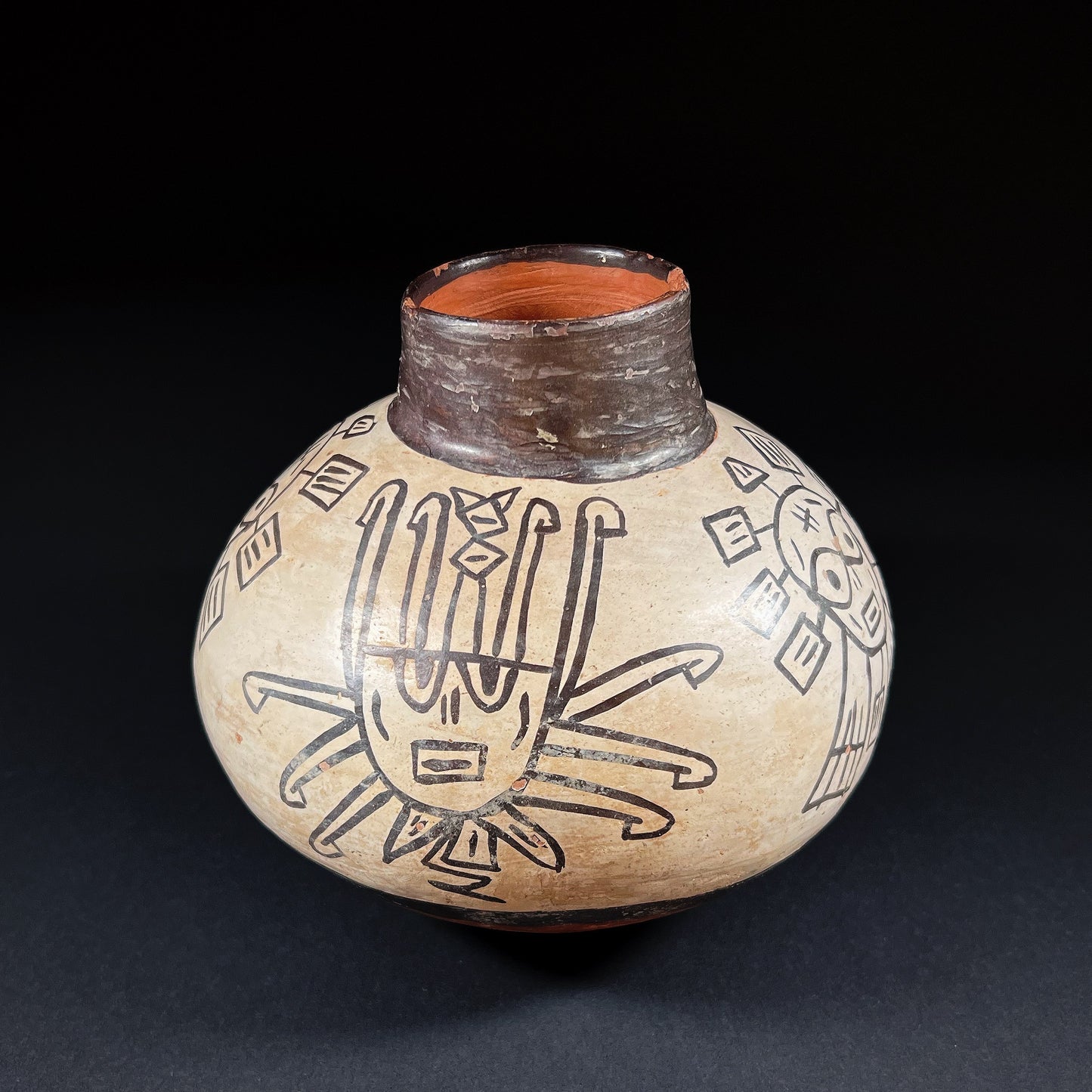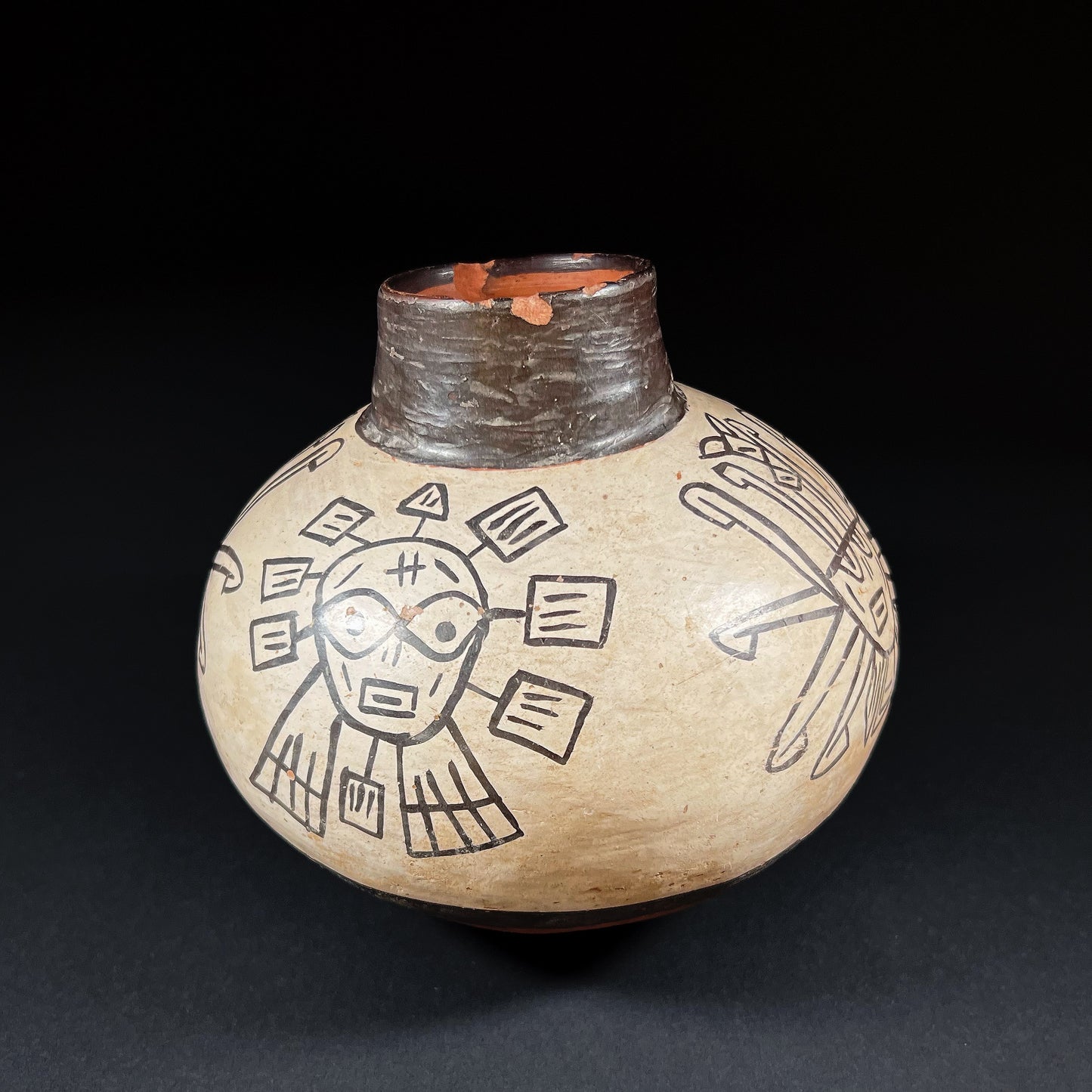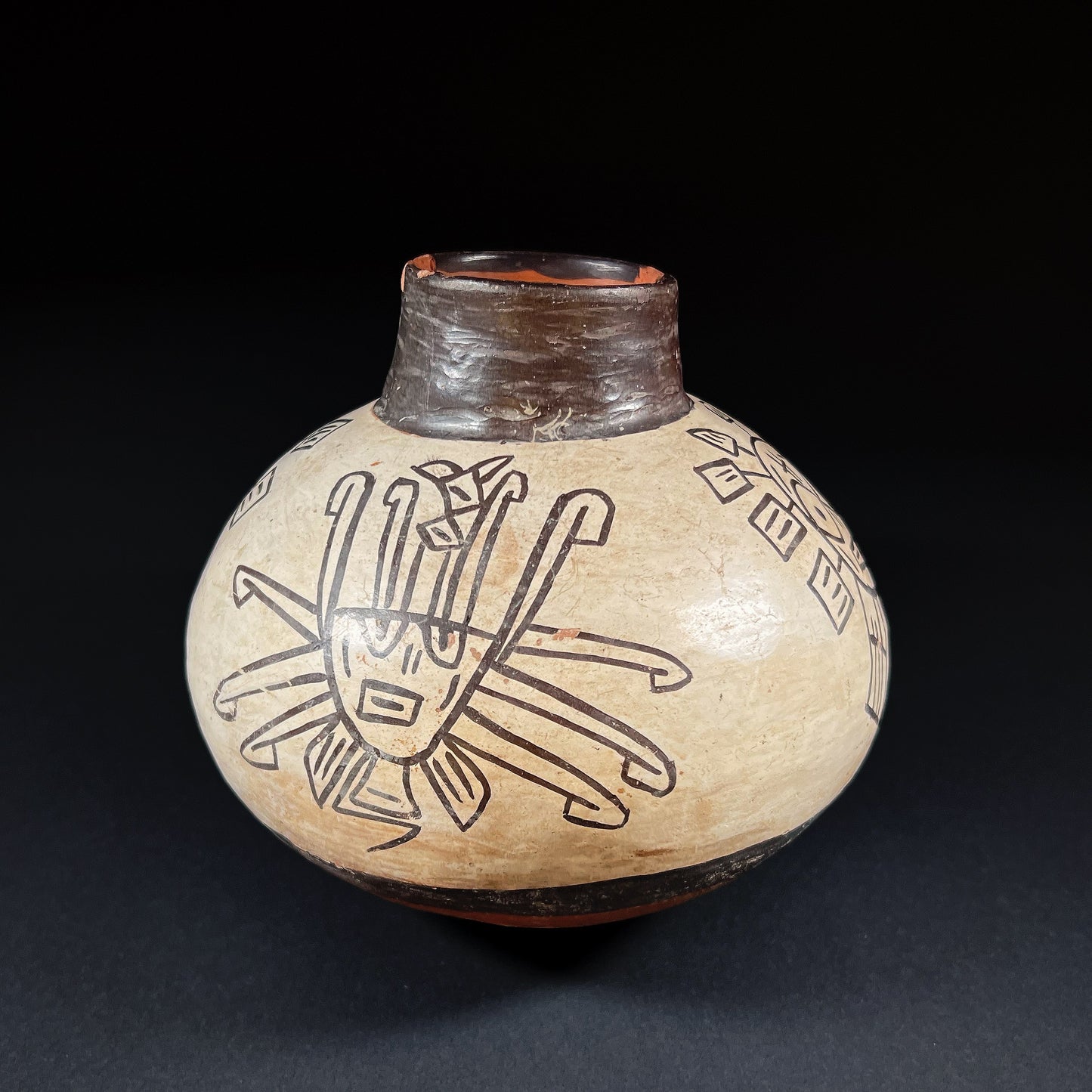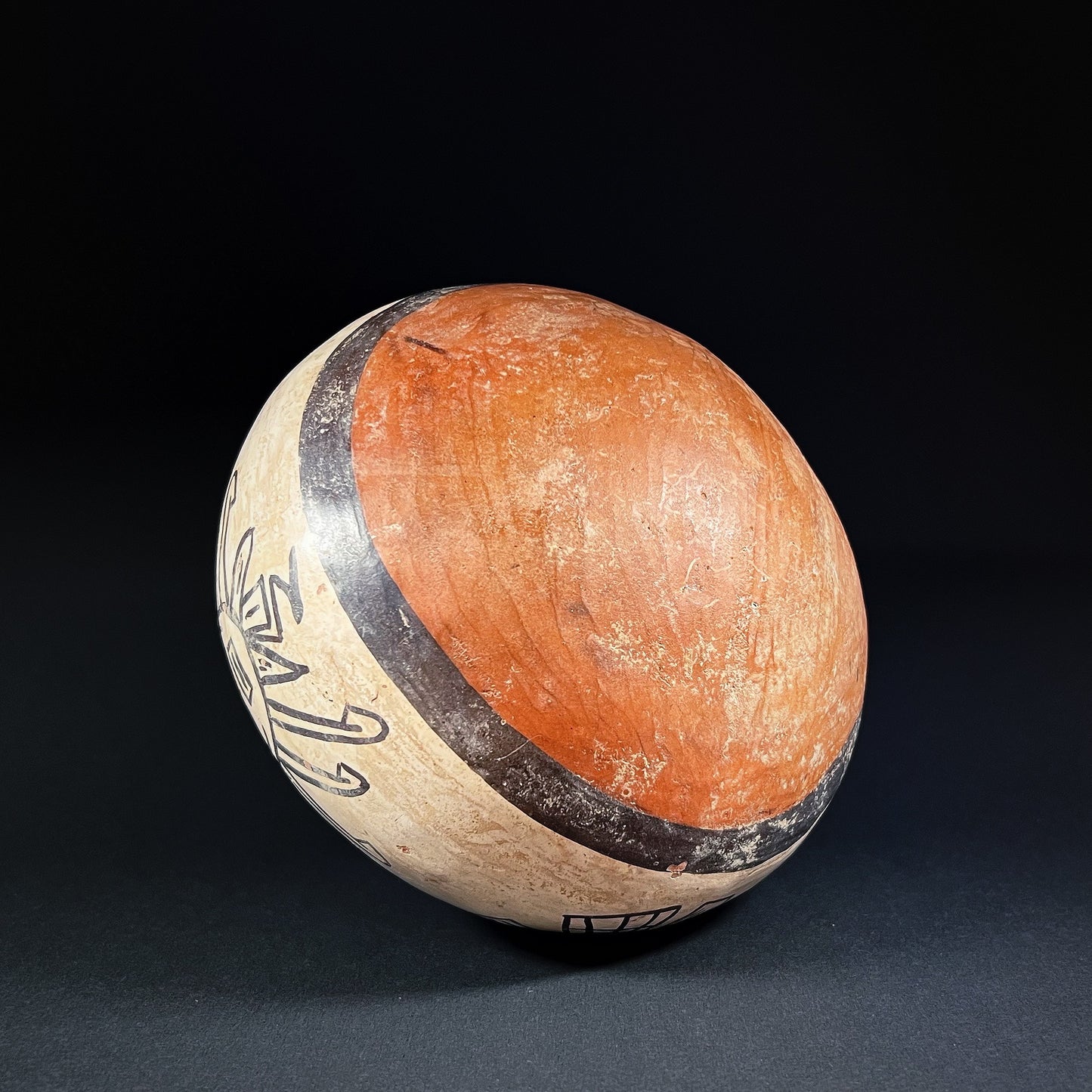 Shipping

The shipment will be prepared in the course of 3-5 days and dispatched via Posti Group Oyj or purchased item(s) can be picked up from our shop during the store's opening hours (Tarkk'ampujankatu 4, 00140, Helsinki, Finland). Within the Finland, all items are shipped via Posti Group Oyj unless otherwise requested. We pack the items carefully and mainly in recycled materials because we want to save nature. You will receive the tracking number for your items by e-mail.

Returns

Returns and exchange will be accepted within fourteen days (14) of receipt at the purchaser's cost to include freight and packaging. Items must be returned in the same condition as when they were shipped, and will not be accepted if damaged or altered in any way. Please inform us via email (info@gotanmaailma.fi) or by calling +358408408352 before sending. We do not accept returns more than 14 days after delivery.