Regular price
Sale price
$105.00
Unit price
per
Sale
Sold out
Share
The Tenerian culture, c. 4600 BC - 2500 BC, Ténéré Desert, Niger, West Africa.
Fantastic set of ancient stone and fossil grave goods or amulets. The Tenerian culture is a prehistoric industry that existed between about 4600 BC and 2500 BC in the Sahara Desert. This was during a wet period of Saharan history known as the Neolithic Subpluvial. The Tenerian culture was discovered in 2000 during an archaeological expedition led by Paul Sereno in the site known as Gobero in Niger. Gobero is hidden away within Niger's unapproachable Ténéré Desert, known to Tuareg nomads as a "desert within a desert." Two distinct prehistoric cultures were discovered at the site: the early Holocene Kiffian culture, and the middle Holocene Tenerian culture. The Kiffians were a prehistoric people who preceded the Tenerians and vanished approximately 8000 years ago, when the desert became very dry. They were skilled hunters. Bones of many large savannah animals that were discovered in the same area suggest that the Kiffians lived on the shores of a lake that was present during the Holocene Wet Phase, a period when the Sahara desert was verdant and wet. The more recent population was the Tenerian, a more lightly built people who appeared to have had a diverse economy of hunting, fishing and cattle herding. They lived during the latter part of the green Sahara, about 7,000 to 4,500 years ago. The graves show the Tenerians came to bury their dead in less flexed side postures, often including grave goods, such as clay pots, spear points, arrowheads, ground stone tools and jewelry made of hippo tusks, for an afterlife.
Absolutely stunning set of ancient stone and fossil artefacts from Ténéré Desert, Niger are in good condition. Age-related wear, minor chip and abrasion. Size varies from 6,3cm to 3,0cm. Sell as a set.
Provenance: Dutch private collection.
References and further reading:
Stone Age mass graves reveal green Sahara, Nora Schultz, New Scientist, 14 August 2008. (https://www.newscientist.com/article/dn14536-stone-age-mass-graves-reveal-green-sahara/)
Stone Age Graveyard reveals Lifestyles of a 'Green Sahara': Two Successive Cultures Thrived Lakeside, Uchicago News, University of Chicago, Aug 14, 2008. (https://news.uchicago.edu/story/stone-age-graveyard-reveals-lifestyles-green-sahara-two-successive-cultures-thrived-lakeside)
Lakeside Cemeteries in the Sahara: 5,000 Years of Holocene Population and Environmental Change, Paul Sereno and others, Plos One, August 14, 2008.  (https://doi.org/10.1371/journal.pone.0002995)
Lost Tribes of the Green Sahara, Peter Gwin, National Geographic September 2008, pp. 126-143.
View full details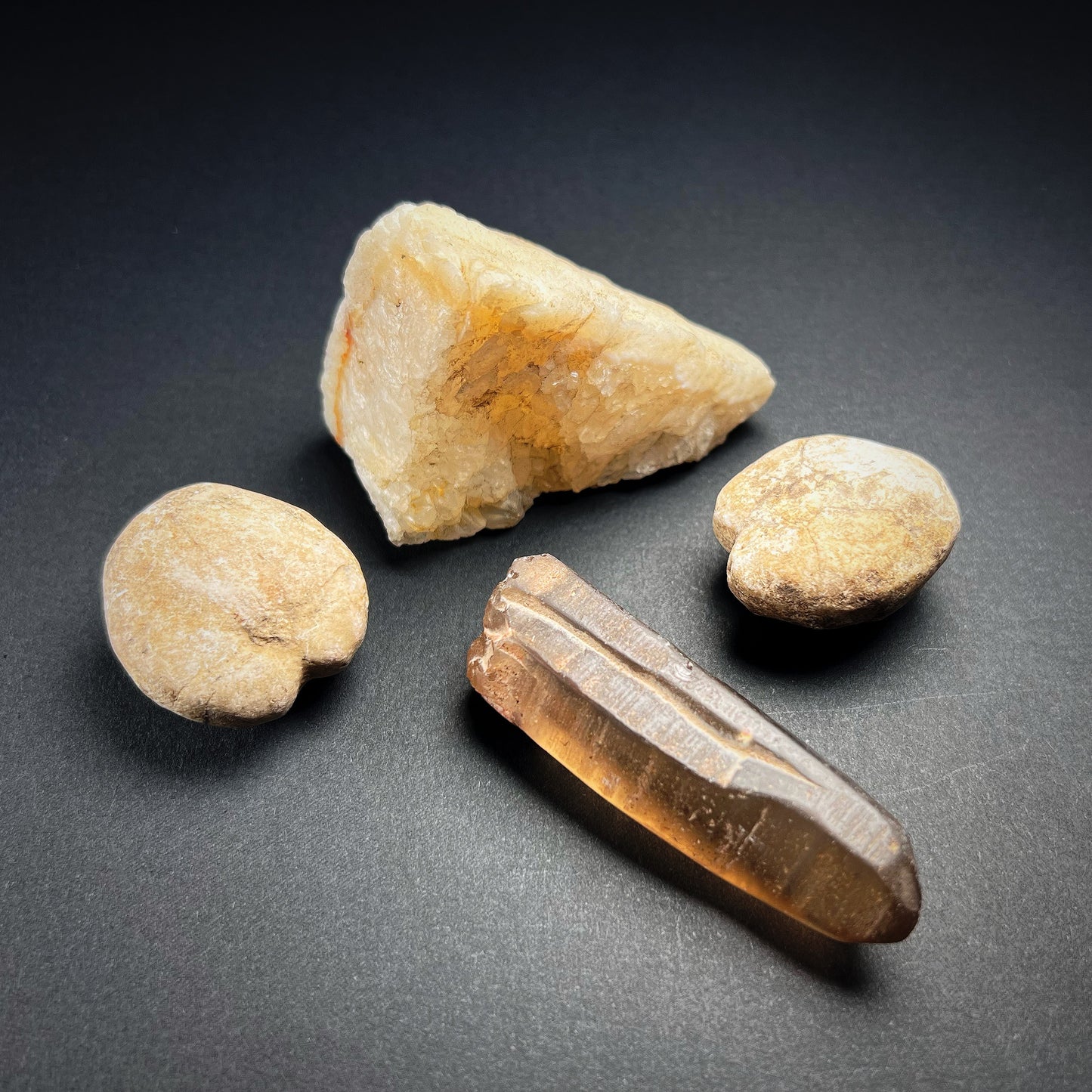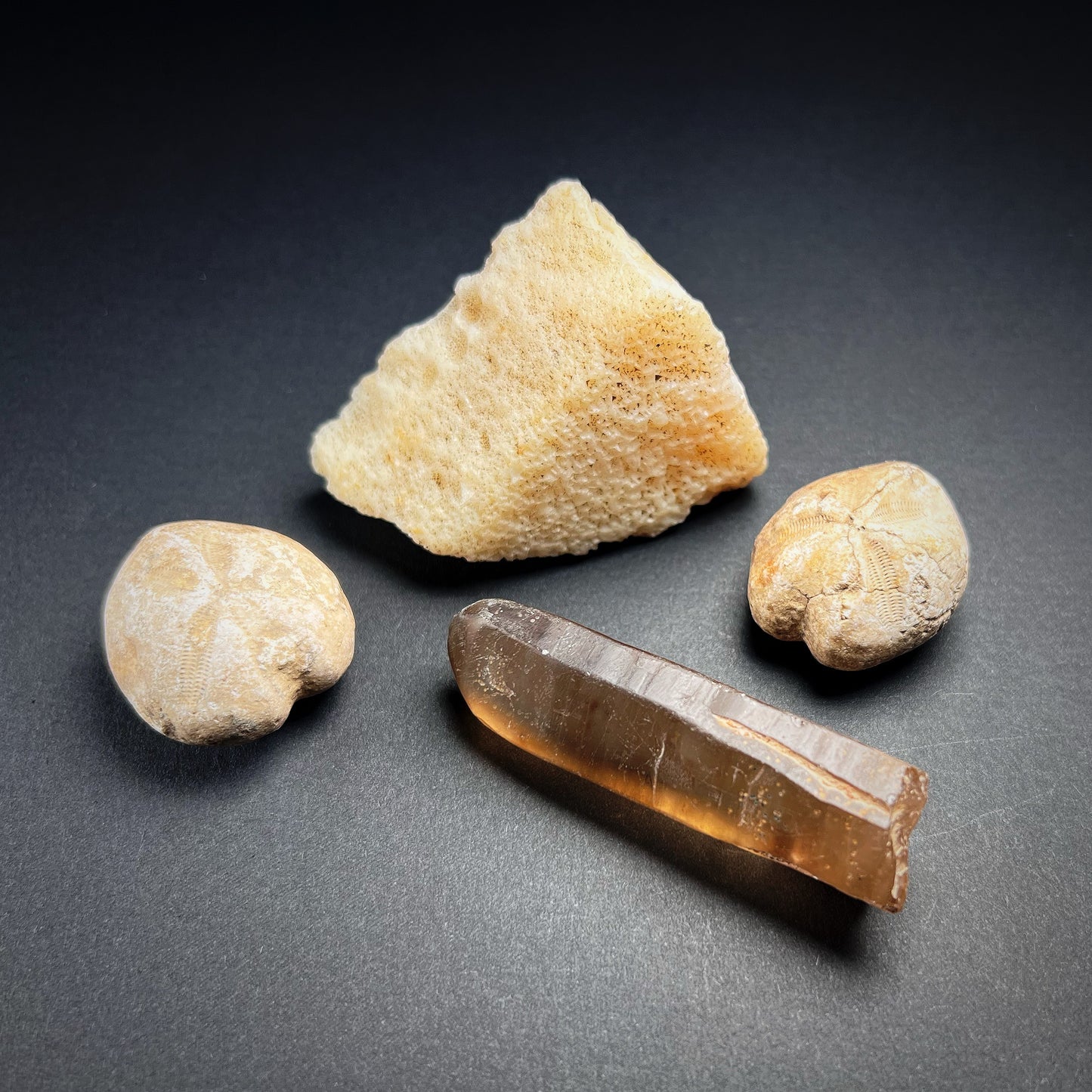 Shipping

The shipment will be prepared in the course of 3-5 days and dispatched via Posti Group Oyj or purchased item(s) can be picked up from our shop during the store's opening hours (Tarkk'ampujankatu 4, 00140, Helsinki, Finland). Within the Finland, all items are shipped via Posti Group Oyj unless otherwise requested. We pack the items carefully and mainly in recycled materials because we want to save nature. You will receive the tracking number for your items by e-mail.

Returns

Returns and exchange will be accepted within fourteen days (14) of receipt at the purchaser's cost to include freight and packaging. Items must be returned in the same condition as when they were shipped, and will not be accepted if damaged or altered in any way. Please inform us via email (info@gotanmaailma.fi) or by calling +358408408352 before sending. We do not accept returns more than 14 days after delivery.