Regular price
Sale price
$1,044.00
Unit price
per
Sale
Sold out
Share
Late 19th or early 20th century, Nepal.
Important bronze figure of White Tara. Tara (called also Arya Tara, Shayama Tara, Jetsun Dölma) was a Buddhist goddess who had many different forms, and was particularly popular in Nepal, Tibet, and Mongolia. She is considered to be the goddess of universal compassion and the manifestation of the actions of all Buddhas. White Tara (Sitatara) symbolizes perfect purity and is believed to represent Transcendent Wisdom, which secures everlasting bliss for its possessor. Her ability is to give the special gift of long life, but she also has the immediate power to remove obstacles. She is known for compassion, long life, healing and serenity. Also known as The Wish-fulfilling Wheel (Cintachakra). She is the consort of Avalokiteshvara. 
Fantastic White Tara is seated in vajraparyankasana on a lotus base. Her right hand resting on a knee, palm facing outward in the varadamudra (favourable mudra), representing the five perfections: generosity, morality, patience, effort and concentration (the gesture of the supreme giving, her boundless generosity that ensures eight siddhis and supreme Enlightenment). The left hand is held elegantly in suryamudra (Sanskrit term, surya means "sun"), a hand gesture that increases the fire element and eliminates the earth element in the body. This mudra is also known as agni vardhak mudra (agni meaning "fire") or prithvi shamak mudra (prithvi meaning "earth") Flanked by a blue lotus (utpala) rising to her left shoulder along the elbows, the symbol of protection from all terrors and fears. Blue lotus releases its fragrance with the appearance of the moon and therefore Tara is also associated with the moon and night. 
White Tara has seven eyes of Knowledge. Three on her face, two on her palms of her hands, and two on the soles of feet. This form of Tara is very popular in Mongolia and Nepal. In Nepal she is popularly called Sapta-lochani Tara or Seven-eyed Tara. Her long dhoti which is incised with elaborate designs, is held in place with a jewelled belt. The bare chest festooned with a plain sash and beaded necklaces. Scarves, coronet, earrings, necklaces, armbands, bracelets, anklets and belt sparkle in their celestial elegance. The face rendered with benevolent expression accentuated with downcast eyes an a gently smile, framed by a pendulous earlobes adorned with large ornate earrings. The hair pulled into a high chignon topped by a finial and secured with five-leaf crown and winged tiara. Excellent condition. The bottom of the pedestal is sealed with a bronze plate. Beautiful darkened patina. Age-related light corrosion and green oxidization. Traces of blue paint in coiffure. Size approx. 19,0cm x 11,0cm x 7,2cm. 
Provenance: Swedish private collection
View full details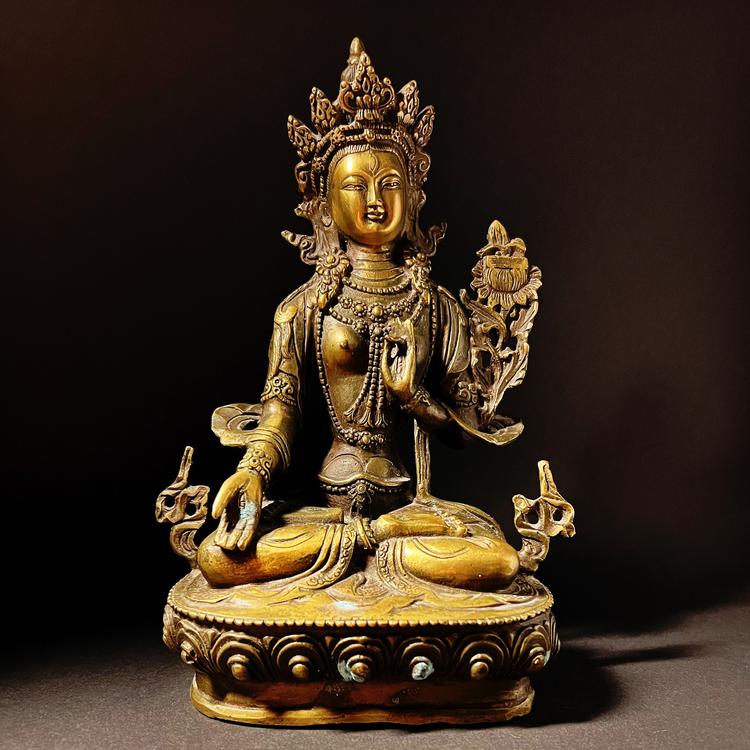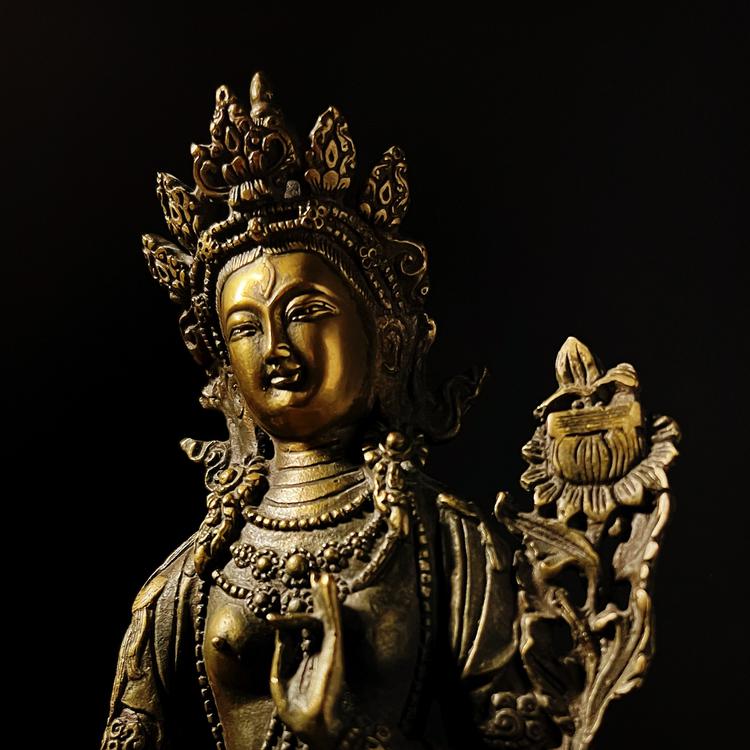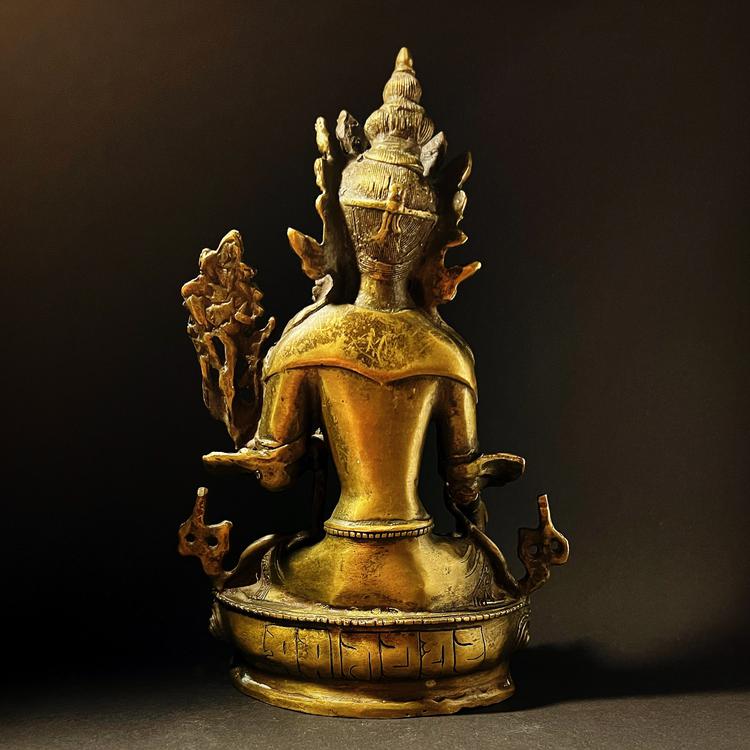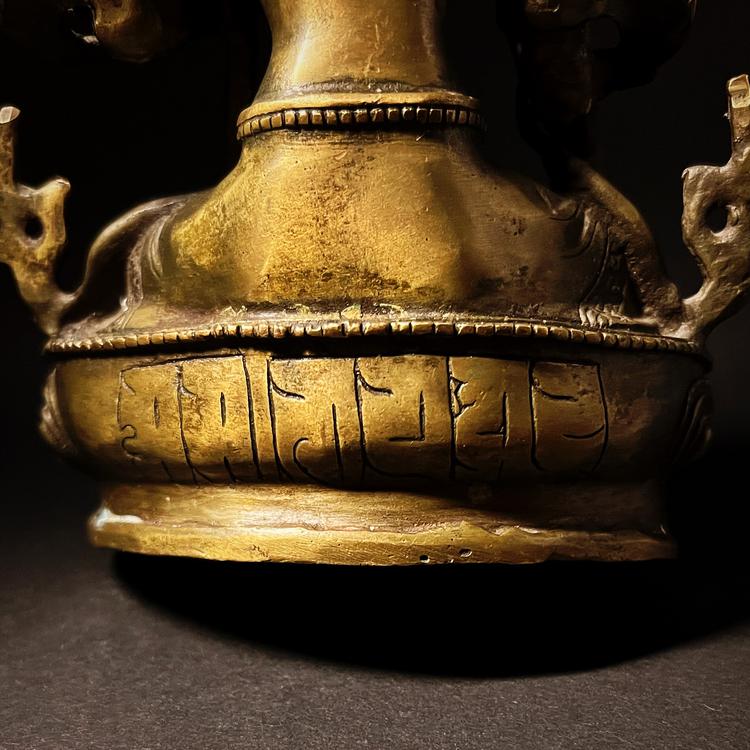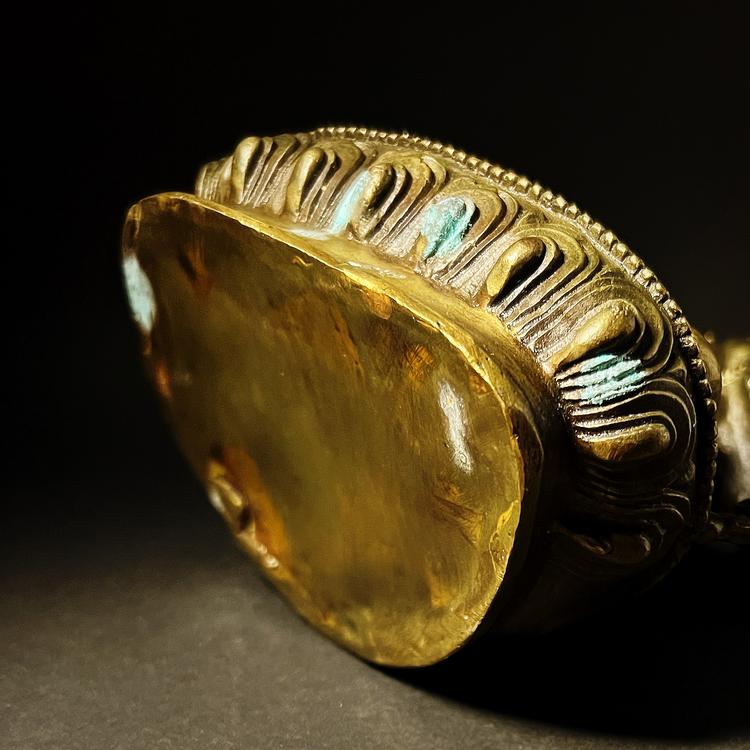 Shipping

The shipment will be prepared in the course of 3-5 days and dispatched via Posti Group Oyj or purchased item(s) can be picked up from our shop during the store's opening hours (Tarkk'ampujankatu 4, 00140, Helsinki, Finland). Within the Finland, all items are shipped via Posti Group Oyj unless otherwise requested. We pack the items carefully and mainly in recycled materials because we want to save nature. You will receive the tracking number for your items by e-mail.

Returns

Returns and exchange will be accepted within fourteen days (14) of receipt at the purchaser's cost to include freight and packaging. Items must be returned in the same condition as when they were shipped, and will not be accepted if damaged or altered in any way. Please inform us via email (info@gotanmaailma.fi) or by calling +358408408352 before sending. We do not accept returns more than 14 days after delivery.