Regular price
Sale price
$527.00
Unit price
per
Sale
Sold out
Share
19th or early 20th century, 
Nepal
Stunningly beautiful important old ceremonial holy water vessel, Bhumpa, used in Tibetan Buddhism for holding sacred water that has been blessed by the Guru. Water is most important both in Hindu and Buddhist rituals and is always present on the altar in a elegant vessel or in some other container. In Buddhism, the Bhumpa contains ambrosia (Amrita or Dutsi) the elixir of immortality, which provides long life. The presence of Bhumpa (with blessed water) also dispels negativity and wards off evil spirits. The Bhumpa has a long spout for pouring holy water to purify persons, places or objects. Bhumpas are widely used by Gurus in many types of ceremonies, from important purification rituals for new houses, monuments and holy sites, to simple blessings to protect disciples from harmful forces. Also known as ritual vase, used for holding holy water in any ritual ceremonies. During the Tantric rituals, two matching Bhumpas are usually placed on the altar. The "principal" vase (Tsoboum), contains holy water for mandala deities whose practice is accomplished, and remains upon the altar in the monastery or temple, while the second, the "action" vase (Léboum), is used for the actual pouring of water for purification during the various stages of the ritual.
Hand hammered gilt copper Bhumpa displays beautiful engraving and detailed embossed metalwork to both the raised base, the top and the spout. The sacred vessel are covered with colorful fabrics. The top part normally hold a spray of peacock feathers, symbolizing "immunity from life's poisons". Age-related heavy wear and signs of use over many years. Dents and loose parts. Partially worn out gold finish. Size approx. 16,0cm x 10,0cm x 8,0cm.

Provenance: Finnish private collection
View full details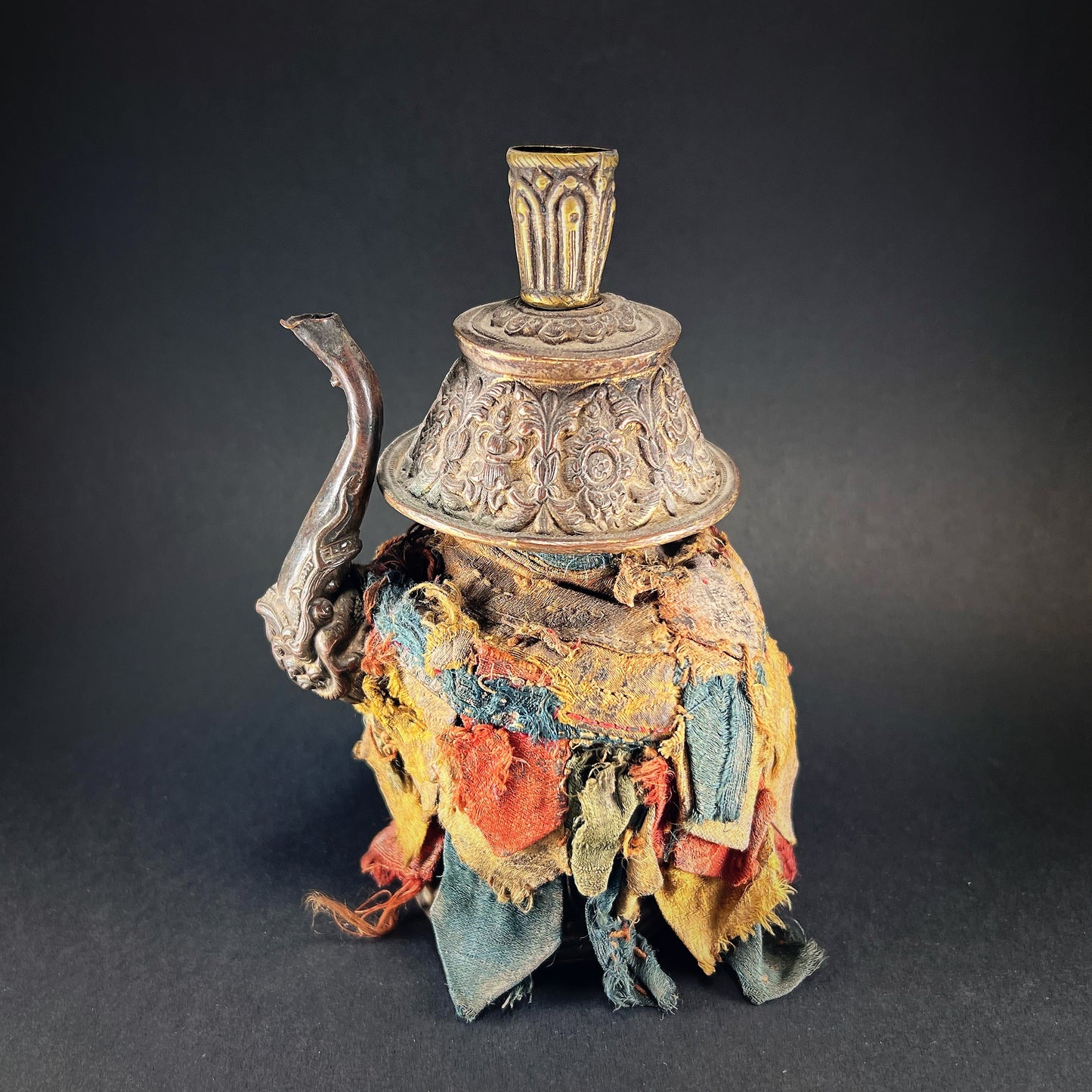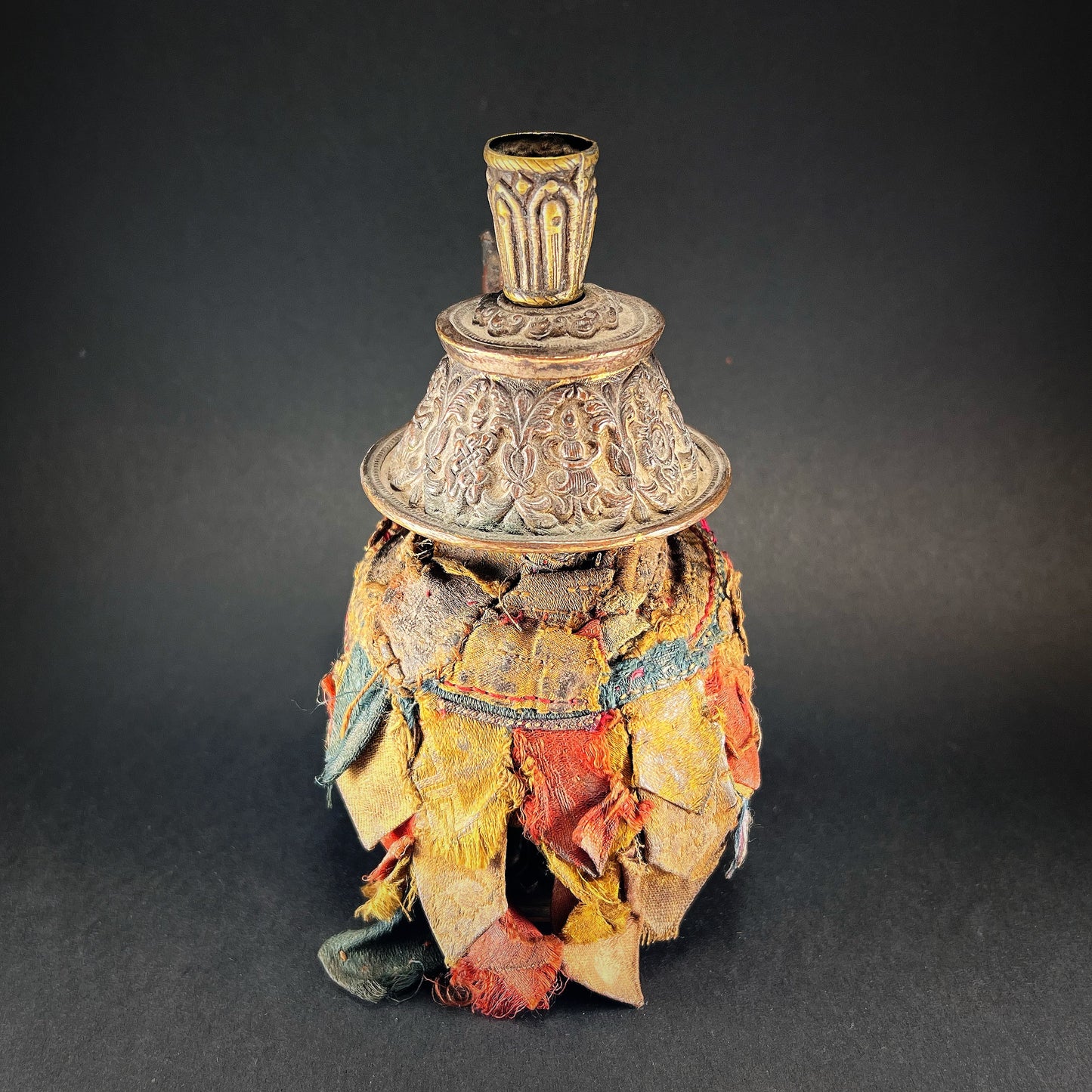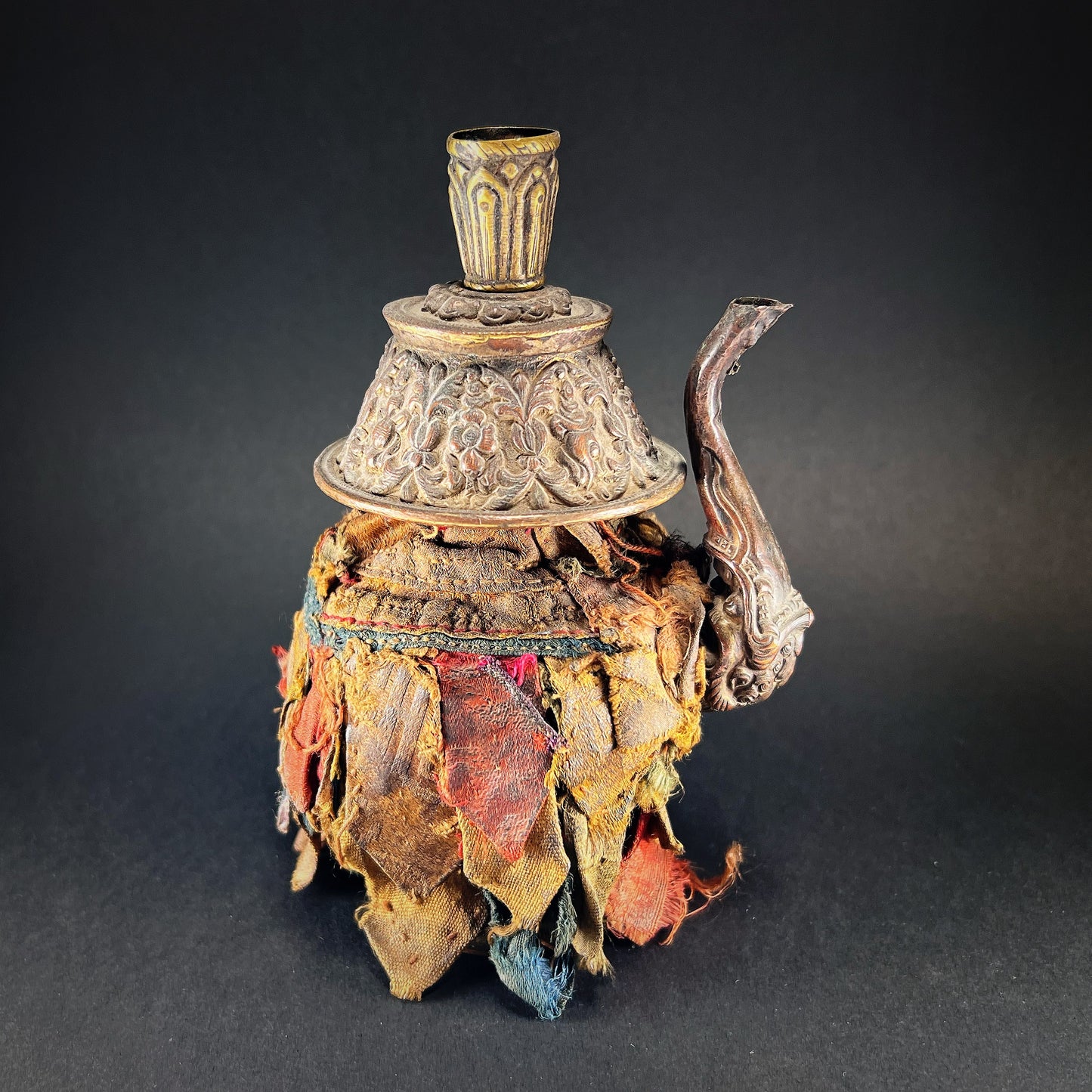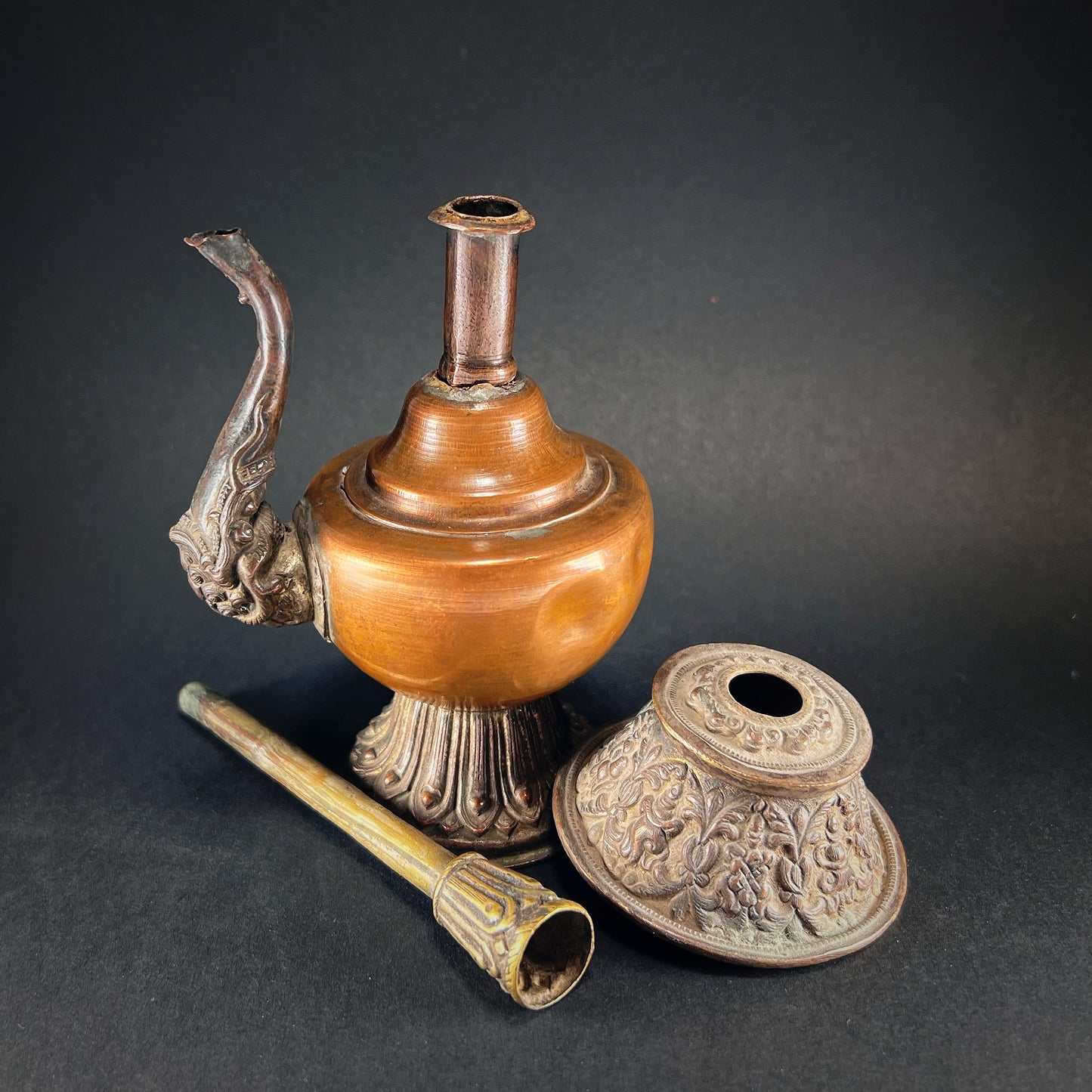 Shipping

The shipment will be prepared in the course of 3-5 days and dispatched via Posti Group Oyj or purchased item(s) can be picked up from our shop during the store's opening hours (Tarkk'ampujankatu 4, 00140, Helsinki, Finland). Within the Finland, all items are shipped via Posti Group Oyj unless otherwise requested. We pack the items carefully and mainly in recycled materials because we want to save nature. You will receive the tracking number for your items by e-mail.

Returns

Returns and exchange will be accepted within fourteen days (14) of receipt at the purchaser's cost to include freight and packaging. Items must be returned in the same condition as when they were shipped, and will not be accepted if damaged or altered in any way. Please inform us via email (info@gotanmaailma.fi) or by calling +358408408352 before sending. We do not accept returns more than 14 days after delivery.