Regular price
Sale price
$714.00
Unit price
per
Sale
Sold out
Share
Magar or Gurung people, early 20th century, Middle Hills region, Nepal.
Spectacular old wooden shamanistic ritual mask. Nepalese masks with simple design and mysterious features are classified as primitive, shamanic or rural art and are attributed to the local cultures of the Middle Hills Region (Magar, Gurung, Tamang or Rai). Their original use has certainly been lost since the beginning of the last century and it is not known whether these faces were those of ancestors, demons or theater characters. Shamans and special dancers perform with masks and costumes during ceremonies, theatrical performances and dances. Masks deformed, irregular and exaggerated features meant both to surprise and disturb. When hung in a house, the mask serves a protective function. The Gurungs are a hill people living on the southern slopes of the Himalayan Mountains in central Nepal. In their own language, they call themselves "Tamu" (Ta means thunder, when mu symbolizes sky).
Gurung religion is thus a mix of Buddhism, Hinduism, and local animistic practises. In addition, their world is inhabited by numerous local godlings, village deities, spirits, supernatural creatures of the forest etc. Local animist shamans (called Panju and Klihbri) have the responsibility of dealing with this aspect of Gurung religion. The Magar are one of the oldest known tribes in Nepal, living mainly on the western and southern flanks of the country's north-central Dhaulagiri mountain massif. Magars are separated into the many groups (clans), such as the Ale, Buda/Budathoki, Gharti, Pun, Rana, Pulami, Darlami, Pithakote, Khapangi, Roka, and Thapa etc. Each tribe is subdivided into many sub-clans. Magars follows Buddhism, Bon, and minority follows Hinduism. They worship nature, idols, spirits, and supernatural beings. The class of deities named jhankri (male) and jahkreini (female) are notable exceptions. From the perspective of their faith system, they are worshipers of nature or as animists. The Magar and Gurung people use very similar masks for identical purposes.
Fantastic Middle Hills mask of long triangular form with coarse surface structure. A simple flat design with a harmonious and powerful symmetry with the rectangular shapes of the prominent forehead, cheeks and nose. Open mouth reveals singular carved teeth. Small ears. Excellent condition. Blackish brown patina. Traces of black soot and resin. Age-related wear and signs of use over many years. Size approx. 36,0cm x 22,0cm x 4,0cm.

Provenance: Finnish private collection
References and further reading:

Magar, Encyclopedia of World Cultures, Encylopedia.com.(https://www.encyclopedia.com/humanities/encyclopedias-almanacs-transcripts-and-maps/magar)
The Gurungs, Thunder of Himal: A Cross Cultural Study of a Nepalese Ethnic Group, Murārīprasāda Regmī, University of Michigan: Nirala Publications, 1990.
Journal of the Asiatic Society of Bengal, Bishop's College Press, 1895
View full details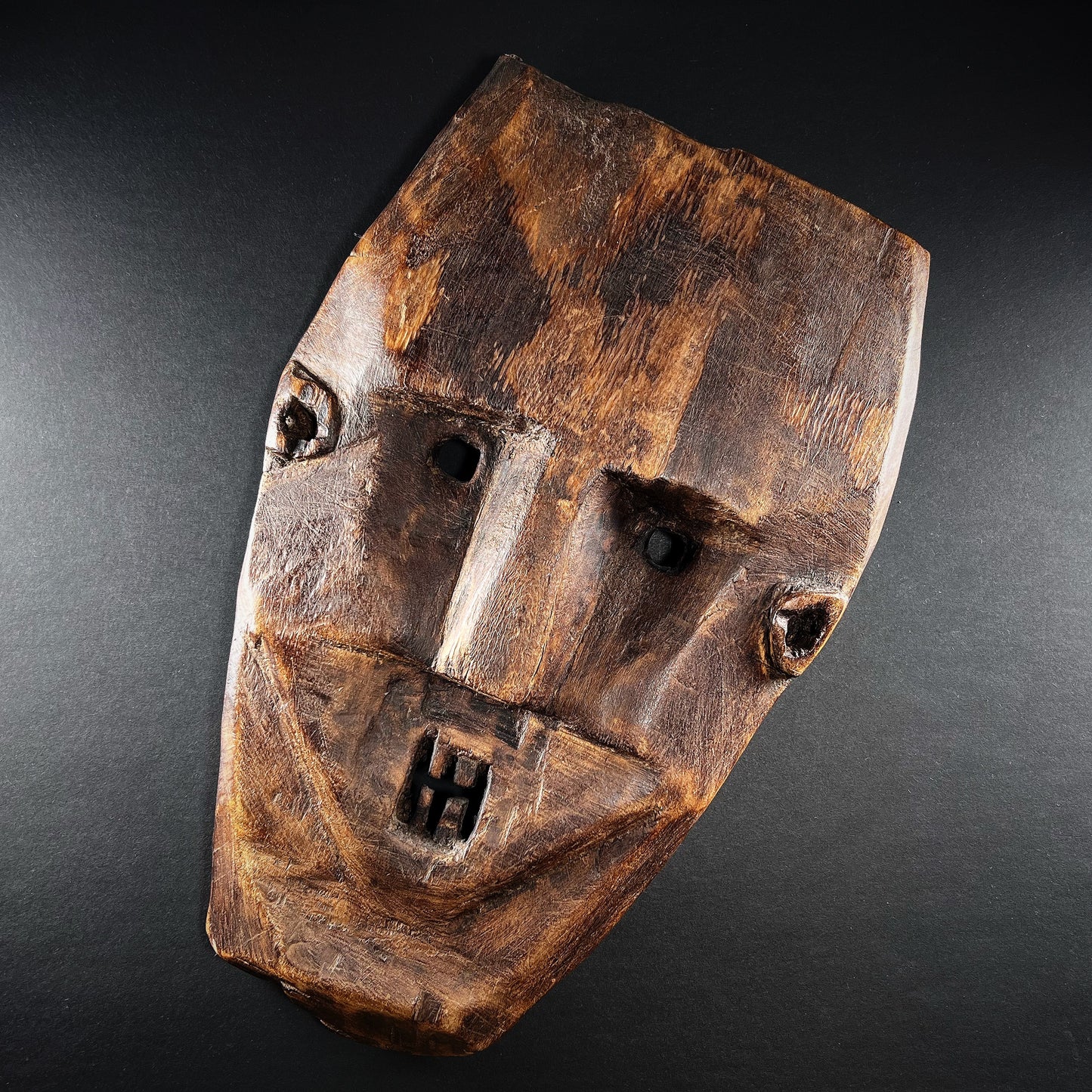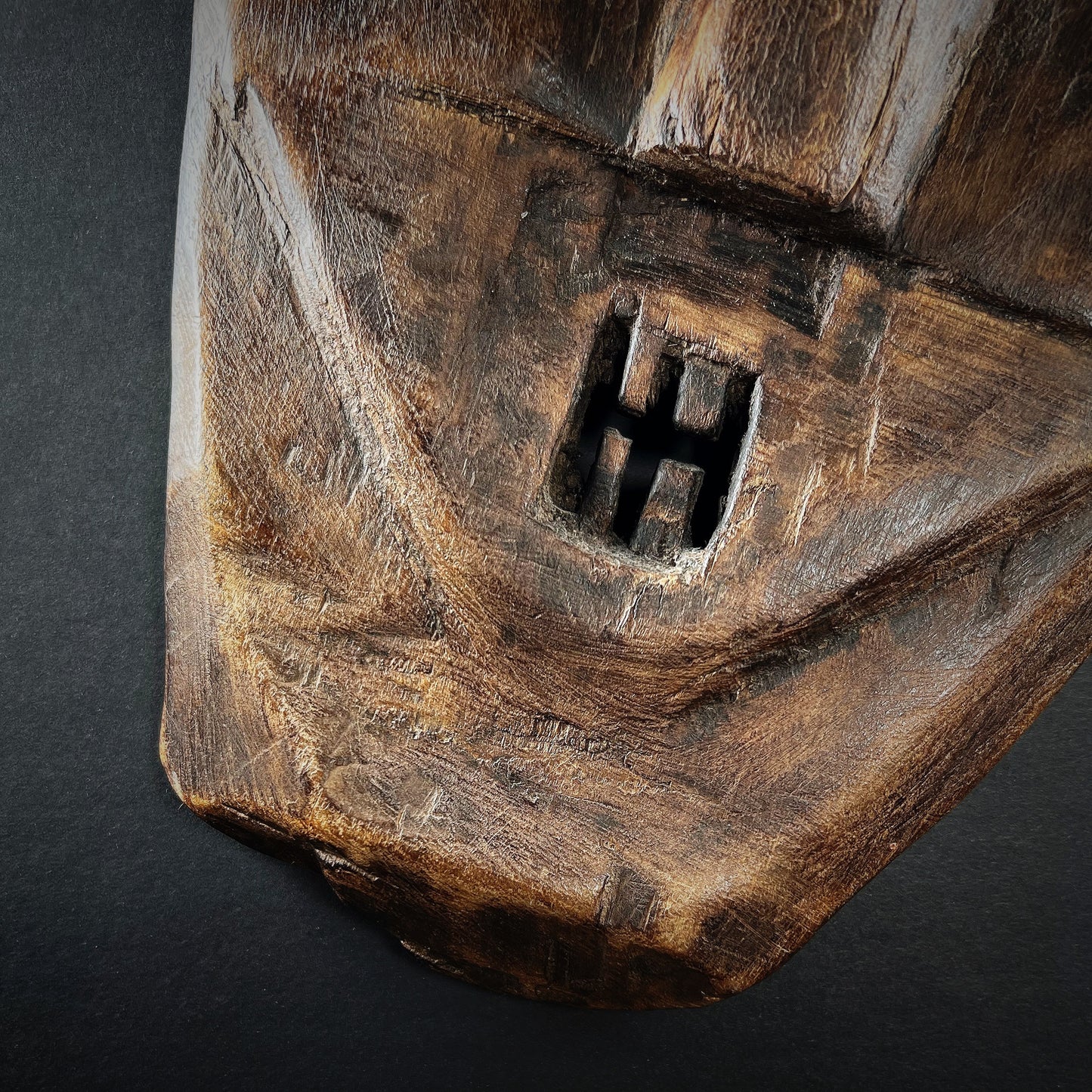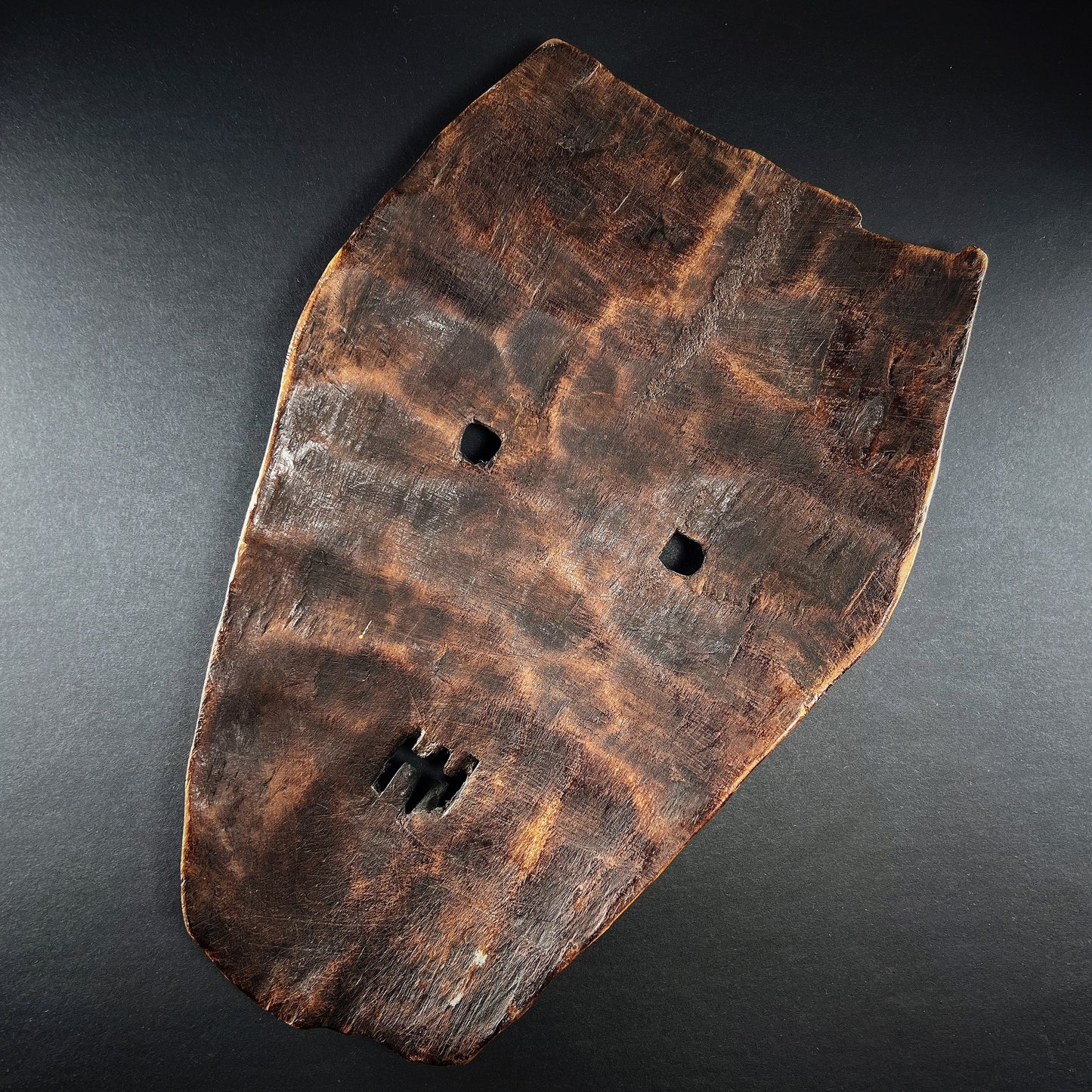 Shipping

The shipment will be prepared in the course of 3-5 days and dispatched via Posti Group Oyj or purchased item(s) can be picked up from our shop during the store's opening hours (Tarkk'ampujankatu 4, 00140, Helsinki, Finland). Within the Finland, all items are shipped via Posti Group Oyj unless otherwise requested. We pack the items carefully and mainly in recycled materials because we want to save nature. You will receive the tracking number for your items by e-mail.

Returns

Returns and exchange will be accepted within fourteen days (14) of receipt at the purchaser's cost to include freight and packaging. Items must be returned in the same condition as when they were shipped, and will not be accepted if damaged or altered in any way. Please inform us via email (info@gotanmaailma.fi) or by calling +358408408352 before sending. We do not accept returns more than 14 days after delivery.