Regular price
Sale price
$1,044.00
Unit price
per
Sale
Sold out
Share
Ogoni people, 20th century, Nigeria, West Africa
Impressive helmet mask Elu. The elu is an old form of a spirit mask. Because of its light pigmentation and Westernized cap, it may represent a foreigner or European, though this is relatively rare amongst the Ogoni. The Ogoni are a minority ethnic people who live in the Western Niger Delta Region of southern Nigeria. Ogoniland, as this area is known, is to the northeast of the Imo River, and the city of Port Harcourt in Rivers State lies to the west. The Ogoniland consists of six kingdoms: Babbe, Eleme, Gokana, Tai, Ken-Khana and Nyo-Khana. The Ogoni believe in the existence of a supreme being, Bari (also called Obari-Eleme) are "the creator of Heaven and Earth". He is also giver of the laws that operate in the universe, and for fear of being punished, people try to observe the taboos of the land. Also, various groups in different villages and towns worship other more immediate gods and ancestral spirits. There are also traditional secret male societies, the most important is the Amnikpo, a society which represents the power of ancestral spirits and uses puppets. Despite the efforts of Christian missionaries, the Ogoni have retained a vital, regionally varied masquerading activity that is deeply rooted in their own tradition and in part adopted from neighboring ethnic groups like Ibibio or Ijo. 
Ogoni mask dances serve a great variety of functions, which, depending on the region, can extend from pure entertainment to participation in funeral services and harvest festivals, all the way to the implementation of judical verdicts. Some of the masks are reserved for members of secret societies. The masks of wild animals are danced, acrobatically, on the occasion of agrarian rituals. The Ogoni people believe that the soul of every human being has ability to leave its human form and enter into that of an animal, taking shape of that animal.
Imposing large mask is carved from single piece of wood. Hinged movable jaw with teeths made of wooden sticks and inserted in the lower jaw. Lower jaw are attached to upper by textile stripes on each side. The hinged jaw causes the mask's mouth to open and close during the dance with clicking sound. Semicircular disc like ears protude from sides of face. Traditional scarfication marks of geometrically incised designs appear on forehead, cheeks and temples. Painted with black, red and white color. In many African societies, the white color are associated with the spirit world or death. Excellent condition. Age-related wear, minor fractures and cracks. Beautiful encrusted patina. Signs of use. Size approx. 36,0cm x 25,0cm x 18,0cm.
Provenance: Finnish private collection
References and further reading:
The value of Ogoni traditional religion, Paul B.Badey, European Journal of Academic Research Vol 2, No.1, 2014, 11-16. 
The Ogoni of Nigeria, A. Olu Oyinlade & Jeffery M. Vincent, Anthropology Faculty Publications, University of Nebraska - Lincoln, 2002.
View full details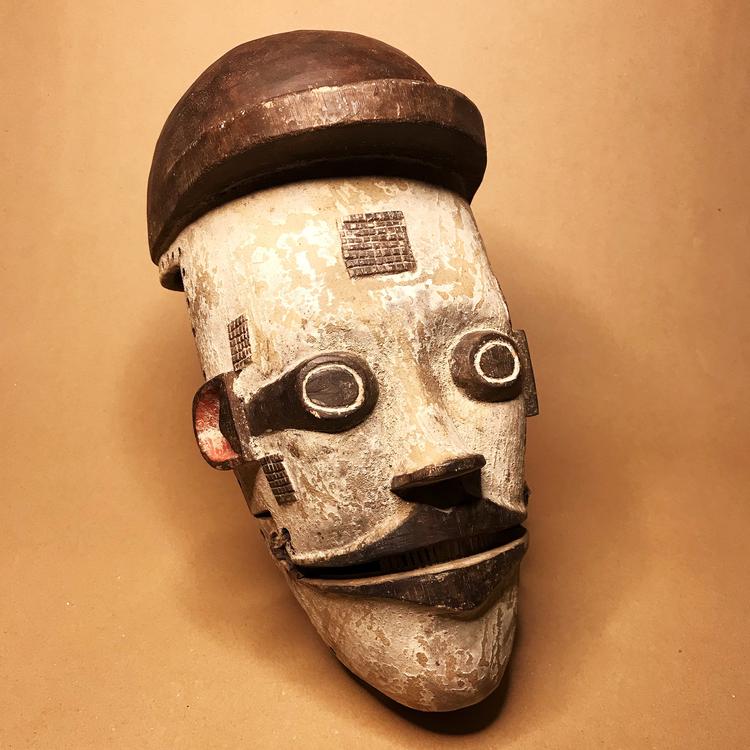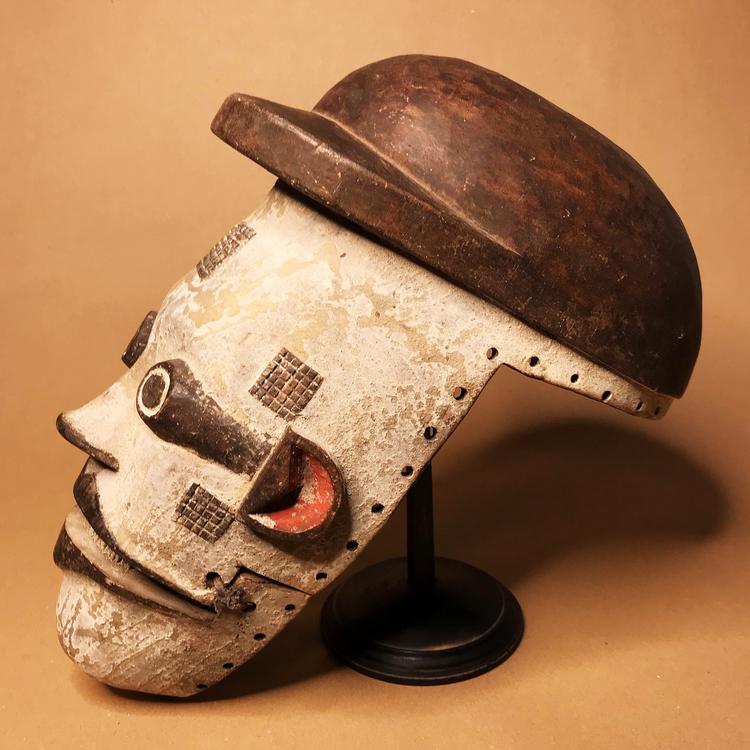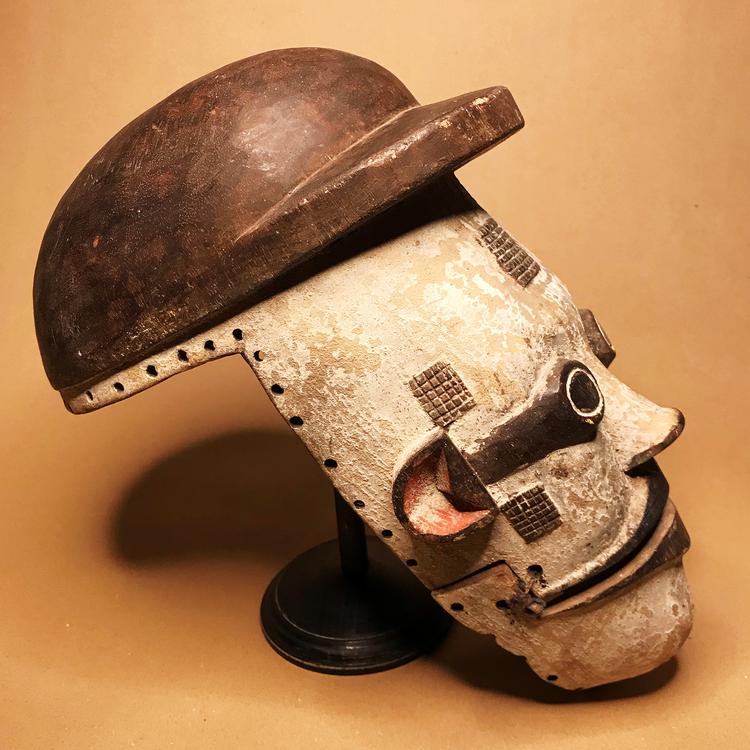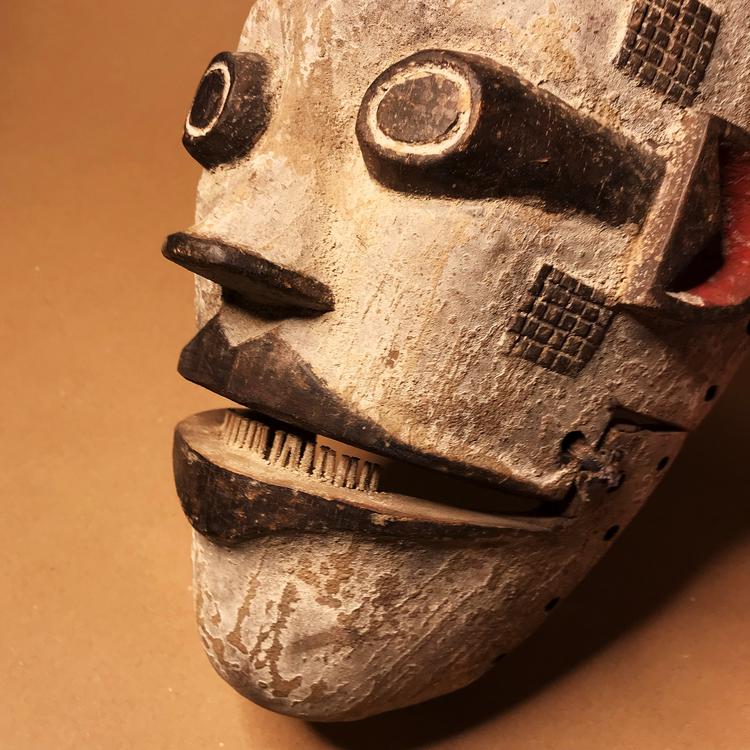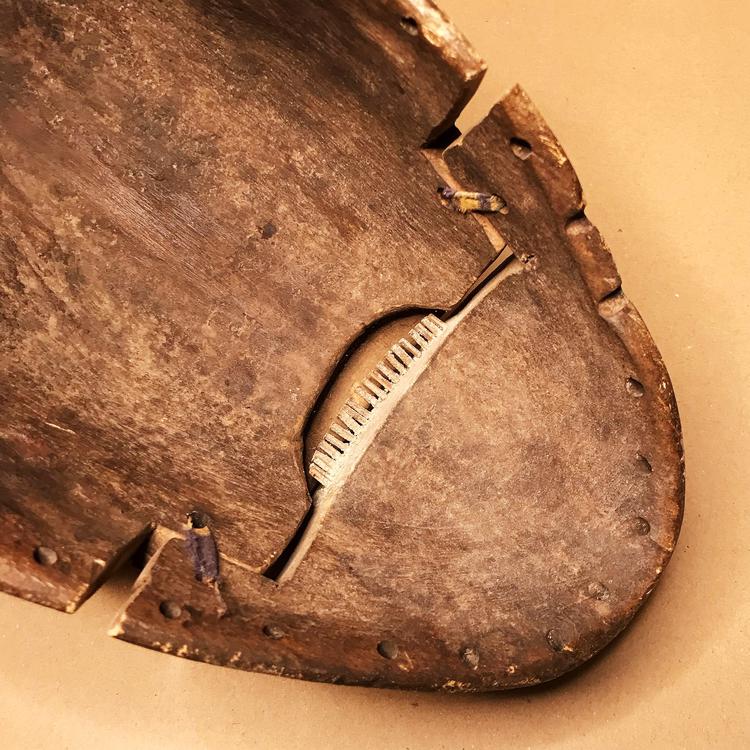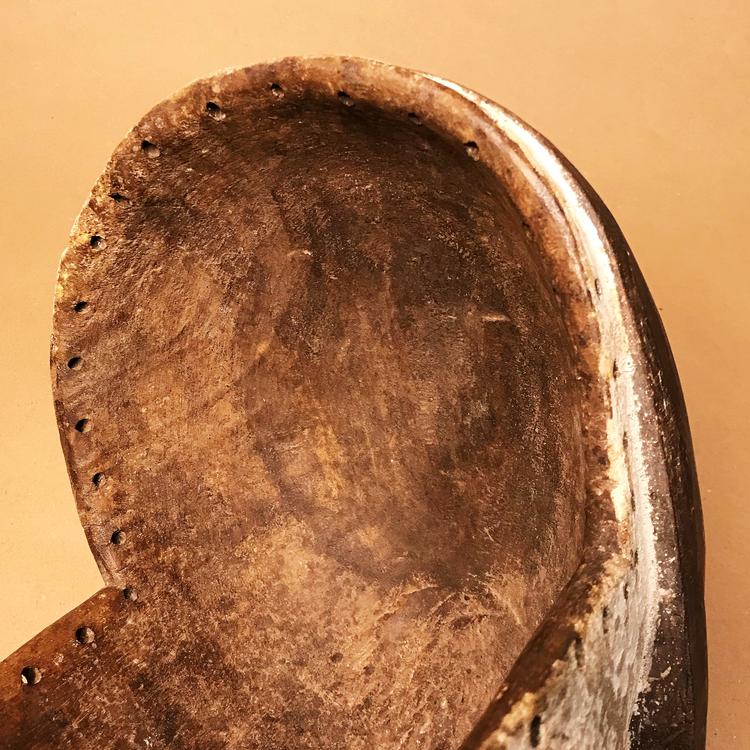 Shipping

The shipment will be prepared in the course of 3-5 days and dispatched via Posti Group Oyj or purchased item(s) can be picked up from our shop during the store's opening hours (Tarkk'ampujankatu 4, 00140, Helsinki, Finland). Within the Finland, all items are shipped via Posti Group Oyj unless otherwise requested. We pack the items carefully and mainly in recycled materials because we want to save nature. You will receive the tracking number for your items by e-mail.

Returns

Returns and exchange will be accepted within fourteen days (14) of receipt at the purchaser's cost to include freight and packaging. Items must be returned in the same condition as when they were shipped, and will not be accepted if damaged or altered in any way. Please inform us via email (info@gotanmaailma.fi) or by calling +358408408352 before sending. We do not accept returns more than 14 days after delivery.