Regular price
Sale price
$714.00
Unit price
per
Sale
Sold out
Share
The Ottoman Empire, early 19th century, Turkey
Absolutely stunning pair of hammam clogs carved from hard wood (possibly walnut or olive), decorated with ornamental inlaying with mother-of-pearl and silver threads. The Ottoman Empire, or Ottoman Sultanate, also known as the Turkish Empire, was a Turkic imperial state between the c. 1299-1922 (years 1922-1924 as caliphate only). 
Bathing clogs (qabqab or nalin) were worn during traditional Turkish bathing rituals, ceremonies and the daily personal cleansing activities during the Ottoman period Turkey. Such clogs were designed for a wealthy woman so that when worn she would be elevated above hot, wet and dirty floor. Walking however, required the assistance of an attendant, because of the wet and slippery surfaces. The various heights of the Nalin represented the hierarchy in society. Their Arabic name "qabqab" derives from the sound they made when they were being used. The base of the qabqab was carved out of hard woods such as plane, walnut, box, ebony or sandalwood and embellished with silver, mother-of-pearl, gold, tortoise shell, bone etc. The strap of qabqab, attached to the wooden sole, which wrapped over user's foot, was made out fabric or leather and decorated with valuable stones, pearls, gilded silver thread and embroidery.
Fantastic pair of antique bathing clogs are in good condition. The leather strap is covered in embroidered green fabric. Few missing mother-of-pearl inlays (4 pieces total). The fabric covering to the straps is bit frayed. Age-related wear, wormholes and minimal imperfections. Size approx. 12,0cm x 23,5cm x 16,0cm. 
NB! For a similar examples see:
The British Museum, London, United Kingdom, Accession Number: 1553.a-b (https://islamicworld.britishmuseum.org/collection/RRM190209)
The Metropolitan Museum of Art, New York, Accession Number: 2011.24a, b (https://www.metmuseum.org/art/collection/search/162816)
Victoria and Albert Museum, London, United Kingdom, Accession Number: 1020-1869 (https://collections.vam.ac.uk/item/O355147/pair-of-pattens/)
References and further reading:
Ottoman Empire, Syed Muhammad Khan, World History Encyclopedia. Last modified August 24, 2020. (https://www.worldhistory.org/Ottoman_Empire/)
Shaw, Stanford Jay and Yapp, Malcolm Edward. "Ottoman Empire". Encyclopedia Britannica, 30 Nov. 2022. (https://www.britannica.com/place/Ottoman-Empire.)
The Ottoman Empire, Eman M. Elshaikh, Khan Academy.
Istanbul: The City and the Sultan, Marlies Kleiterp & Charlotte Huygens, Published by De Nieuwe Kerk, Amsterdam, 2007.
View full details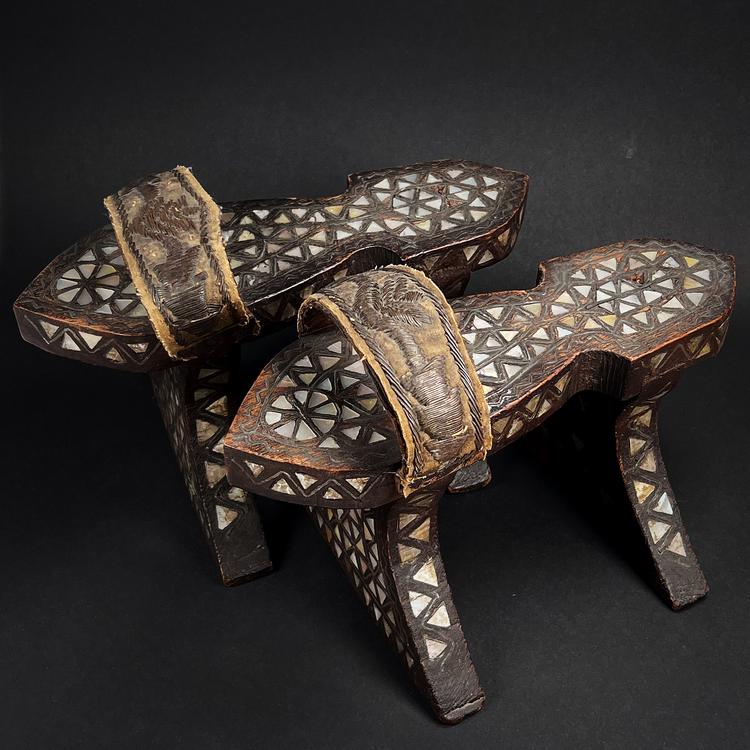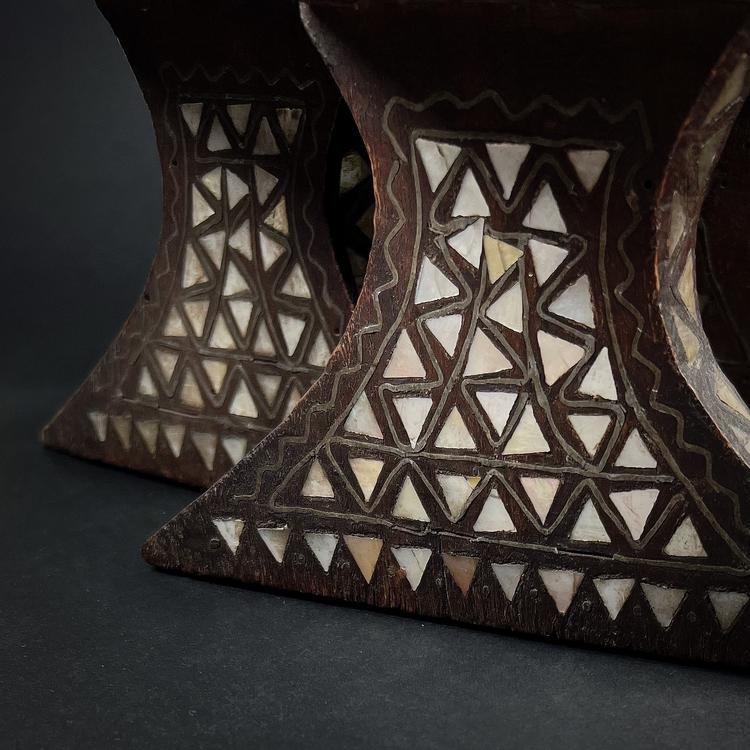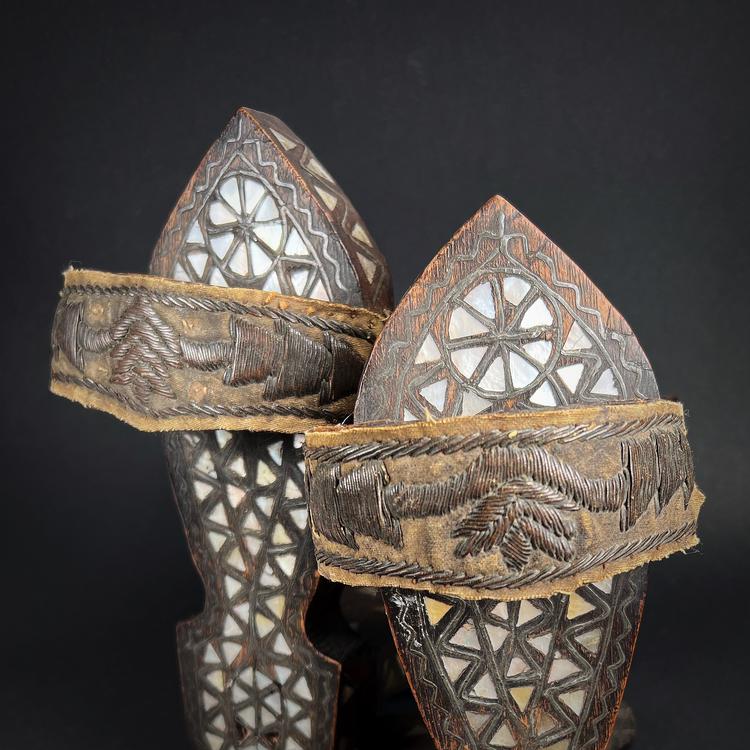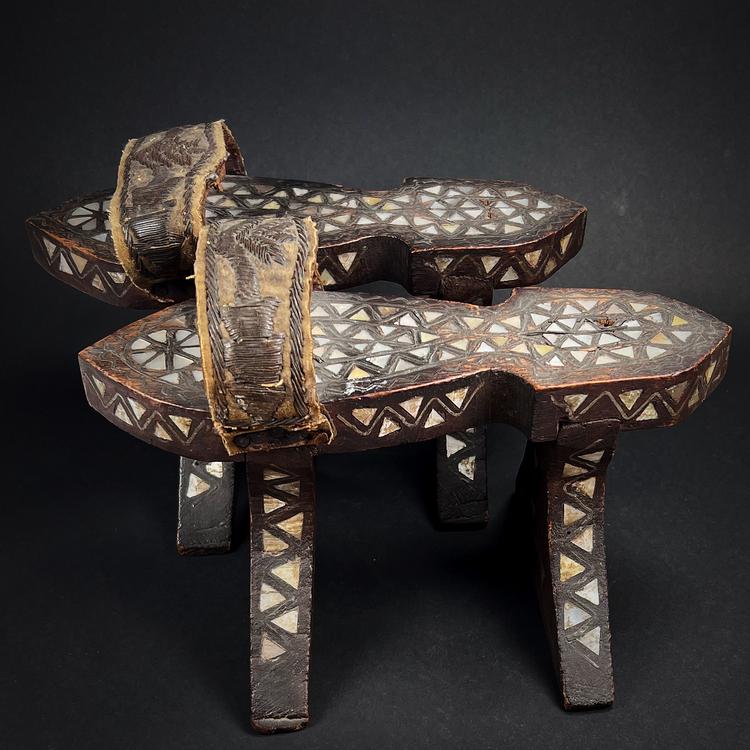 Shipping

The shipment will be prepared in the course of 3-5 days and dispatched via Posti Group Oyj or purchased item(s) can be picked up from our shop during the store's opening hours (Tarkk'ampujankatu 4, 00140, Helsinki, Finland). Within the Finland, all items are shipped via Posti Group Oyj unless otherwise requested. We pack the items carefully and mainly in recycled materials because we want to save nature. You will receive the tracking number for your items by e-mail.

Returns

Returns and exchange will be accepted within fourteen days (14) of receipt at the purchaser's cost to include freight and packaging. Items must be returned in the same condition as when they were shipped, and will not be accepted if damaged or altered in any way. Please inform us via email (info@gotanmaailma.fi) or by calling +358408408352 before sending. We do not accept returns more than 14 days after delivery.