Regular price
Sale price
$121.00
Unit price
per
Sale
Sold out
Share
The Roman Empire, c. 100-200AD.
Fascinating Roman era glass bottle. The Romans began the modernization of glass-making over 2000 years ago. The word glass (Latin vitrum) developed in the Roman Empire possibly at Trier, Germany. Ancient Roman glass can be classified as soda-lime glass. It was made from silicon, sodium and calcium oxides, with the addition of potassium, magnesium and aluminium oxides. Glassmakers would also use colorants if they wanted the glass to have a specific color. Copper was used to make turquoise to light blue, green, or red colored glass. Cobalt made glass deep dark blue. Manganese and antimony were used to make the glass yellow, white, and purple. Iron was used to make a light blue, green, brown and black color. The wide array of colors were chosen to to mimic the colors of precious gemstones, such as lapis lazuli, amethyst, and turquoise.
These often narrow long-necked bottles are called unguentaria (also referred to as Unguentarium, Balsamarium or Lacrimarium) and were probably used as a container for oils and lotions, though it is also suited for storing and dispensing other liquid and powdered substances. While unguentaria often appears among the grave goods, the purpose of their inclusion has not been derermined with centainty. Although the unguentaria seems often to been buried along with other objects associated with or treasured by the deceased or as a grave gift, they may have also have held substance, such as oil, wine, or powdered incense, for graveside ritual.
The form of this bottle was widely popular throughout the Roman Empire and occurs on many sites from the end of the first century to the beginning of the fourth. Beautiful  unguentarium bottle are in moderate condition. A piriform body and tubular long neck with slight constriction, and an everted rim with an in-folded lip. Gorgeous patina and age-related heavy wear occur. Repaired. Fragments missing. The surface of the exterior and interior is calcified and encrusted with minerals over the years. Bottle has a stunning colour that varying from pale green to light seafoam green. Size approx. 10,8cm x 1,3cm. 
Provenance: From the collection of painter and tv producer Ole Braunstein (1917–1999). Donee of the Høyen Prize in 1984.
View full details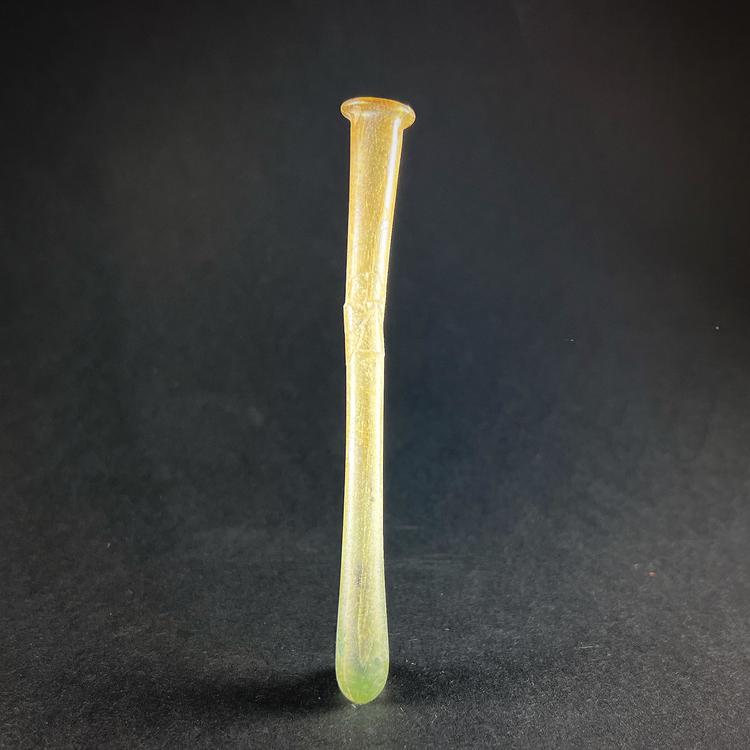 Shipping

The shipment will be prepared in the course of 3-5 days and dispatched via Posti Group Oyj or purchased item(s) can be picked up from our shop during the store's opening hours (Tarkk'ampujankatu 4, 00140, Helsinki, Finland). Within the Finland, all items are shipped via Posti Group Oyj unless otherwise requested. We pack the items carefully and mainly in recycled materials because we want to save nature. You will receive the tracking number for your items by e-mail.

Returns

Returns and exchange will be accepted within fourteen days (14) of receipt at the purchaser's cost to include freight and packaging. Items must be returned in the same condition as when they were shipped, and will not be accepted if damaged or altered in any way. Please inform us via email (info@gotanmaailma.fi) or by calling +358408408352 before sending. We do not accept returns more than 14 days after delivery.