Regular price
Sale price
$1,263.00
Unit price
per
Sale
Sold out
Share
Rattanakosin Kingdom, late 19th century, Bangkok, Thailand.
Mesmerizing Thai Rattanakosin Period lacquered and gilt cast bronze figure of the Buddha dressed as a prince, wearing long monastic robes and elaborate jewel encrusted necklaces. Over his dressing gown, he wears the regalia of Thai kings, with a heavy cape, diamond shaped pectoral, and a winged crown upon his head, all with studded designs in high relief, imitating heavy embroidery. It is decorated with leaping flame (kranok) elements, for example such elements leap from the knees, from the ears, and from the shoulders. Buddha sits in heroic posture (virasana) when his left hand rests gently on his lap whilst the right hand is in the earth-touching gesture (bhumisparsha mudra). 
The face showing a meditative expression with downcast eyes, arched eyebrows, and a subtle smile, flanked by long earlobes, the hair tightly arranged in small spikes. A tall and narrow spire shaped finial tops the ushnisha rising from the top of his head. Most Buddha images have a cranial protuberance but as with the case with the example here, those of the second-half of the nineteenth century sometimes lack them. This practice arose in the reign of King Rama IV (1851-1868) during which the Kingdom became more exposed to European influence and there was an attempt to humanize the Buddha. Instead of the protuberance, there is a spired crown.
The buddha sits upon a high, stepped, three tiered trapezoidal platform. The top tier with a draped frontal "cloth". The back of the platform with two loops to hold a canopy, now missing. Red and black lacquer decoration. Hollow cast in one piece. Age-related wear. Good condition. Heavy wear to gilding. Beautiful patina. Size approx. 33,5cm x 20,5cm x 9,0cm. 
Provenance: Swedish private collection
View full details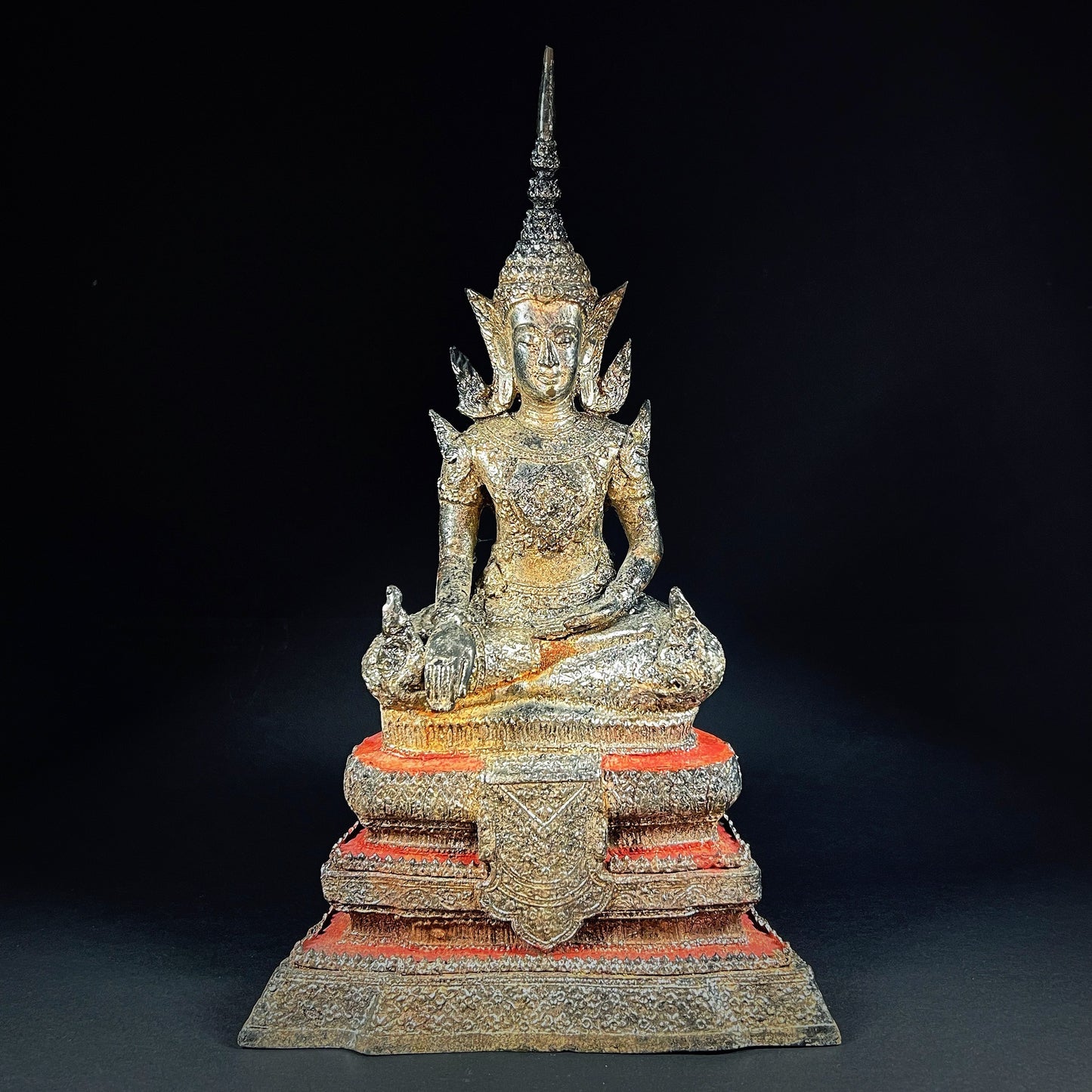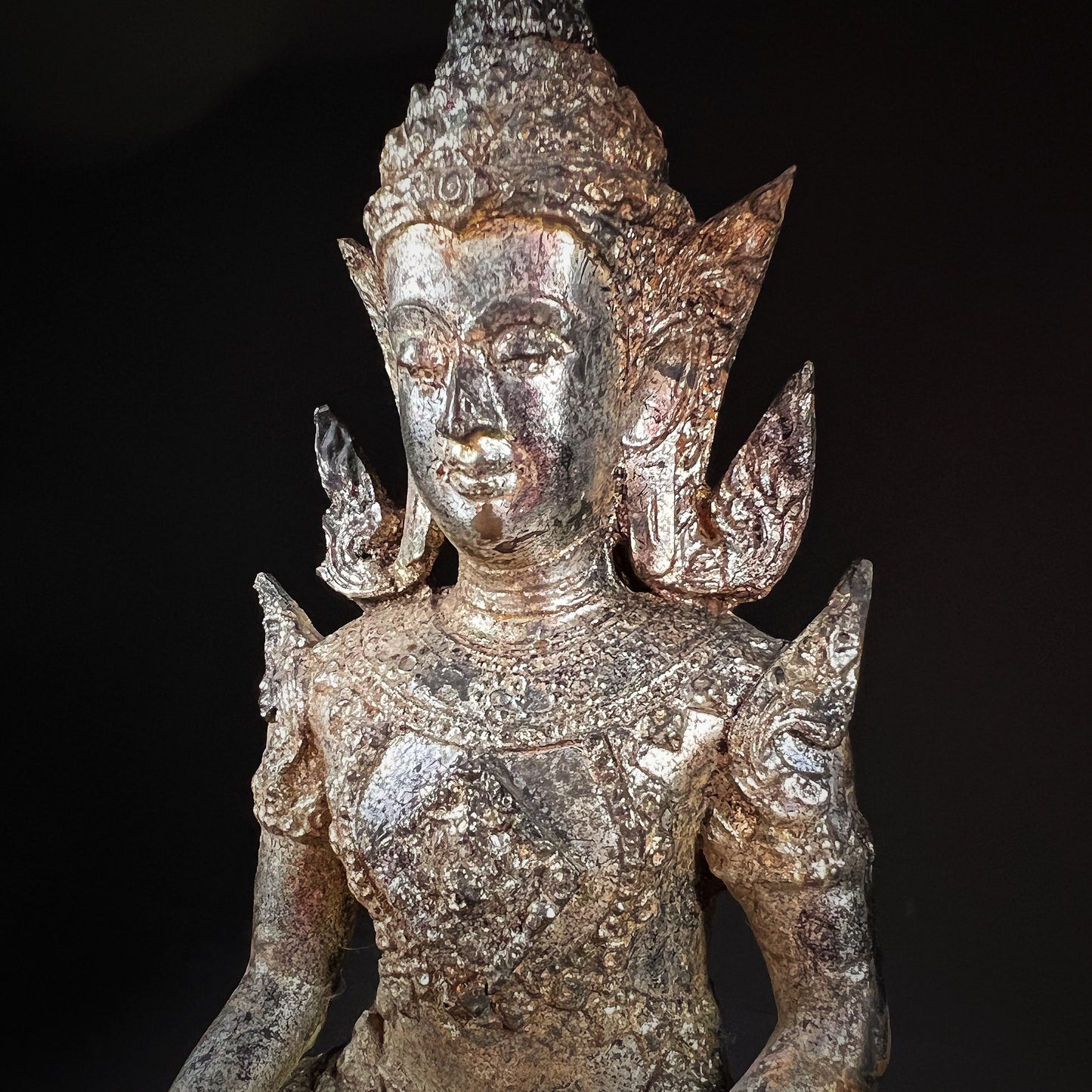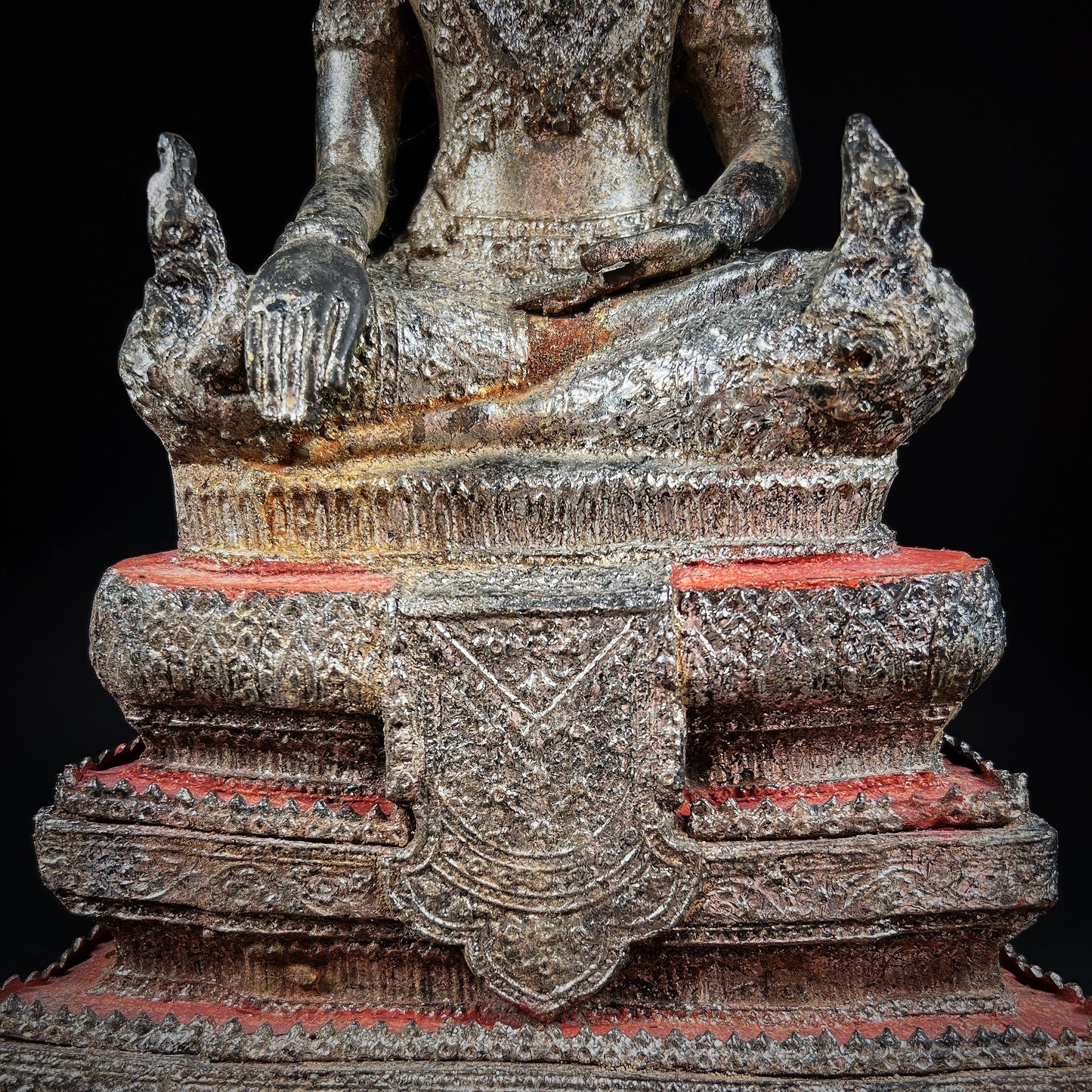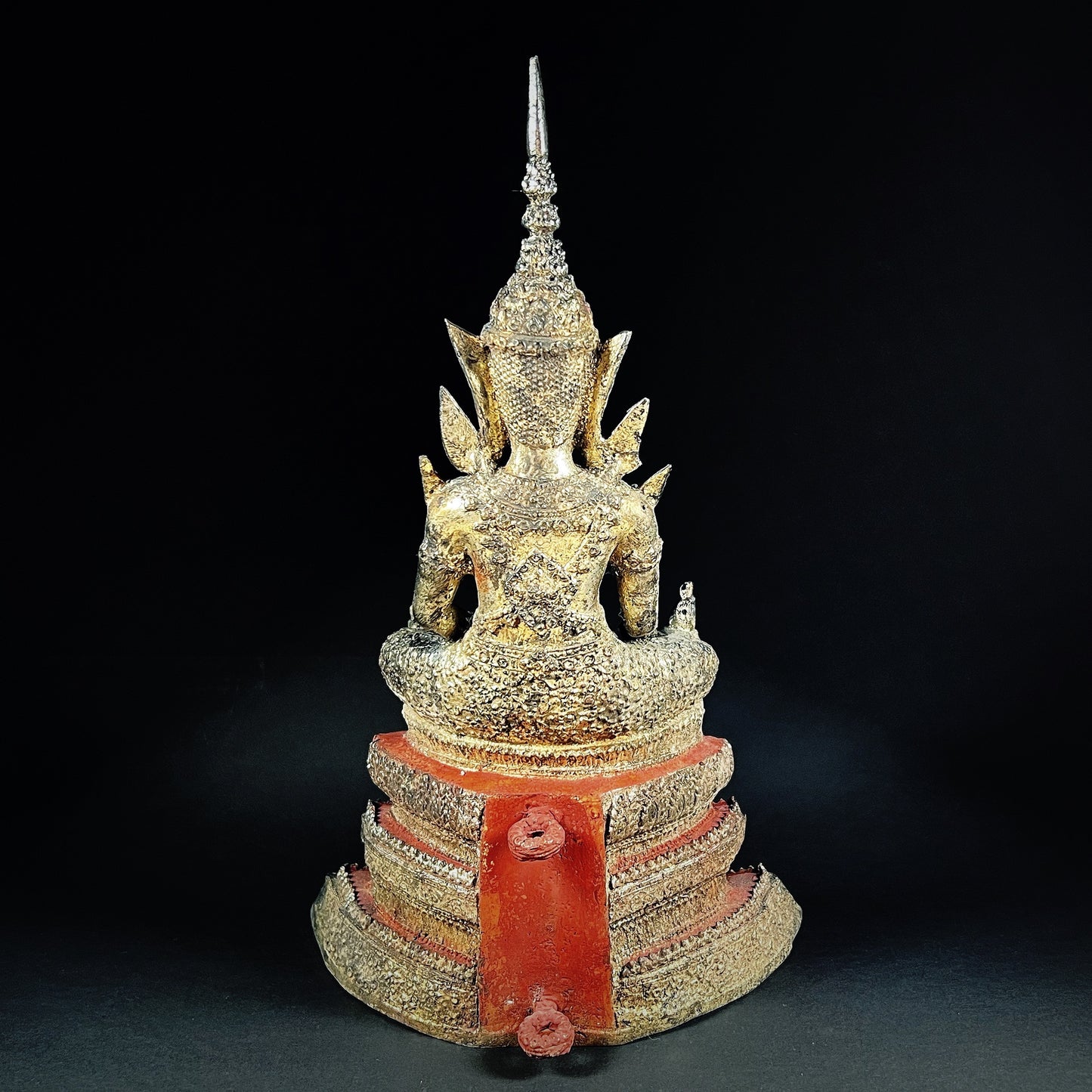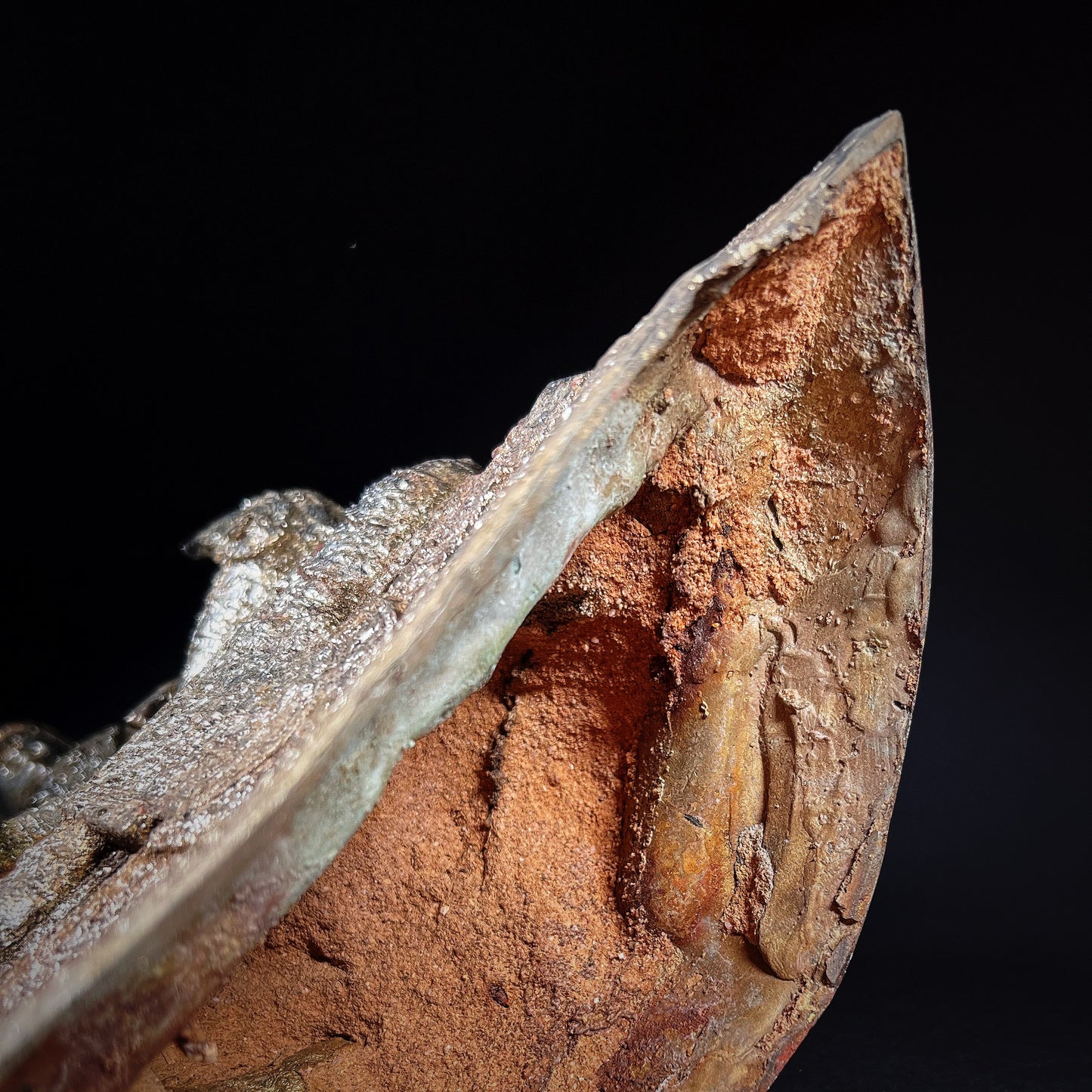 Shipping

The shipment will be prepared in the course of 3-5 days and dispatched via Posti Group Oyj or purchased item(s) can be picked up from our shop during the store's opening hours (Tarkk'ampujankatu 4, 00140, Helsinki, Finland). Within the Finland, all items are shipped via Posti Group Oyj unless otherwise requested. We pack the items carefully and mainly in recycled materials because we want to save nature. You will receive the tracking number for your items by e-mail.

Returns

Returns and exchange will be accepted within fourteen days (14) of receipt at the purchaser's cost to include freight and packaging. Items must be returned in the same condition as when they were shipped, and will not be accepted if damaged or altered in any way. Please inform us via email (info@gotanmaailma.fi) or by calling +358408408352 before sending. We do not accept returns more than 14 days after delivery.