Regular price
Sale price
$418.00
Unit price
per
Sale
Sold out
Share
Early 19th century, Ghana, West Africa.
Superb strand of early 19th century Venetian three layer hand inlaid White Heart beads with small-sized black Venetian beads. Trade beads are beads that were used as a medium of barter within and amongst communities. They are considered to be one of the earliest forms of trade between members of the human race. It has also been surmised that bead trading was one of the reasons why humans developed language. History of African Trade beads dates to the 15th century when Portuguese trading ships arrived on the coast of the West Africa. The glass beads and other trade items were exchange for gold, ivory, palm oil and, for slaves. At that time glass beads were major part of the currency exchanged for people and products. The production of trade beads became so popular that literally tons of these beads were used to this purpose. Beads were used even as ballast in trade ships for the outbound trip. Of all the beads being traded in Africa the Venetian beads made in Murano dominated the market. There were as many as 17 factories in Murano, exporting hundreds of tons of beads per year.
The beads proved to be a cheap and efficient trading currency, especially since there were already well-known glass bead making factories in Venice, Bohemia and the Netherlands, that just increased their production as a result of the growing African demand. The success of this form currency can largely be attributed to the high intrinsic value African people put upon decorative items. Glassmaking was not common in Africa. Africans used beads for currency, wealth storage and for the symbol of the social status. Certain beads were manufactured in Europe specifically for the African trade. Researchers travelled to Africa to establish what colour schemes and bead types would be favoured by a specific ethnic group. Although there was hundreds of designs, some of them were particularly popular. Millefiori, chevron (rosetta), lewis & clark, vaseline, striped melon, and eye beads were some of the more popular kinds. Padre beads were adopted by the pastoralist tribes of East Africa for their collars and were imported from Germany and Czechoslovakia. Trade beads were used as a currency until the end of the 19th century. After that they took on new roles within West African society primarily with respect to their aesthetic value. The quality, quantitity, and the style of glass beads one possesses, or wears, shows one's importance and wealth in Ghanaian and West African society. 
Beads are in good condition. A fine rich red color. Hemp string is modern. Beads have beautiful old patina with some chips & digs. Traces of handling and wearing over many years. Strand are c. 66,0cm long with 78 unique glass beads.
Provenance: Finnish private collection
References and further reading:
A Brief History of Glass Beads in Africa, African Odyssey (https://www.africanodyssey.co.uk/blog/a-brief-history-of-glass-beads-in-africa)
The BeadSite. (http://www.thebeadsite.com/welcome.html)
Collectible Beads: A Universal Aesthetic, Robert K. Liu, Ornament, Inc., 1995.

African Odyssey, A Brief History of Glass Beads in Africa.(https://www.africanodyssey.co.uk/blog/a-brief-history-of-glass-beads-in-africa)
View full details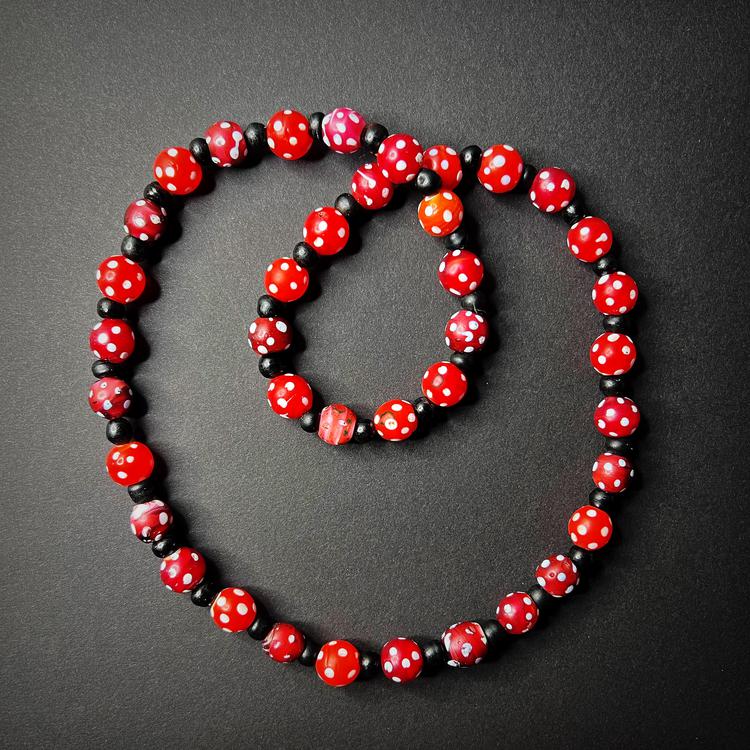 Shipping

The shipment will be prepared in the course of 3-5 days and dispatched via Posti Group Oyj or purchased item(s) can be picked up from our shop during the store's opening hours (Tarkk'ampujankatu 4, 00140, Helsinki, Finland). Within the Finland, all items are shipped via Posti Group Oyj unless otherwise requested. We pack the items carefully and mainly in recycled materials because we want to save nature. You will receive the tracking number for your items by e-mail.

Returns

Returns and exchange will be accepted within fourteen days (14) of receipt at the purchaser's cost to include freight and packaging. Items must be returned in the same condition as when they were shipped, and will not be accepted if damaged or altered in any way. Please inform us via email (info@gotanmaailma.fi) or by calling +358408408352 before sending. We do not accept returns more than 14 days after delivery.