Regular price
Sale price
$83.00
Unit price
per
Sale
Sold out
Share
Krobo people, mid. 20th century, Ghana, West Africa.
Beautiful strand of aged glass beads with red and blue stripes from Ghana, West Africa. Powder glass beads are a type of necklace ornamentation. The earliest such beads were discovered during archaeological excavations at Mapungubwe in South Africa, and dated to between 970-1000 AD. Manufacturing of the powder glass beads is now concentrated in West Africa, particularly in the Ghana area. The origins of beadmaking in Ghana are unknown, but the great majority of powder glass beads produced today is made by Ashanti and Krobo craftsmen and women. Krobo bead making has been  documented to date from as early as the 1920's but despite limited archaeological evidence, it is believed that Ghanaian powder glass bead making dates further back. Bead making in Ghana was first documented by John Barbot in 1746. 
Krobo powder glass beads are made in vertical molds fashioned out of a special, locally dug clay. Most molds have a number of depressions, designed to hold one bead each, and each of these depressions, in turn, has a small central depression to hold the stem of a cassava leaf. The mold is filled with finely ground glass that can be built up in layers in order to form sequences and patterns of different shapes and colours. When cassava leaf stems are used, these will burn away during firing and leave the bead perforation. Firing takes place in clay kilns until the glass fuses. Older Ghanaian dry core powder glass beads, are the Akoso beads, which were also manufactured by the Krobo. The most common colour of Akoso beads is yellow. There are various types of powder glass beads, including such as Meteyi, Ateyun, Keta awuazi, and Kiffa. Beads still play important roles in Krobo society, be it in rituals of birth, coming of age, marriage, or death.
Glass beads are in moderate condition with some chips & digs. Traces of wearing and handling over many years. Modern string. Strand c. 88,0cm with 132 unique beads (diameter 0,7cm)
Provenance: Dutch private collection
References and further reading:
A Brief History of Glass Beads in Africa, African Odyssey (https://www.africanodyssey.co.uk/blog/a-brief-history-of-glass-beads-in-africa)
The BeadSite. (http://www.thebeadsite.com/welcome.html)
Collectible Beads: A Universal Aesthetic, Robert K. Liu, Ornament, Inc., 1995.

African Odyssey, A Brief History of Glass Beads in Africa.(https://www.africanodyssey.co.uk/blog/a-brief-history-of-glass-beads-in-africa)
View full details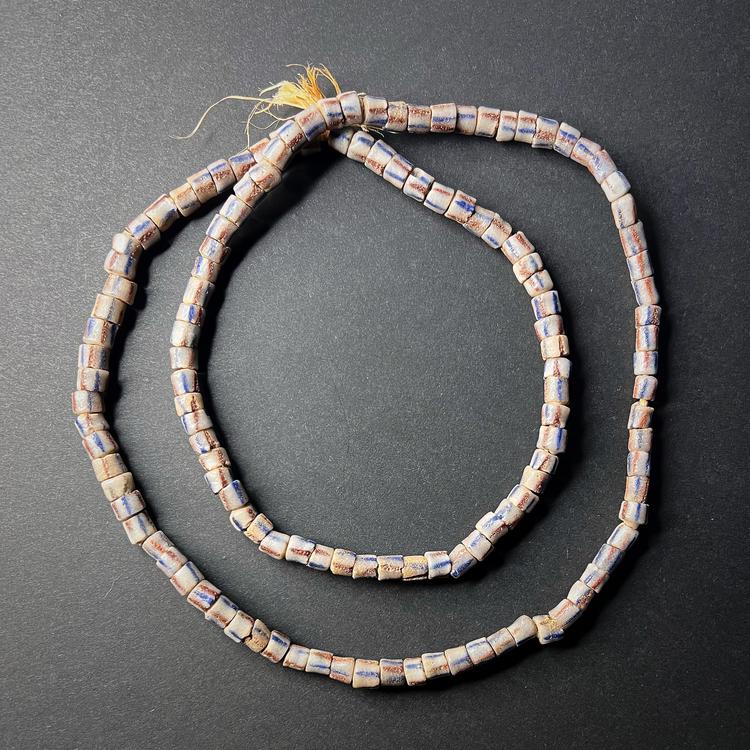 Shipping

The shipment will be prepared in the course of 3-5 days and dispatched via Posti Group Oyj or purchased item(s) can be picked up from our shop during the store's opening hours (Tarkk'ampujankatu 4, 00140, Helsinki, Finland). Within the Finland, all items are shipped via Posti Group Oyj unless otherwise requested. We pack the items carefully and mainly in recycled materials because we want to save nature. You will receive the tracking number for your items by e-mail.

Returns

Returns and exchange will be accepted within fourteen days (14) of receipt at the purchaser's cost to include freight and packaging. Items must be returned in the same condition as when they were shipped, and will not be accepted if damaged or altered in any way. Please inform us via email (info@gotanmaailma.fi) or by calling +358408408352 before sending. We do not accept returns more than 14 days after delivery.