Regular price
Sale price
$434.00
Unit price
per
Sale
Sold out
Share
Sukuma or Nyamwezi people, early 20th century, Tanzania.
Exceptional aged Sukuma mask displays a serene, geometrically formed facial features with a set of small round eyes, prominent pointy nose and narrow, open mouth. Painted with red, black and white pigments. Sukuma masks have often powerful, dramatic expression with inset teeth and exaggerated features. These masks were used during dance ceremonies in the dry season and during important initiation ceremonies.
The Sukuma and Nyamwezi are two closely related ethnic groups that live mainly in the region to the south of Lake Victoria in west-central Tanzania. They describe themselves as "Banyamwezi" (sing. Munyamwezi) and "Basukuma" (sing. Musukuma). The Sukuma people live in an area called Usukuma which is located to the west and south of Lake Victoria, a region between Mwanza Gulf and the Serengeti Plain. 

The Sukuma live in compact villages ranging from half a dozen to 100 homesteads, each of which is headed by a chief who is also sorcerer (nfumu) and whose power is counterbalanced by secret societes. Those who practise traditional religion still worship god as the supreme being and creator of the universe. In Sukuma language (kisukuma) there are several words for the creator god: Lyuba, Liwelelo, Lubangwe and Seba. Many of these names are associated with the sun. Traditional religion mainly involved communicating with and propitiating ancestral spirits. The Sukuma believe in spirit possession and the world as interrelated with all living things, natural and supernatural. Sukuma traditional religion also honor the abiding spirit of deceased ancestors. When a person dies, many believe that their spirit continues on to live in another realm. The deceased person becomes an ancestor and the family remembers them through special prayers and offerings of millet beer (lwanga) and cow dung. The cattle dung recalls the ancestors through its reference to the wealth of a family with many cows and those ancestors who had cattle.

Gorgeous mask are in good condition. Age-related wear and signs of old age due to extensive usage. Minimal fractures and chip. Size approx. 31,5cm x 16,0cm x 12,5cm.

Provenance: private collection from Finland.
References and further reading:
Boundless universe: The culture of expansion among the Sukuma-Nyamwezi of Tanzania, Per Brandström, Dept. of Cultural Anthropology, Uppsala University, 1990.
Sukuma, 101 Last Tribes (https://www.101lasttribes.com/tribes/sukuma.html)
Sukuma Culture and Tanzania, Bujora Cultural Centre - Kisesa, Mwanza, Tanzania, Sukuma Museum (http://sukumamuseum.org/sukuma-culture-and-tanzania/)
Hysteria in Sukuma Medical Practice R. E. S. Tanner Africa: Journal of the International African Institute, Vol. 25, No. 3 (Jul., 1955), pp.274-279.
View full details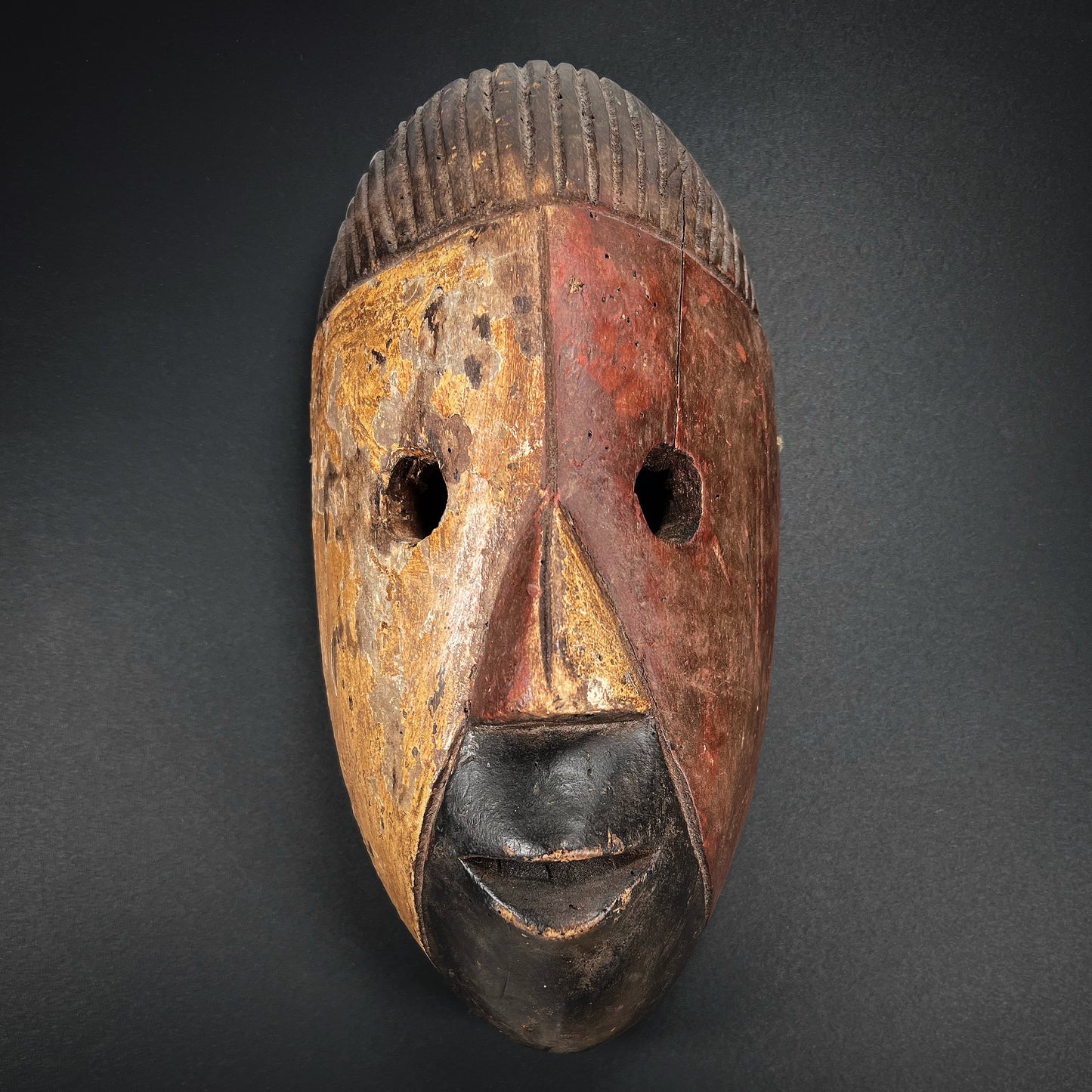 Shipping

The shipment will be prepared in the course of 3-5 days and dispatched via Posti Group Oyj or purchased item(s) can be picked up from our shop during the store's opening hours (Tarkk'ampujankatu 4, 00140, Helsinki, Finland). Within the Finland, all items are shipped via Posti Group Oyj unless otherwise requested. We pack the items carefully and mainly in recycled materials because we want to save nature. You will receive the tracking number for your items by e-mail.

Returns

Returns and exchange will be accepted within fourteen days (14) of receipt at the purchaser's cost to include freight and packaging. Items must be returned in the same condition as when they were shipped, and will not be accepted if damaged or altered in any way. Please inform us via email (info@gotanmaailma.fi) or by calling +358408408352 before sending. We do not accept returns more than 14 days after delivery.