Regular price
Sale price
$2,032.00
Unit price
per
Sale
Sold out
Share
Abung, Pubian or Paminggir people, early to mid. 19th century, Lampung, Sumatra, Indonesia.
Stunning old ceremonial textile, tampan, masterfully woven with stylized human figures in the multilayered decks that may represent cosmological or social stratification. Lampung is a vast territory that lies below Palembang at the southernmost tip of Sumatra. The term "Lampung" is actually a generic term and refers to three ethnic groups: The Abung (Abung Siwo Mego), a people that inhabited the mountains in the north of the province; The Pubian (Pubian Telu Suku), from the eastern lowlands (when grouped together, are also referred to as Pepadun) and the Paminggir, who lived along the southern coasts (Saibatin group). The three groups consider themselves related to one another.

The women of Lampung developed a rich variety of textiles that included ceremonial forms as well as other types, which were used as clothing. The most abundant type are the iconic long banners (palepai) that, at times, depict large ships bearing an array of human and animal figures in stacked hierarchies, flanked by sacred trees. In their finest renderings, small square-shaped cloths (tampan), created with the same supplementary weft technique as palepai, portray elegant, condensed cosmograms. Rare pyrographically incised, split-bamboo mats (lampit) feature powerful mandala-like designs. The tampan textiles are known in the western world as "ship cloth" for the dominant use of a ship motif. For many Indonesians, the sea represents their lifeblood, and ship imagery reflects social structures, rituals, and cosmological beliefs. These meticulously woven home spun cotton/silk textiles were displayed or exchanged at both birth and death, at marriages, circumcision, and ceremonies marking changes in social rank. Traditional textile colours came from nature. For red colorant, they used sepang (Caesalpinia sappan), tamarind (Tamarindus indica), areca nut (Areca catechu) and henna (Lawsonia inermis). The turmeric (Curcuma longa) and tamarind (Tamarindus indica) was used for yellow. Rambutan (Nephelium lappaceum) was used to obtain black dye. Durian (Durio zibethnius) was used for brown and indigo (Indigofera tinctoria) and the lanson fruit (Lansium parasiticum) for the blue. To preserve yarn, they used the roots of the fragrant citronella grass (Cymbopogon nardus). Then, to avoid discoloring, they used betel leaves (Piper betle). 
The production of fine textiles increased in the late 19th century as Lampung became prosperous due its pepper cultivation and related industry and trade, but the devastating eruption of the Krakatoa volcano in 1883 destroyed many weaving villages, especially in the Kalianda area. In early 20th century continued conversion to Islam decreased the importance of region's traditions. As the result, by the 1920's, the production of high quality Lampung textiles had ground to a halt. The material culture and art history of Lampung's past are only partially understood. 
The architectural form appearing in the textile may represent the rumah poyang, a houses that were built to commemorante the ancestors. They consisted of a single pole supported frame sheltered by a large conical roof. The exact iconography of these textiles has been lost, however it is known that they were symbols of wealth and power. Tampan is carefully stretched into modern, double-sided frames. Age-related wear. Thread loss, small holes and loose threads. Stains. Size approx. 39,0cm x 33,0cm. (with modern frame)
Provenance: Finnish private collection
For a similar examples see:
Ceremonial cloth, Art Institute Chicago, Accession Number: 2002.103 (https://www.artic.edu/artworks/180423/ceremonial-cloth-tampan)
Ceremonial cloth, Yale University Art Gallery, Accession Number: ILE2006.4.112 (https://artgallery.yale.edu/collections/objects/111164)
The Metropolitan Museum of Art, Accession Number: 1990.335.22 (https://www.metmuseum.org/art/collection/search/316415)
References and further reading:

Textiles of Southeast Asia, Transition, Trade and Transformation, Robyn Maxwell, Australia: Oxford University Press, 1990, p. 113.
Traditional Indonesian Textiles, John Gillow, Thames & Hudson, 1995.
South Sumatran Ship Cloths, Mattiebelle S. Gittinger, The Bulletin of the Needle and Bobbin Club. Vol. 57, 1974, no. 1 & 2
The ship textiles of South Sumatra: functions and design system, Mattiebelle S. Gittinger, Bijdragen tot de Taal-, Land- en Volkenkunde, 1976, 132 (2/3): 207–227.
Sumatra, Crossroads of Cultures, Ed by Francine Brinkgreve & Retno Sulistianingsih, KITLV Press, 2009.
Splendid Symbols: Textiles and Tradition in Indonesia, Mattiebelle S. Gittinger, Washington DC: The Textile Museum, 1979, p. 157.
View full details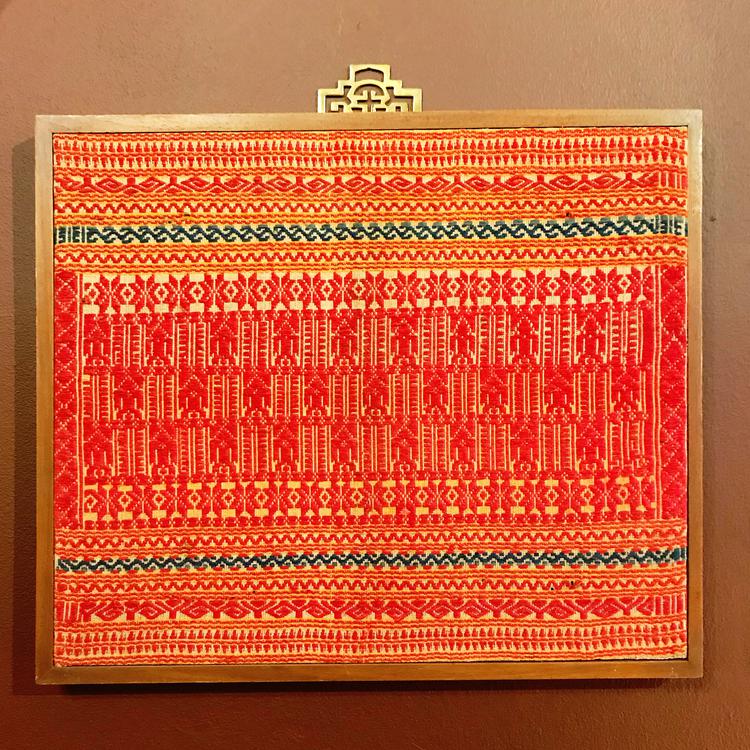 Shipping

The shipment will be prepared in the course of 3-5 days and dispatched via Posti Group Oyj or purchased item(s) can be picked up from our shop during the store's opening hours (Tarkk'ampujankatu 4, 00140, Helsinki, Finland). Within the Finland, all items are shipped via Posti Group Oyj unless otherwise requested. We pack the items carefully and mainly in recycled materials because we want to save nature. You will receive the tracking number for your items by e-mail.

Returns

Returns and exchange will be accepted within fourteen days (14) of receipt at the purchaser's cost to include freight and packaging. Items must be returned in the same condition as when they were shipped, and will not be accepted if damaged or altered in any way. Please inform us via email (info@gotanmaailma.fi) or by calling +358408408352 before sending. We do not accept returns more than 14 days after delivery.