Regular price
Sale price
$3,239.00
Unit price
per
Sale
Sold out
Share
Ancient Greece, The Hellenistic period, c. 320-200 BC, Tanagra, Boeotia, Greece.
Absolutely mesmerizing hollow Tangra pottery figure represents a young woman standing contrapposto atop a rectangular plinth. The Tanagra figurines were a mold-cast type of Greek terracotta figurines produced from the later fourth century BC, named after the Boeotian town of Tanagra, where many were excavated and which has given its name to the whole class. The Tanagra figurines refers to a group of draped females, but also sometimes of children and men. 
The elegant figure is draped in a himation and chiton that cascade in multitudes of billowing folds down her slender body and wrap around her sloped shoulders. Her centrally parted coiffure is pulled back, nicely framing her delicately modeled face, which is crowned by a elaborate wide band, wreath or headdress. Good condition. Professionally repaired with some break lines visible. Age-related wear and abrasion. Remains of white pigment. Mineral encrustation, soil and dust. Size approx. 14,4cm x 4,7cm x 3,7cm. 
Provenance: Finnish private collection
References and further reading:
Ancient Greek Tanagra Figurines, Alexander Mirtchev, 2022.(https://www.mirtchevtanagra.org/)
Tanagra Figurines, In Heilbrunn Timeline of Art History, Department of Greek and Roman Art, New York: The Metropolitan Museum of Art, October 2004. (http://www.metmuseum.org/toah/hd/tafg/hd_tafg.htm)
Tanagras: Figurines for Life and Eternity, The Musée du Louvre's Collection of Greek Figurines, Violaine Jeammet, American Journal of Archaeology, 2012. (https://www.ajaonline.org/book-review/1050)
View full details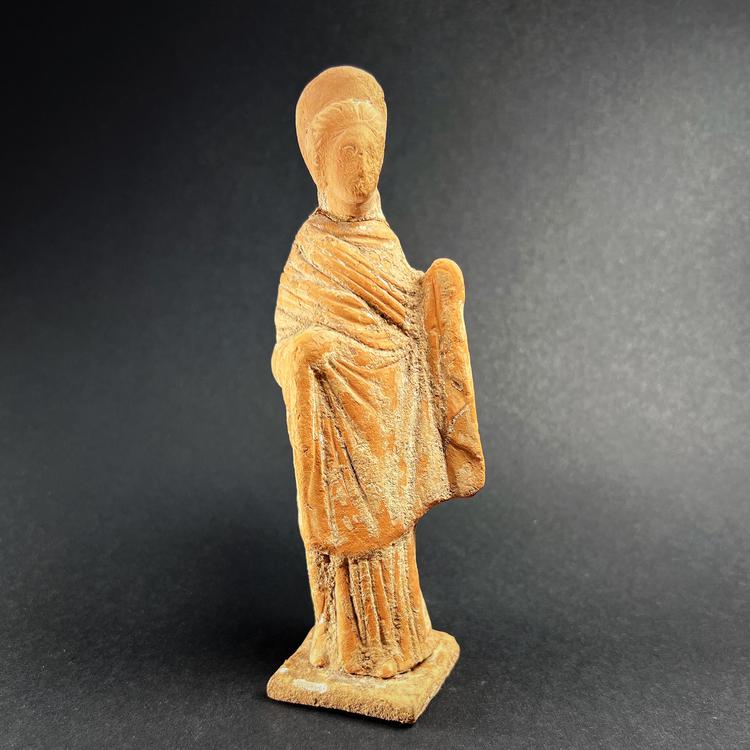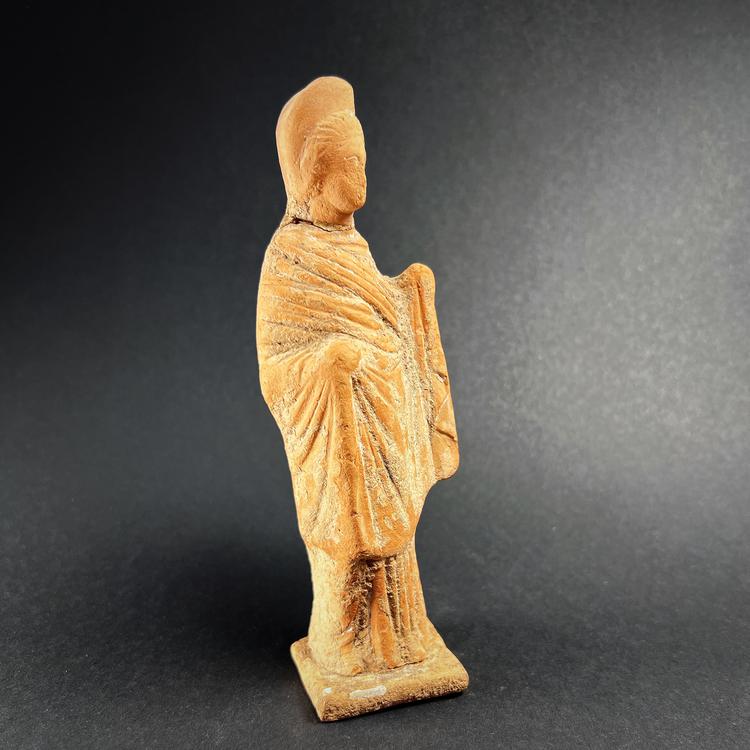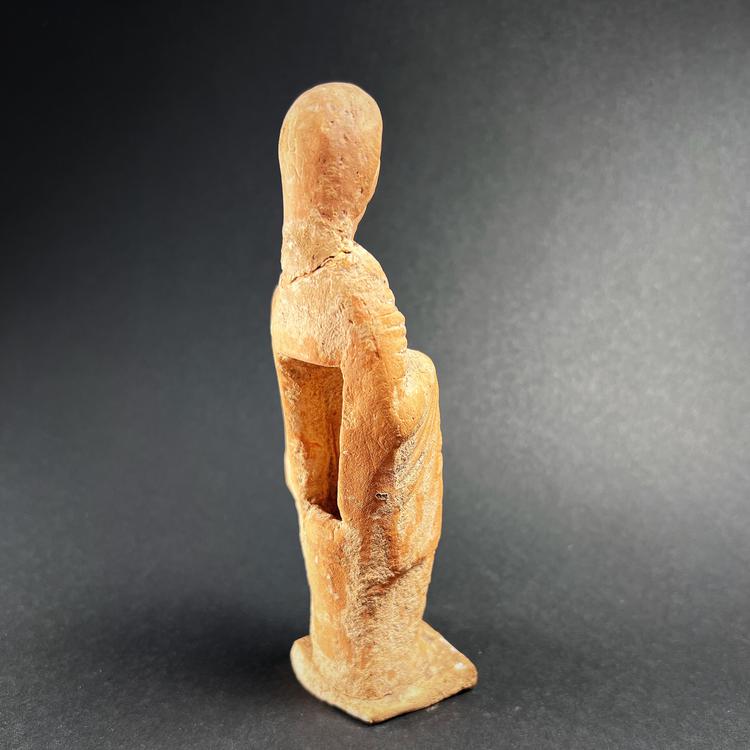 Shipping

The shipment will be prepared in the course of 3-5 days and dispatched via Posti Group Oyj or purchased item(s) can be picked up from our shop during the store's opening hours (Tarkk'ampujankatu 4, 00140, Helsinki, Finland). Within the Finland, all items are shipped via Posti Group Oyj unless otherwise requested. We pack the items carefully and mainly in recycled materials because we want to save nature. You will receive the tracking number for your items by e-mail.

Returns

Returns and exchange will be accepted within fourteen days (14) of receipt at the purchaser's cost to include freight and packaging. Items must be returned in the same condition as when they were shipped, and will not be accepted if damaged or altered in any way. Please inform us via email (info@gotanmaailma.fi) or by calling +358408408352 before sending. We do not accept returns more than 14 days after delivery.