Regular price
Sale price
$15,920.00
Unit price
per
Sale
Sold out
Share
Tang dynasty, 618-907 AD, Xi'an (Chang'an), Shaanxi province, China
Magnificent and extremely rare earthenware box with three-color sancai glaze is made in imitation of a metal or wood prototype. The rectangular money chest is raised on four bracket feet, the upper legs applied with cream and amber-glazed bosses imitating the metal studs repeated on the green-glazed sides which rise to a crescent tops secured with further studs, and elaborately decorated top with a repeating triangle pattern glazed green and cream. The sides are decorated with amber-glazed lion-masks or palmettes and a loop for a lock, the top is applied with a small 'hinged' removable lid (now missing). Models of money chests, which would have been secured with a padlock, have been found in several Tang tombs, but are otherwise extremely rare. The various extant chests differ in their applied ornaments and in glaze colors, and come in two different sizes. The present piece belongs to the smaller type and is particularly richly adorned.
The Tang dynasty was an imperial dynasty of China that rule from 618 to 907. It was preceded by the Sui dynasty and followed by the Five Dynasties and Ten Kingdoms period in Chinese history. Historians generally regard the Tang as a high point in the Chinese civilization, and a golden age of cosmopolitan culture. One of the more interesting aspects of Tang Dynasty pottery production concerns the earthenware tomb figures of people and animals. Figures of this type are called mingqi or "spirit goods" in Chinese. They were lined outside the tomb before the coffin was taken inside, and then placed and arranged inside the tomb. The size and number of the figures in a grave depended on the rank of the deceased, as did the number that were glazed. These figures were most often of servants, soldiers (in male tombs) and attendants, like dancers, musicians and courtesans. Animals are most often horses and Bactrian camel.

Gorgeous sancai glazed pottery money chest are in good condition. Original glazing are still vibrant and luminous. Age-related wear and abrasion. Chip on one of the top corners. Missing lid. Glazing flaws and fritting. Rich encrusted earthen deposits. Size approx. 15,5cm x 10,9cm x 13,0cm. 
Provenance: Swedish private collection.
For a similar examples see:
Casket (gui) and Lock, Saint Luis Art Museum, accession number: 931:1940a,b (https://www.slam.org/collection/objects/18439/)
Compare to a similar sancai-glazed pottery money chest (15,6 cm), sold at Sotheby's, New York, 22 September 2021, Important Chinese Art, lot 166. (https://www.sothebys.com/en/buy/auction/2021/important-chinese-art-5/an-extremely-rare-blue-and-sancai-glazed-pottery)
Compare to a similar sancai-glazed pottery money chest (15,0 cm), sold at Christie's Hong Kong, 28 May 2021, Important Chinese Ceramics and Works of Art, lot 2926. (https://www.christies.com/en/lot/lot-6318542)
Compare to a slightly larger sancai pottery money chest (23,3 cm), sold at Christie's New York, 21 September 2000, lot 267 (fig. 1).
Closely related example in the Shaanxi History Museum, Xi'an, accession number: 511.
References and further reading:
Gilded Dragons: Buried Treasures from China's Golden Ages, The British Museum, ed. Carol Michaelson, 1999.
Immortality of the Spirit: Chinese Funerary Art from the Han and Tang Dynasties Exhibition Catalogue, Jill J. Deupi, Ive Covaci & Leopold Swergold, Immortality of the Spirit - Ephemera. 1, Fairfield University, 2012. (https://digitalcommons.fairfield.edu/immortality_ephemera/1)
Arts of the Tang Court, Patricia Eichenbaum Karetzky, Hong Kong; New York: Oxford University Press, 1996.
The Art of the Yellow Springs: Understanding Chinese Tombs, Wu Hung, London: Reaktion Books, 2011.
View full details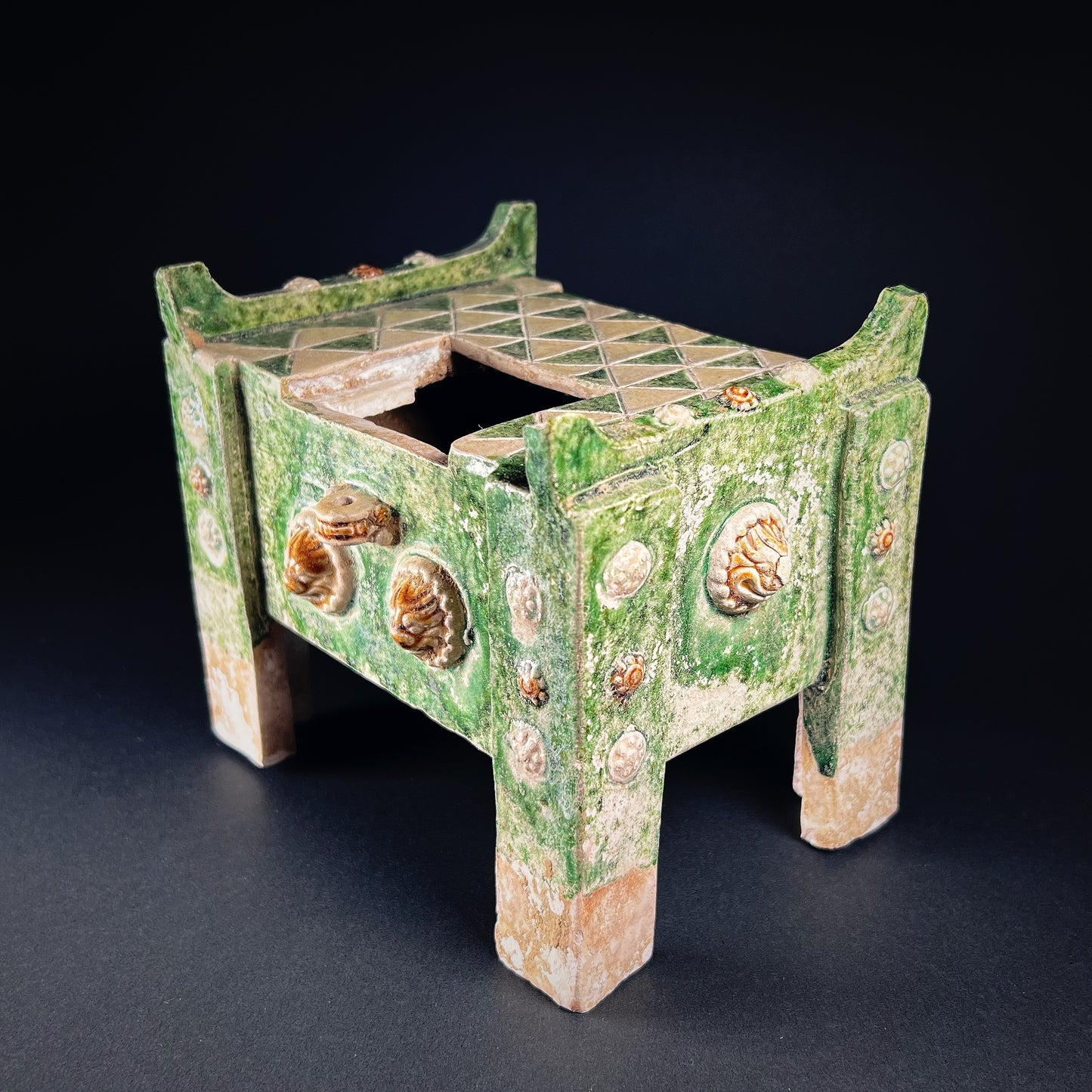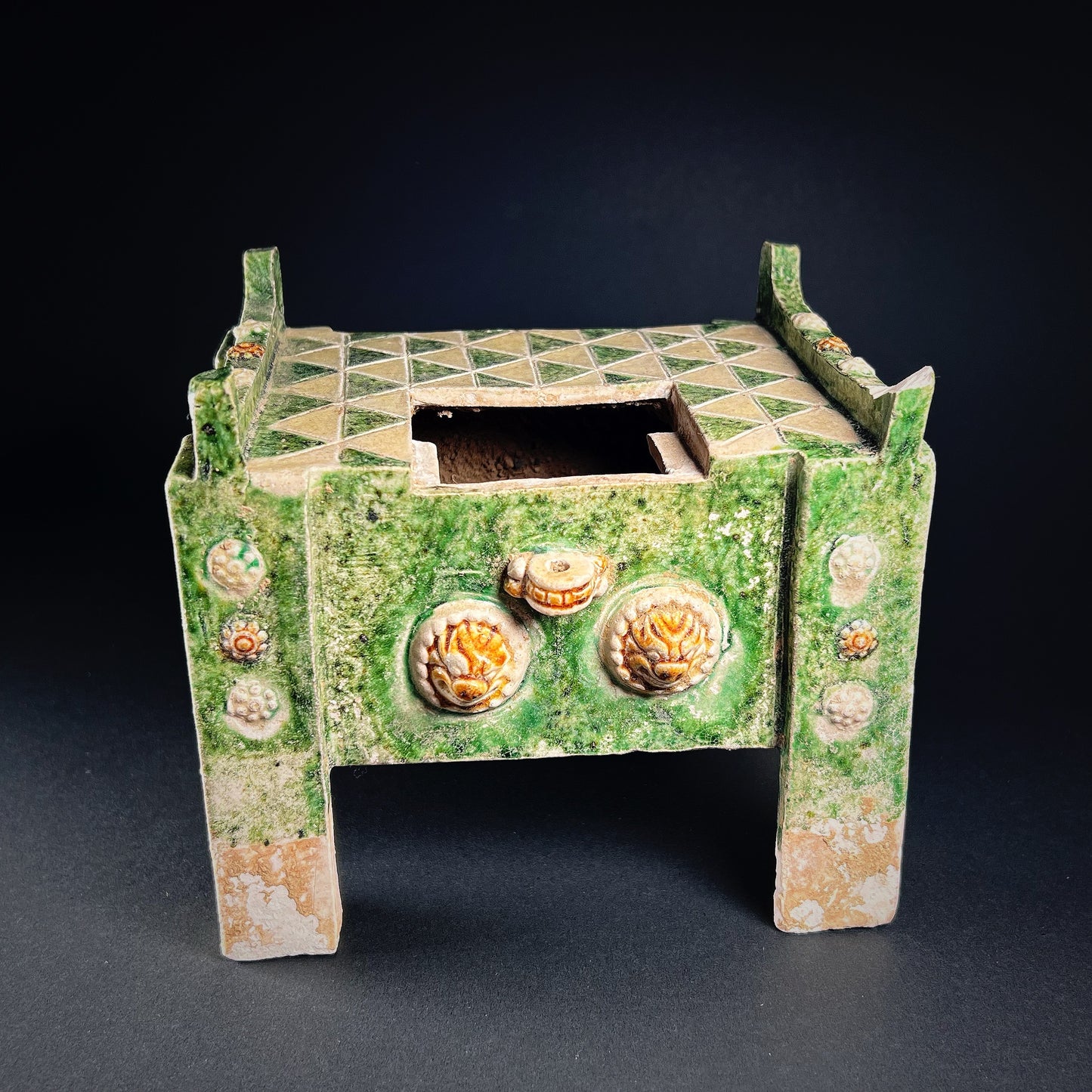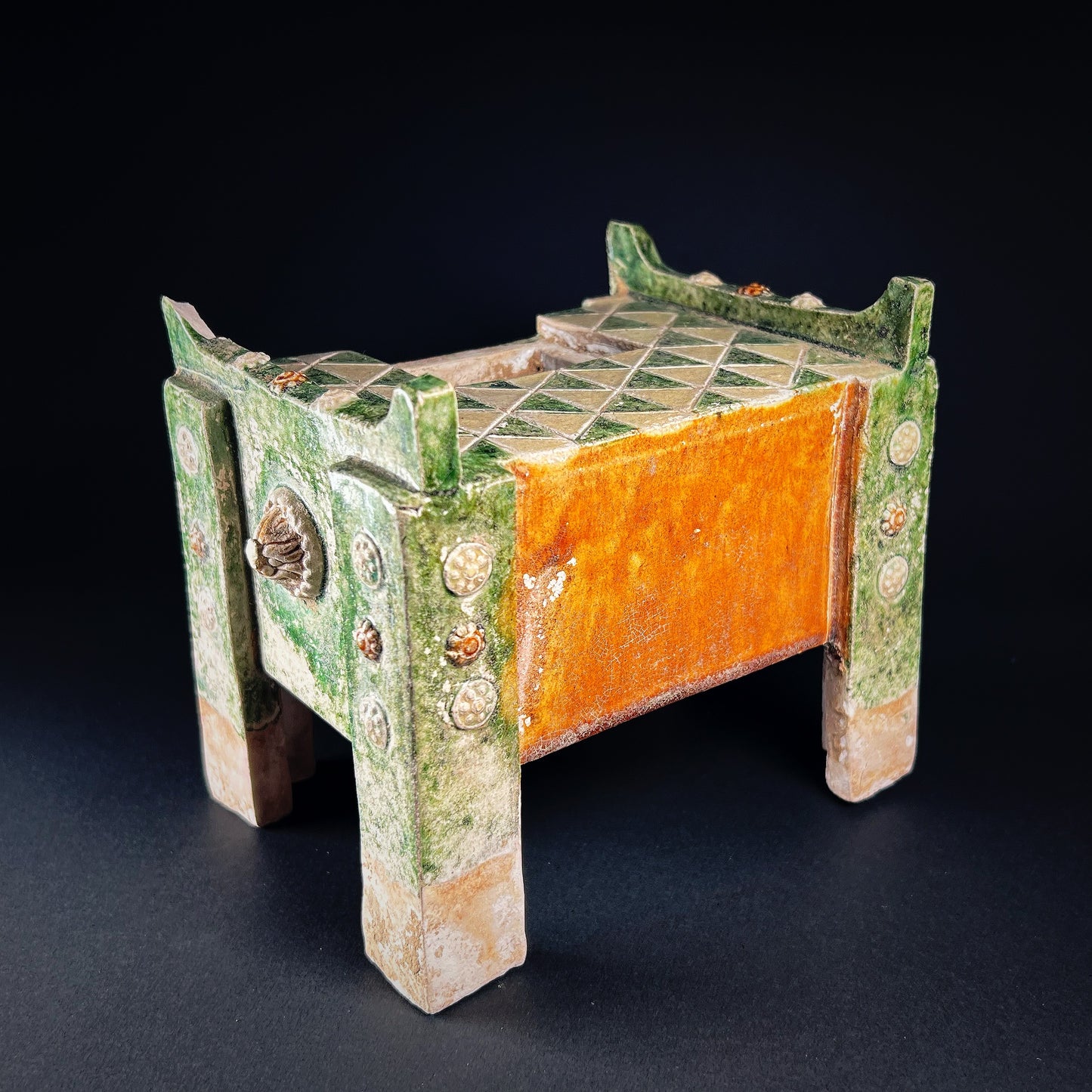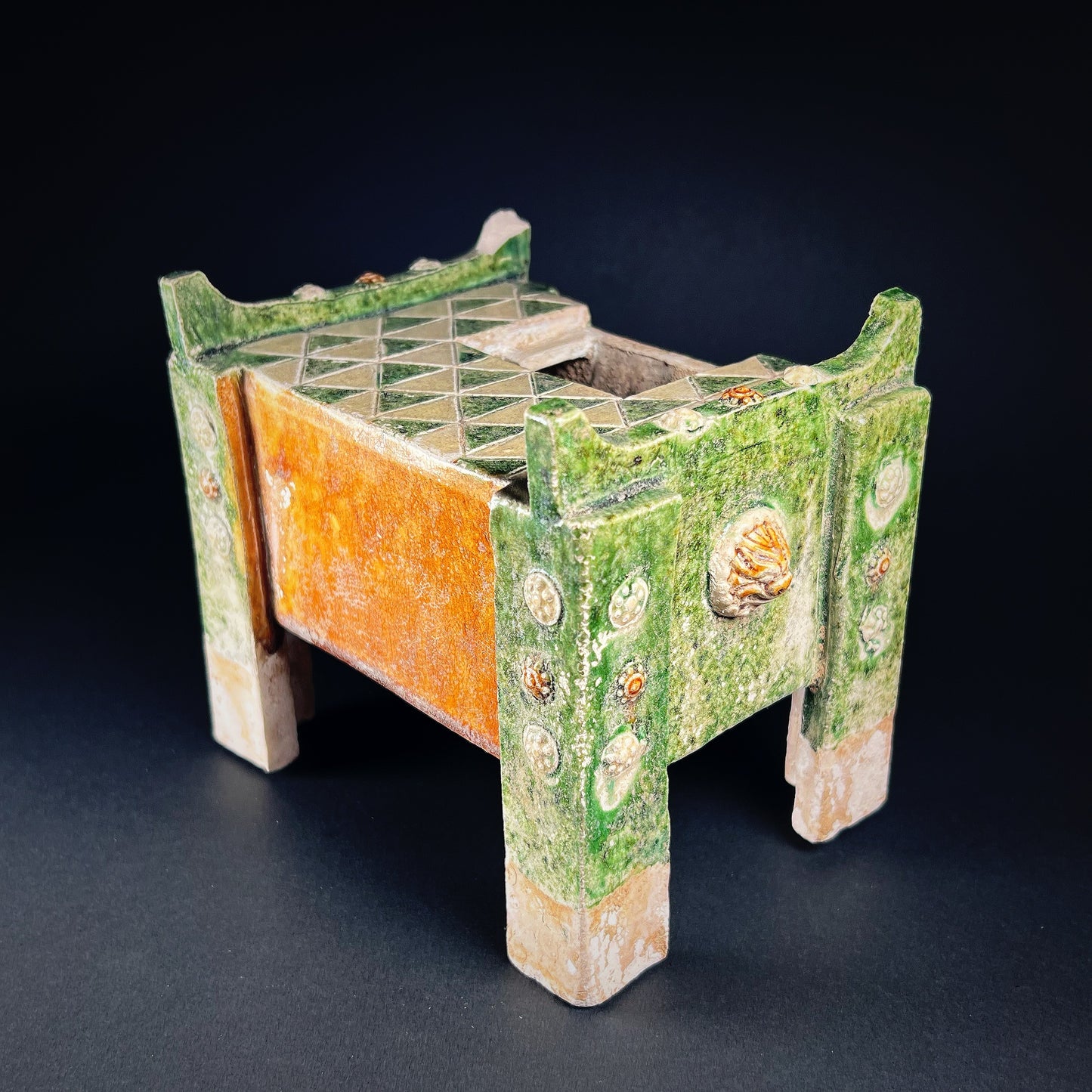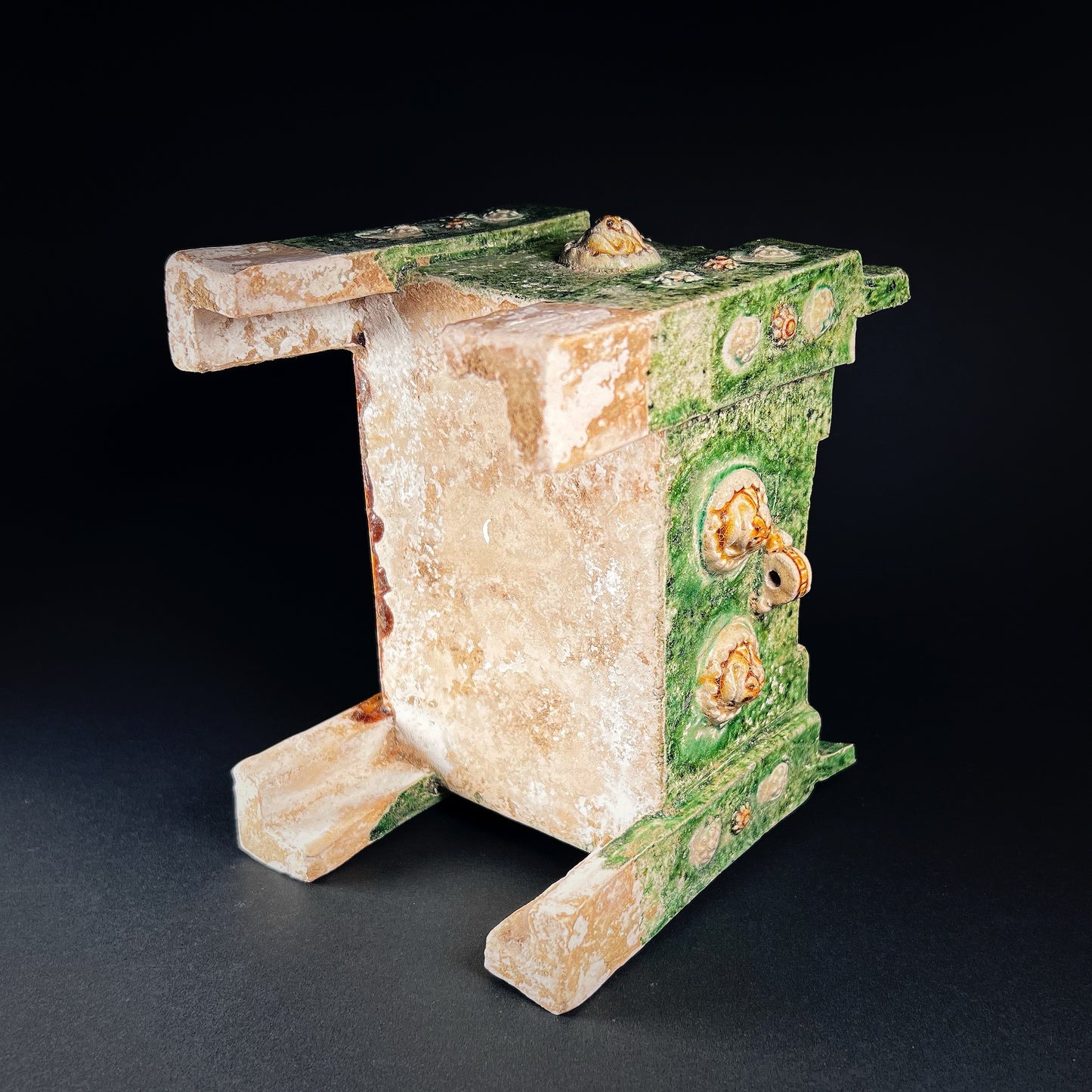 Shipping

The shipment will be prepared in the course of 3-5 days and dispatched via Posti Group Oyj or purchased item(s) can be picked up from our shop during the store's opening hours (Tarkk'ampujankatu 4, 00140, Helsinki, Finland). Within the Finland, all items are shipped via Posti Group Oyj unless otherwise requested. We pack the items carefully and mainly in recycled materials because we want to save nature. You will receive the tracking number for your items by e-mail.

Returns

Returns and exchange will be accepted within fourteen days (14) of receipt at the purchaser's cost to include freight and packaging. Items must be returned in the same condition as when they were shipped, and will not be accepted if damaged or altered in any way. Please inform us via email (info@gotanmaailma.fi) or by calling +358408408352 before sending. We do not accept returns more than 14 days after delivery.