Regular price
Sale price
$0.00
Unit price
per
Sale
Sold out
Share
Late 19th or early 20th century, Tibet.
Magnificent Tibetan skull drum. The Thöpa damaru (called also chang te'u or thod-rnga) is made from a male and female skull bone or calvarium, cut well above the area of the ear, and joined at their apex. The skins are traditionally cured by burying them with copper and other mineral salts, and special herbal formulas for about two weeks. These are then stretched and applied to the two sides, giving the skins their familiar blue or green mottled appearance. A collar of simple brocade, or copper or silver, has a hand-hold, and is the site of attachment of the beaters, whose knit cover represents two eyeballs. Played by rotating, causing the swinging beater to strike each head. Mantras were often written on the interior of drums such as these. Held in the right hand, the "hand of method," the skull drum is an example of the synthesis of tradition that took place between Bön and Buddhist spirituality.
The symbolism and energetic properties of the drums is extensive. These human skull damaru or chang te'u are used in a wide range of Vajrayana ritual, as a standard right hand accompaniment to the bell, held in the left hand. Usually used to together as an accent or punctuation during various tantric practices, the drum can also keep time during entire passages. For the solo practitioner, it is an essential tool, while in larger assemblies, only the presiding Rinpoches and chant masters use them, in concert with the long horns (radung), short horns (gyaling), large cymbals (silnyen and rolmo) and large temple drums (lag-na). Tibetans regarded the skull as the seat of intelligence, and it was thought that their ancestors' wisdom could be inherited from the use of skeletal damaru.
The thöpa damaru, often paired with the thighbone trumpet in ritual use, existed as part of traditional Bön ceremonies prior to the presence of Buddhism in Tibet. Traditionally, the crania would be gathered from a sky-burial (jhator) site, or charnel ground. It is the Tibetan belief that the body is nothing more than a vessel and, upon death, it should continue the cycle that is life; therefore, corpses are exposed to the elements, in order to decompose, in designated areas known as charnel grounds. The selection of skulls from charnal grounds, for use in making the damaru, traditionally involved several factors including age of the deceased, gender, and cause of death.
Mesmerizing skull drum with newer (brocade collar) and older elements (calvarium, beaters and leather). Excellent condition. Intact. Age-related wear and signs of use. Rich patina. Size approx. 14,6cm x 11,7cm x 8,3cm. 
NB! All of our human osteological specimens are aged ethnographical/ceremonial artefacts (eg. kapalas, kanglings). We don't sell, buy, or pass on human osteological specimens with unknown origin whose characteristics do not meet the above criteria. Breach of the sanctity of the grave (Criminal Code of Finland, Criminal Law 563/1998, Chapter 17, Section 12).
Provenance: Danish private collection
References and further reading:
Skull drum (Damaru) on Exhibit at the National Music Museum (http://collections.nmmusd.org/Tibet/1383/Damaru.html).

The practices and rituals of Tibetan Kapala skull caps, Ancient Origins - Reconstructing the story of humanity's past, April Holloway (https://www.ancient-origins.net/ancient-places-asia/practices-and-rituals-tibetan-kapala-skull-caps-00945). 
Charnel Ground Ornaments and Implements, Rufus C. Camphausen (www.yoniversum.nl.).
Tibetan Mahayoga Tantra: An Ethno Historical Study of Skulls, Bones and Relics, Andrea Loseries-Leick, 2008, B.R. Pub. Corp. p. 225.

Body Matters: Exploring the Materiality of the Human Body, Luci Attala & Louis Steel, Cardiff, Wales: University of Wales Press. p. 166.
Tibetan Rituals of Death: Buddhist funerary practices, Margaret Gouin, Published March 29, 2012 by Routledge.
View full details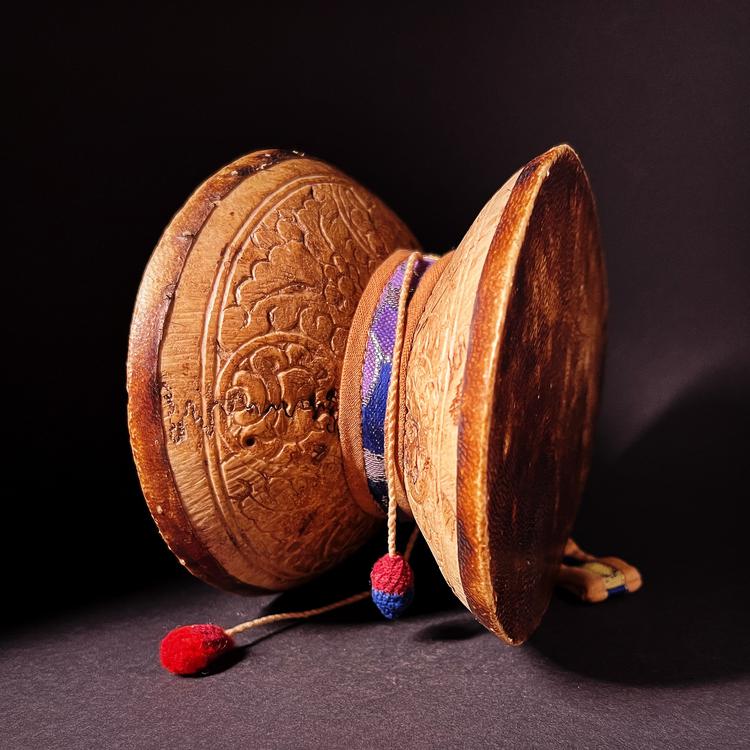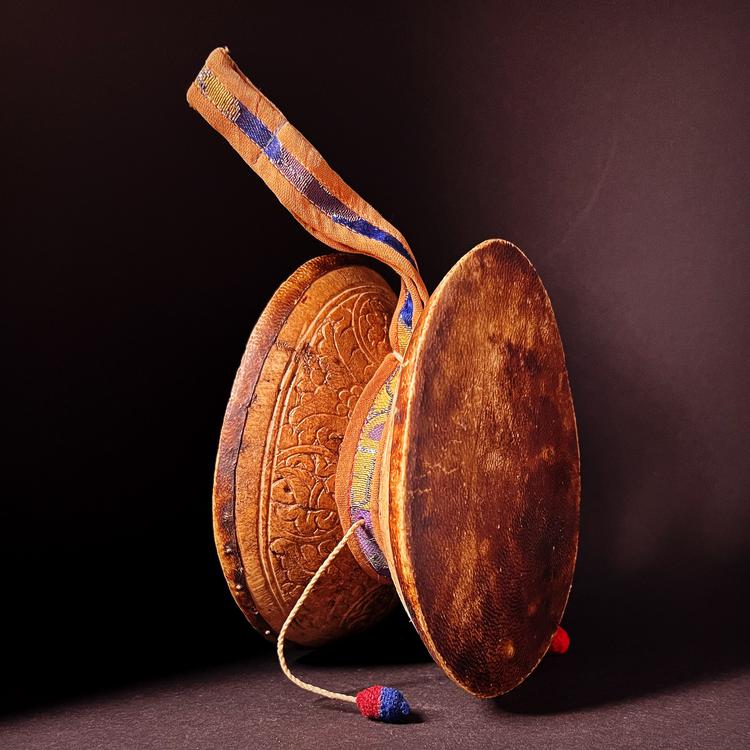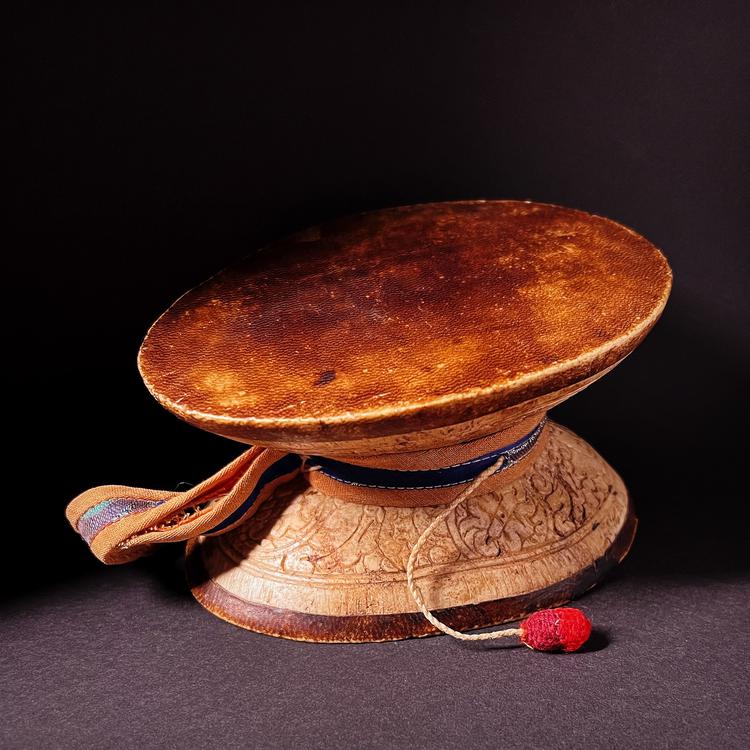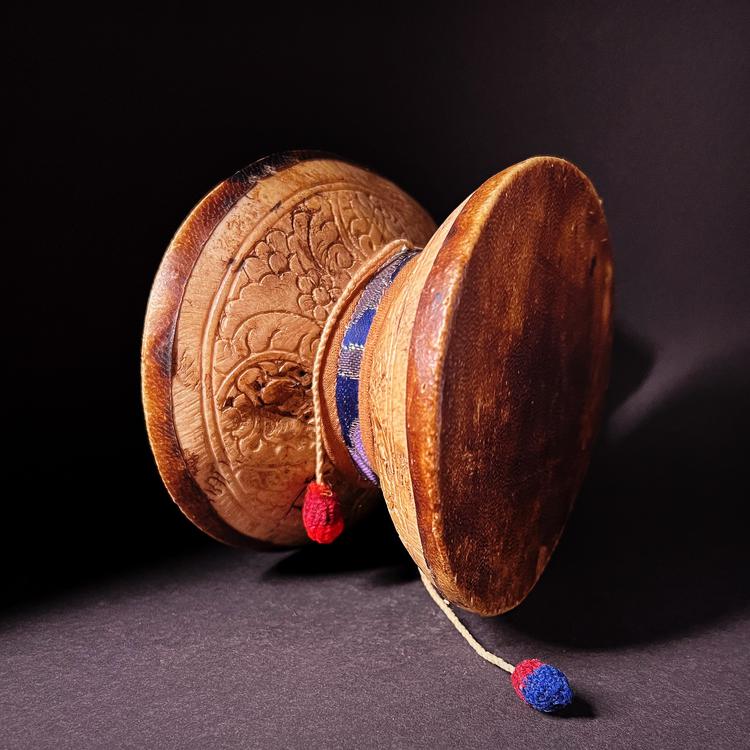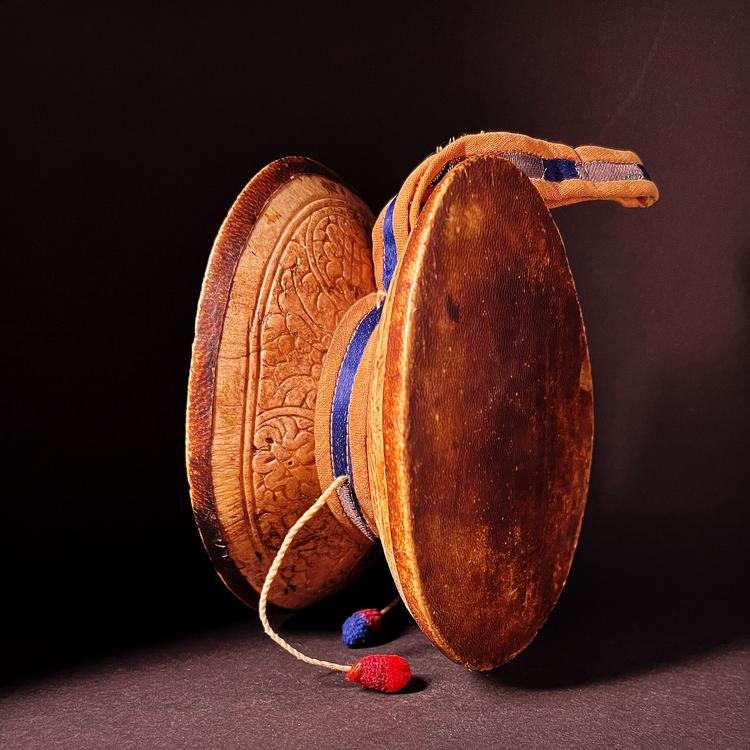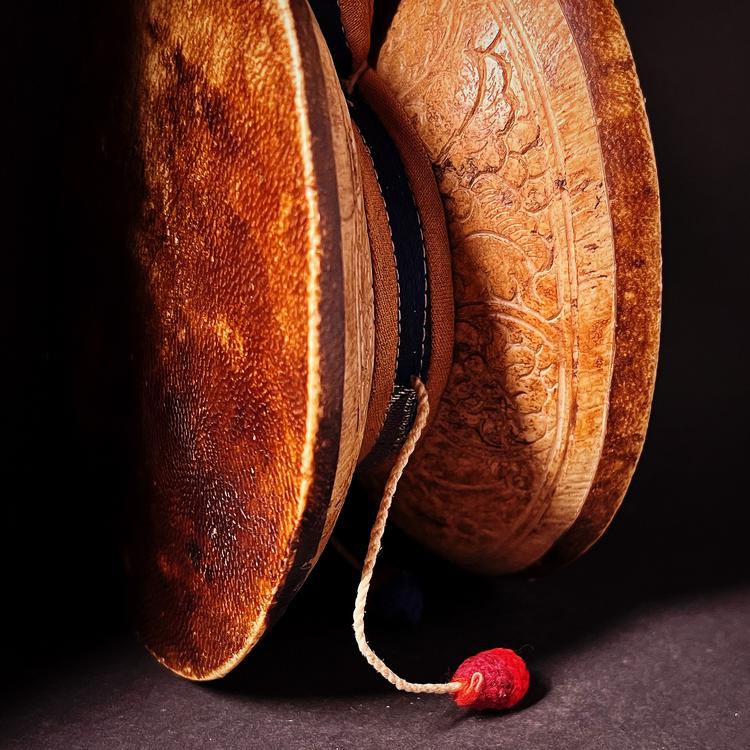 Shipping

The shipment will be prepared in the course of 3-5 days and dispatched via Posti Group Oyj or purchased item(s) can be picked up from our shop during the store's opening hours (Tarkk'ampujankatu 4, 00140, Helsinki, Finland). Within the Finland, all items are shipped via Posti Group Oyj unless otherwise requested. We pack the items carefully and mainly in recycled materials because we want to save nature. You will receive the tracking number for your items by e-mail.

Returns

Returns and exchange will be accepted within fourteen days (14) of receipt at the purchaser's cost to include freight and packaging. Items must be returned in the same condition as when they were shipped, and will not be accepted if damaged or altered in any way. Please inform us via email (info@gotanmaailma.fi) or by calling +358408408352 before sending. We do not accept returns more than 14 days after delivery.